4 Affordable Slatwall Displays For Retail Merchandising
About slatwall displays:
Slatwall displays are primarily found in two different forms: wall panels and freestanding fixtures. They all help you create an effective display system, but choosing the right fixtures depends on your unique needs and space. Slatwall panels for wall mounting are a bit more labor-intensive to install than their freestanding counterparts, wall panels are worth the time and energy. They help free up precious floor space and move products to eye level for easier browsing.
From full-size gondolas to countertop spinners, freestanding slatwall displays come in a huge variety of styles and sizes. Unlike wall panels, these fixtures offer more flexibility and creativity for designing your store's layout. They can be placed in the center of the sales floor, near aisles, beside queue lines, or even nestled into tight corners.
Gondola – Also known as H-units, gondolas are a great workhorse and anchor for your retail slatwall displays. The largest display in the slatwall fixture family, gondolas also offer the most bang for your buck in terms of display space. The standard-sized gondola takes up about 8 square feet of floor space but offers 48 square feet of the display area.
Cube – These spinning merchandisers offer a large amount of display space in proportion to their footprint. They range in height and width from countertop units to large, monolith-like floor displays, giving them a wide range of uses and functions. Pinwheel – This display is one of the most compact and functional slatwall displays. Its pinwheel design protects your attachments and merchandise when it's being rotated. Tower- Also known as an I-unit, this merchandiser is a go-to space saver for many businesses.
No matter what kind of custom slatwall displays, they are durable, functional, user-friendly, customized and affordable.
Today, we are sharing with you 5 freestanding slatwall displays which help you sell in retail stores.
1. Floor stand sock display stand
A key objective in this design was to minimize shipping weight. We reduced weight wherever we could by hollowing out the legs, using PVC for the header sign, and replacing heavy metal slatwall hooks with plastic hooks that contain fiberglass for added strength. We also make the slots longer than the previous two examples to provide more horizontal flexibility.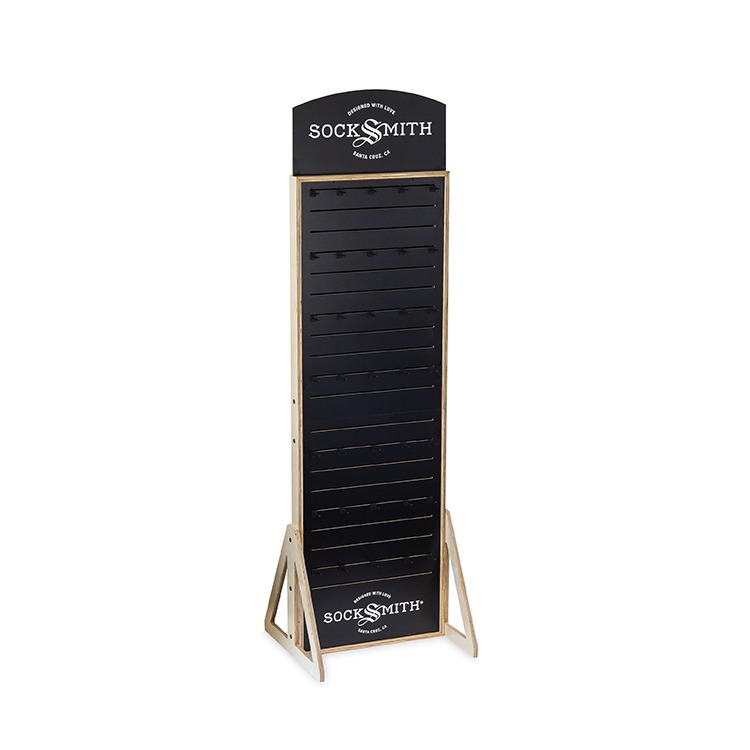 2. Double-sided movable display for gifts store.
This display is made of wood and aluminum tubes. They can hold shelves, hooks, waterfalls and more.  Glass shelves were added to the display, which matches very well. You can adjust the shelves or other accessories to display different products, more than tea cups, and Christmas ornaments. The header graphic is double-sided and it is interchangeable. You can change the graphic according to the products you sell. Furthermore, there are casters among the base, which make this display shelf movable.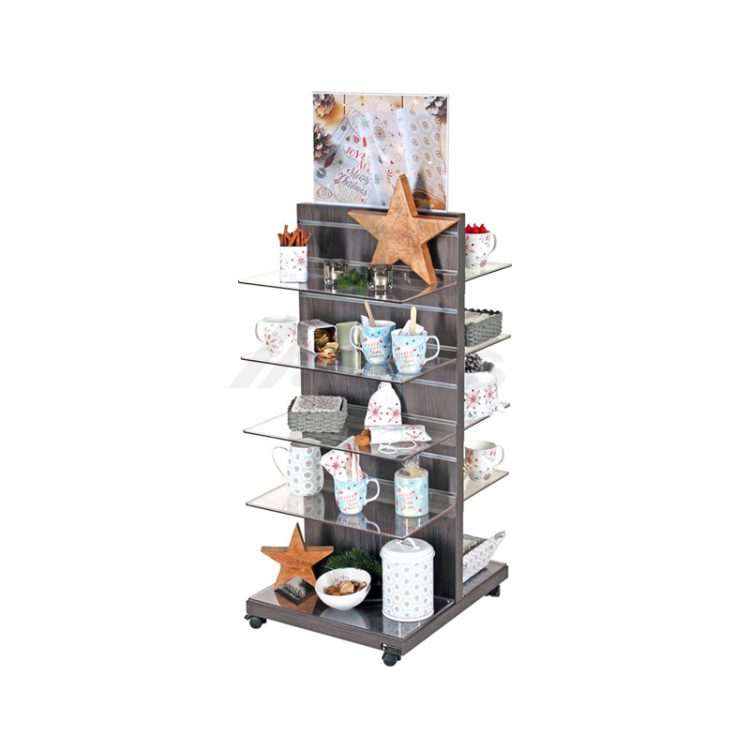 3.  4-sided spinning display
We created this slatwall display for animal tracking bracelets. In addition to the fixed-location slots for the slatwall hooks, we added an acrylic sleeve for an interchangeable graphic, locking base storage, and a header with a laser-cut 3D acrylic logo on both sides.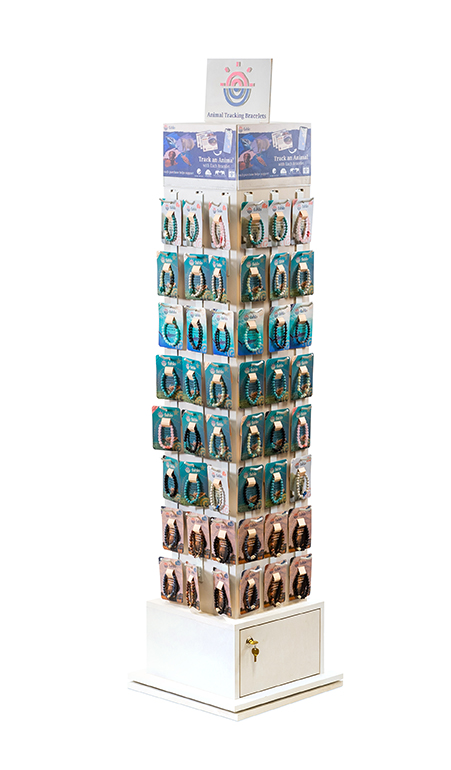 4. 4-way rotatable boutique display stand
This is a freestanding rotatable slatwall display stand for retail stores, it can showcase different products with different display parts. Add waterfalls to hang bags, add shelves to showcase jewelry, shoes and more. You also can add a brand header on the top.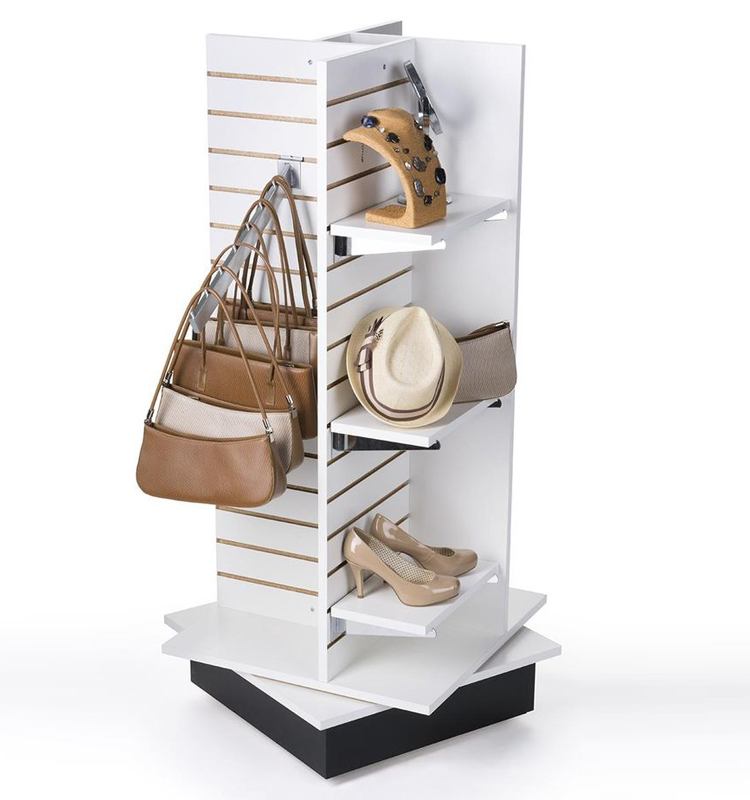 Except for floor slatwall displays, there are also counter slatwall displays. If you need reference designs, contact us now.
Because slatwall displays are practical and flexible, it's the accessories and attachments that really drive its versatility. By swapping out your accessories, you can transform your display of shampoos and conditioners into a literature stand in minutes. They can come in a variety of colors (like black, silver, and white) and finishes as well as materials.
1. Hangrails, which are easy to view with no obstructions, can hold heavier objects like coats or pants
2. Peg Hooks, there are of varying lengths, from 4″ up to 12″, and with lower weight capacity than other attachments which are great for lightweight, packaged items like candy, jewelry, batteries, etc.
3. Slatwall shelves for fixtures and wall panels, are a variety of sizes and materials, including melamine and acrylic, which are great for both wall panels and freestanding fixtures.
4. Slatwall bin for bulk items. They can be made with acrylic, wire, and many other materials in a huge variety of styles and sizes.
5. Groove Treatments – Channel inserts enhance unfinished slats and can help create a more customized and signature look. Decorative strips are usually made from plastic, PVC, or vinyl and come in a variety of colors and finishes. Other inserts made of aluminum and metal can increase the weight capacity of your panel, resulting in stronger display systems with fewer restrictions.
If you want to make slatwall displays, we can help you because we are a factory with more than 20 years of experience.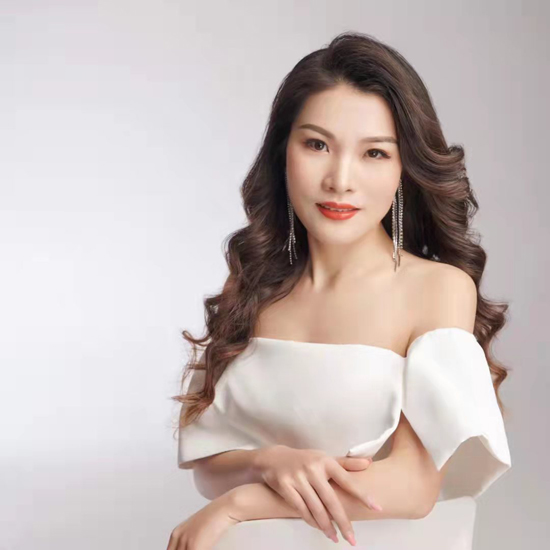 jessie huang
Love what we do and do what we love! Enjoy life, enjoy working in BWS DISPLAYS.