5 New Hat Display Racks Cap Display Solution To Increase Headwear Sales
Hat display racks are crucial to attracting customers and boosting sales in the highly competitive world of headwear sales. The headwear market includes sports caps, work hats, and fashion hats, as well as other headwear items such as beanies and headbands. Hat display racks are designed to organize and showcase these headwear items. By combining themed displays, interactive stations, seasonal arrangements, color coordination, and inverted displays, you can effectively increase customer engagement and influence purchasing decisions.
Custom hat display racks will not only make your business stand out among your competitors but also leave a lasting impression on your customers, thereby increasing headwear sales and overall success in the industry success. Custom hat display racks incorporate colorful signage or graphics to further emphasize the theme and draw attention to your headwear products. Today we are going to share with you 5 more cap hat display racks that may also work for you.
1. Floorstanding metal hat display racks for Fox
It is a similar design we made for Staunch,  it is a double-sided, free-standing commercial hat display rack. The overall size is 1898*319*550mm. It is made of metal with a black powder-coated finish, which is stable and has a long lifetime. There are 8 detachable pockets which are 198.2mm wide and 330mm long. Each pocket can hold at least 5 caps (hats). It can display 40 caps on each side and a total of 80 caps or hats on both sides. Besides, this display stand has two mirrors on the top which is friendly to shoppers who can check themselves when they try on the caps.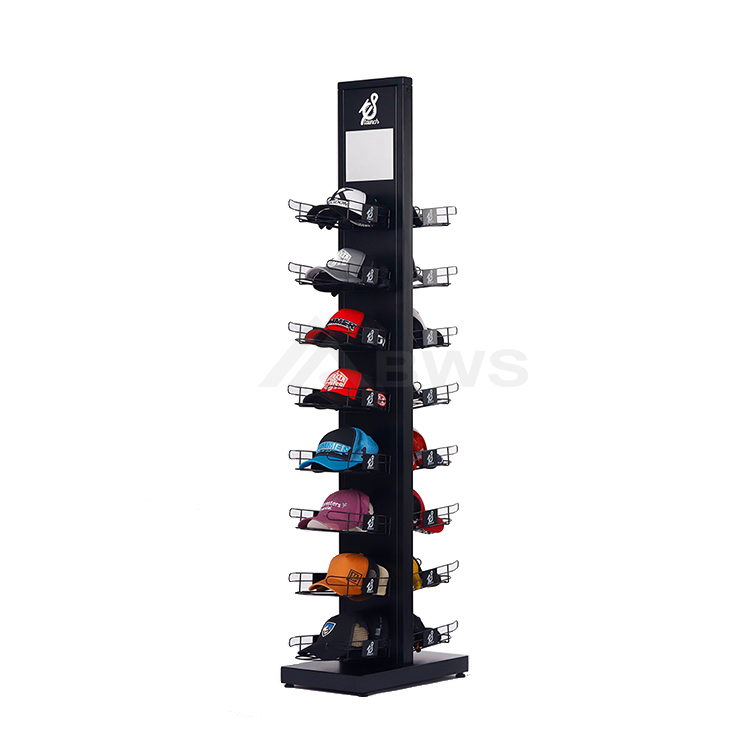 2. Countertop Beanies display rack
This is one of the countertop hat display racks that is made for CASE IH. It is made of metal wire with 6 caps pockets on one side and a metal wire holder for beanies on the other side. Every cap pocket can hold 10 caps or hats. There are 4 beanie holders, which can showcase 20 beanies. Besides, the custom graphic header is detachable. It is a double-sided header, which shows more information about the brand and the products. It is in black color, which is common, more attention will be on the caps and beanies.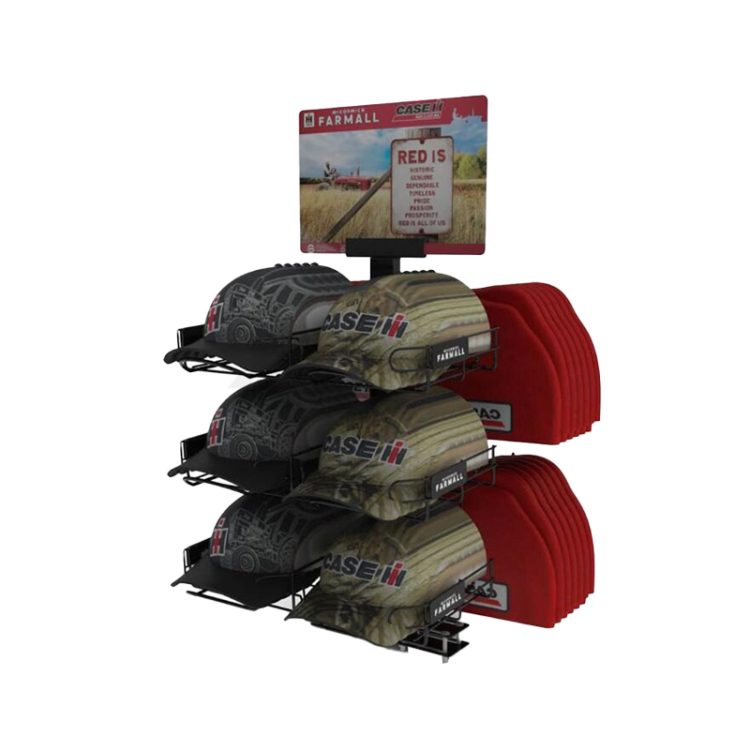 3. 6-way helmet display stand
It is in a unique shape. The middle pole for the helmet holder is a polygon. And it can showcase helmets in 4 ways. The header is also in hexagon shape, double-sided with brand and helmet information to educate buyers. There are 5 helmet stand holders per side, it can display more than 20 helmets at the same time. The base is 400 mm*400 mm, and it takes up a small space. It makes full use of the vertical space. It is freestanding and is made of metal with a PVC header. Besides, there are 4 casters under the base, which make this helmet display stand movable.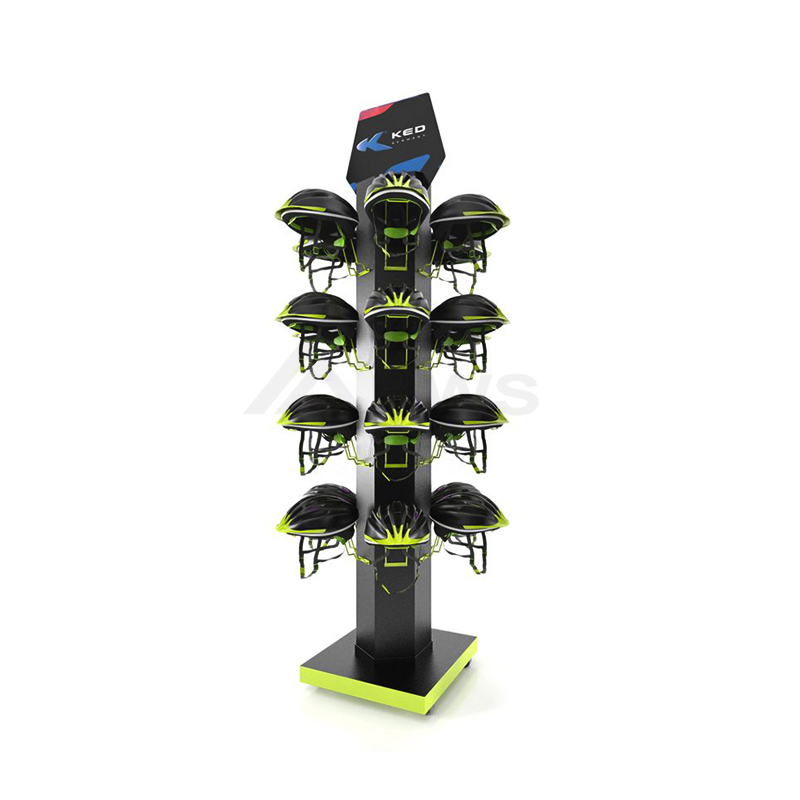 4. Floor 5 tier hat display rack
This hat display rack is designed for 13 Fishing which is a brand founded on the most important principle of fishing, the angler. We made this cap hat display rack double-sided, free-standing. It is made of metal with black powder-coated finishing in size 411.7*1559.9mm, it is stable and has a long lifetime. There are 5 detachable pockets on each side for holding caps (hats). It can display 40 caps on each side. So for double sides, it has 10 pockets to display 80 caps. Two mirrors under the brand logo which is friendly to shoppers who can check themselves when they try on the caps.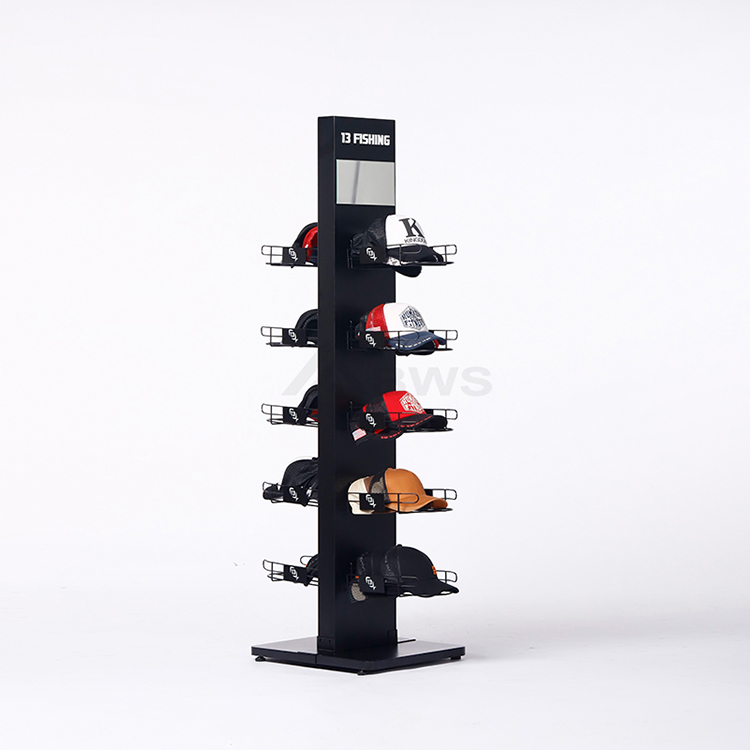 5.  Tabletop cap display stand
As you can see from below photos, it is a countertop baseball cap display rack, which is made of metal wire, it is lightweight and affordable. It can store caps in an orderly manner, which is not easy to be confused. It fully displays a variety of caps. It has a vertical design and does not take up space. Besides, the height of this cap display rack is adjustable. There is a space for the header on the top, you can add your brand logo or information graphics. This baseball cap display rack has 3 attachable pockets, every pocket can hold 8 caps, a total of 24 caps at the same time.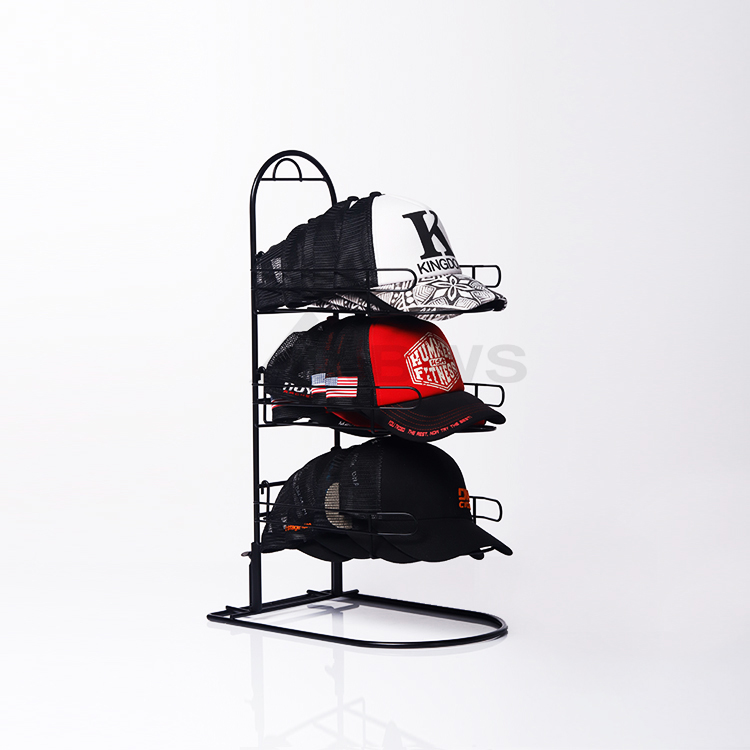 Do you like these 5 cap hats display racks? BWS displays has been a factory of custom displays for more than 20 years, we can make your brand logo cap display stand, hat display racks and helmet displays to fit your brand and products, they will be your silent salesman and increase your sales. Contact us to get your hat display racks display solution now.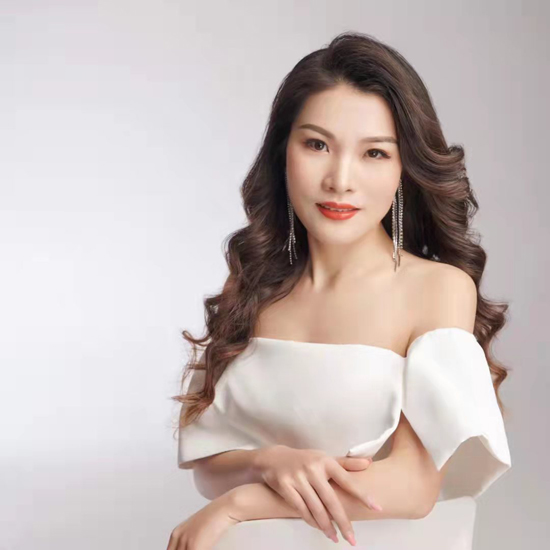 jessie huang
Love what we do and do what we love! Enjoy life, enjoy working in BWS DISPLAYS.