Custom Headphone Display Increase Retail Experience In 4 Ways
Headphone displays are useful tools to showcase headphones, earphones, and earbud products. The global earphones and headphones market size was valued at USD 58,259.2 million in 2022 and is expected to grow at a compound annual growth rate (CAGR) of 12.6% from 2023 to 2030. The growth is attributed to rising demand for trendy headphones as well as specialized headsets catering to various applications like gaming, audiophiles, and fitness is expected to drive market growth.
The growing popularity and adoption of smartphones, tablets, laptops, portable music players, and other mobile devices are expected to catapult the earphones demand. The headphones or earphones are small, lightweight, and easy to use, nearly everyone who has a smartphone owns a pair of earphones. And there are so many choices and brands for consumers. To increase brand image and create a positive retail experience, custom headphone display fixtures are necessary.  Today, we are going to share with you how custom headphone displays can help you.
Custom headphone display can help you
1. Try on and enjoy the sound. All leading retailers have headphone displays that enable people to try on and listen to a variety of brands and types. Custom headphone displays can not only showcase your headphones or earphones, but they can give consumers the chance to try on the headphones and earphones, they can put the earphones on and retailers do not need to worry about the safety of the headphones or earphones. BWS Displays has experience working out how to solve these common retail point-of-sale display problems, such as display in a mess or product missing.
2. Press the bottom and enjoy the music. Different people love different sounds if there are no buttons to change the music or control the column, consumers may not have an impressive shopping experience and make the impulse purchase. If there are buttons like they are using the earphones or headphones like daily use, it will make a big difference. Below is one of the headphone displays that are with buttons. It is also a headphone display stand that with cable, and it protects your headphones from missing.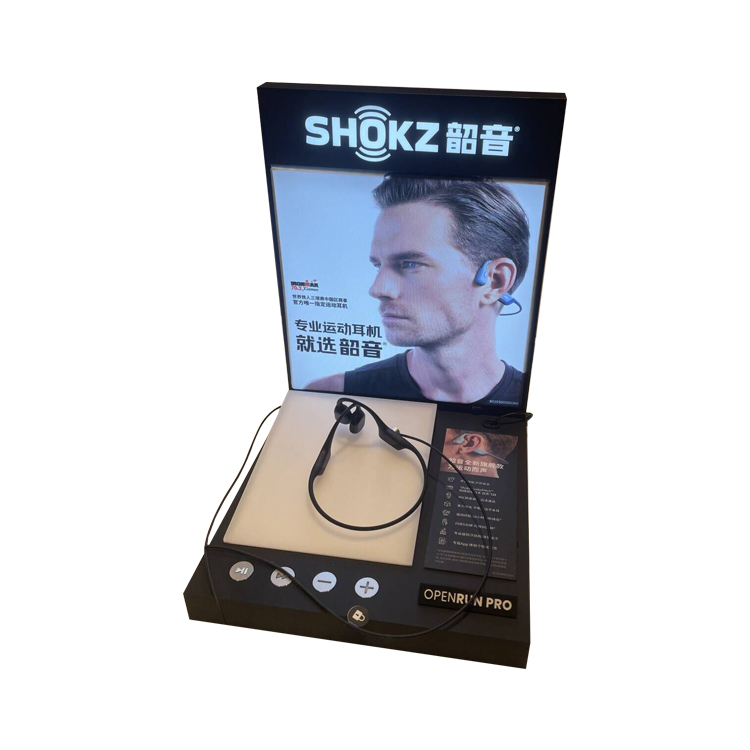 3. Visual merchandising. Lighting is one of the ways to make the products stand out among competitors. With the retail shelf being so competitive it becomes more important to use either sound, video, or lighting to attract attention. People are overwhelmed with the choices available in retail. An LCD player or lighting back panel with custom graphics is attractive and it also gives a demonstration that the headphone or earphone is high quality. Below is another headphone display that has an LCD player on the stand with a lighting back panel for presenting features.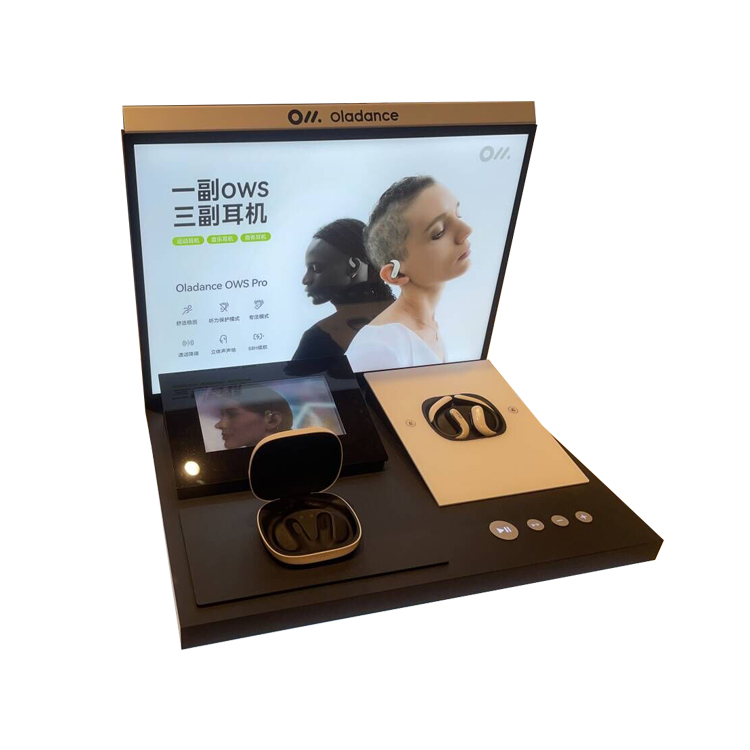 4. Keep your products organized. Headphone displays can help you showcase headphones or earphones in order. No matter whether you use countertop headphone display stands or floor-standing headphone display fixtures, your products will be well-displayed and your products will be in order and tidy with your brand logo. Below one is a tabletop headphone display and the other is a freestanding design. Both of them work well in retail stores.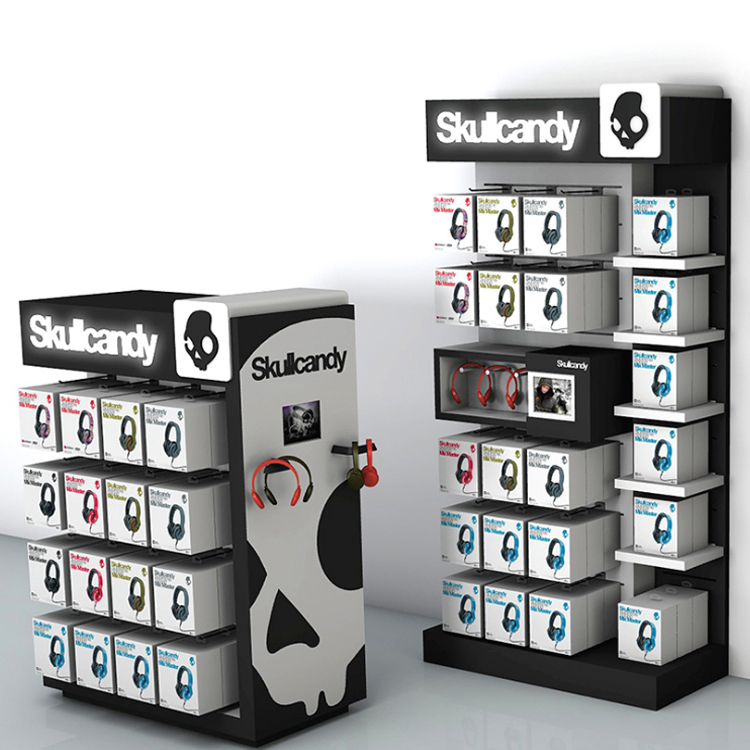 Sales increased significantly as a direct result of this path to purchase fixtures. The fixtures also provided our client with significant marketing and branding benefits due to the high level of traffic the airports usually get. BWS Displays has been a factory of custom displays for more than 20 years, we can make the retail display fixtures that you are looking for. If you need custom displays for your retail stores, please feel free to contact us anytime.
Below are some of the custom displays we have made for your reference. We can make custom displays according to your display needs in different materials. Metal, wood, acrylic, cardboard or PVC are common materials we use to make different sizes, different colors, and different shapes of display fixtures.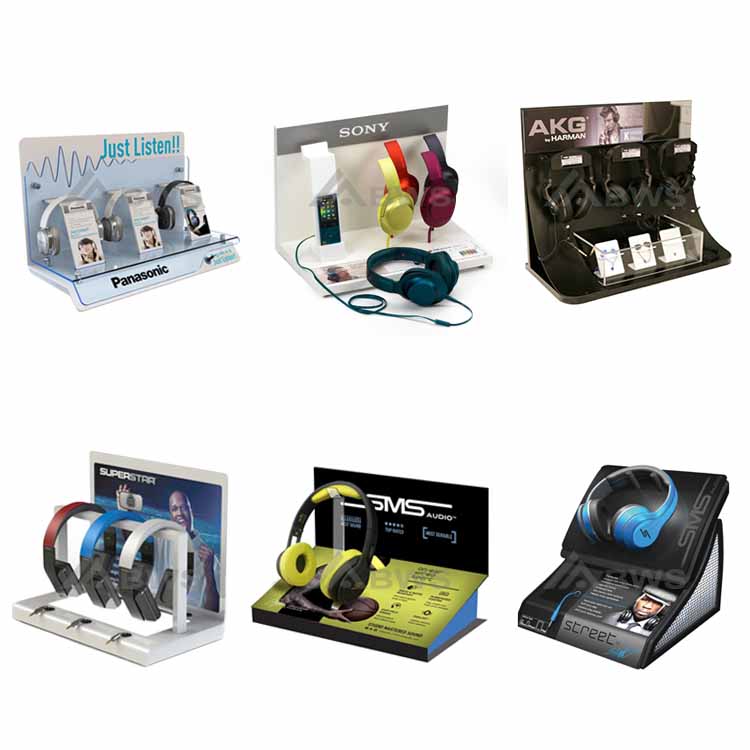 If you have a display idea or reference design, please feel free to send us, and we will give you the right display solution within 48 hours.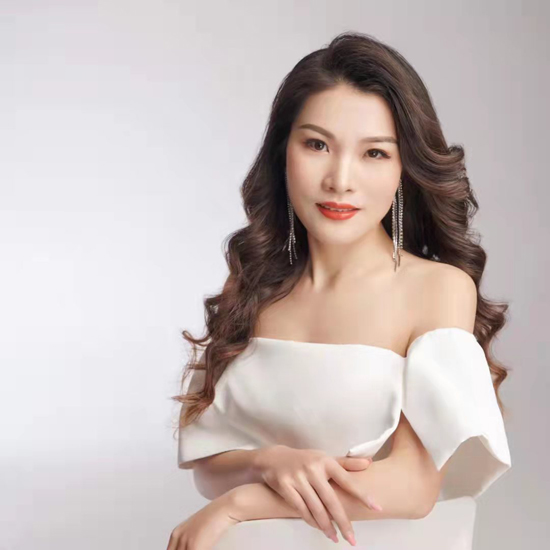 jessie huang
Love what we do and do what we love! Enjoy life, enjoy working in BWS DISPLAYS.