Wood Display Rack Unlimited Possibilities With 5 Examples
Wood display racks are store fixtures that are made of wood, with the natural properties of wood combined with its strength, durability, versatility, and beauty make it an excellent choice to consider for your next POP display or store fixture. BWS Displays has been a factory of custom displays for more than 20 years, we can help you design and craft the wood display rack you are looking for, no matter whether you need plywood display racks, solid wood display racks, MDF display racks or combined wood material display racks, we can make it for you.
Wood display racks work for different industries and they play an important role in retail business. Today we are going to share with you 5 examples, custom wood display rack for beverages, wood cosmetic displays, wood food displays, wood sunglasses displays as well as wood jewelry displays.
1. Wood display racks for beverage
Wood displays can be finished with a wide range of stains and paints to create an entirely new look. Below are 8 wood display racks for beverages.  As you see, wood display rack can be in different shapes, different sizes, different colors, and multi-layers, with custom brand logos and graphics to showcase different kinds of beverages and drinks. Wood is solid, and it has a heavy bearing capacity, so it works well for showcasing many bottles of beverages at the same time, bearing more than 100 kg.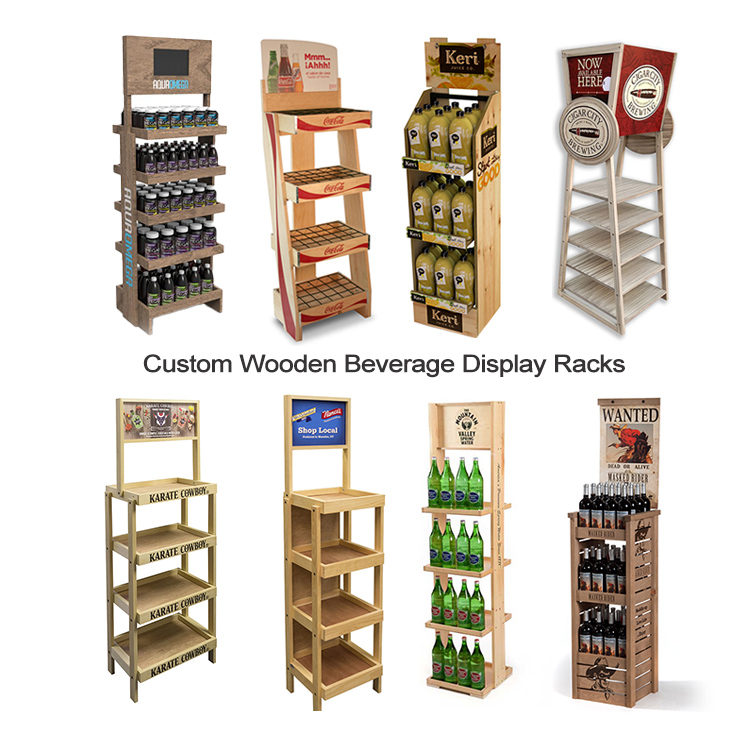 You can custom your brand logo on the header or print it on the shelves or sides, all we do is to increase your brand awareness and build your brand. You also can add an LCD player or LED lighting on the wood display rack to get more notice. In the above 8 designs, the first design is embedded with an LCD player which you can show how your beverage is made, including choosing the raw material, production process, brand culture and more.
2.  Wood food display racks
Wood is also associated with earth, roughness, and rural coherence. Therefore, wood evokes an authentic and traditional feeling. It is a good choice for products that promise quality, continuity, tradition, experience, and craftsmanship. Food is important in our daily lives. To showcase your food and snack products, a wood display rack is a good choice. As you can see, wood food display racks can be in different designs and shapes. There are countertop displays and floor displays to make the best use of your retail space and meet your different display needs.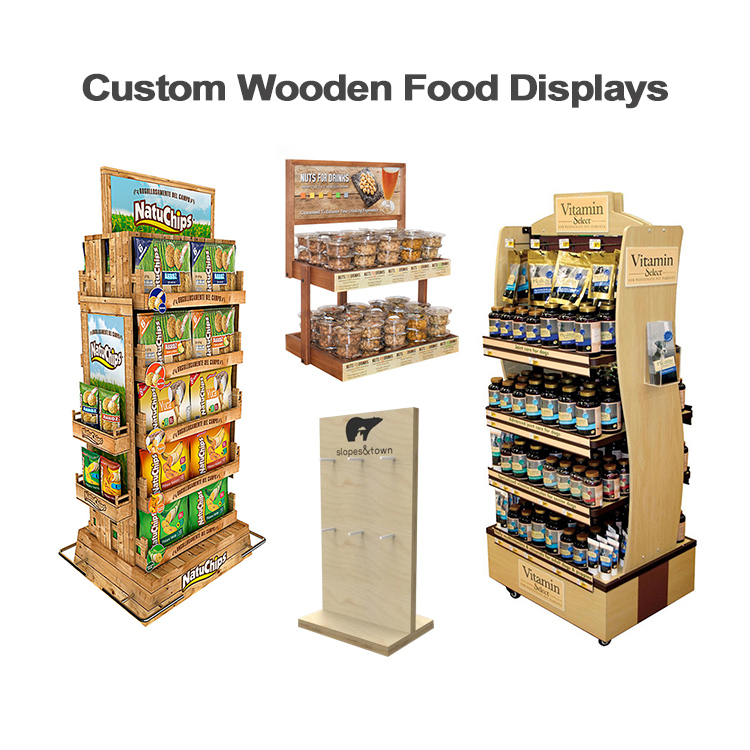 You can put your food products on the shelf or hang them on a hook, you also can have a rotating or movable one, which is friendly to you and your clients. The rotating function is nice for buyers to choose what they like by turning around the display. With casters, you can move the wood display rack to the best visual merchandising location in your retail space. The same as the wood beverage display rack, you can add brand logos and graphics on the displays.
3. Wood cosmetics display racks
Normally, acrylic is a nice material for showcasing cosmetics as cosmetics have a small packing and they can be well displayed on the tabletop. While, wood display racks are also a good choice for cosmetics merchandising, especially for natural cosmetics.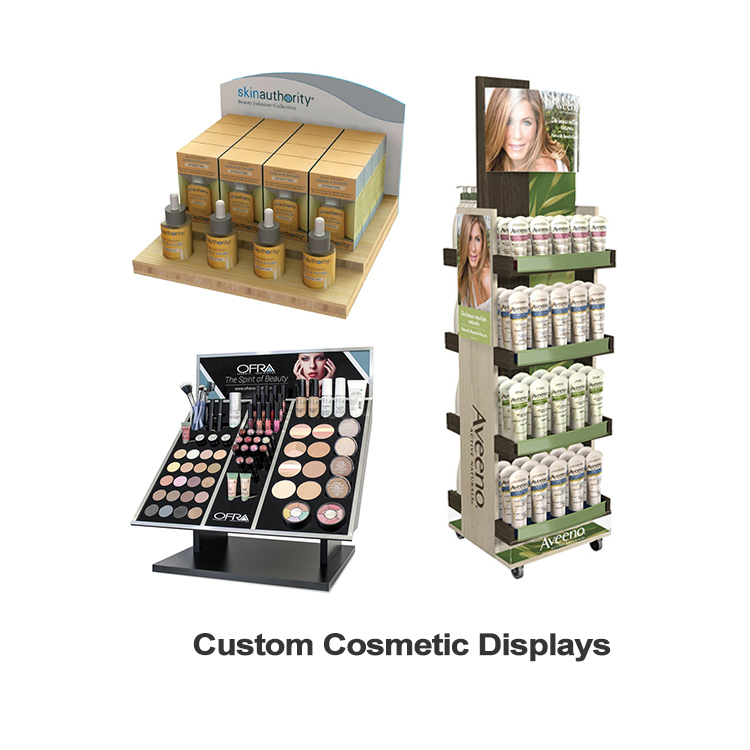 Bamboo is technically a grass and not a timber product, its high strength-to-weight ratio is similar to wood, and its sustainability qualities make it a great choice for making POP displays. The Skinauthority is made of bamboo, and its natural aesthetic is hard not to notice. Besides, wood displays can be painted in different colors. You can see the OFRA display is painted shiny black. You also can choose matt black or other colors.
You also can choose MDF material(Medium Density Fiberboard). MDF is a wood composite material that is superior to particle board in terms of strength and durability. MDF can be finished in several ways including using a melamine finish, a laminate finish, a painted finish, and a solid surface finish, just to name a few. In this case, you can get colorful display racks if you like.
4. Wood sunglasses display racks
Wooden display racks are less costly, making the stands budget-friendly and economical. Many brands and retailers are now turning to wooden sunglasses for their superior quality and looks.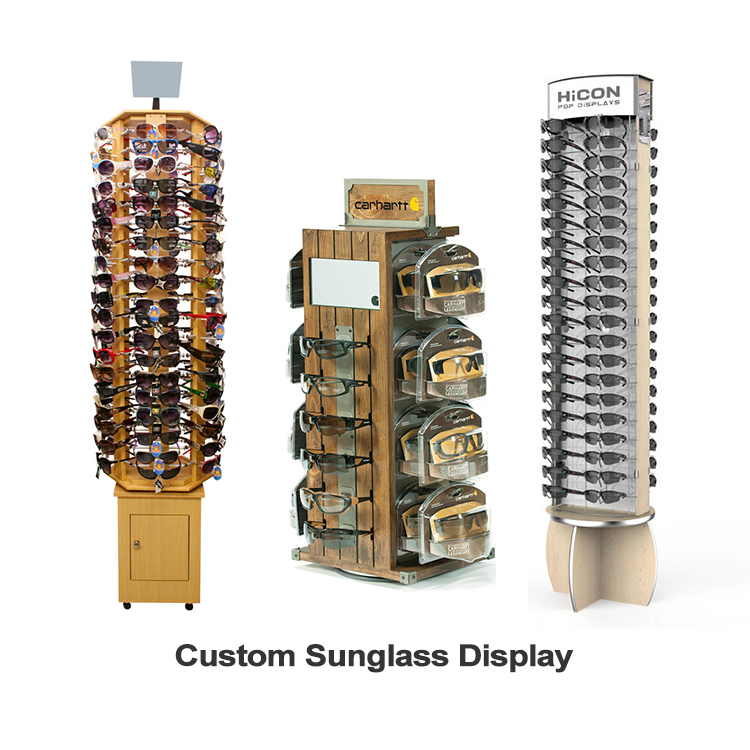 Above are 3 examples of wood sunglasses displays, they are combined with metal parts, which create a strong and durable display fixture that you can not miss. With a drawer, locks or mirrors, which keep your sunglasses safe and convenient for buyers to try on sunglasses, your brand logo also can be added to get more attention.
5. Wood jewelry display racks
Using wood jewelry display racks is a great way to display your jewelry and keep them organized. Custom wood jewelry displays can be in different designs and colors to meet your different display needs. T-bar for bracelets, metal hooks for hanging earrings, display cabinets for rings or necklaces. No matter it is a single side or double side or multi-side display, they can showcase your jewelry in the way you like with your brand logo or graphics. You also can add LED lighting or an LCD player to make it more attractive.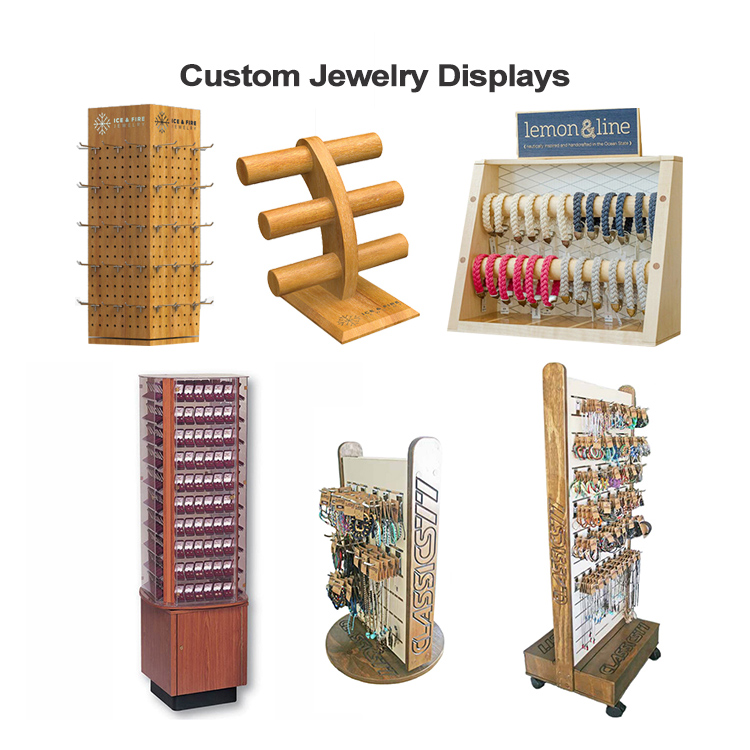 Below all these wood display racks are customized according to clients' specific needs, you can tell us your display idea or contact us any time for more designs. BWS Displays can make custom displays for any retail business, including acrylic displays, metal displays, cardboard displays, PVC displays and more. Try your next project with us now.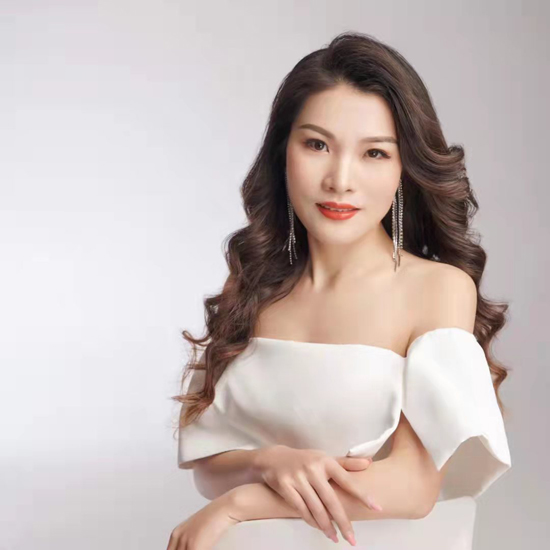 jessie huang
Love what we do and do what we love! Enjoy life, enjoy working in BWS DISPLAYS.