5 Bag Display Stands To Help You Create A Positive Shopping Experience
Bag display stands are useful tools to organize and showcase products in retail stores. When buying a bag, be it a handbag, backpack or any other type of bag, presentation plays a vital role in attracting and engaging customers. Well-designed bag display stands not only effectively showcase products but also create a positive shopping experience for customers. Today, we'll explore five useful bag display stands, including bag displays, tote displays, and backpack displays, that can help you create a positive shopping experience.
1. Luggage display stand
Bag display stands are an important tool for highlighting and displaying your bags in an organized and visually appealing way. These stands feature a multi-layered design that allows you to effectively display different sizes and styles of bags. By using a bag display stand, you can create an eye-catching display that grabs your customers' attention and allows them to easily browse your bag selection.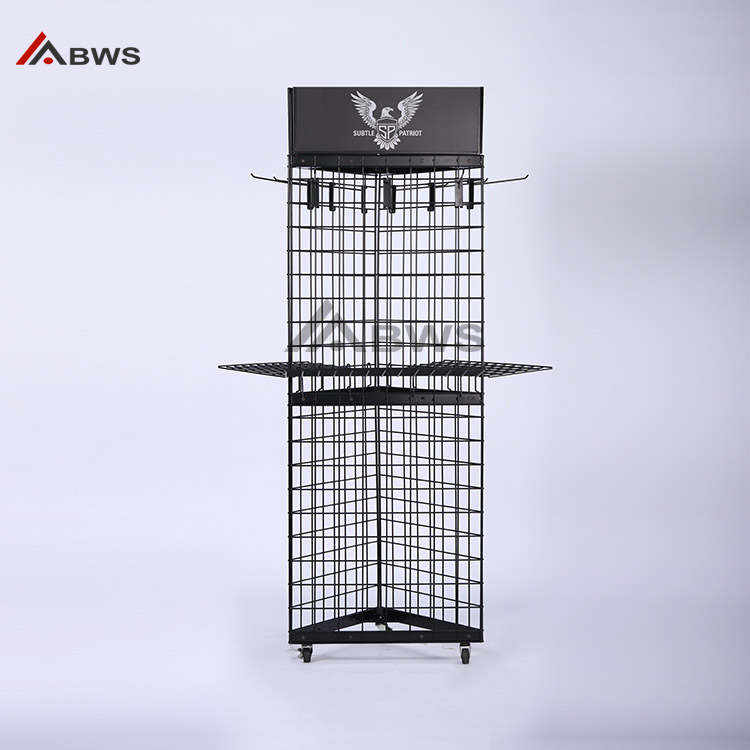 2. Handbag display stand
Handbags are a popular choice among shoppers, and having an attractive handbag display can significantly enhance the shopping experience. Bag display stands often feature multiple slots or compartments to neatly arrange your handbags. This type of display ensures that each tote is easily visible and accessible to customers. Additionally, handbag displays can be designed with adjustable features, allowing you to customize the display to the size and style of handbags you offer.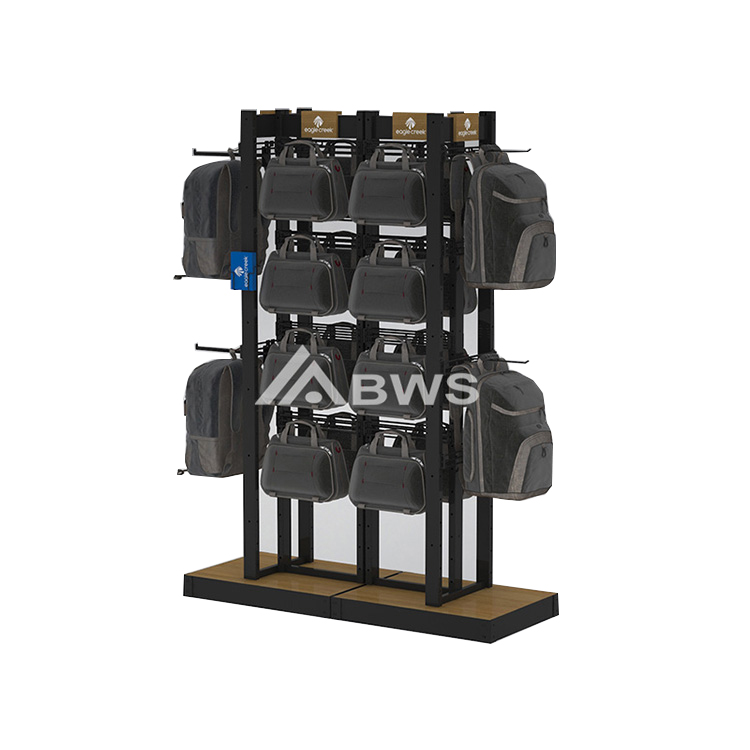 3. Backpack display stand
Backpacks are becoming increasingly popular for both casual and professional use. Therefore, your store can benefit greatly from having a dedicated backpack display rack. Backpack display racks are designed to display backpacks in an upright position, making it easier for customers to inspect the various features and compartments. Some backpack display stands even come with hooks or clips to hang the backpack, giving a more realistic representation of how the backpack actually looks when worn. Below is a display stand for backpack for your reference.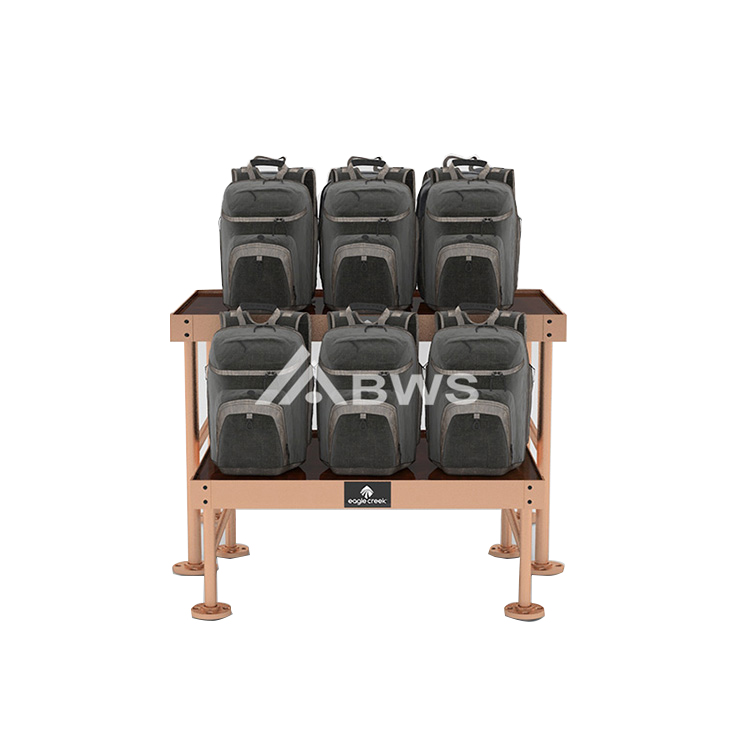 4. Wallet display stand
Wallets are part of life, especially for ladies. Custom wallet display stands are designed to showcase wallets in different ways. There are countertop displays and floor-standing displays. Below is a floor-standing display stand that can showcase wallets on both sides with a custom brand logo on the head.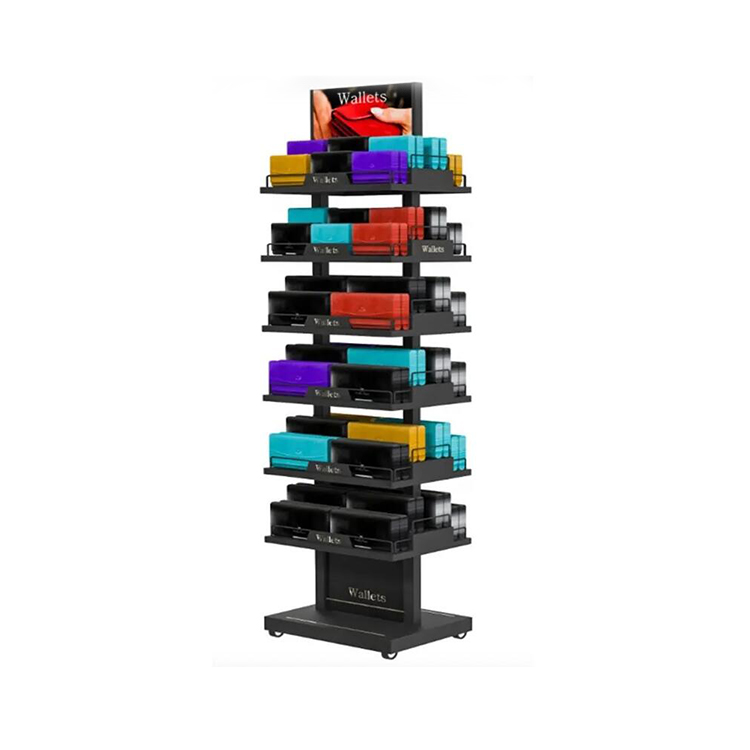 5. Travelling bag display stand
Traveling is very hot and people love traveling. A traveling bag display stand is designed to showcase traveling gear, bags, clothing and much more. This is a free-standing display stand that is made of wood and metal. The top and base shelves are made of wood, while the frames are made of metal tubes, and so do the hooks. The hooks are detachable to the metal frame which can hang and show items on 4 sides.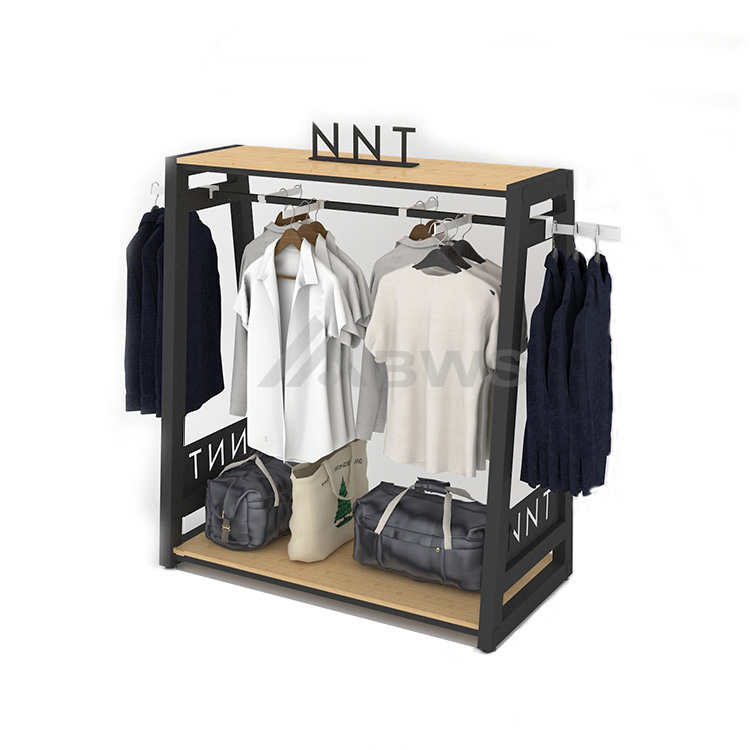 You can add an interactive display to the bag display stands which allows customers to interact virtually with the bag, providing them with more information and a better understanding of the product. For example, you can add product descriptions, customer reviews, and even virtual try-on functionality on your touchscreen or tablet. These interactive displays not only engage customers but also enhance their overall shopping experience.
And you also can add lighting, which can significantly impact the way customers perceive and appreciate your handbags. Consider using spotlights or adjustable track lighting to create a focused and eye-catching effect on specific bags. Additionally, ambient lighting can be used to create an overall warm and cozy atmosphere in your bag display area. Proper lighting can make a huge difference in how customers perceive your bags and ultimately lead to a more positive shopping experience.
Custom bag display stands are critical to creating a positive shopping experience. By utilizing tools like luggage displays, handbag displays, and backpack displays, you can display your bags in an attractive and organized manner. Incorporating interactive displays and using appropriate lighting technology are other ways to enhance the overall shopping experience. Remember, a positive shopping experience not only increases customer satisfaction but also encourages repeat visits and word-of-mouth recommendations. So, invest in visually appealing and customer-friendly bag display stands to showcase your bags in the best possible way.
BWS Displays has been a factory of custom displays for more than 20 years. We can make the bag display stands you are looking for. You only need to share your requirements or sending us a rough drawing or reference design, we will work out a solution for you.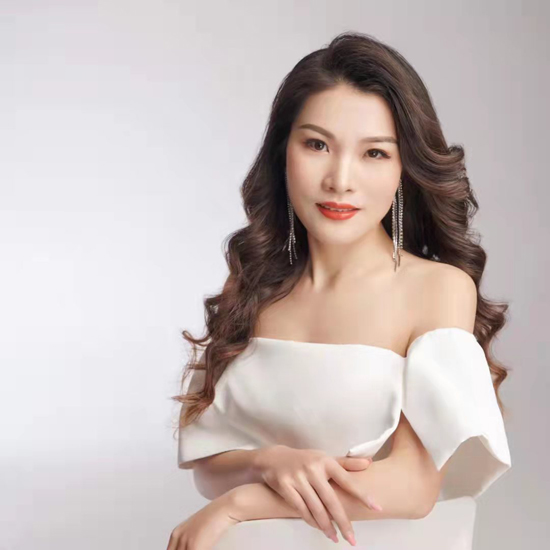 jessie huang
Love what we do and do what we love! Enjoy life, enjoy working in BWS DISPLAYS.