5 Wine Product Display Ideas For Retail Stores
Why do we share product display ideas?
Product display ideas give you new ways to showcase your products. These product display ideas also can help you choose the right display fixtures. Effective displays are typically clutter-free and surrounded by space to allow all visual focus to be on the products being displayed.  BWS Displays is a factory of custom displays that help retailers, brand owners create immersive and engaging experiences for their customers.
The global wine market value was USD 489.3 Billion in 2021 and is expected to grow at a CAGR of 6.1% from 2022 to 2030. The global Wine market is divided into five regions: North America, Asia-Pacific, Europe, Latin America, and the Middle East & Africa (MEA). So how to display wine products is important.
We have over 20 years of experience and know how to add valuable industry insights and be up-to-date with both design and industry trends. We worked for Adidas, Nike, Coca-Cola, Pepsi, Happy sock, Absolut, Nivea, and much more. We want to share our product display ideas to help more and more retailers and brand owners create consumer environments that sell.
Today, we are going to share with you 5 wine product display ideas and we hope these display ideas with custom retail displays will help beverage and wine retailers, and brand owners.
5 wine product display ideas as follow:
1. Tree shape beer display rack.
This wine display stand is special, it is like a tree when you see it from the side. The size is 812.8*508*1524mm, and it is made of metal and wood. These materials are strong enough to bear all the wine bottles and keep them safe and sound. And the sides are made of wooden bars, which make it more like a tree. The two sides are made of wood and match the inner metal frame, it is vivid a tree, giving shoppers a familiar and natural feeling.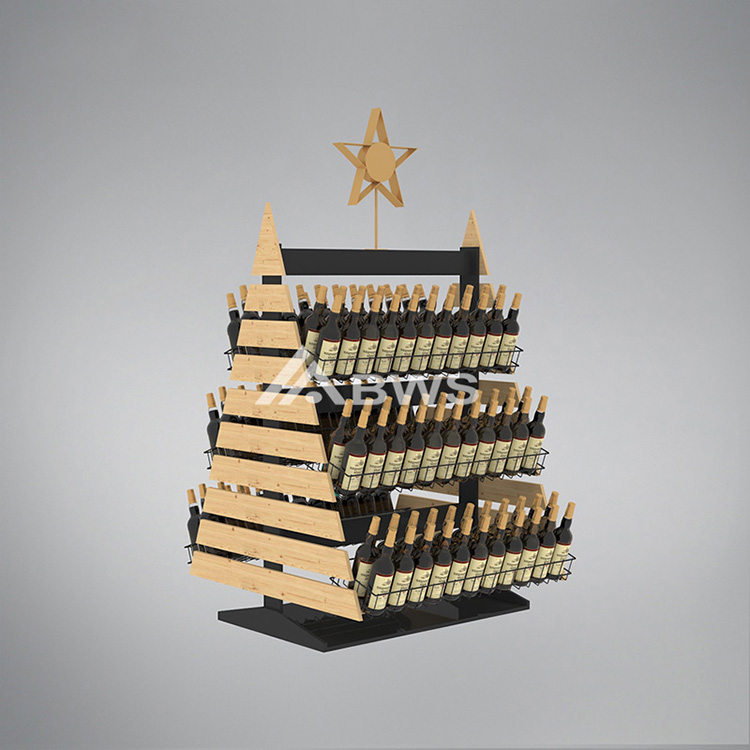 Besides, it is a floor-standing wine display stand with 3 detachable metal wire baskets for wine bottles, it can display 66 bottles on each side, 132 bottles in total.
2. 4-tier Absolut wine display rack
It is a freestanding retail wine display rack in 4 layers. The frame is made of metal, there are 4 metal shelves with acrylic fencing that are adjustable. And two sides are made of die-cut light green plastic, which is decorative. And custom graphics are on the header and back panel as well as the base. Logo graphic increases brand awareness. Metal frames are powder-coated gray, a high-end color. While the base body is white.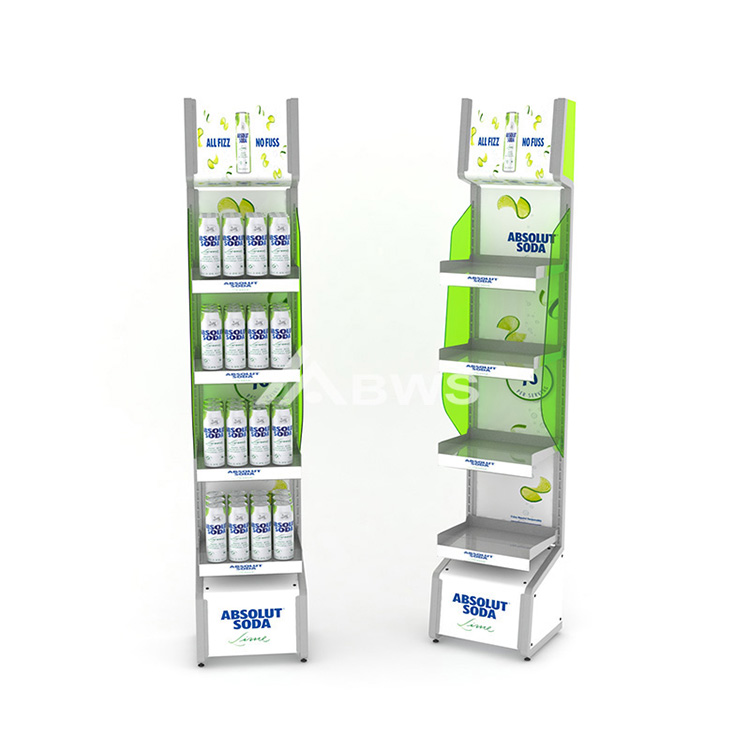 3.  Bottle shape Absolut display stand.
It is also a floor soft drink display stand design for Absolut, a 4-layer display in a bottle shape. Customers can easily see the product on the stand, and your graphics will be well shown on the top, side, and bottom. Each layer is designed to hold 25 bottles of 500ml soda bottle. It is made of metal with PVC signage, stable and durable, as well as attractive.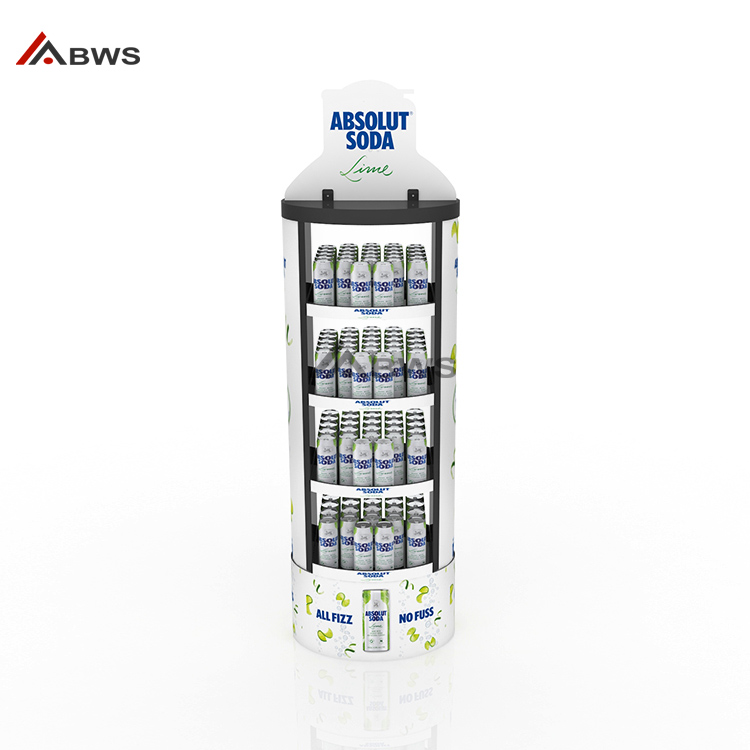 The above 3 designs are for floor standing, they also take a small footprint. In order to make the best use of the retail space, here is a countertop wine product display idea for you.
4.  Acrylic countertop beer display stand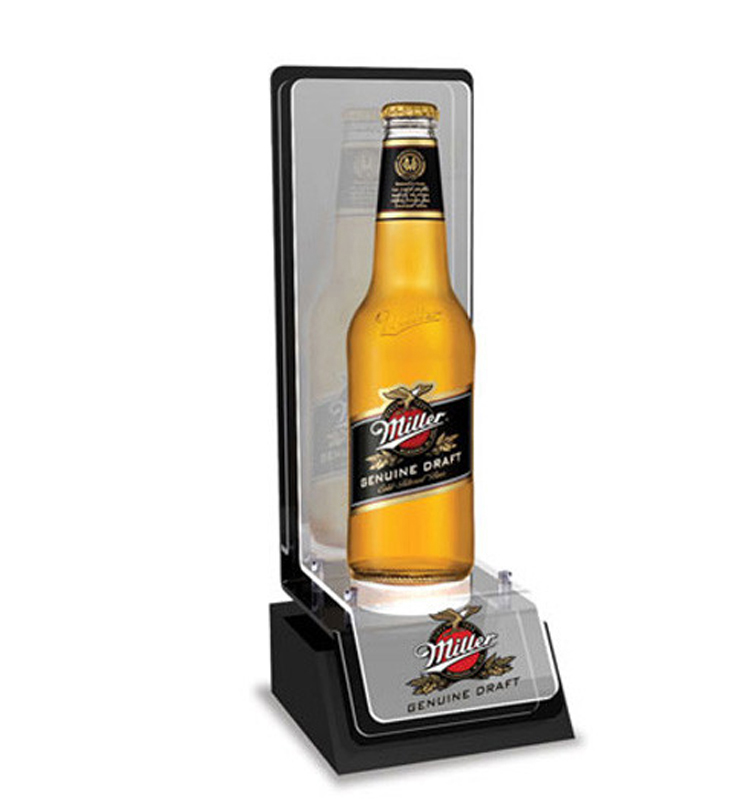 This is a display stand made of acrylic for a single bottle. There is LED lighting on the base, which makes the beer more attractive. It works well for new product sales. The brand logo is on the tilt front, which is printed on the acrylic stand.
5. Wall-mounted wine display shelf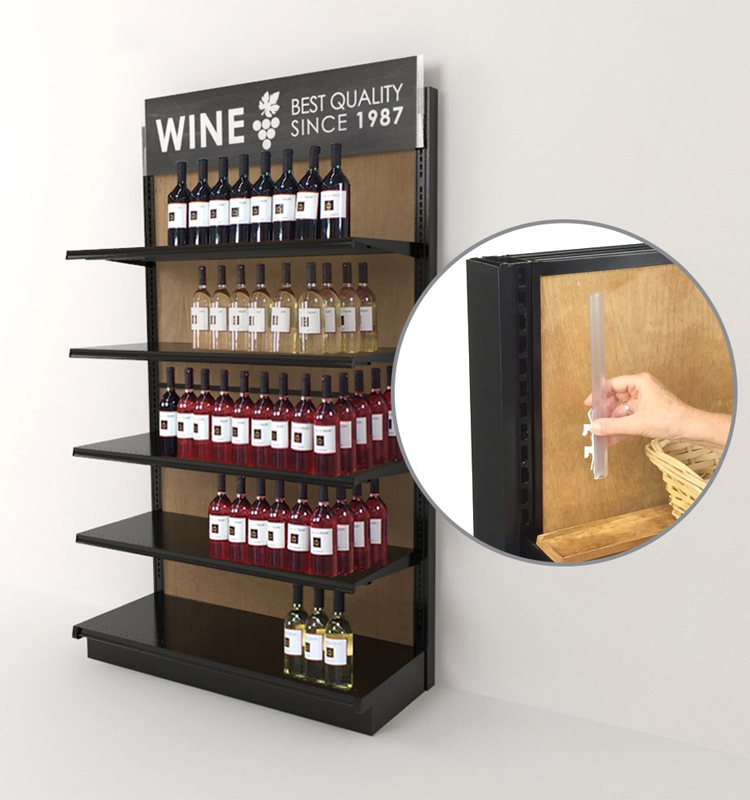 To make the best use of your store space, wall mounted wine display shelf is also a good choice. These wine display shelves can be adjustable and meet different display needs. Besides, you can add price tags on the shelf edge. And the brand logo or graphics can be added to the header. These wine display shelves are knock-down designs.
Hope these 5 wine product display ideas will help you. If you need more product display ideas, you can contact us anytime. We can send you different material display designs because we are a factory that can make metal, wood, acrylic, cardboard as well as PVC displays.
How to make a custom brand display rack?
It is easy to make your brand display rack with us as we will give you advice and guide you step by step.
First, You only need to share us with your requirements or product display ideas. a picture or a rough drawing, and we will give you suggestions or designs for you. We need to know the dimension of your product, how many products you want to display at the same time, and what style of display you like, tabletop or floor standing.
Second, after confirming your needs, we will send a rough drawing and 3D.
Third, confirm the design and make a sample.
Fourth, mass production and checking quality.
Fifth, safe package and arrange shipment, contains container layout and loading.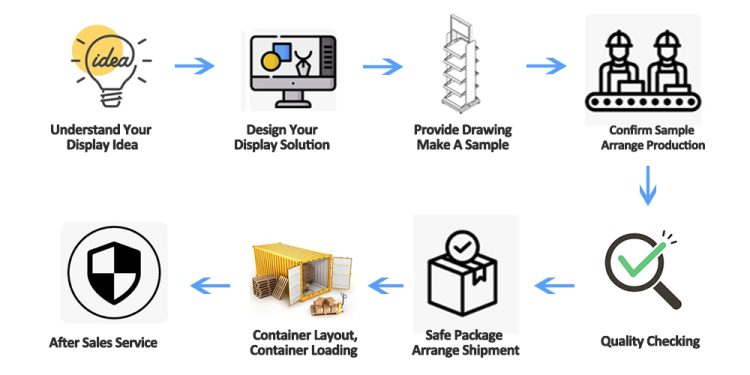 We do not stop after delivery, we provide lifetime after-sales service. So you can trust us and start your project with us now.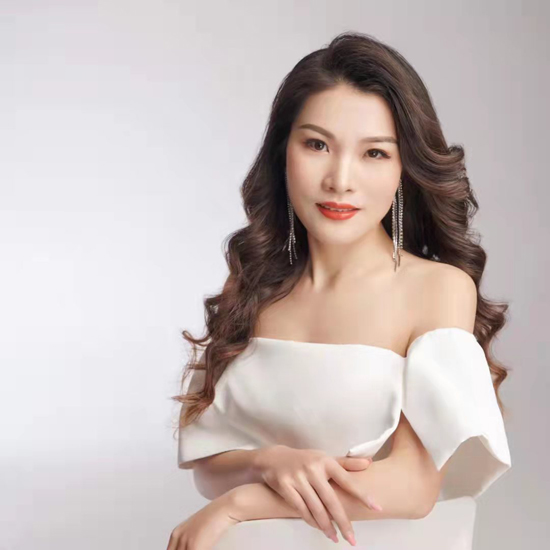 jessie huang
Love what we do and do what we love! Enjoy life, enjoy working in BWS DISPLAYS.