Why Choose Wooden Displays? 6 Reasons
What are wooden displays?
Wooden displays have been a popular choice for retailers for years, and for good reason. They have a wide range of advantages that make wooden displays an attractive and practical option for displaying your products. There are wood display racks, display stands, display boxes, display cases, display cabinets, and display shelves to meet different merchandising needs. In this article, we explore these advantages and gain insight into why wooden displays are so popular with retailers.
Why choose wooden displays?
1. One of the main advantages of wooden displays is their durability. Wood is a strong and durable material that can withstand the wear and tear of everyday use. Unlike other materials such as plastic or metal, wooden displays are not prone to cracking, warping or breaking. This means they can last for years without replacement, making them a cost-effective option for retailers.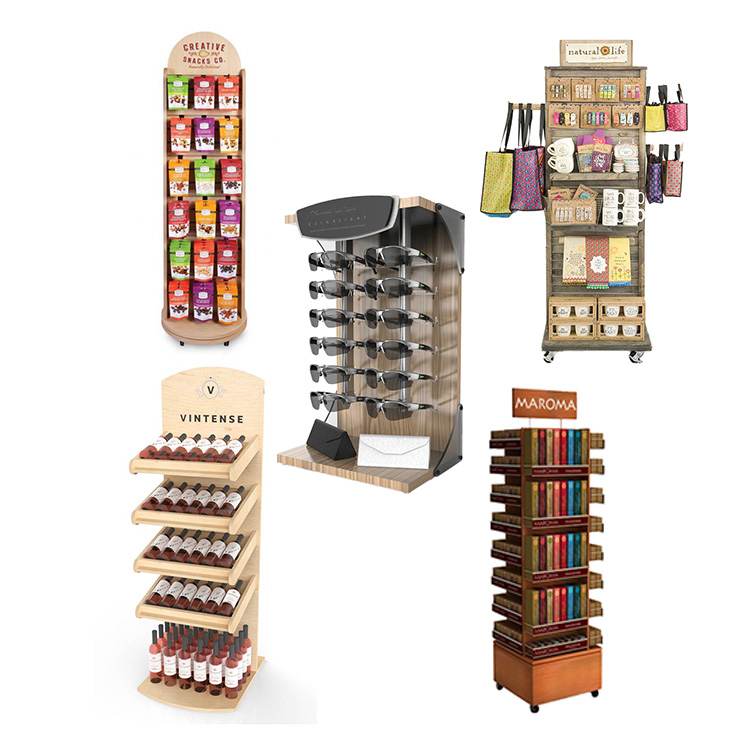 2. Another advantage of wood displays is their versatility. Wood can be used to create a variety of different displays, including wood floor displays, wood retail displays, and wood countertop displays. This means retailers can choose the type of display that best suits their needs and the products they want to display. Wooden displays can also be customized to meet specific requirements such as size, shape and color, allowing retailers to create unique displays that stand out from the competition.
3. Wood displays are also eco-friendly. Wood is a renewable and sustainable material that can be sourced from responsibly managed forests. This means retailers can use wooden displays without negatively impacting the environment. Wooden displays can also be recycled at the end of their useful life, reducing the amount of waste that ends up in landfills.
4. In addition to their practical advantages, wood displays also have aesthetic advantages. Wood is a warm and natural material that can create a warm and inviting atmosphere in retail spaces. The natural grain and grain of wood can add depth and character to a display, making it more visually appealing to shoppers. Wooden displays can also be stained or painted to match the decor of the retail space and create a cohesive visual experience for customers.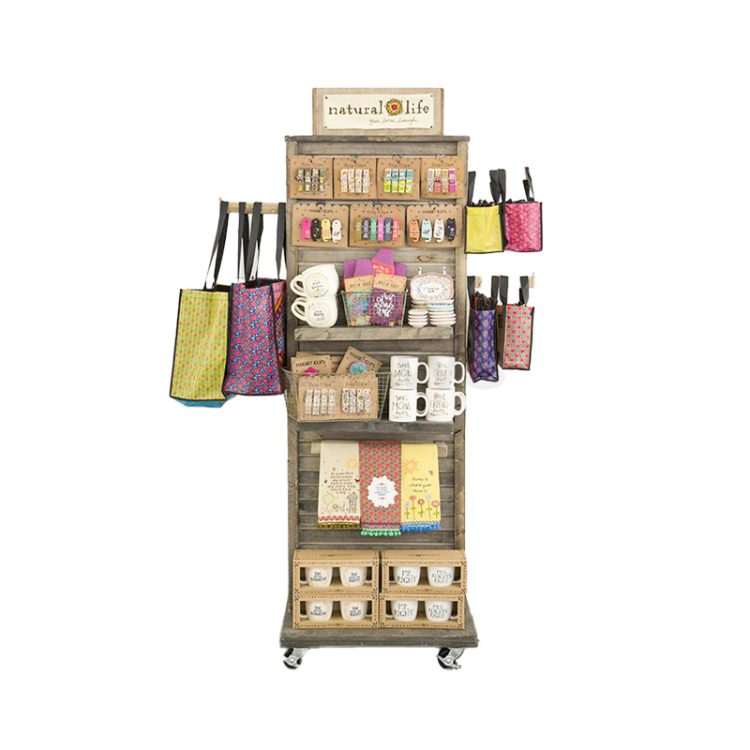 5. Wood displays also help create a sense of brand identity for retailers. By choosing wood display fixtures, retailers can communicate authenticity and quality to their customers. Often associated with traditional craftsmanship and high-end products, wooden displays help to create a positive image for the brand. Wooden display stands can also be customized with logos and branding, making them a powerful tool for brand awareness and recognition. The logo can be laser-cut, burned, printed, 3D and more.
6. One of the most notable advantages of wooden displays is their ability to increase sales. Wood display cabinets are often used to showcase high-value and quality products, which helps create a sense of exclusivity and luxury in the minds of customers. This could increase sales, as customers are willing to pay a premium for products that are perceived as high-quality and exclusive. Wood displays can showcase a lot of products, cosmetics, sunglasses, food, wine, gifts, tiles, and other industries.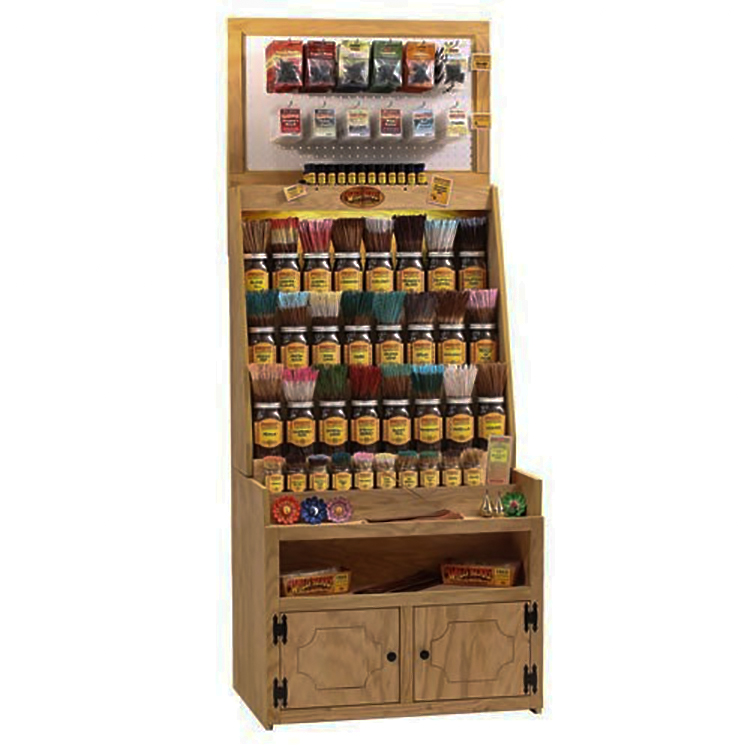 In conclusion, wood display units have many advantages that make them a popular choice for retailers. They are durable, versatile, environmentally friendly, and offer significant aesthetic and branding benefits. They also have the ability to increase sales, making them a valuable investment for retailers.
If you are looking to create a unique and visually appealing display that conveys a sense of quality and authenticity, wood displays are perfect for you. With their many benefits and advantages, you can create a showcase that not only showcases your products but also helps build your brand and increase sales.
BWS Displays is a factory of custom displays with more than 20 years of experience. We can help you turn your display ideas into reality. We strive to exceed expectations by providing high-quality displays for each specific store's needs. Our aim is to promote sales and increase customer satisfaction levels. Since not every store is the same, our expert team will work with you to make sure you are utilizing your merchandise space effectively.
How to make wood displays?
There are 7 steps to make your brand wood displays.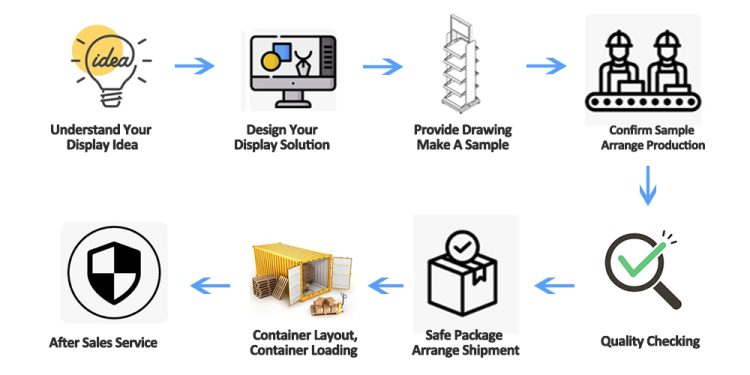 Step 1. Understand your specific needs. You can share with us your display ideas with a photo, rough drawing or reference design, we will give you professional suggestions after we know more about your products, such as product specifications, brand culture and more. If you can send us samples, it will be more helpful.
Step 2. Design and offer drawings. We will design and provide renderings and drawings to you.  You can make some changes or approve the design before we offer you a quotation. We need to know what kind of items and how many you need to display at one time, where you want to use it, what material you need, where to add the logo, how many pieces you need, etc before we quote the EX-work price to you. If you need FOB or CIF price, we need to know where these displays ship to.
Step 3. Make a sample. We will make a sample for you after you approve the design and price and place an order. We need to make sure the literature stand will increase your brand influence and sales. It always takes 7-10 days to finish the sample. And we will take HD photos and videos in detail, such as measuring the dimension, packing, logo, assembling, gross weight, net weight and more before we ship the sample out to you.
Step 4. Mass production and quality checking. Our team will start mass production after you approve the sample. Our Qc team will control in detail to make sure mass production is as good as the sample. At the same time, our project manager will follow up and update regularly with photos and videos from laminating to packing.
Step 5. Packing & container layout. We will give you a container layout after you agree with our package solution. Normally, we use foam and plastic bags for inner packages and strips even protecting corners for outer packages and put the cartons on pallets if necessary. A container layout is to make the best use of a container, it also saves shipping costs if you order a container.
Step 6. Arrange shipment. We can help you arrange the shipment. We can cooperate with your forwarder or find a forwarder for you. You can compare these shipping costs before you make a decision.
Step 7. After-sales service. We are not stopping after delivery. We will follow up on your feedback and solve your questions if you have any.
If you need more designs or want to know more about us, contact us now. We will be happy to work for you.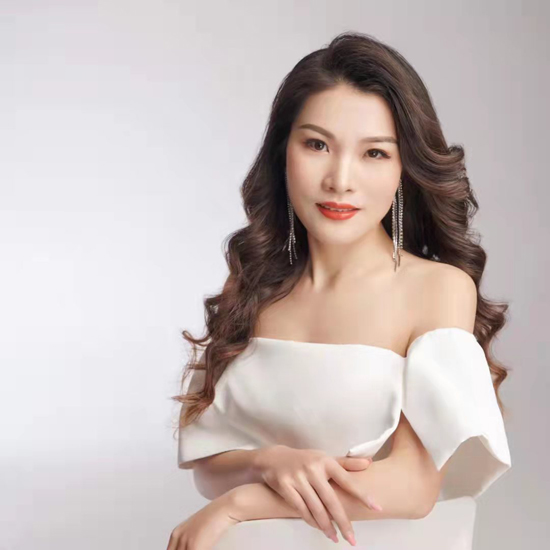 jessie huang
Love what we do and do what we love! Enjoy life, enjoy working in BWS DISPLAYS.