Cool 5 Sock Display Ideas help you sell
Why do we share with you sock display ideas?
The reason we share with you sock display ideas is that we know how to display socks in stores. Socks are made using a variety of materials, such as cotton, wool, nylon, acrylic, polyester, olefins, spandex, silk, bamboo, linen, cashmere, and mohair, which are used based on different requirements and weather conditions. So there are so many brands and choices for shoppers. And hosieries are in different lengths and sizes too.
According to IMARC latest report, the global socks market is expected to exhibit a CAGR of 5.2% during 2022-2027. We can see that key players in the socks industry are Adidas, Nike, Puma, and Under Armour, their socks are hung on brand name display fixtures in stores. For instance, we would like to share with you 5 sock display ideas to stand out among competitors.
1. Sock display box
The first of the 5 sock display ideas is a sock display box which is popular and keeps socks from dust. We have made sock display boxes for Happy Socks since 2012.  It is a square wooden display box with many dividers inside. Both the top box and the base box can be shown with socks or stored socks. Dozens of socks are available to put into one sock box. Brand logo Happy Socks on the inner top, which is brand merchandising. Click below photo to get details.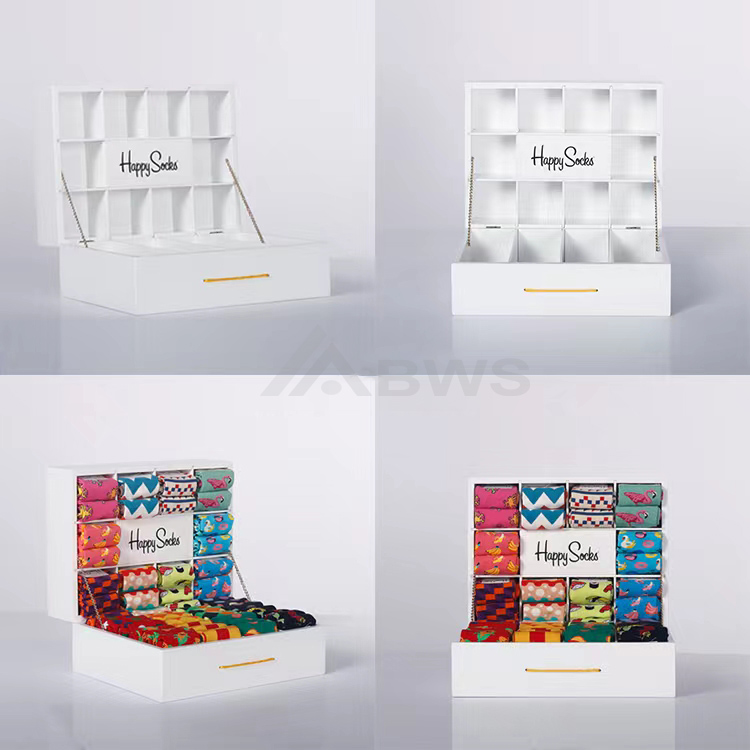 2. Floor-standing sock display stand
This freestanding sock display stand was made for Thought, a UK brand clothing maker who started their business in 1995. Their products cover women, men, socks, accessories, loungewear, footwear and more.
As you can see from below photo, this sock display stand is made of wood with 16 detachable hooks on double sides. A custom brand logo is screen printed on the top, which is obvious to get attention. It is a countertop design as well as a floor design in different colors, black and white. If you want to know more details, please come to the post sock display rack.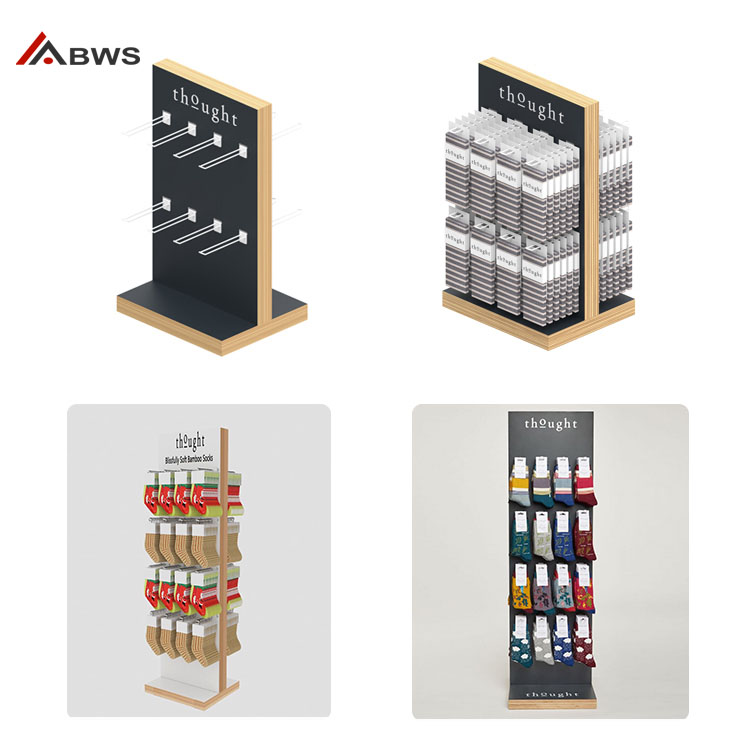 3. Countertop wood sock display
It is the same design as the floor sock display, just smaller to display socks on the countertop. It is also made of wood in black and white. A custom brand logo is on the top, a knock-down design, which has 8 detachable hooks on each side.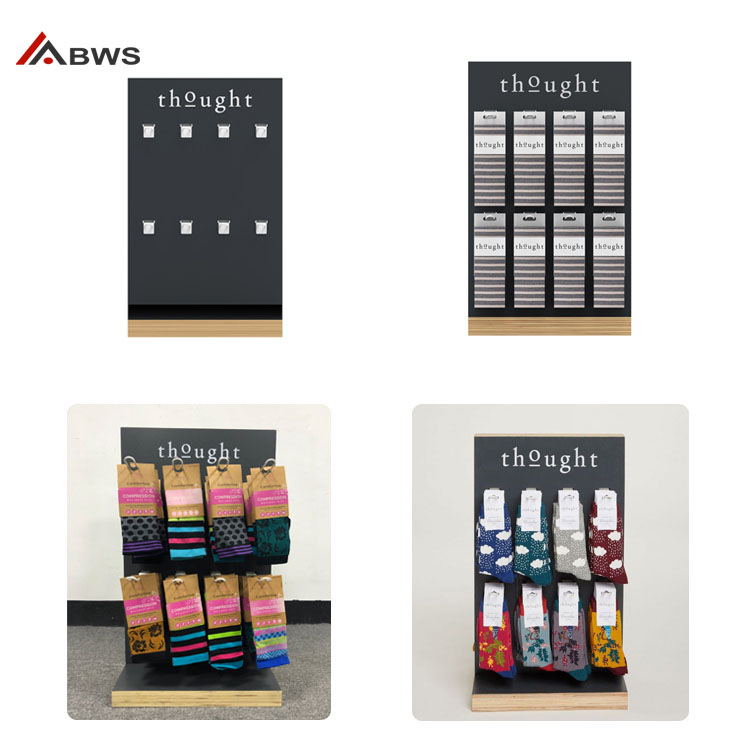 4. Metal sock display with foot mannequin
As you can see from below 3D rendering, it is a visual merchandising sock display fixture. Both head and two sides are with custom graphics. And there is a shelf for foot a mannequin, so it can display socks in two ways, hang on and try on. 3 rows hooks are adjustable, they can meet different display needs according to socks dimensions. If you need to see more information about this sock display, contact us now.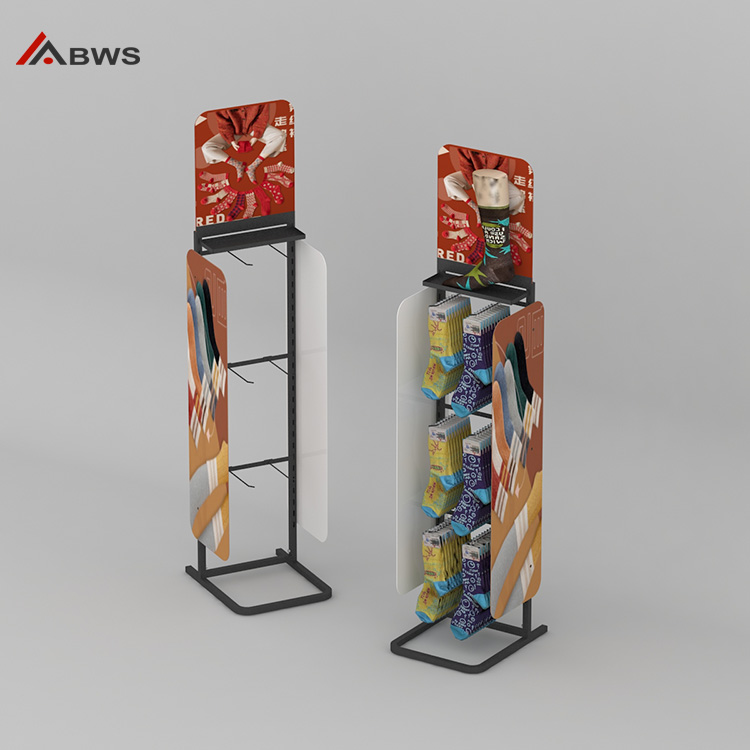 5. Metal floor retail sock display rack
Here are the last of the 5 sock display ideas, it is a white freestanding double-sided display rack. This retail sock display rack is designed for Banfolk which is a community-centric, female-founded brand. Each Bonfolk design is original, inspired by the Southern U.S. and other fun things.
Made of metal with detachable 16 hooks on each side, this sock display rack is 1370*400*300(mm), which is convenient for shoppers to choose socks. It is strong and can showcase 160 pairs of socks at the same time. A custom brand logo is at the top of this retail sock display rack on both sides. It is powder-coated white with screen printed black logo, while it is also can be powder-coated black with a white logo.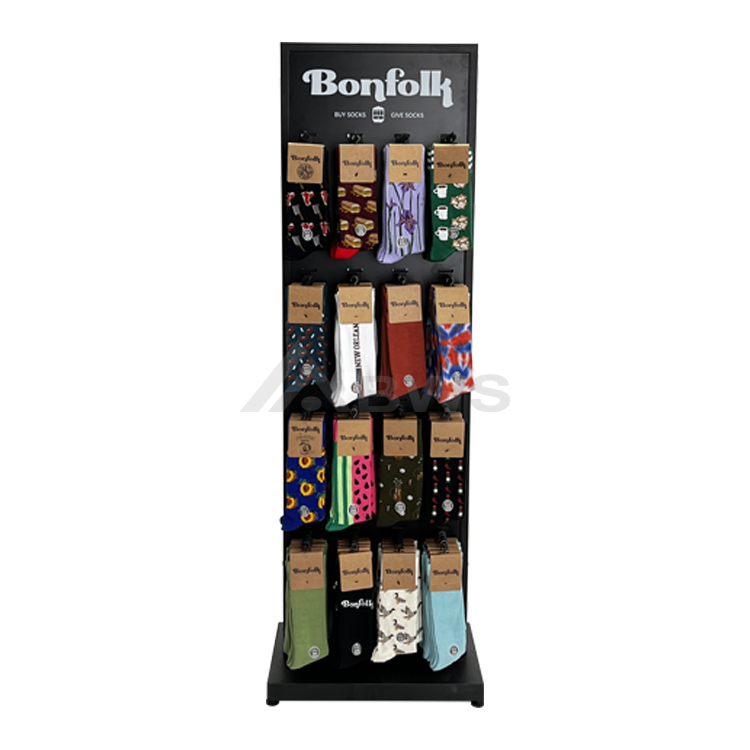 We hope the above 5 sock display ideas will help you to choose your brand sock displays. If you need more sock display ideas or designs, you can contact us at any time. If you want to try a sample with us, you are welcome.
How to make your brand custom sock display rack?
There are several steps to make your brand sock display racks.
1. Share with us sock display ideas or your specific needs, and what socks dimensions in length*width* thickness you need to display.
2. Tell us what kind of display you are looking for, floor-standing or countertop, how many socks you need to display at the same time, what kind of material you prefer, wood, metal, acrylic, cardboard, or mixed, how to add your brand logo, etc.
3. We will send you rough drawings and 3D renderings from different angles, with products and without socks.
4. A sample will be made after you place an order. When the sample is finished, we will assemble and check the dimensions, finishing effect and test the sample.
5. After the sample is approved, mass production will be followed. We will control the quality to make sure the displays are the same as the sample.
6. When everything is done, we will arrange a safety package and help arrange shipment.
As you can see, it is not difficult. And we are sure you will be happy to see these sock displays work in your stores to help you sell and increase brand awareness.
Of course, you can share your sock display ideas and we can turn them into reality for you.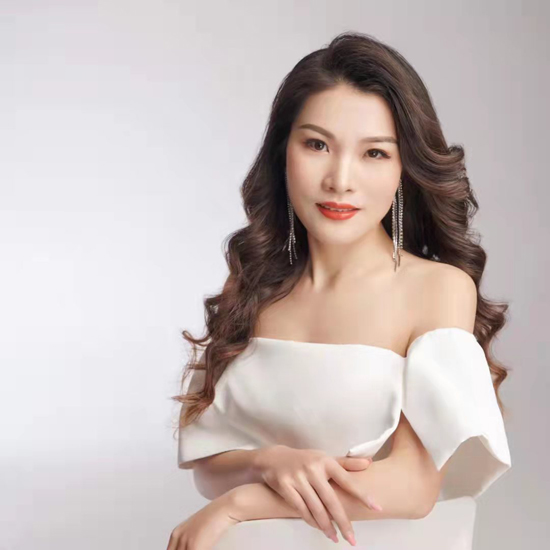 jessie huang
Love what we do and do what we love! Enjoy life, enjoy working in BWS DISPLAYS.