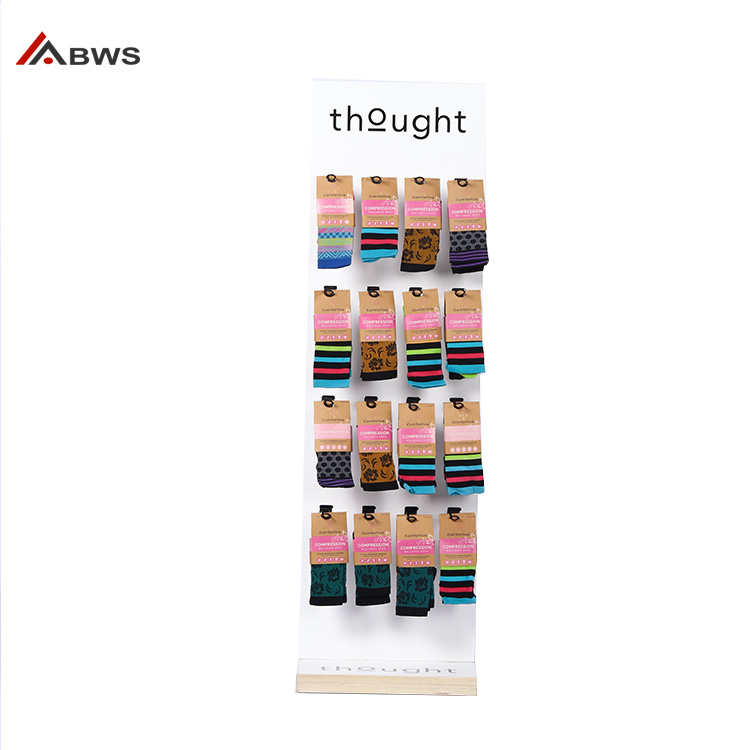 Memorable 2-way Wooden Sock Display Rack With Custom Logo On Top
Order(MOQ):50
Payment Terms:EXW, FOB Or CIF
Product Origin:China
Color:White/Black
Shipping Port:Shenzhen
Lead Time:30 Days
Service:Customization Service, Lifetime After-sales Service.
How to display socks?
There are many ways to display socks, sock display rack is one of them where you can display your sock with custom brand logos. Other displays like using display boxes, wall mount hooks, foot models and more. Different displays create different shopping environments. You can choose the way you like, while according to our experience, a custom display fixture is a better choice.
What's the trend of socks market?
The socks market is witnessing steady growth in 2021 with worldwide revenue up by 5.3% year on year. North America holds a significant market share of 18.4% of the global market, due to shifting of consumers toward thinner socks with some element of cushion that still offers a lot of warmth and raising awareness about the importance of socks. The U.S. holds 87.3% of the market share in North America, and is expected to observe high investments in custom socks and eco-friendly socks over the coming years.
So the competition among socks retailers and brand holders is more fierce, displaying your socks in an eye-catching way makes your socks stand out. Displaying your items is easier and more convenient now with sturdy and trendy socks display rack is one of the best solutions.
How to make a custom sock display rack?
It is not difficult to make your brand sock display rack at BWS as we are a factory with more than 10 years' experience. We have made thousands of sock displays. Today, we share with you one example of a sock display rack we made for Thought, a UK brand clothing maker who started their business in 1995. Their products cover women, men, socks, accessories, loungewear, footwear and more.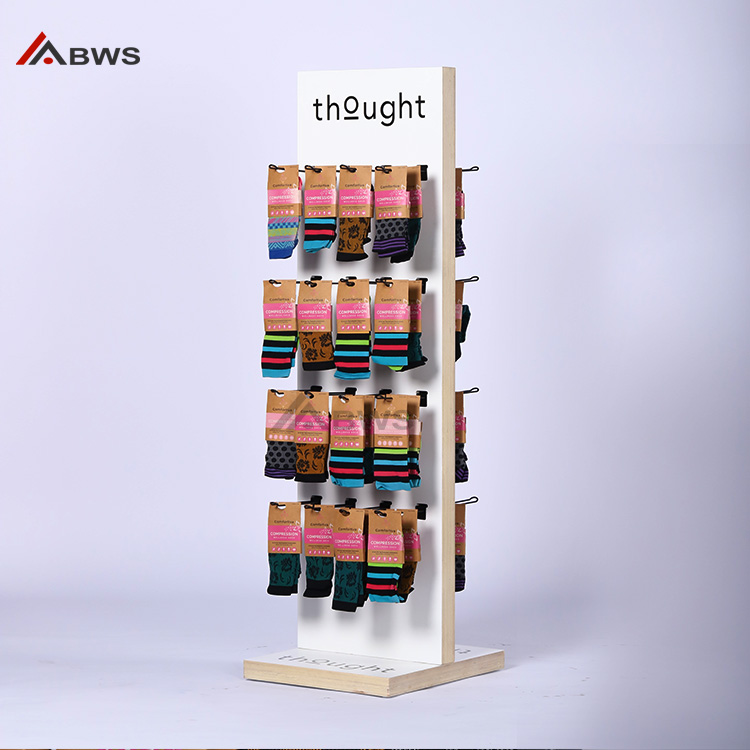 First, You only need to share us with your requirements or display ideas. a picture or a rough drawing, and we will give you suggestions or designs for you. In this case, the buyer from Thought told us that they were looking for a sock display rack that should be a natural look. As their socks are made of bamboo fiber and cotton in different colors, they wanted the display stand to be in white color. And they wanted a floor-standing double-sided display rack.
So we asked the dimension of their socks, how many socks did they want to display at the same time and advised the buyer to make the display in wood with melamine white finishing. And according to the dimension of the socks, we left a small gap among socks, made the display with 4-tier hooks. And we got their logo from their website and added it on the display.
Second, we sent a rough drawing and 3D rendering for confirmation.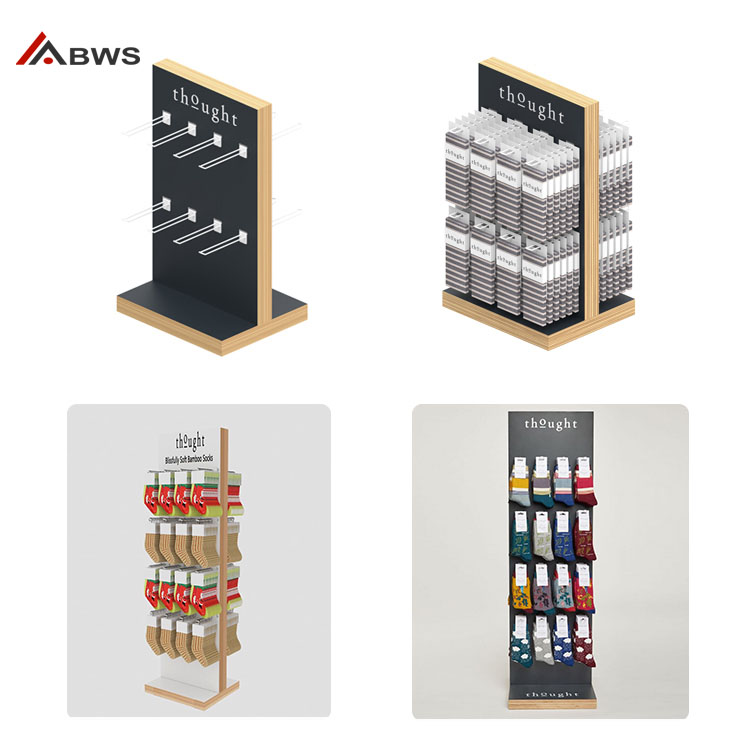 Third, If you do not like the design, we can modify it; if you like, we will make the sample for you. In this case, we made a sample for testing. When the sample is finished, we assembled and tested it, took photos for the buyer..
Fourth, After the sample is approved, we will control the details in mass production to make sure the displays are the same as the samples. In this case, we make another color black painting after the sample as the buyer wanted to see how the black color sock display rack worked.
At last, We will make a safe package and arrange the shipment for you. So you do not need to worry about it.
Can I have more details for this sock display rack?
Of course, you can see more details from below photos.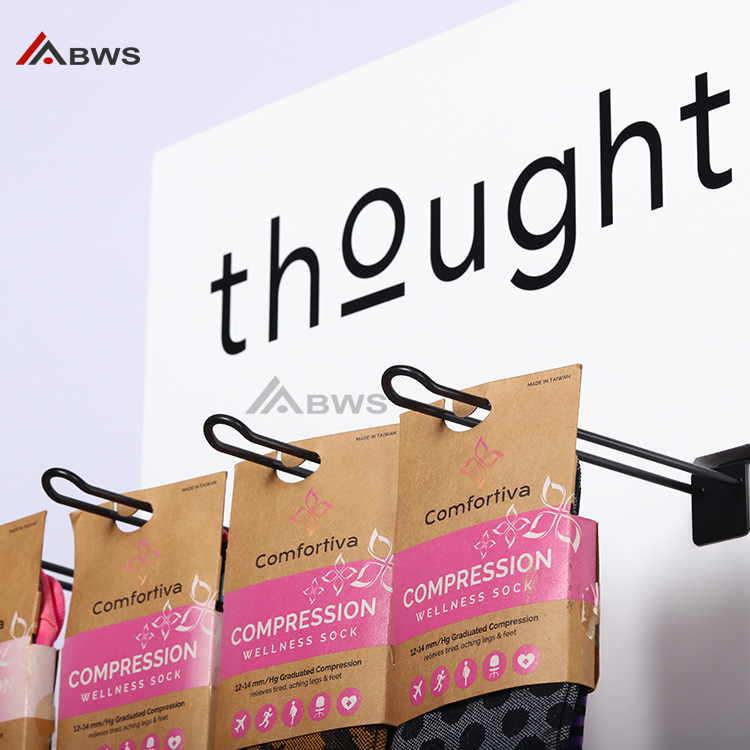 This photo shows the printed logo and detachable hooks with socks.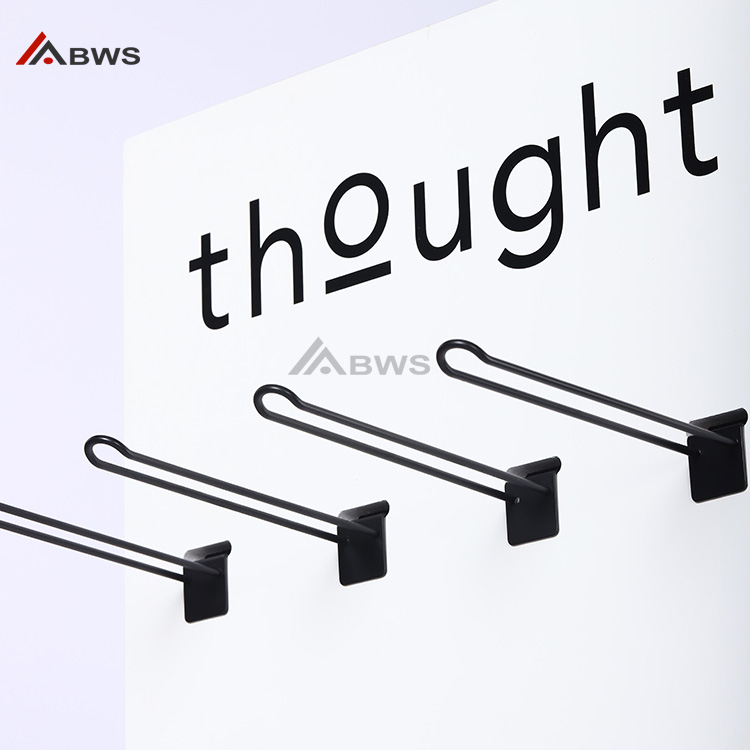 Here is the same part without socks, you can see the hooks better.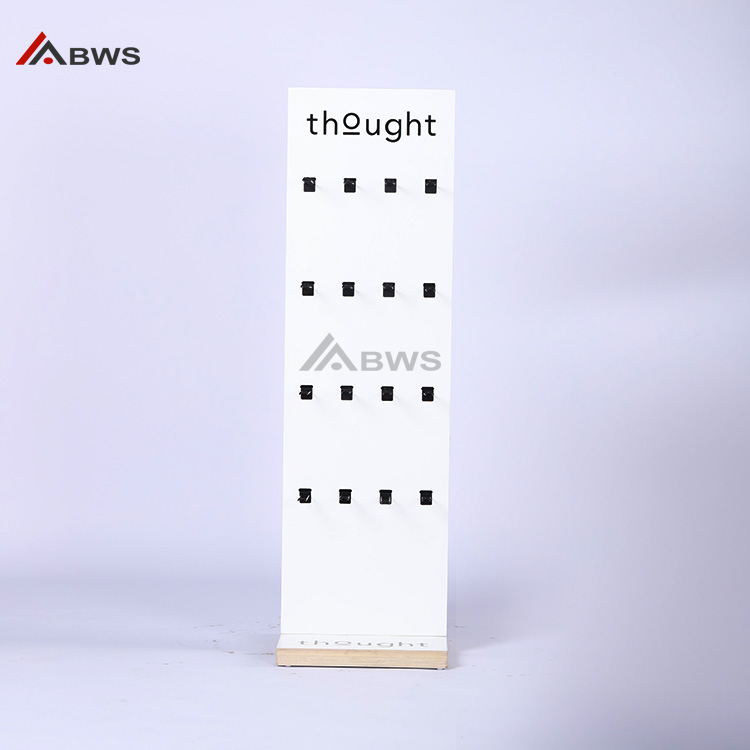 From this photo, you can see the overall appearance and there is brand logo on the top and base of the sock display rack.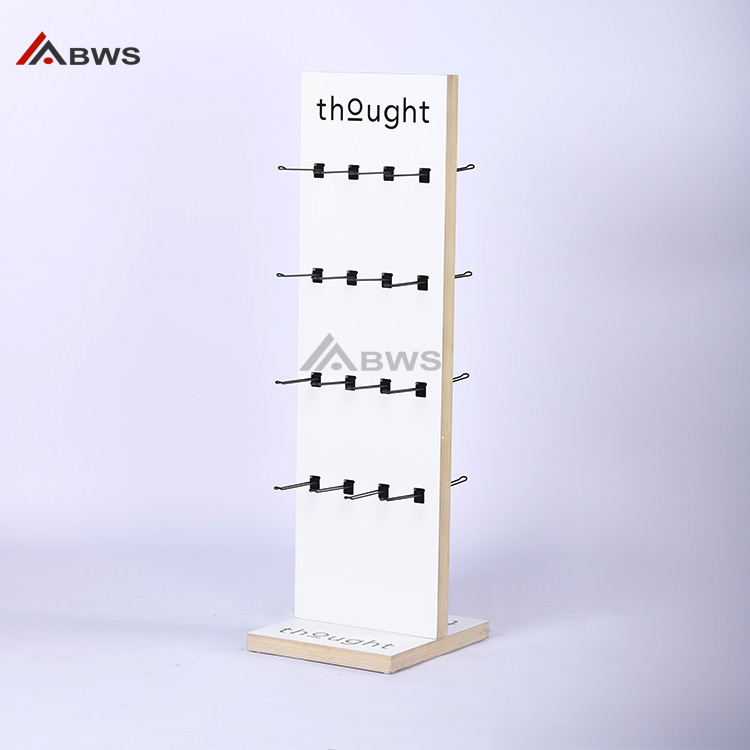 Here you can see the display rack is double-sided with 16 hooks on each side.
Do you have other designs for reference?
Yes, please find below 6 designs for your reference.
Start your next project or need a free custom display solution now? Send us an e-mail at jh@bwsdisplays.com or just give us a call at 008613925765496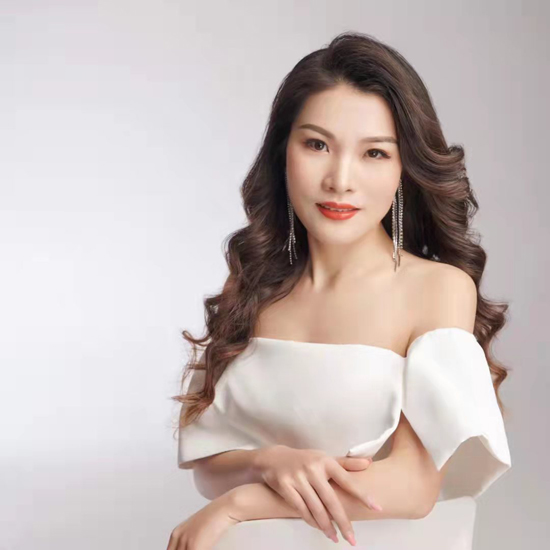 jessie huang
Love what we do and do what we love! Enjoy life, enjoy working in BWS DISPLAYS.