Novelty 3-Tier Floor POP Sock Display Stand Visual Merchandising
Order(MOQ):50
Payment Terms:EXW, FOB Or CIF
Product Origin:China
Color:Black
Shipping Port:Shenzhen
Lead Time:30 Days
Service:Customization Service, Lifetime After-sales Service.
How to display socks for sale?
Sock display ideas include using sock display foot, socks display mannequin, tabletop sock display stand, sock wall display and more. Different display ideas create different shopping feelings. The best way to attract attention to your sock or hosiery products is to display them in multiple leg forms: If you are displaying a grouping of socks in contrasting colors and patterns make sure to allow for plenty of "air space" around the leg forms.
While there are so many socks brands and designs, different colors in stores, and the leg forms take too much space, so the custom sock display with space for leg forms is a perfect choice. Today, we will share with you a sock display that leaves space on top for leg forms.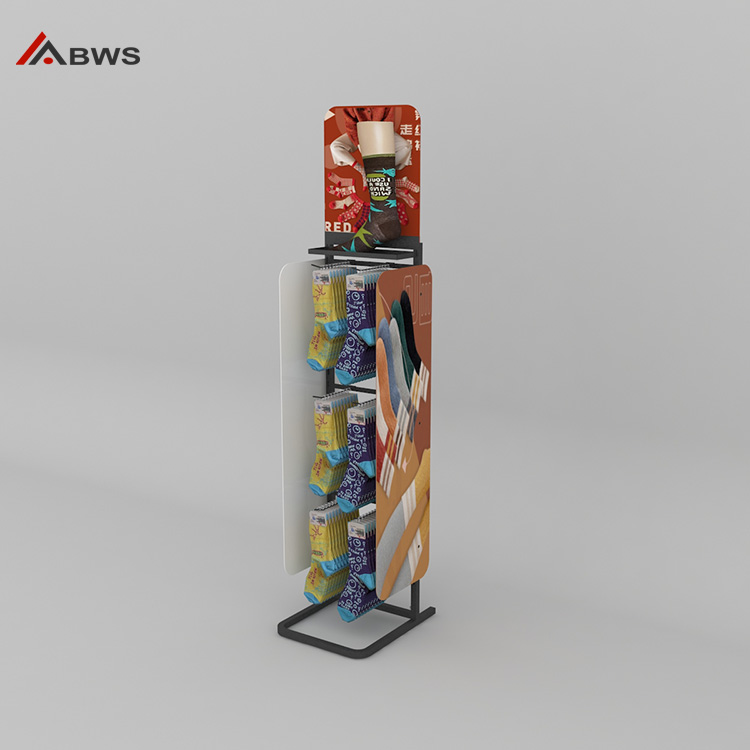 What are the features of this sock display?
This sock display is made for sock stores visual merchandising, it is a floor-standing display stand. The frame is made of metal tubes with slots on it. So the shelf for the leg form and bar hooks are detachable and adjustable. The two sides graphics are digitally printed which are colorful and attractive. So does the inserted header. And the construction of this sock display is simple, it can be knocked down into parts which saves packing costs and shipping costs.
You can add your brand logo on the header and two sides. The side graphics are fixed by screws to the frame. This sock display size is 420*350*1621mm, and the hooks are 205mm, it can hold 10 pairs of socks at the same time. Below is the drawing for your reference. And the pack size is 1265*135*395mm.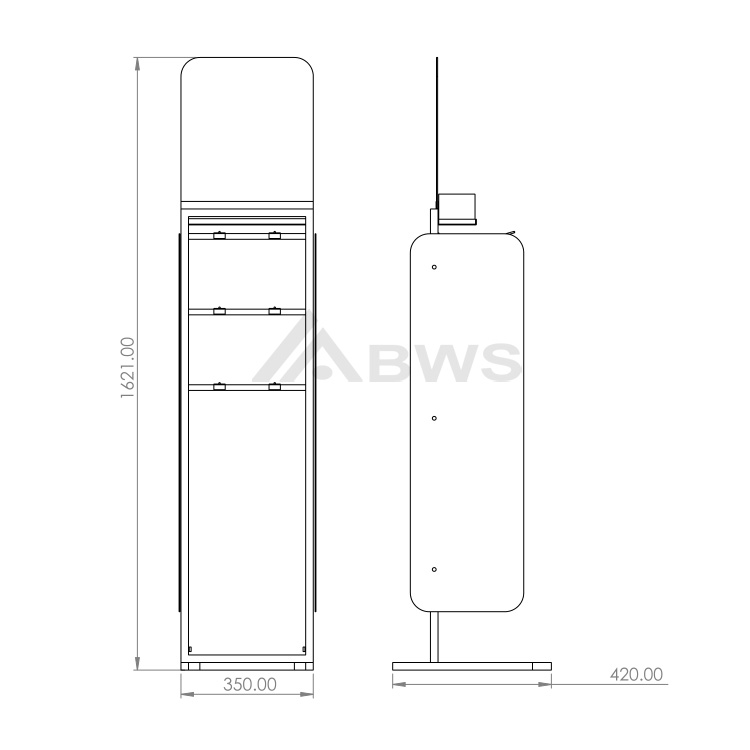 How to make a sock display?
BWS is a factory with more than 10 years of experience in the custom display industry. We have made thousands of sock displays. It is easy to make your brand sock display with us as we will give you advice and guide you step by step.
First, You only need to share us with your requirements or display ideas. a picture or a rough drawing, and we will give you suggestions or designs for you. We need to know the dimension of your socks, how many socks you want to display at the same time, and what style of display you like, tabletop or floor standing. And according to the dimension of the socks, we left a small gap among the socks.
Second, after confirming your needs, we will send a rough drawing and 3D rendering with socks and without socks for confirmation.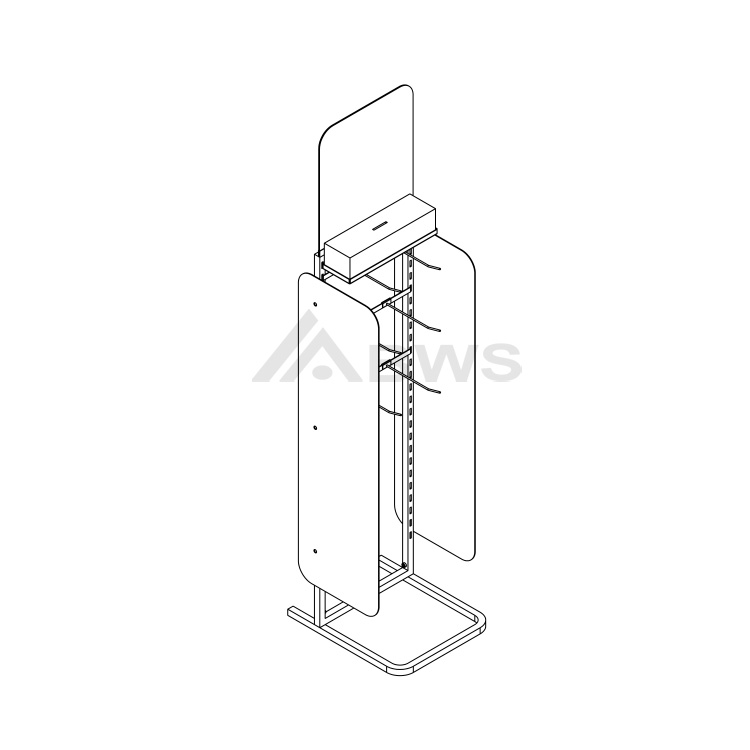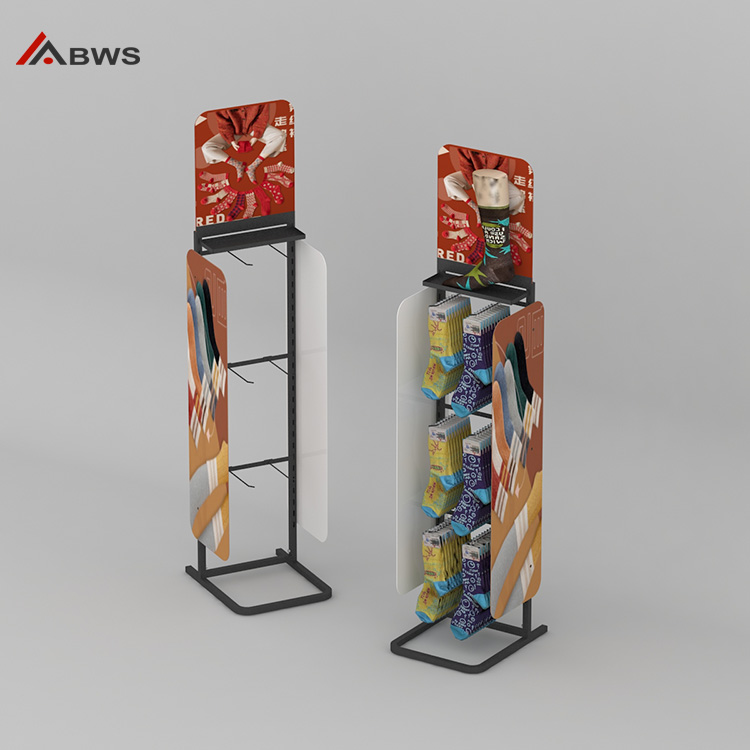 Third, If you do not like the design, we can modify it; if you like, we will make the sample for you. When the sample is finished, we will assemble and test it, and take photos for you.
Fourth, after the sample is approved, we will control the details in mass production to make sure the displays are the same as the samples.
At last, We will make a safe package and arrange the shipment for you. So you do not need to worry about it. Normally, displays are packed in a flat package, and we provide assemble instructions in the carton.
Do you have more photos of this sock display?
Yes, please check below photos to view more details.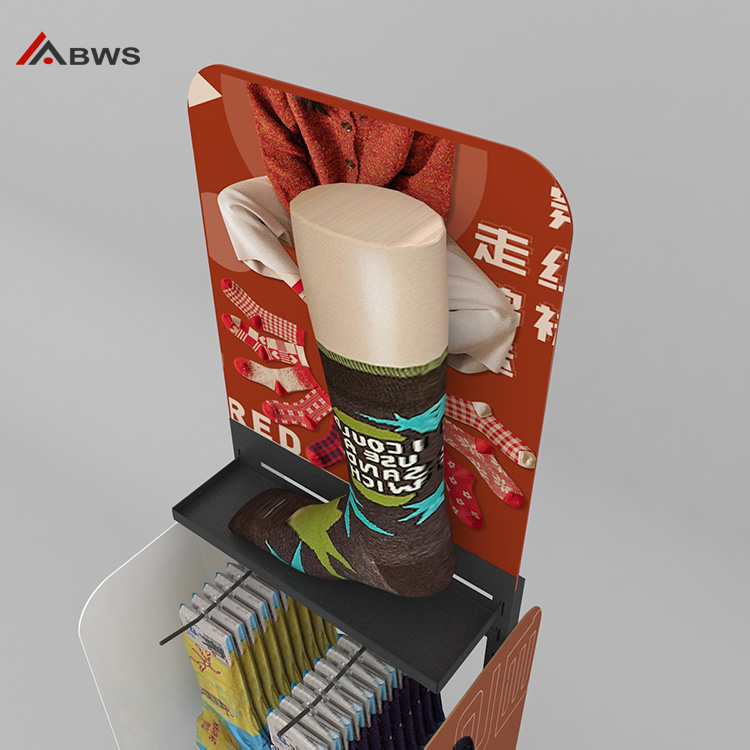 This shows where is the leg forms to showcase socks.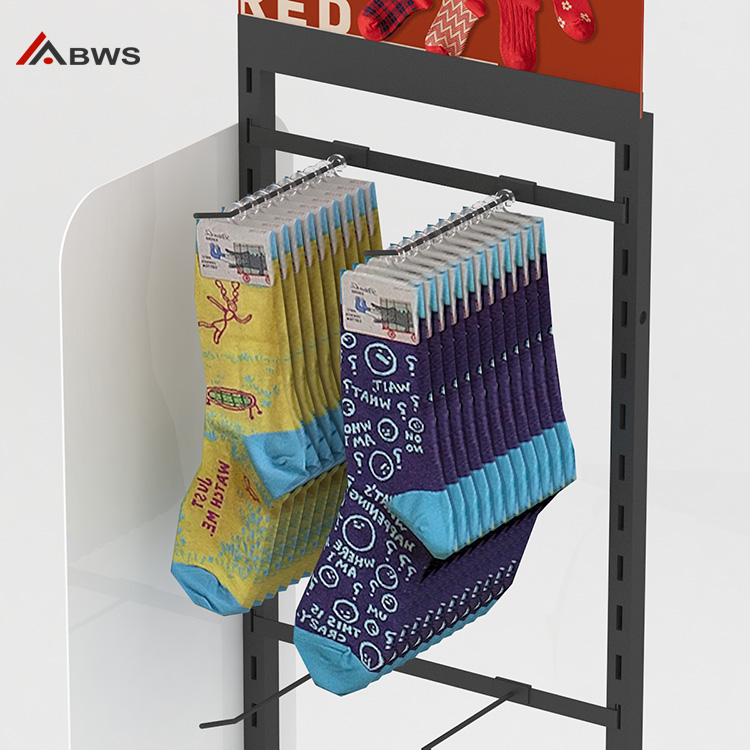 This shows how the socks hang on the hooks.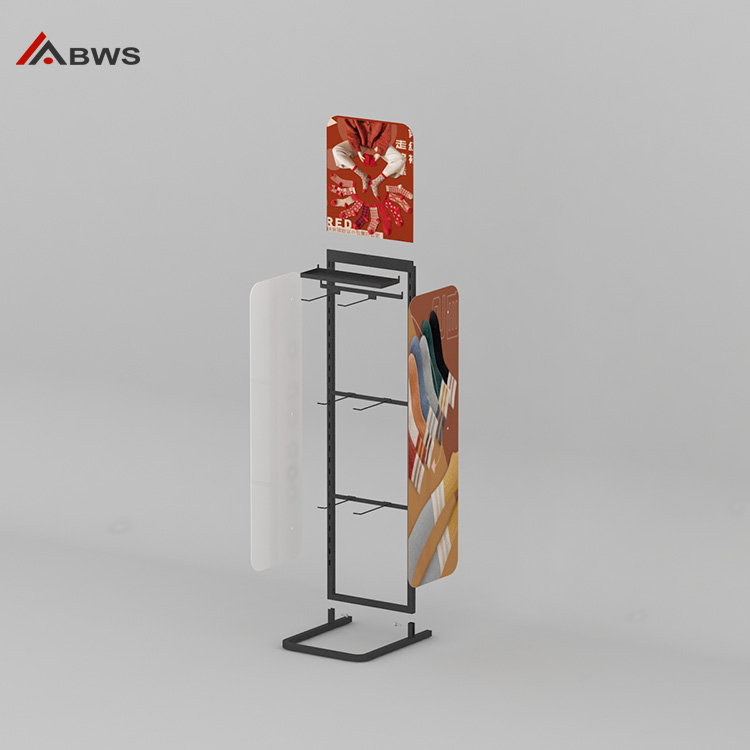 And this shows the display parts. It is simple and not heavy, but sturdy.
Do you have other designs?
Yes, we have made sock displays for Blue Q, Thought, Happy socks and more. Below are 6 designs for your reference.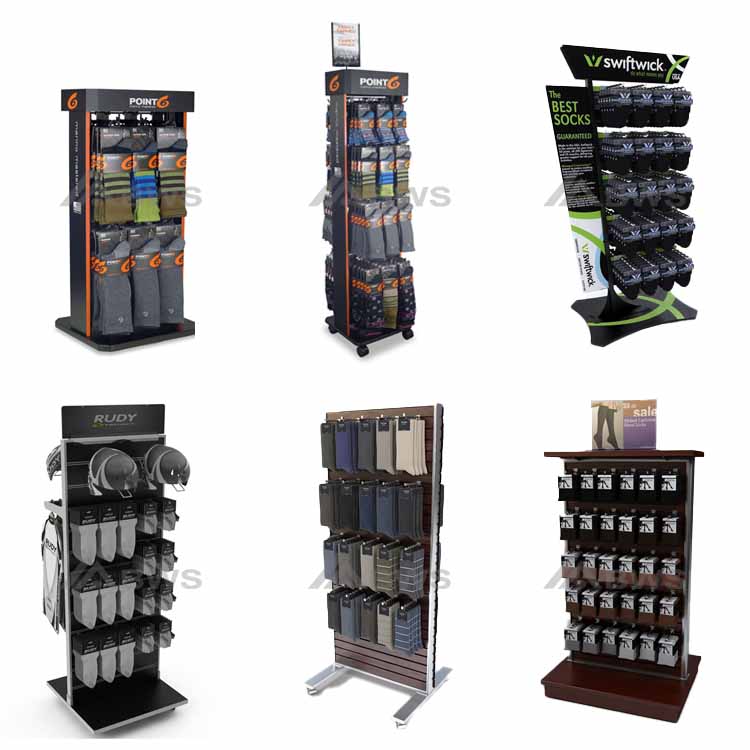 If you want to know more about the display stand or want to try your next project with us, feel free to contact us now. We will be glad to work for you as we worked for them.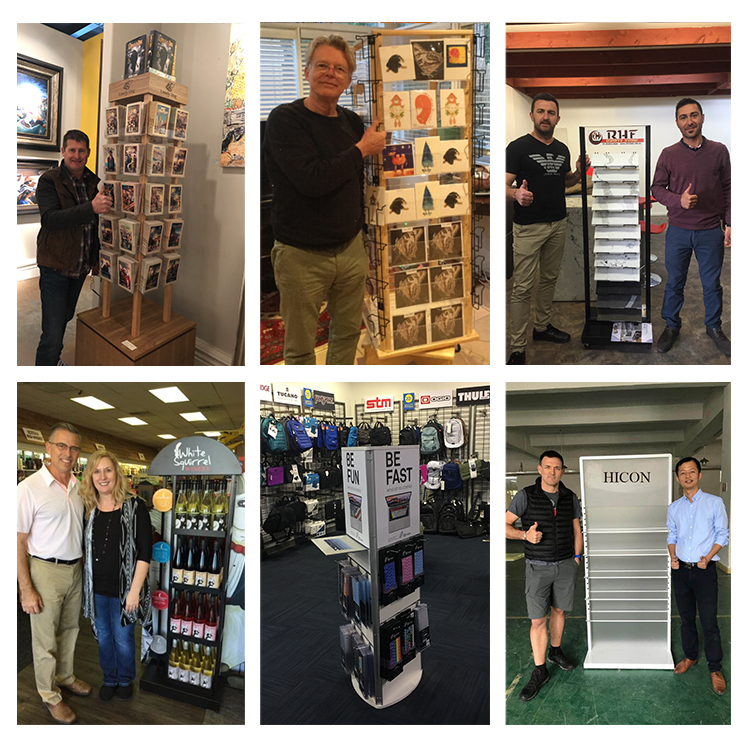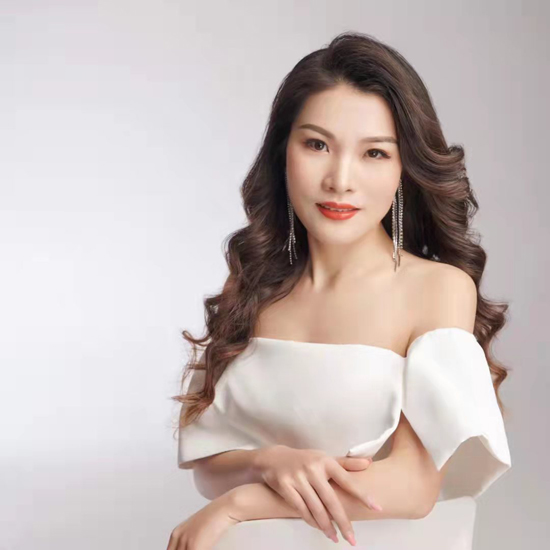 jessie huang
Love what we do and do what we love! Enjoy life, enjoy working in BWS DISPLAYS.