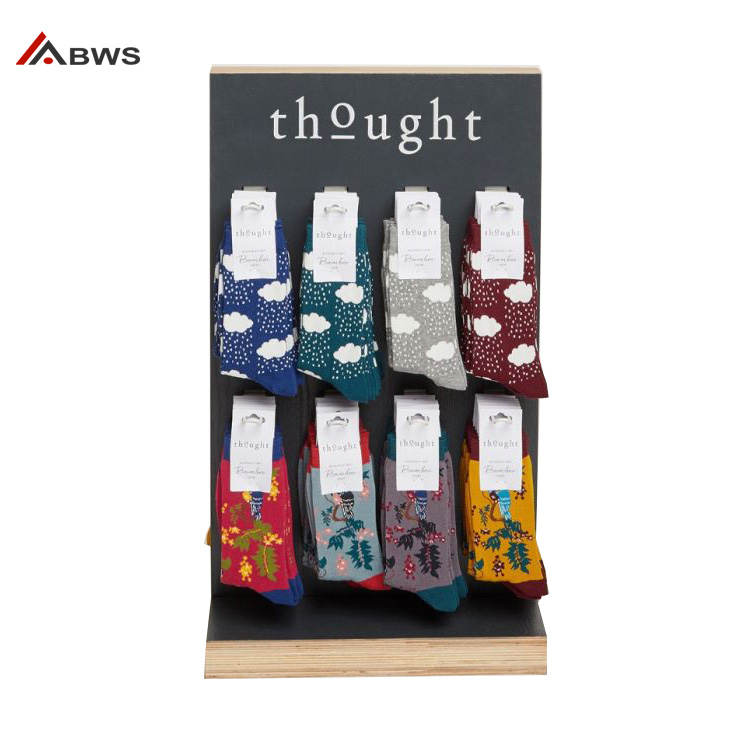 Solid 2-way Plywood Tabletop Sock Display With Metal Hooks
Order(MOQ):50
Payment Terms:EXW, FOB Or CIF
Product Origin:China
Color:Black
Shipping Port:Shenzhen
Lead Time:30 Days
Service:Customization Service, Lifetime After-sales Service.
How to display socks?
As we mentioned in the product of a 2-way wooden sock display rack, a tabletop sock display is one of the sock display solutions. There are many ways to display socks, except for display racks, display stands, display shelves, using display boxes, wall mount hooks, and foot models are the right choices. Different displays create different shopping environments. You can choose the way you like, while according to our experience, custom display fixtures are the better choice.
Today we will share with you one of the display racks which can be used on a tabletop. It is the same design as the 2-way wooden sock display rack we posted before, just change the floor-standing display rack to be a tabletop display rack.
What are the features of this tabletop sock display?
As data shows, the sock market is steady growth, and this tabletop sock display is designed to showcase socks in an attractive way, on the tabletop for Thought. Thought, a UK brand clothing maker who started their business in 1995.
This tabletop sock display is made of plywood and metal. The main body is plywood with black painting, while the detachable hooks are made of metal wire. The hooks are in white color, the same as the printed logo. There are 8 hooks and silk printed logo on the top of each side. It is a double-sided countertop sock display rack, which is easy to get attention from shoppers. The overall size is 740*441*441mm, and the 16 hooks are 180mm so they can hold at least 64 pairs of socks at the same time. It is flat packed in one carton, this saves packing costs and shipping costs.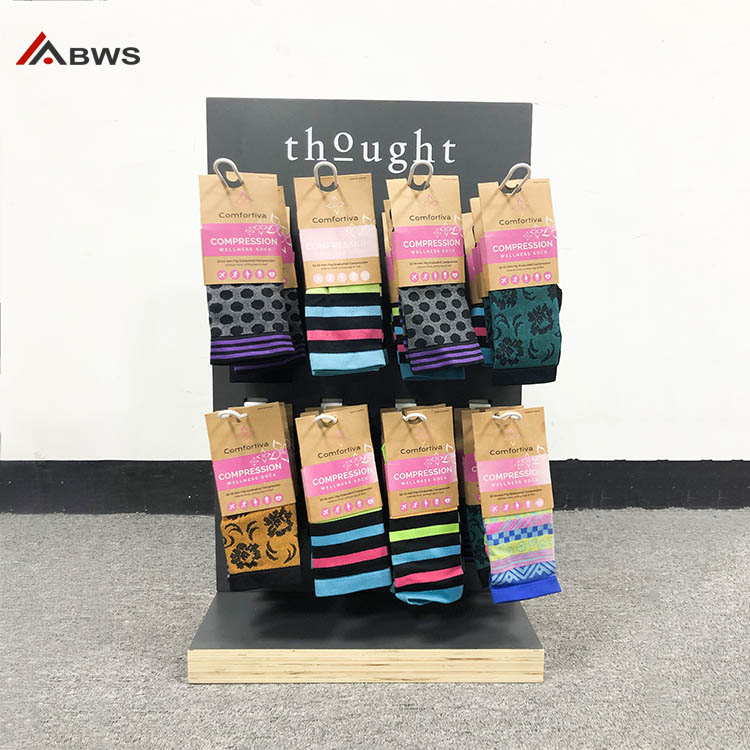 How to make a sock display?
It is the same as we made the 2-way floor sock display rack, or other custom display fixtures, display stands, display shelves, display boxes, display cabinets and other display units. We need to know your display needs first. For example, what kind of display you are looking for, floor-standing or countertop. What are the dimensions of your products, and how much weight do you like the display to bear? What kind of material do you prefer, wood, metal acrylic, cardboard, or mixed? Do you have reference designs? How many do you need? Do you need to add your brand logo?
After knowing your detailed needs, we will give you advice or solutions, after you confirm the solution, we will design it for you. We will send you a rough drawing and 3D rendering from different angles, with products and without products. Below is what we have sent to the buyer of Thought.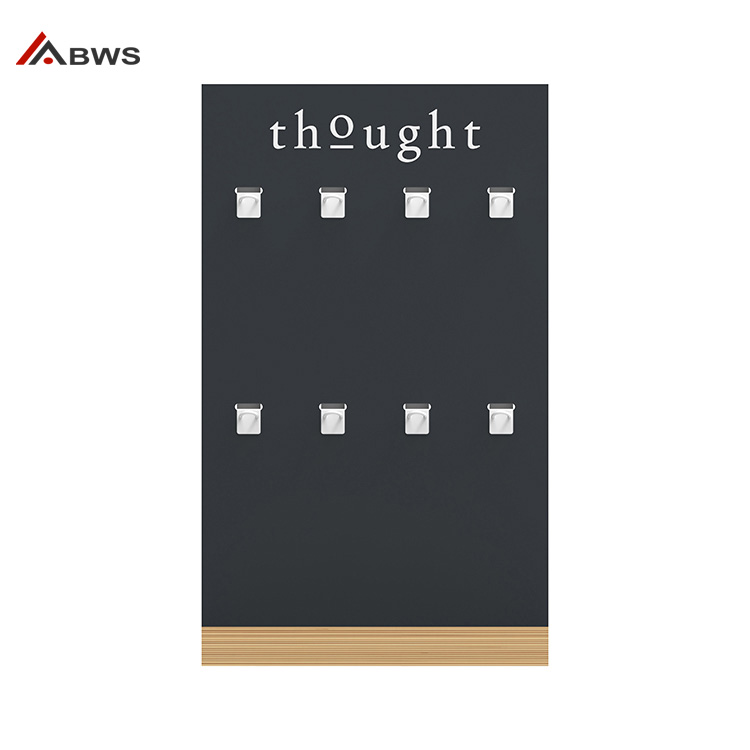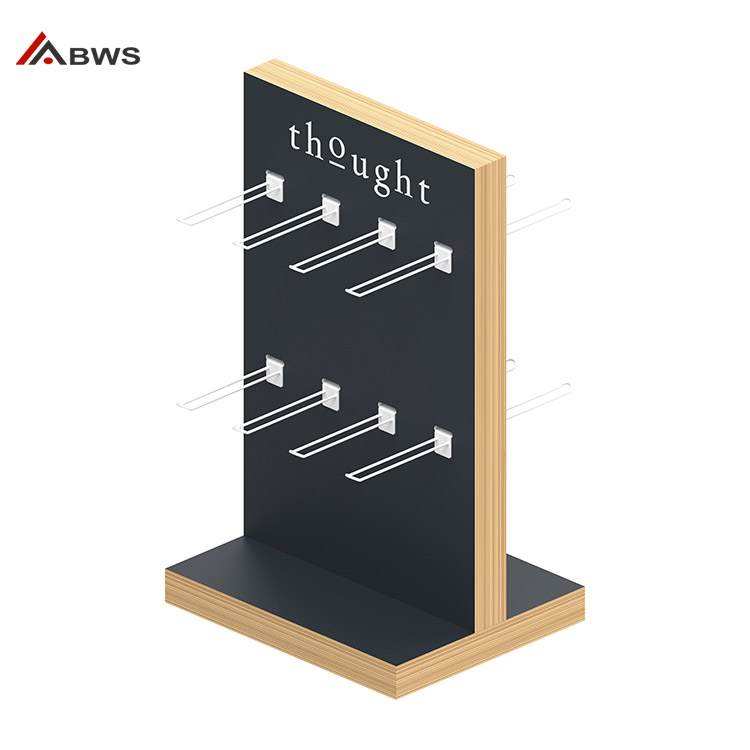 Above three is the rendering of the tabletop sock display without socks on.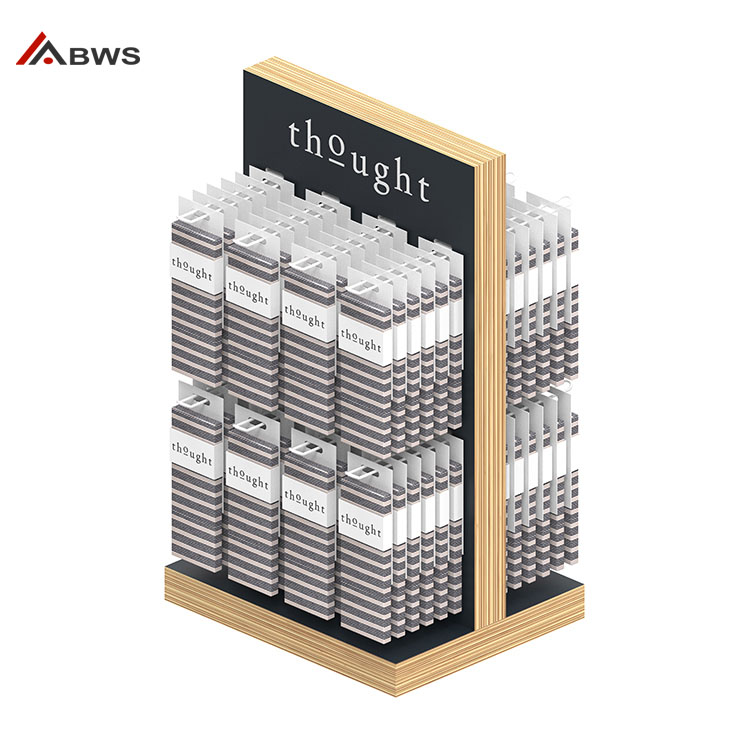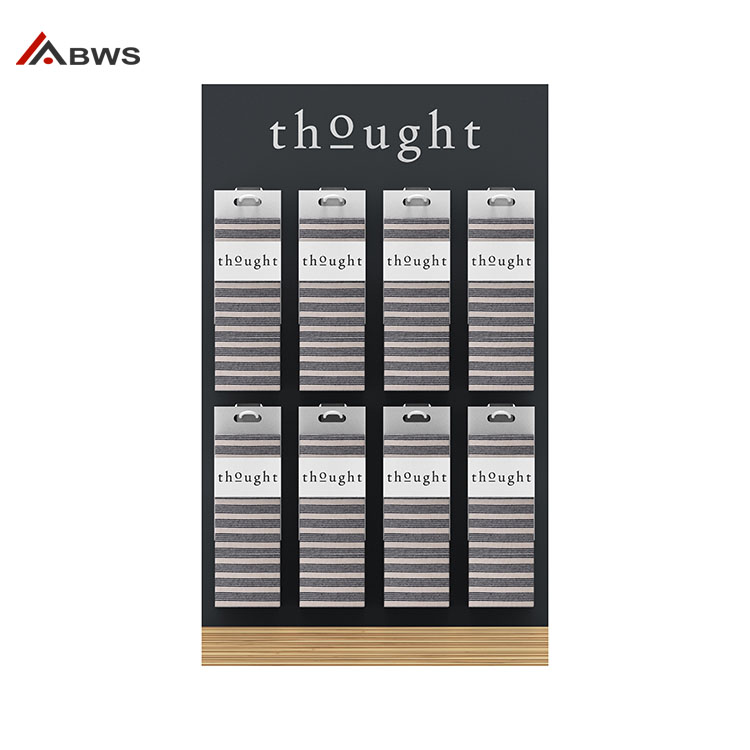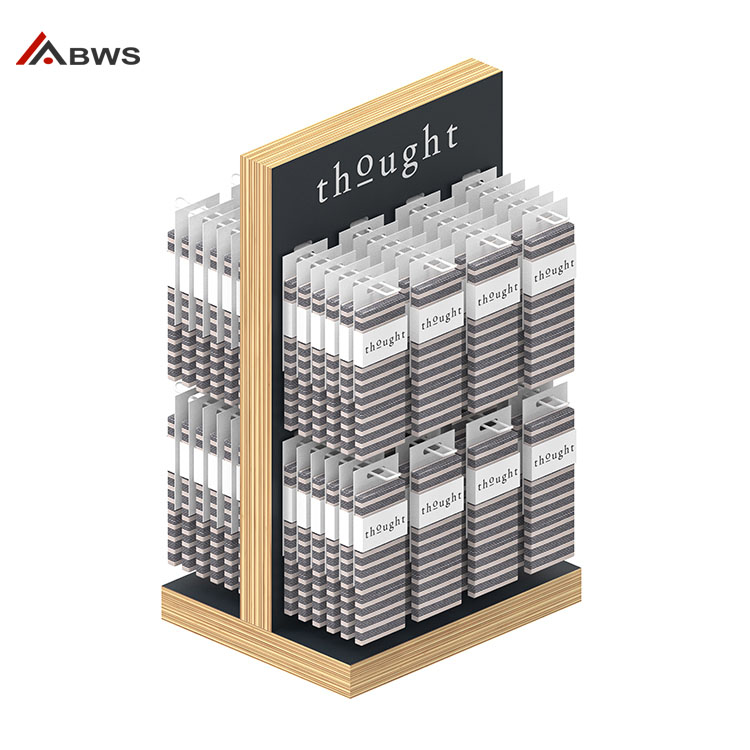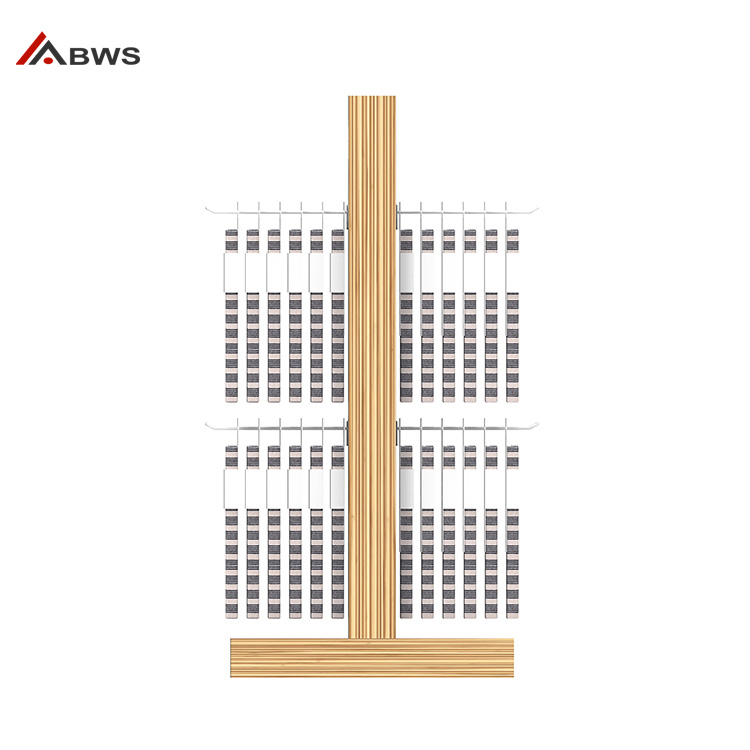 Above four is with the socks on, and you can see what the tabletop sock display looks like with socks.
Third, if you do not like the design, we can modify it; if you like, we will quote the exact price to you. And we will make the sample for you after you place an order. When the sample is finished, we will assemble and check the dimension, finishing effect and test the sample. Of course, we will take photos and videos for you.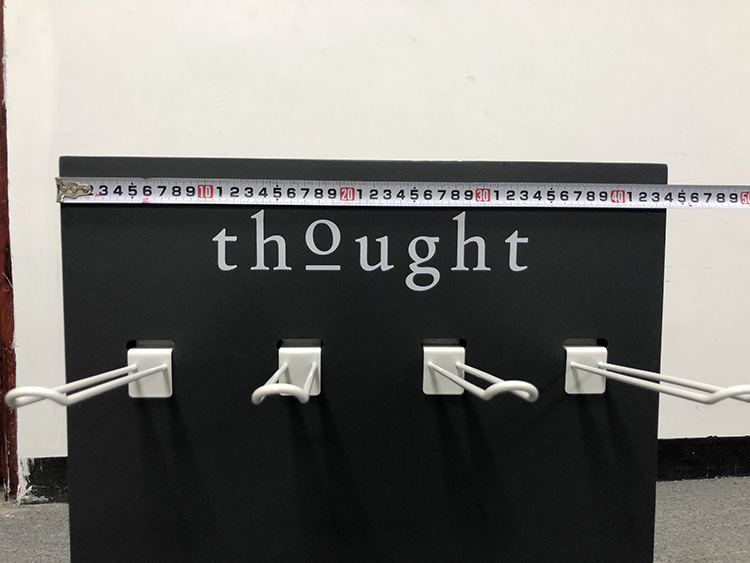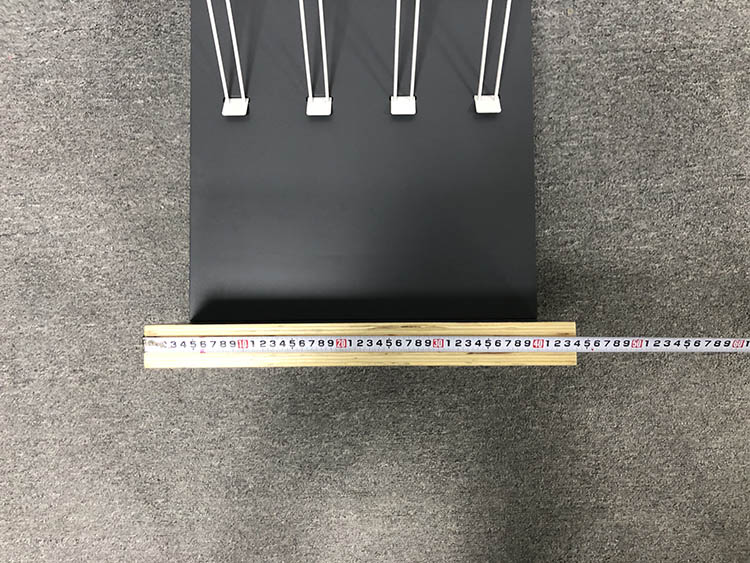 Above two photos were taken when we were measuring the dimension of the tabletop sock display.
Fourth, after the sample is approved and then mass production will be followed. We will control the details in mass production to make sure the displays are the same as the sample.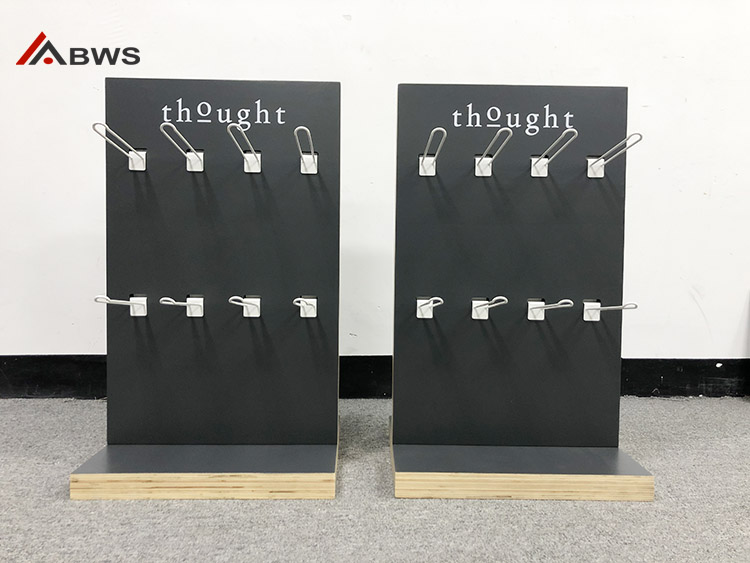 Before we arrange the package, we will assemble and check everything, and compare it with the data record and real sample we made. Our aim is to make you satisfied with what we make. When everything is done, we will arrange the package as what we have designed, to make sure it's safe. Normally, displays are packed in a flat package, and we provide assemble instructions in the carton. So it is easy for you to assemble them on your side.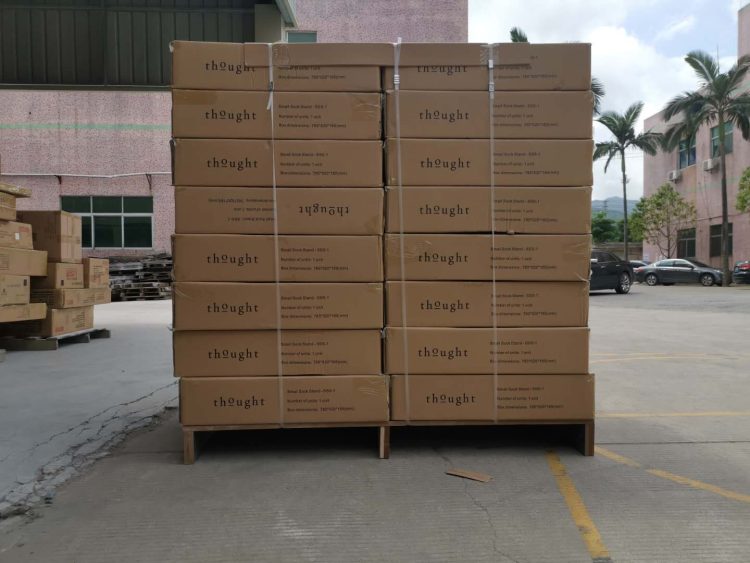 Above is the tabletop sock display on the pallet which is ready for shipment.
We do not stop after shipment, we provide after-sales service all the way. And we follow up on how the displays work in client stores and shops.
Above is the feedback for the tabletop sock display from Thought.
Do you have other sock display designs for reference?
Yes, below are designs for your reference. If you need more designs or more information, contact us now.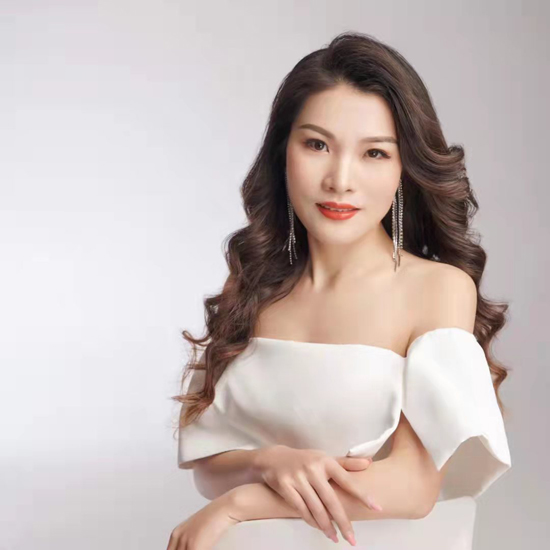 jessie huang
Love what we do and do what we love! Enjoy life, enjoy working in BWS DISPLAYS.