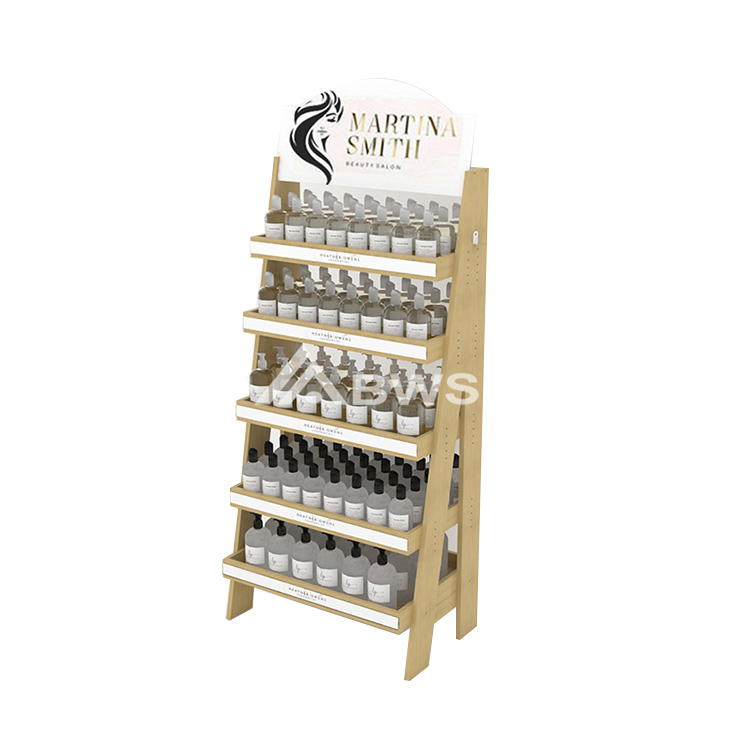 Fun 5-tier Wooden Shampoo Display Racks In A Shape For Retail Stores
Order(MOQ):50
Payment Terms:EXW, FOB Or CIF
Product Origin:China
Color:Wood
Shipping Port:Shenzhen
Lead Time:30 Days
Service:Customization Service, Lifetime After-sales Service.
How to display shampoo in grocery stores?
To display shampoo in grocery stores, retail stores, and cosmetic stores, shampoo display racks are a really good choice. They keep your shampoo organized and show their brand in an obvious way at the same time. Fortune Business Insights says that the global market size was USD 30.09 billion in 2020 and is projected to reach USD 39.58 billion by 2028, driven by the increased hair loss due to changing lifestyles, the convenience of using these products, poor hygiene conditions, and exposure to the environment with rising pollution levels.
The market is growing, there are so many shampoo brands, some of the most popular shampoo brand names include Pantene, Dove, Garnier, John Freida, and Clairol's Herbal Essences line and more. They combine solid hair-cleaning abilities at an affordable price and meet different hair needs, like dry hair, dandruff, and fine, lip tress. These big-brand shampoos are showcased on custom shampoo display racks too.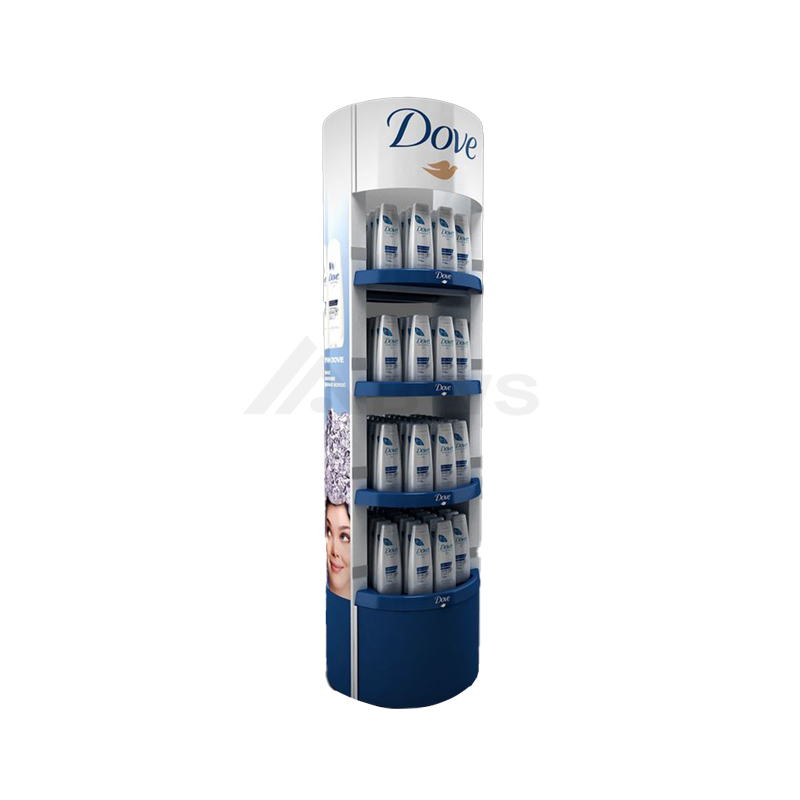 We are sure custom shampoo display racks will help you stand out among the competition. Today we would like to show you an A shape shampoo display rack. It gives a natural feeling to showcase your shampoo.
What are the features of this shampoo display rack?
1. Natural look, this shampoo display rack is made of solid wood, which gives a feeling of nature, and it really fits organic shampoos.
2. A shape construction, is strong enough. This shampoo display rack has two triangle sides, which makes this display rack strong and stable.
3. Large capacity and strong bearing ability. It is a 5-tier display rack, and 5 adjustable shelves with rims are fixed to the frame by screws. It can hold different volumes of different function shampoos, as in the photo, there are 3 volume shapoos, the top 3 shelves are in the same volume, 24 bottles per shelf, and the fourth shelf is for smaller volume, 32 bottles, and the bottom shelf holds 18 bottles. In total, it is 112 bottles. It bears more than 90KG.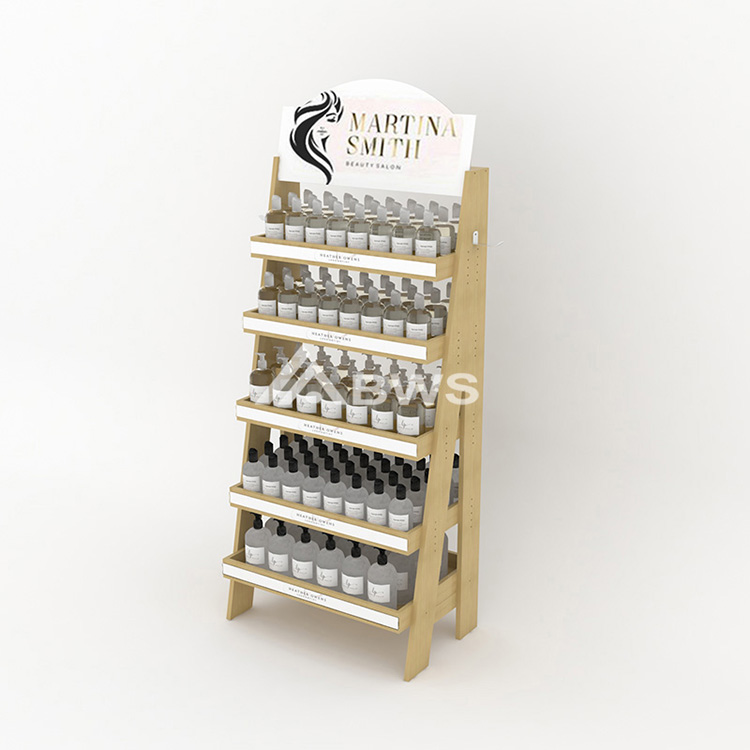 4. Visual merchandising, graphics are in front of the shelves, and there is an interchangeable header to impress consumers with your brand logo. The big brand graphic PVC header is easy to be inserted into the top.
5. Extra hooks for shampoo tests. There is one metal hook for both sides, it can hang shampoo tests, which is popular among consumers.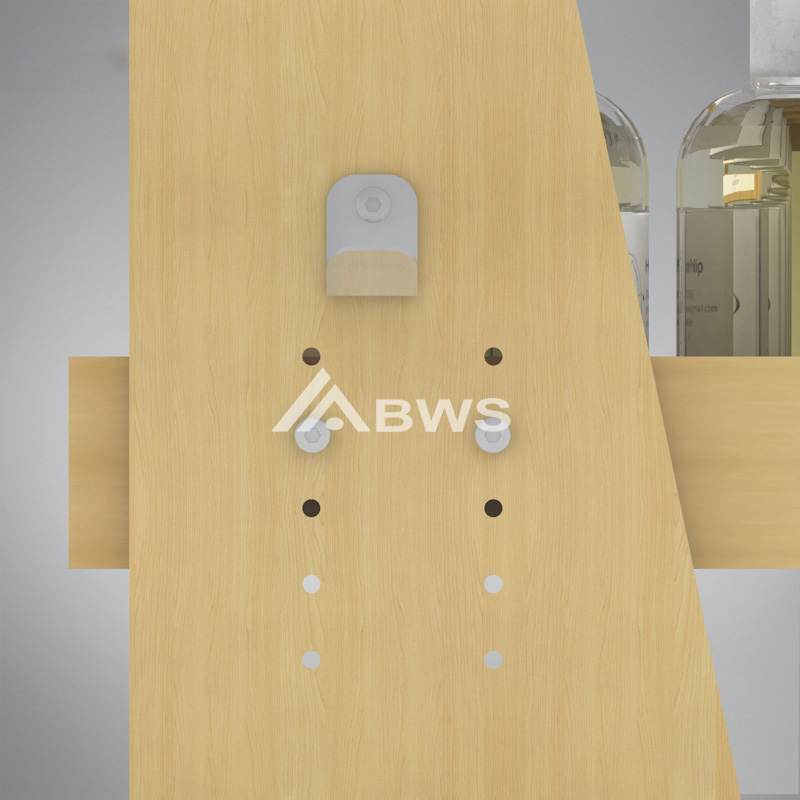 It is a knock-down design as usual to save shipping costs.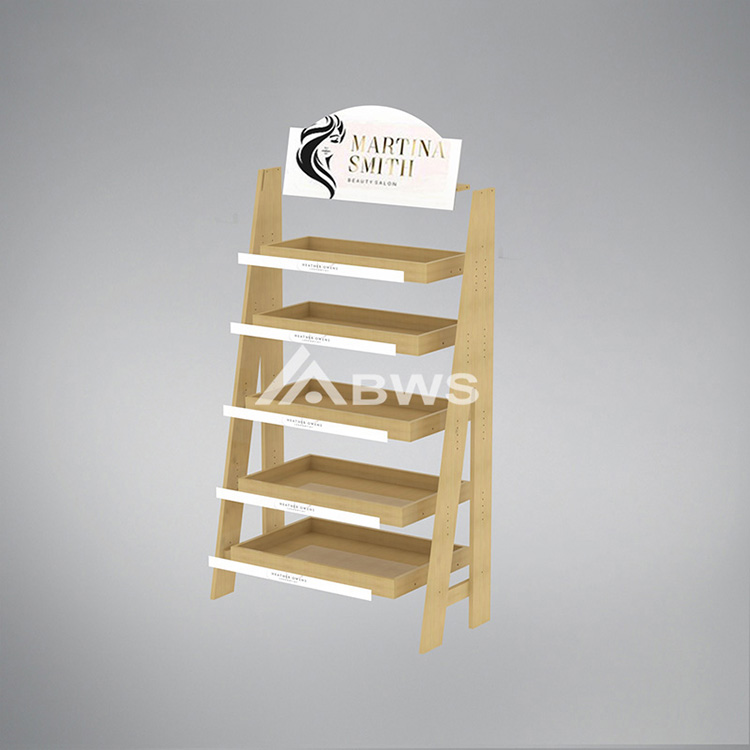 You can change the design if it is not what you are looking for, you decide the shape, size, material, color, logo, tier, logo shape as well as construction.
What have we made?
BWS Displays is a factory of custom displays, we can turn your display idea into reality, we have made hair product display stands, cosmetic display racks and display fixtures for other industries. Below are 4 of them for your reference.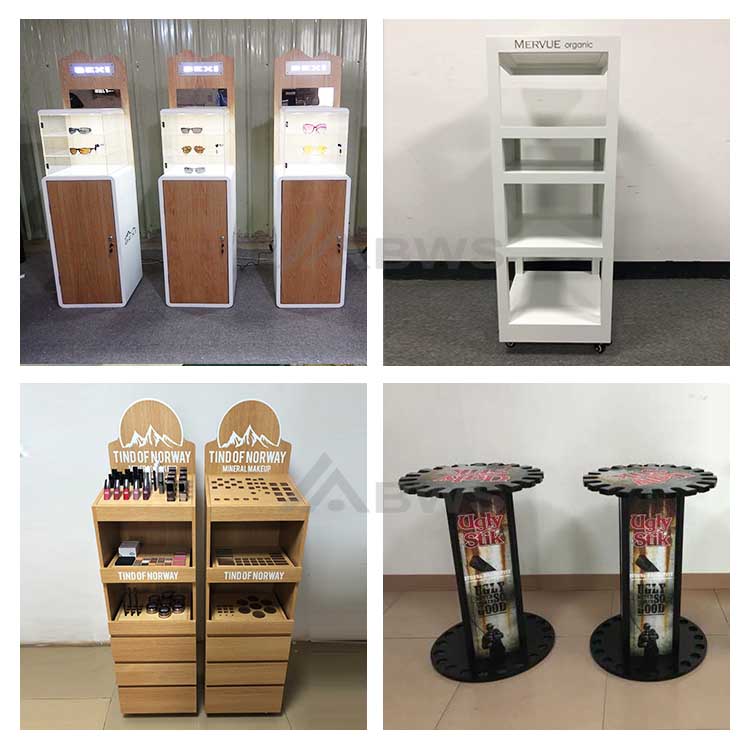 Maybe you wonder how can we turn your shampoo display idea into reality. Below is the answer.
How to make your brand shampoo display racks?
Understand your specific needs. We need to know what kind of shampoo display racks you are looking for, you can share with us your display ideas with a photo, rough drawing or reference design. If you can send us samples, it will be more helpful. We will give you professional suggestions after we know more about your products, such as product specifications, brand culture and more.
Confirm design and offer drawings. We need to know how many you need to display at one time, where you want to use them, what material you need, and where to add the logo. And then we will design and provide renderings and drawings to you. Below are renderings for this shampoo display rack, with shampoos and without shampoo. You can make some changes or approve the design before we offer you a quotation. As for a quote, you need to tell us how many you need, what price term you prefer, normally, we quote the EX-work price. If you need FOB or CIF price, we need to know where these displays ship to.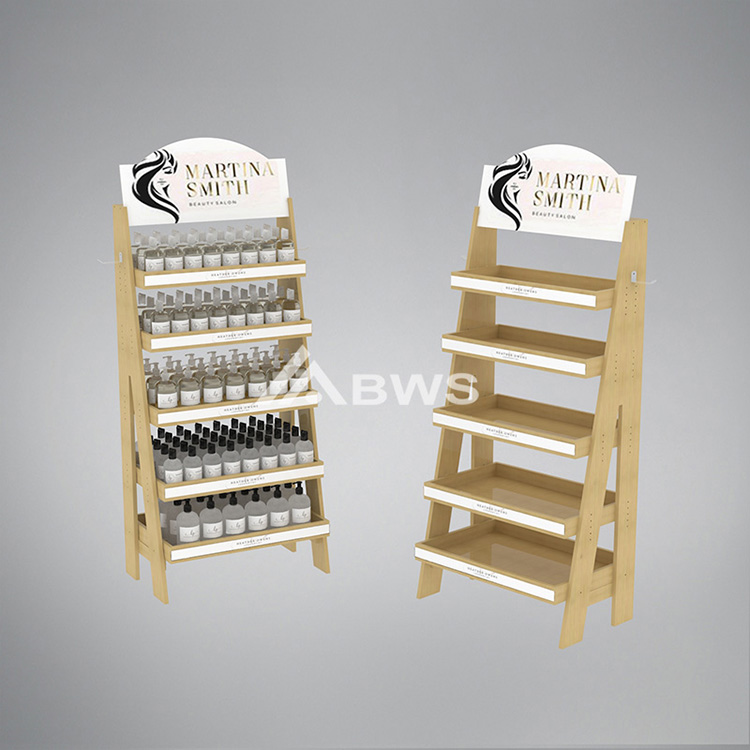 Make a sample. We will make a sample for you after you approve the design and price and place an order. It always takes 7-10 days to finish the sample. And we will take HD photos and videos in detail, such as measuring dimensions, packing, logo, assembling, gross weight, net weight and more before we ship the sample out to you.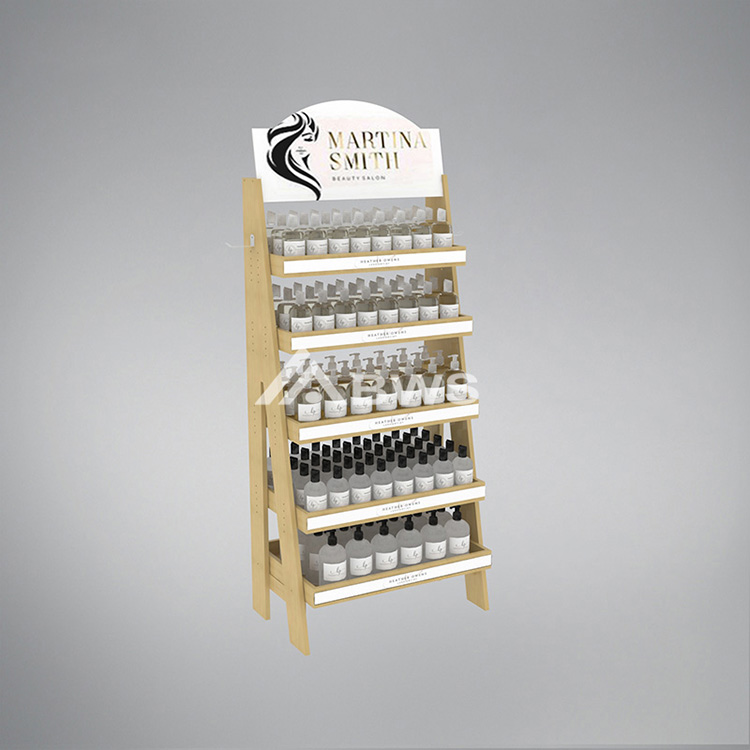 Mass production. Our team will start producing shampoo display racks after you approve the sample. Our Qc team will control in detail to make sure mass production is as good as the sample. At the same time, our project manager will follow up and update with photos and videos from laminating to the packing of these shampoo display racks. In order to make the best use of a carton and keep your shampoo display racks safe, we also will design a package solution before packing. The package solution is up to the design and material. If you have an inspection team, they can come to our factory during the whole production process.
Packing & container layout. We will give you a container layout after you agree with our package solution. Normally, we use foam and plastic bags for inner packages and strips even protecting corners for outer packages and put these cartons on pallets if necessary. A container layout is to make the best use of a container, it also saves shipping costs if you order a container.
Arrange shipment. We can help you arrange the shipment. We can cooperate with your forwarder or find a forwarder for you. You can compare these shipping costs before you make a decision.
After-sales service. We are not stopping after delivery. We will follow up on your feedback and solve your questions if you have any.
Above is the process of building your brand shampoo display racks, you see, it is not difficult. If you want to try a sample or need more information, you can contact us at any time.
Of course, if this type of shampoo display rack is not your type, we can show you more shampoo display racks.
Other shampoo display racks designs
Below are 6 designs for your reference. If you need more shampoo display ideas, you can contact us anytime.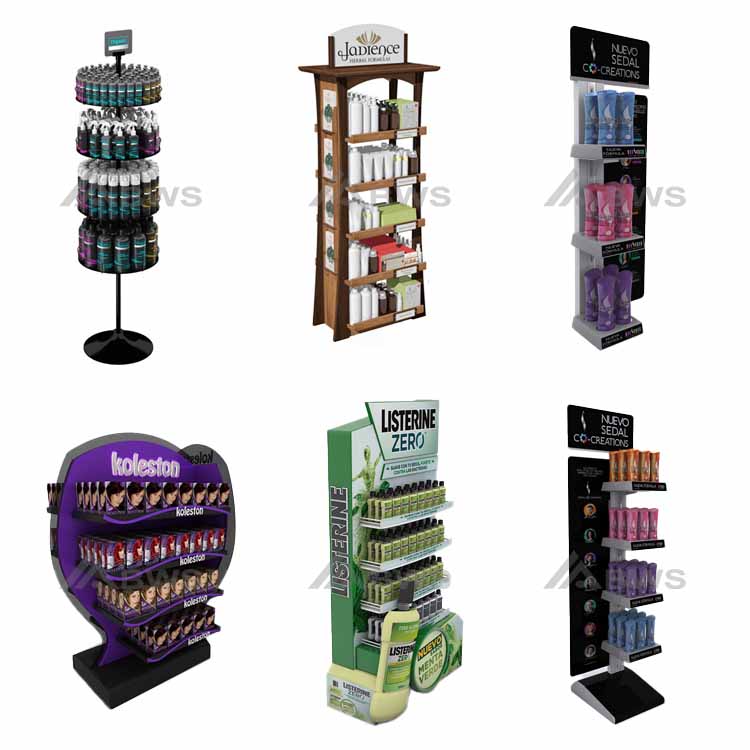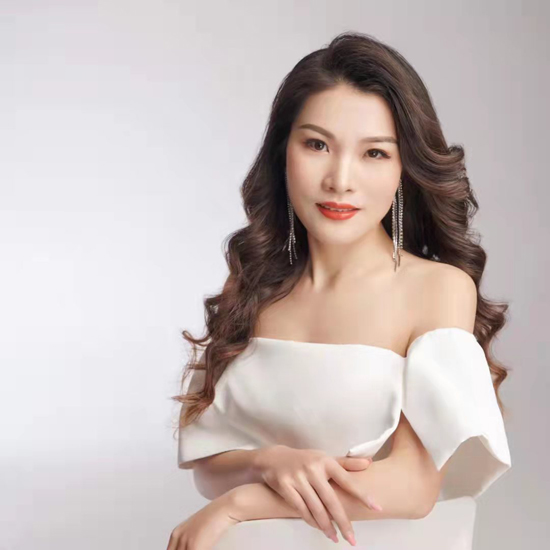 jessie huang
Love what we do and do what we love! Enjoy life, enjoy working in BWS DISPLAYS.