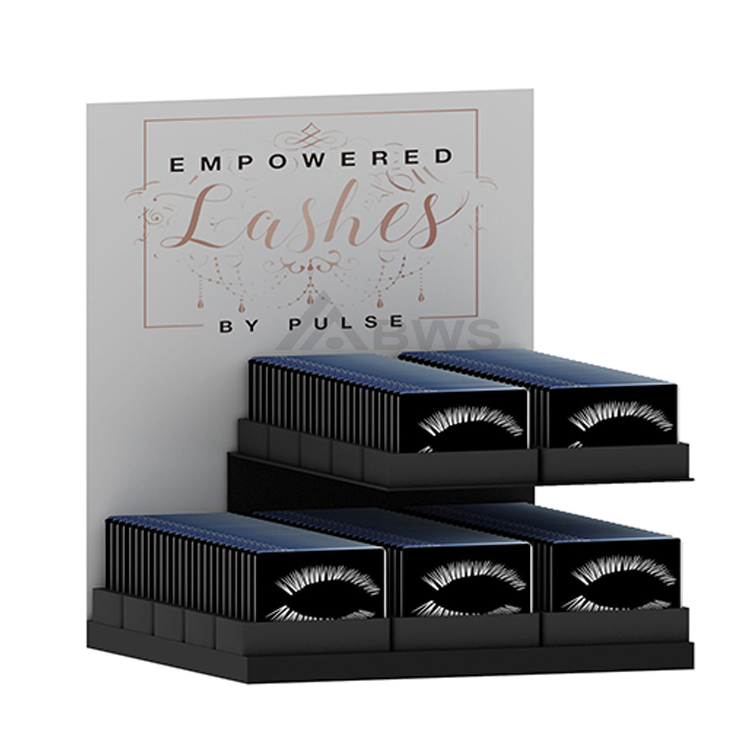 Impressive Eyelash Display Stand 2-tier Acrylic Custom For Countertop
Order(MOQ):50
Payment Terms:EXW, FOB Or CIF
Product Origin:China
Color:White
Shipping Port:Shenzhen
Lead Time:30 Days
Service:Customization Service, Lifetime After-sales Service.
How to display eyelashes?
Eyelash display stands are designed to display eyelashes in retail environments, never mind if it is cosmetic stores, supermarkets, convenience stores, or other cosmetic retail spaces. Custom eyelash display stands provide customers with more convenience to try false eyelashes and choose the eyelashes that suit them best, they are more intuitive to show your customers different styles of false eyelashes. They are widely used in beauty salons, makeup shops, and homes.
How do you build a successful lash business?
The global false eyelashes market size was USD 1.14 billion in 2020. The market is projected to grow from USD 1.26 billion in 2021 to USD 1.96 billion in 2028 at a CAGR of 6.5% during the 2021-2028 period. Evolving festival celebrations and fashion trends among the global population will support the product demand. And rising consumer preference for colored eyeshadows and false eyelashes offers key players newer business growth opportunities. To win more consumers, custom eyelash display stands are necessary. Today we are introducing you a countertop eyelash display stand.
What are the features of this eyelash display stand?
【Long life】This eyelash display stand is made of black or white acrylic, with exquisite workmanship and a beautiful appearance, strong and durable, and can be used for a long time.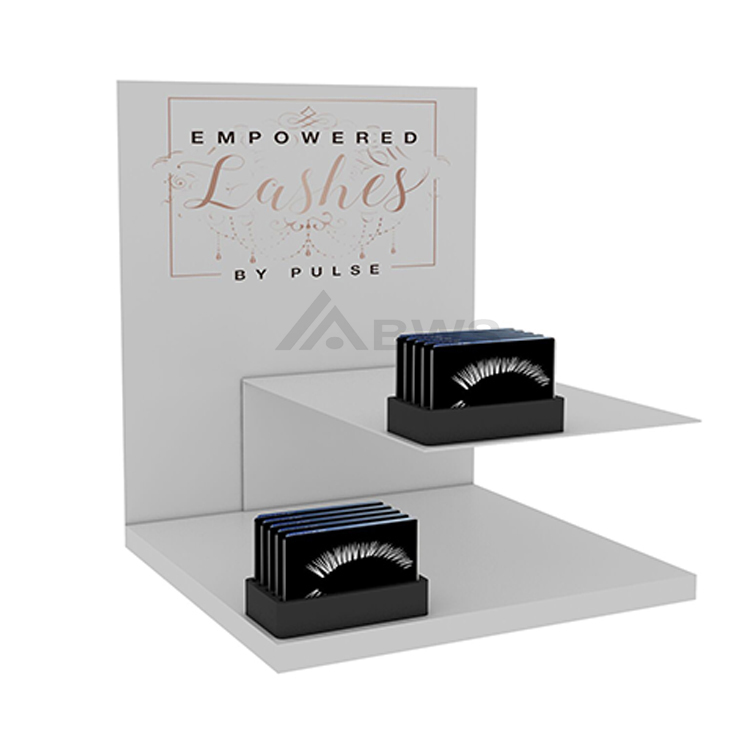 【Large capacity】 It can display 100 packages of lashes at the same time.
【Perfect effect】This false eyelash display stand is designed according to the package of these eyelashes, it showcases eyelashes on the countertop. You can also change the design according to your display needs.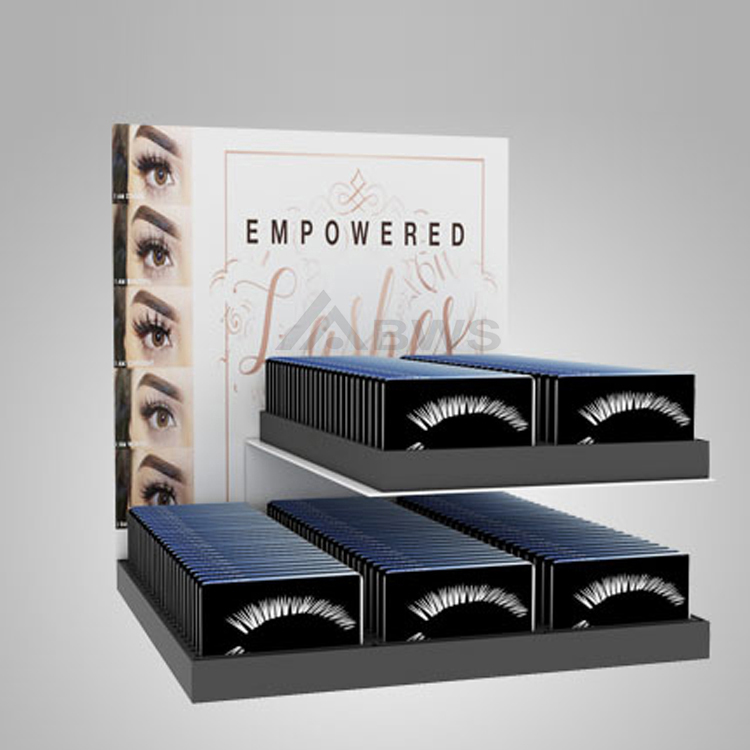 【Get attention】Consumers can notice the custom back brand graphics are interchangeable and help you know more about these eyelash. It helps customers more easily to choose the eyelashes that suit them best.
【Easy assembly】This eyelash display stand is easy to assemble, just add the L shape shelf and back panel and put on your eyelashes.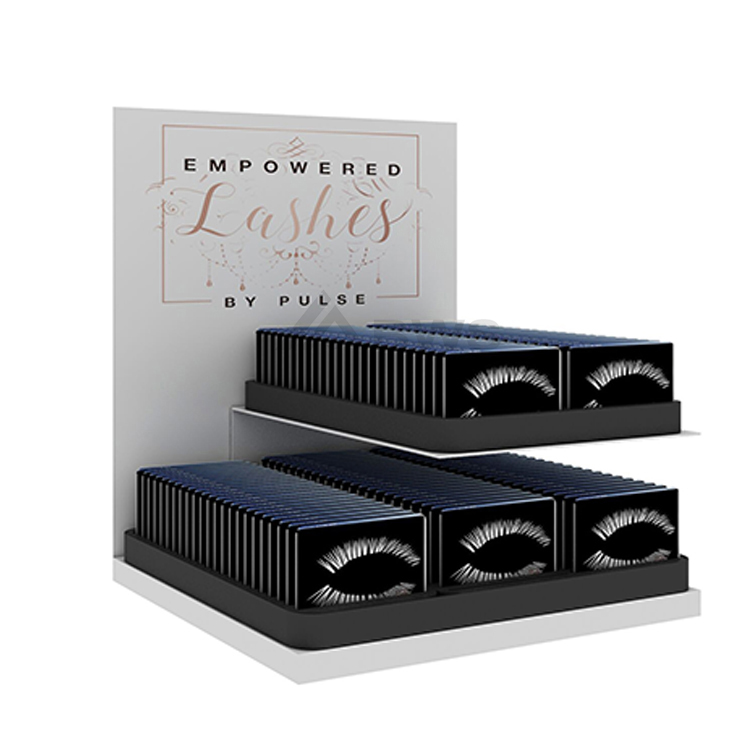 【Widely used】This eyelash display stand is widely used in beauty salons, makeup shops, and other retail environments.
【Package contains】You will receive this lash display stand in two sets per carton. They are an important way to showcase eyelashes, which is convenient for customers to choose from.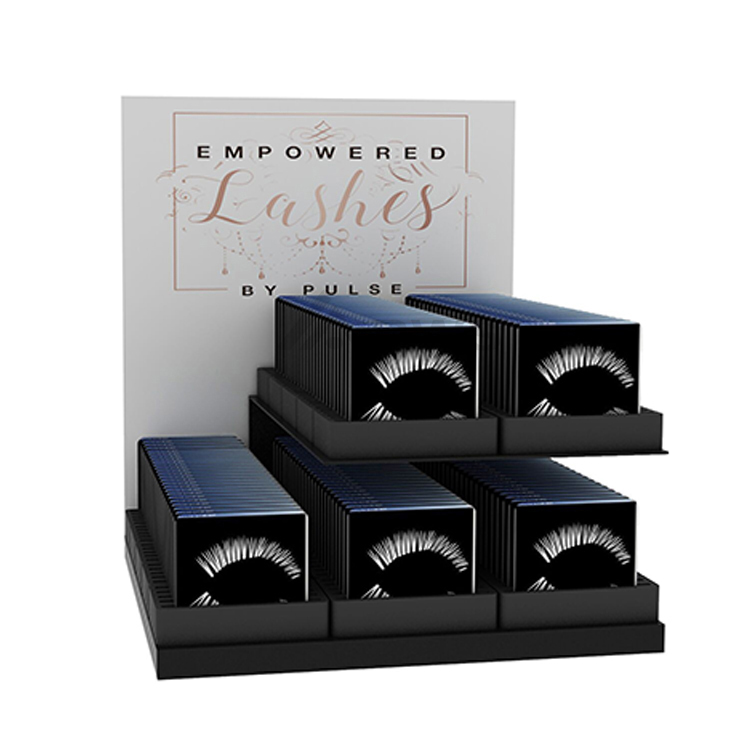 You not only can change the design, but also the logo, size, tier, material as well as color. All displays we made are based on clients' specific display needs.
How to make your brand eyelash display stand?
As we made for other cosmetic display stands, you can follow below steps to make your brand eyelash display stand.
Step 1. Understand your display needs. After sharing with us your display ideas, such as a rough drawing or a reference design photo, we can design and work out a solution for you. Of course, how you like to display and where to display your eyelashes are important for us to work for you, you need to share your product specifications, brand logo or graphics, package dimensions, and more. If you can send us samples, it will be more helpful.
Step 2. Design and offer drawings. We will design and provide renderings and drawings to you. Below is the rendering for this eyelash display stand. You can make some changes or approve the design before we offer you a quotation. The quantity that you need is helpful for us to give you the best quotation. Usually, we quote the EX-work price to you. If you need FOB or CIF price, we need to know where these displays ship to.
Step 3. Make a sample. We will make a sample for you after you approve the design and price and place an order. A sample is important, it also saves time and avoids delays in mass production. It always takes 7-10 days to finish the sample. And we will take HD photos and videos in detail, such as measuring dimensions, packing, logo, assembling, gross weight, net weight and more before we ship the sample out to you.
Step 4. Mass production. Our team will start mass production after you approve the sample. Our Qc team will control in detail to make sure mass production is as good as the sample. At the same time, our project manager will follow up and update regularly with photos and videos from laminating to packing. If you have an inspection team, they can come to our factory during the whole production process. In order to make the best use of a carton and keep your display safe, we also will design a package solution before packing. The package solution is up to the design and material.
Step 5. Packing & container layout. We will give you a container layout after you agree with our package solution. Normally, we use foam and plastic bags for inner packages and strips even protecting corners for outer packages and put the cartons on pallets if necessary. A container layout is to make the best use of a container, it also saves shipping costs if you order a container.
Step 6. Arrange shipment. We can help you arrange the shipment. We can cooperate with your forwarder or find a forwarder for you. You can compare these shipping costs before you make a decision.
Step 7. After-sales service. We are not stopping after delivery. We will follow up on your feedback and solve your questions if you have any.
Above is the process of building your brand eyelash display stand. If you want to try a sample or need more information, please feel free to contact us.
Of course, if this type of eyelash display stand is not your type, we can show you more designs.
More designs of eyelash display stand
Below are 3 more eyelash display ideas for your reference. No matter you need a countertop display stand or a floor display stand, we can make them for you.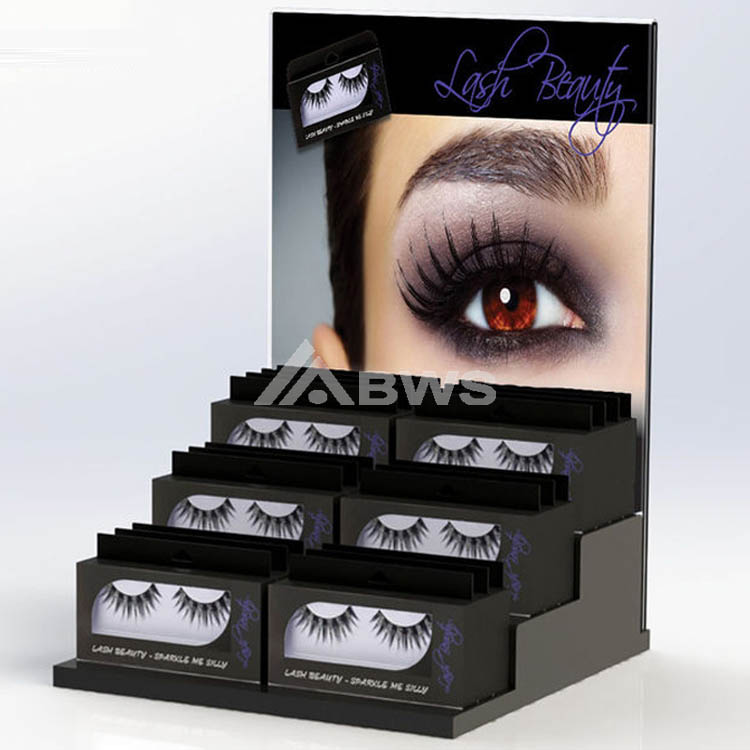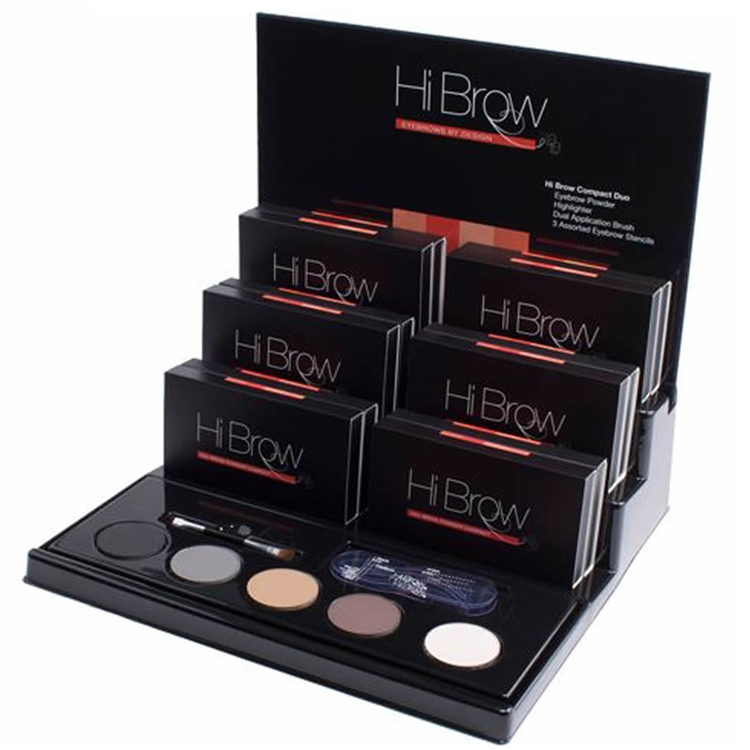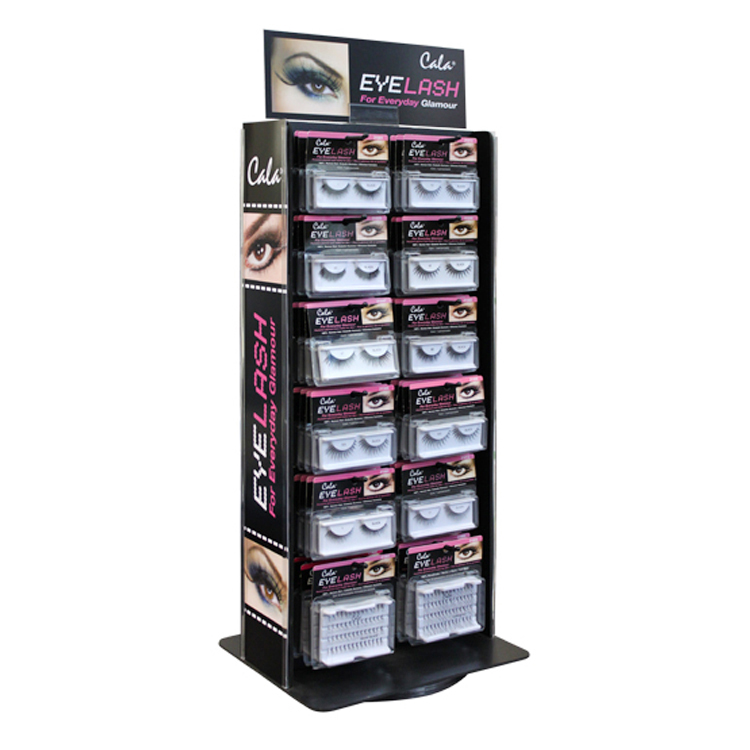 If you need more designs or need help with custom displays, reach us now. We are a factory of custom displays with more than 10 years of experience. We have worked for Revlon, Nivea, and more. We are sure of experience will help you stand out and increase your sales.
Below are 2 designs we have made which clients are satisfied with us, and we want to make you satisfied too.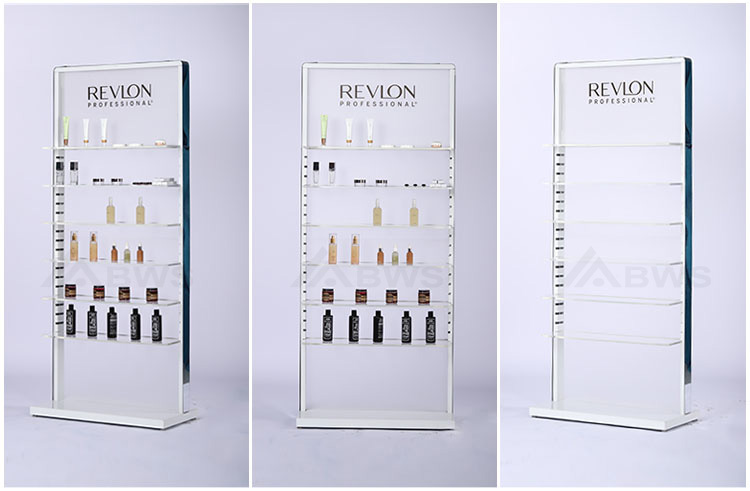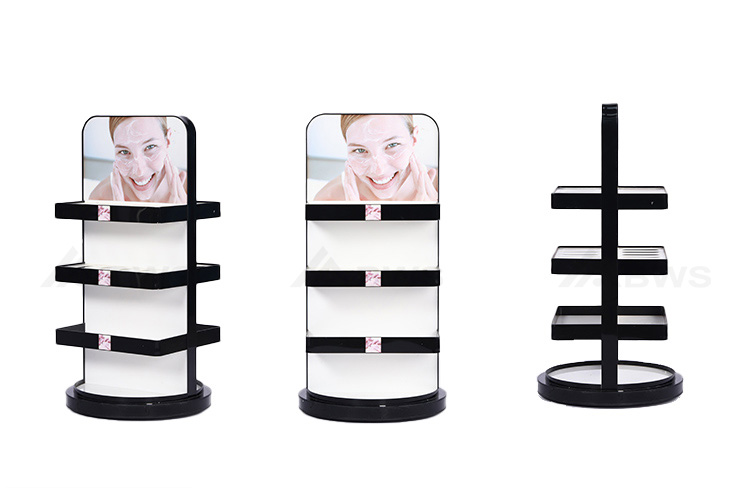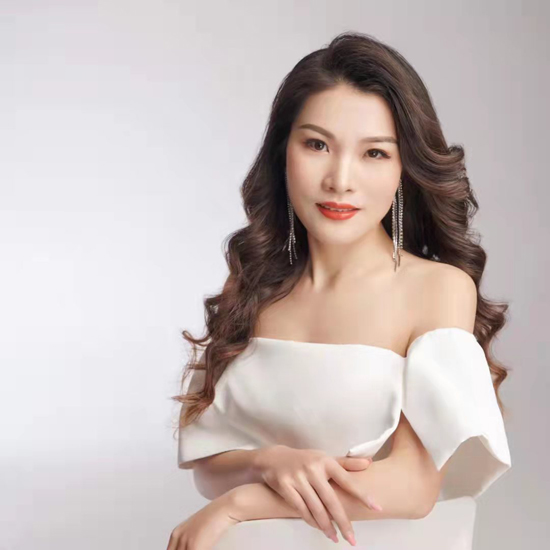 jessie huang
Love what we do and do what we love! Enjoy life, enjoy working in BWS DISPLAYS.