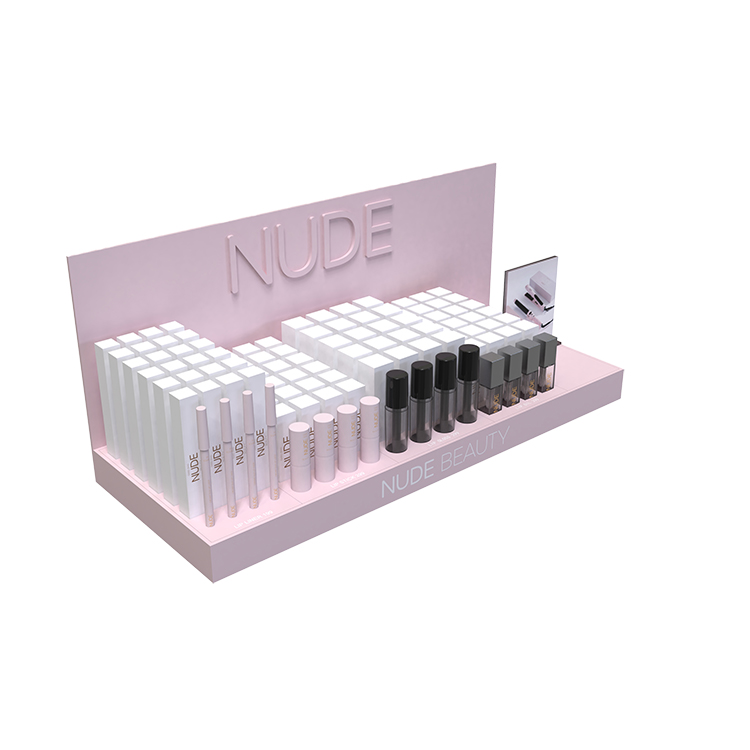 New 7 Rows Lip Gloss Display Stand In Nice Pink With Mirror
Order(MOQ):50
Payment Terms:EXW, FOB Or CIF
Product Origin:China
Color:Pink
Shipping Port:Shenzhen
Lead Time:30 Days
Service:Customization Service, Lifetime After-sales Service.
The lip gloss display stand is one of the makeup organizers that are perfect for showcasing your lip gloss, and lipstick tubes to buyers. Lipsticks are an important member of cosmetics, they are worn by both men and women and are among the most commonly used makeup products across the globe. The lipstick market size was valued at USD 9.57 billion in 2021 and is poised to grow from USD 10.08 billion in 2022 to USD 14.68 billion by 2030, growing at a CAGR of 5.5% in the forecast period (2023-2030).
For online business growth, it has never been more important for brick-and-mortar retailers to create store designs that offer compelling, inspirational experiences that offer greater value to consumers than the convenience of online shopping.  In this case, customizing your brand logo lip gloss display stand is necessary to stand out among competitors. With your brand logo or in a creative design, a custom lip gloss display stand is a silent sale in your store.  Today, we are going to showcase a pink lip gloss display stand with you.
What are the features of this lip gloss display stand?
1. Nice color, pink. As we can see from the market, most of the cosmetic display stands are made of white, clear, or black acrylic. Pink is not a common color, but it gives a common feeling to most people, cute and lovely. 2. Functional. This is a countertop lip gloss display stand that can showcase different lipsticks and eyeliner at the same time. 3. Large capacity. Though the size of this display stand is 454*218*650mm, it can showcase 4 sizes of 108 pieces of items at the same time. The first row for testers. Besides, there is a space for a mirror or interchangeable graphic.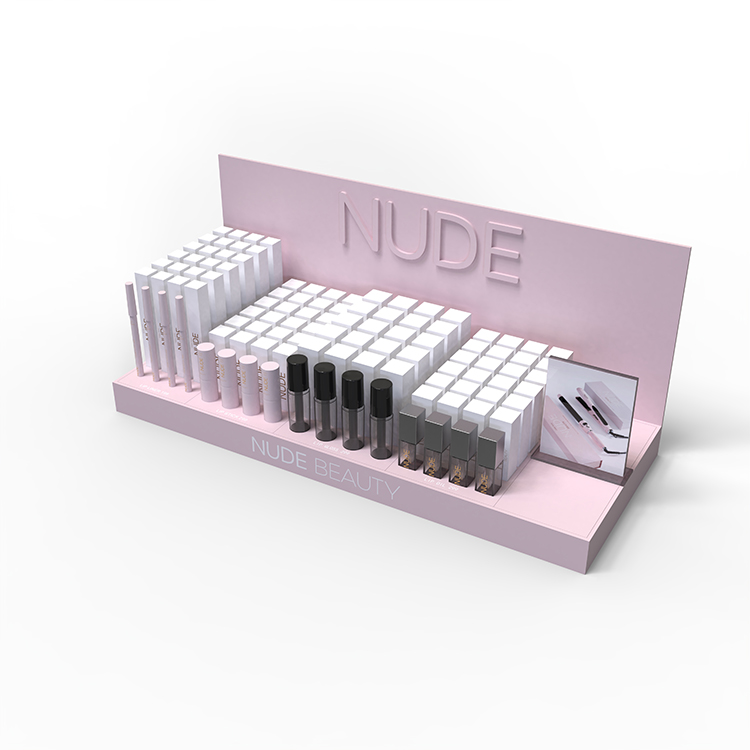 Furthermore, this lip gloss display stand has a die-cut raised-out 3D logo, which gives a alive feeling to buyers. It is in a knock-down design, but you can assemble it within 2 minutes by screwing it up. Don't you think it is beautiful?
Of course, all the display stands we make are based on clients' requirements. If you want to change the design or material, we will be glad to help you.
How to make your brand lipstick display stand?
Before you change the design or make your brand display stand, answering these questions will help you make your idea clear.
1. How many displays do you need? Quantity is very important for the unit price of a factory.
2. When does this lip gloss display stand need to be completed? If you need it urgently, it is better to buy stock. Assuming you have enough time to do your next display project, your specific timing needs will help to determine your manufacturing options, most notably if overseas production is an option.
3. What is your budget? You understand your product economics and know how much you have to sell to make an investment in a display worthwhile. We can make the custom display to meet your budget by using different materials and designs.
4. What type of lip gloss display stand are you looking for? When it comes to the type of display, you should first figure out if you want a temporary, semi-permanent, or permanent display. Temporary displays are typically corrugated displays that are designed for in-and-out, seasonal, or promotional programs.
5. What products and how many SKUs would you like to display? Be ready to describe your products and the number of SKUs (including colors, flavors, sizes, etc.) that you would like to merchandise on the display. Sharing product photos, spec sheets, physical samples, and planograms is also extremely helpful and can facilitate a streamlined design process.
6. What are the dimensions/weight of your product or preferred display dimensions? Product dimensions and number of products to be displayed will determine the size of the display. If you are interested in a shelf display, for example, the designer will need to know how big to make the width and depth of the shelf and how much vertical space to allow between shelves.
7. Do you have any material preferences? There are corrugated, PVC, acrylic, metal, wood, wood composite materials (e.g., MDF), various plastics, etc. Within each material category, there is a subset of choices. You can choose the material to fit your product. This lip gloss display stand is made all by acrylic.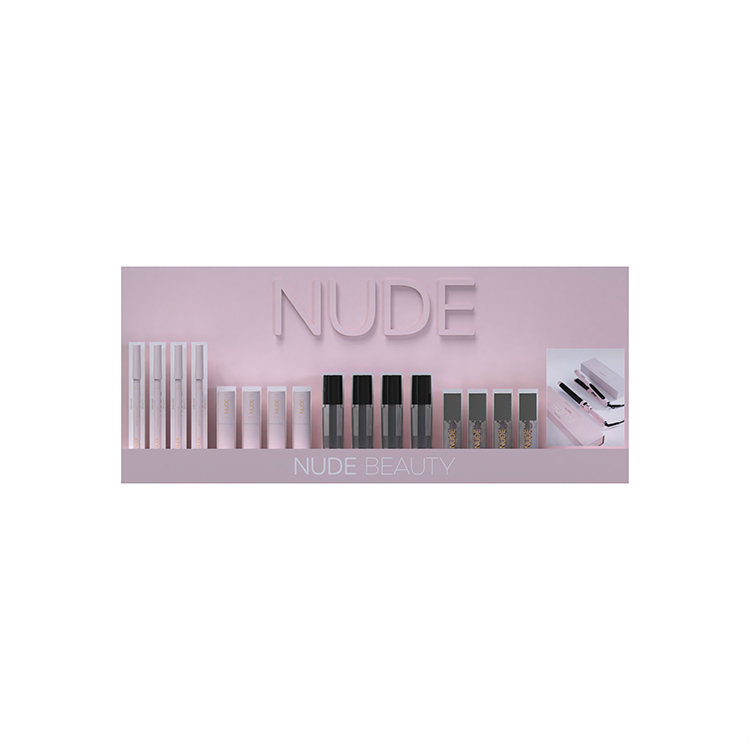 8. Are there any design characteristics/aesthetics you prefer or is there a certain look you want?
Even if you don't have a specific vision, it is helpful to the design team if you can describe any design characteristics, overall aesthetic, or vibe you are trying to achieve.
9. What type of branding or graphics would you like to include with your display? The vast majority of POP displays incorporate some type of branding or graphics. Thinking through in advance what type of graphics you would like to incorporate into your display can make the design process much more efficient.
10. Will the displays be shipping knock-down or assembled?
It is important to figure out if you want your display to ship knock-down or assembled. In most cases, shipping a knock-down display will save on shipping costs. However, knock-down displays need to be assembled at retail. If your display takes no more than 15-20 minutes to assemble and if it comes with assembly instructions and the tools to assemble, most retailers will accept it.
After all is confirmed, we will design for you. We will send you the lash display stand drawing for confirmation. After you confirm the design, we will make a sample for you. It will take around 7 days. Below is the rendering for this lip gloss display stand.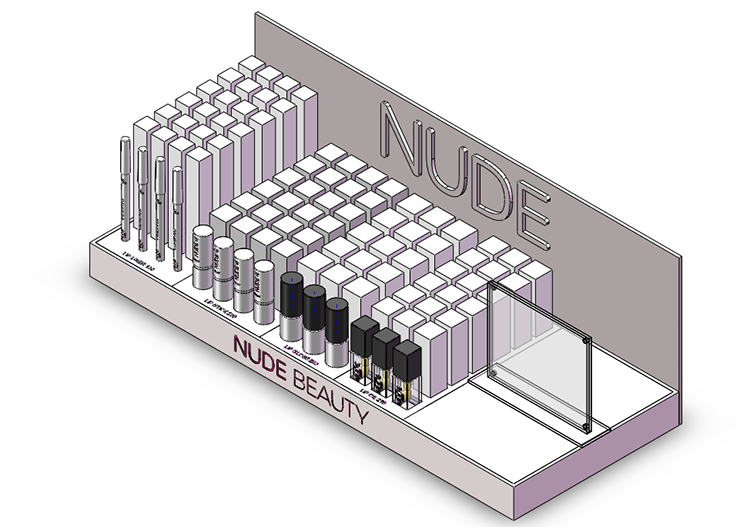 Once you confirm the sample, price, quality, delivery, and all necessary information, as well as pay for the deposit, we will start the mass production for you accordingly. It takes around 30 days to finish the order. If you need these store display shelves urgently, we can finish them within 20 days.
We have a QC team to check the quality from beginning to end. Our people will provide you with photos and videos during the whole mass production, especially the important steps, and processes. You can inspect the finished mass production in our factory before paying the balance.
If you need our help with shipping or delivery, our team can help you find suitable shipping solutions or cooperate with your shipping agents to arrange loading and shipping for you.
You can contact us anytime if you need any help with custom displays or if you have any questions regarding the display fixtures we made for you. We will provide you with the right solution within 48 hours.
We have taken videos during the production for this lip gloss display stand, if you want to know more, we can send it to you.
It is not difficult to make your brand lip gloss display stand or other cosmetic display stand at BWS Display Limited, we have a factory of custom displays for more than 20 years. Our rich experience will help you build your brand image and increase your sales.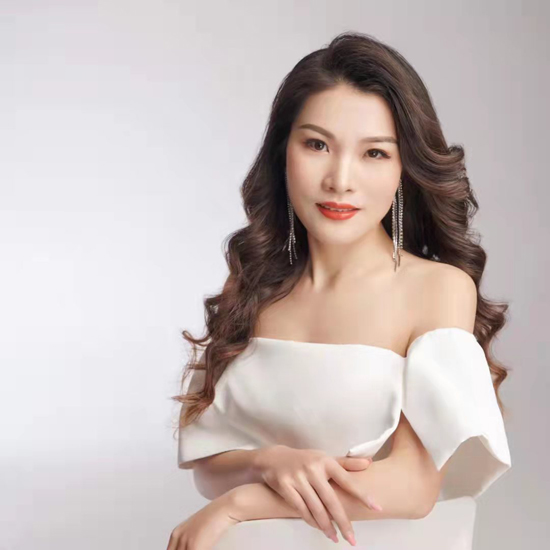 jessie huang
Love what we do and do what we love! Enjoy life, enjoy working in BWS DISPLAYS.