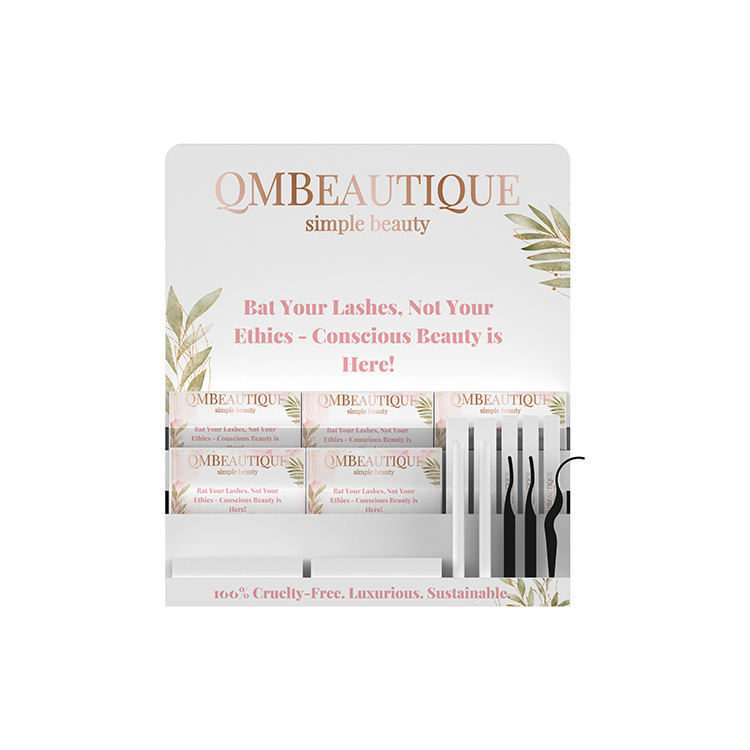 Conscious Beauty Lash Display Stand Made of Acrylic 3 Tier For Countertop
Order(MOQ):50
Payment Terms:EXW, FOB Or CIF
Product Origin:China
Color:White
Shipping Port:Shenzhen
Lead Time:30 Days
Service:Customization Service, Lifetime After-sales Service.
Looking for a custom lash display stand to feature your product at your stores? BWS Displays Limited is a factory of custom POP Displays, we can help you design and craft the lash display stand you are looking for. Lash display stands are in different sizes, shapes, colors, and materials to meet different merchandising needs. Today, we are sharing with you a countertop lash display stand which is nice to showcase lashes and increase brand awareness.
What are the features of this lash display stand?
This countertop lash display stand has these features. 1. It is a nice design. It has 3 steps on the right side and leaves the left with mall pockets. It can showcase lashes in different ways. 2. It is elegant. Made of white acrylic, this lash display stand makes the product outstanding. 3. It is brand merchandising. The back panel is with an interchangeable PVC graphic, which shows the features of lashes with "Bat your lashes, not your ethics-conscious beauty is here", and the brand logo QMBEAUTIQUE is shown in a big size, which leaves a deep impression on buyers.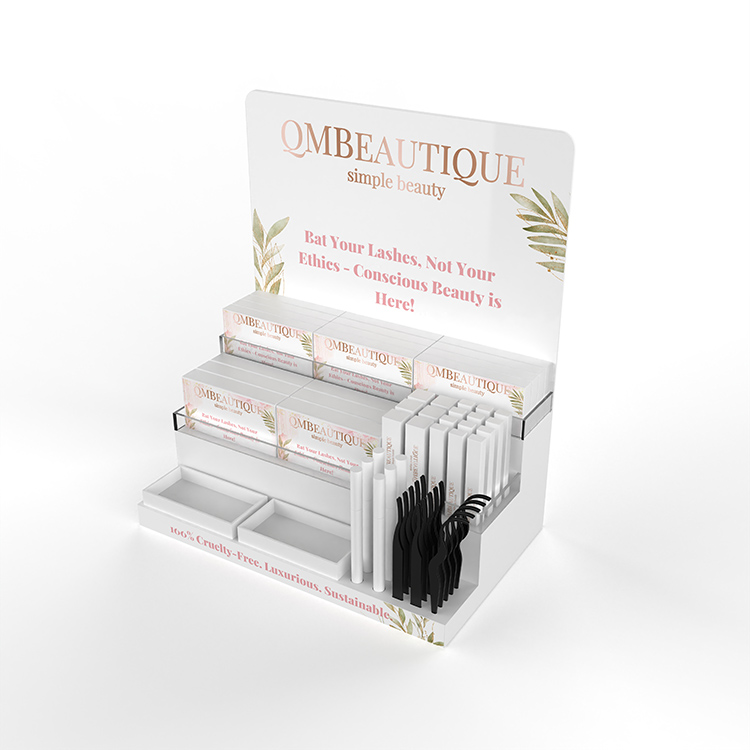 As you can see from the photo, there is a graphic in front of the edge, it says, 100% cruelty-free, luxurious, sustainable, which are more features of the lashes. All the displays we made are customized, so you can change this lash display stand to fit your products.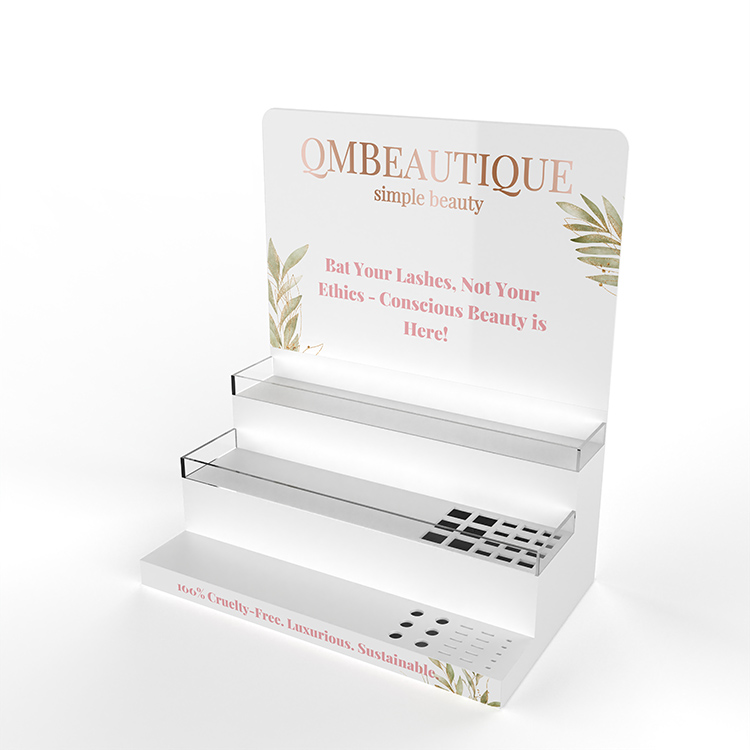 Before you change the design, you need to answer these questions.
1. How many displays do you need? If the quantity is too low, you may not be a candidate for a custom lash display stand and might instead consider a stock display with no minimums or lower minimums. At BWS displays, we do not have stock displays, but you can buy them from your local market or online.
2. When do the displays need to be completed? If you have an extremely short timeline, it may be better to go with a stock display that can be ready to ship immediately, this stock display is not a customized lash display stand that just fits your brand and your products. Assuming you have enough time to do your next display project, your specific timing needs will help to determine your manufacturing options, most notably if overseas production is an option.
3. What is your budget? You understand your product economics and know how much you have to sell in order to make an investment in a display worthwhile. We can make the custom display to meet your budget by using different materials and designs.
4. What type of lash display stand are you looking for? When it comes to the type of display, you should first figure out if you want a temporary, semi-permanent, or permanent display. Temporary displays are typically corrugated displays that are designed for in-and-out, seasonal, or promotional programs. Semi-permanent displays are generally designed to last a little longer (maybe 6 months or so) and are therefore made of materials that are a bit more durable. Permanent displays are usually designed to last a minimum of a year and often multiple years.
5. What products and how many SKUs would you like to display? Be ready to describe your products and the number of SKUs (including colors, flavors, sizes, etc.) that you would like to merchandise on the display. Sharing product photos, spec sheets, physical samples, and planograms are also extremely helpful and can facilitate a streamlined design process.
6. What are the dimensions/weight of your product or preferred display dimensions? Product dimensions and number of products to be displayed will determine the size of the display. If you are interested in a shelf display, for example, the designer will need to know how big to make the width and depth of the shelf and how much vertical space to allow between shelves.
7. Do you have any material preferences? There are corrugated, PVC, acrylic, metal, wood, wood composite materials (e.g., MDF), various plastics, etc. Within each material category, there is a subset of choices. You can choose the material to fit your product.
8. Are there any design characteristics/aesthetics you prefer or is there a certain look you want?
Even if you don't have a specific vision, it is helpful to the design team if you can describe any design characteristics, overall aesthetic, or vibe you are trying to achieve.
9. What type of branding or graphics would you like to include with your display? The vast majority of POP displays incorporate some type of branding or graphics. Thinking through in advance what type of graphics you would like to incorporate into your display can make the design process much more efficient.
10. Will the displays be shipping knock-down or assembled?
It is important to figure out if you want your display to ship knock-down or assembled. In most cases, shipping a knock-down display will save on shipping costs. However, knock-down displays need to be assembled at retail. If your display takes no more than 15-20 minutes to assemble and if it comes with assembly instructions and the tools to assemble, most retailers will accept it.
After you make these clear, it is easy to make your brand display stand.
How to make your brand lash display stand?
We will understand your specific needs first and then design for you. We will send you the lash display stand drawing for confirmation. After you confirm the design, we will make a sample for you. It will take around 7 days.
Once you confirm the sample, price, quality, delivery, and all necessary information, as well as pay for the deposit,  we will start the mass production for you accordingly. It takes around 30 days to finish the order. If you need these store display shelves urgently, we can finish them within 20 days.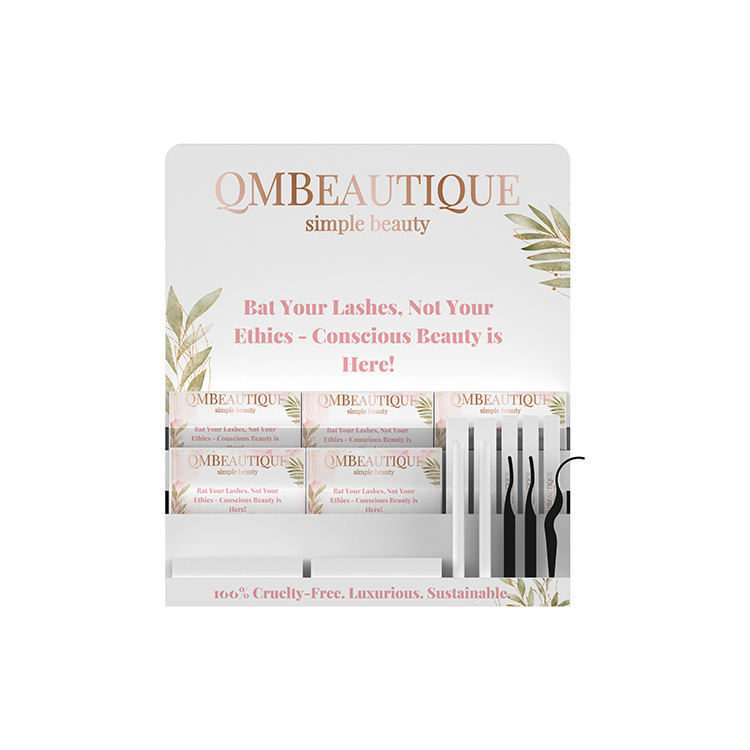 We have a QC team to check the quality from beginning to end. Our people will provide you with photos and videos during the whole mass production, especially the important steps, and processes. You can inspect the finished mass production in our factory before paying the balance.
If you need our help with shipping or delivery, our team can help you find suitable shipping solutions or cooperate with your own shipping agents to arrange loading and shipping for you.
You can contact us anytime if you need any help with custom displays or if you have any questions regarding the display fixtures we made for you. We will provide you with the right solution within 48 hours.
If you work with us, we are sure you will be happy as they do.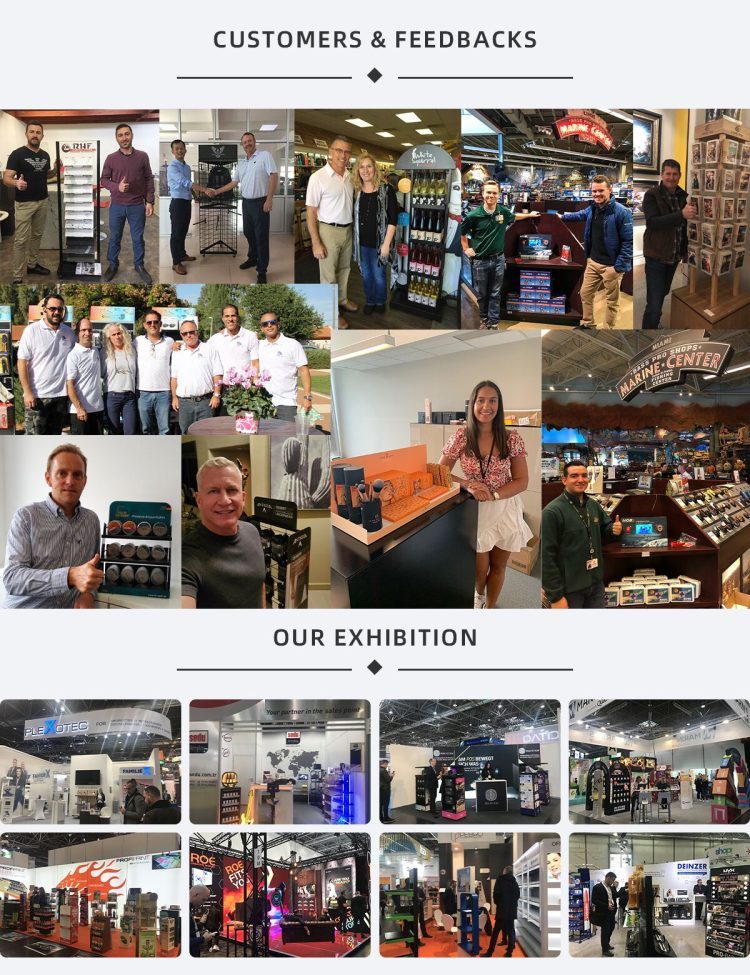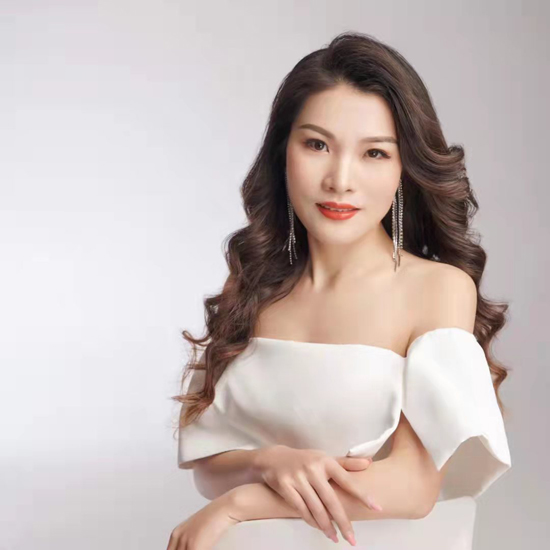 jessie huang
Love what we do and do what we love! Enjoy life, enjoy working in BWS DISPLAYS.