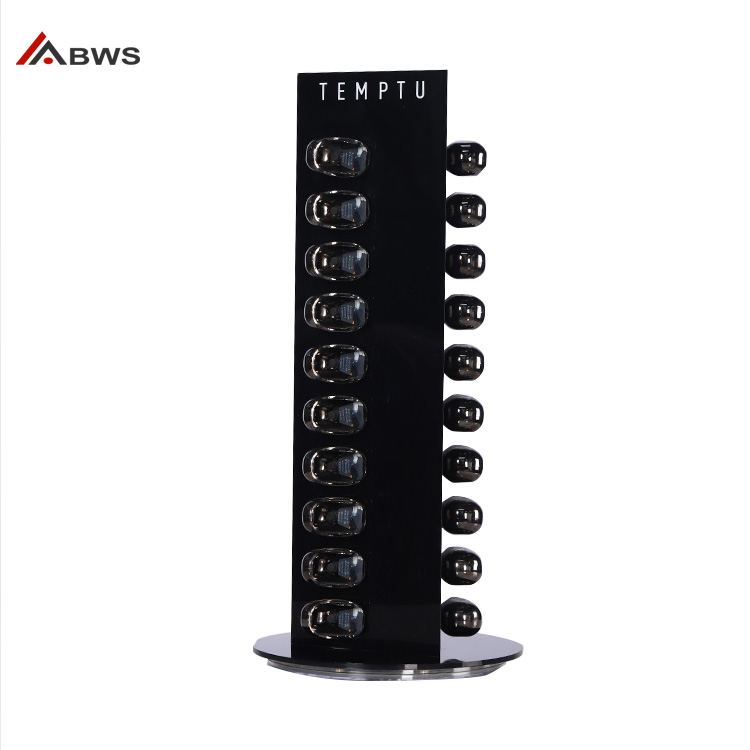 Dynamic 3-way Cosmetic Retail Display Makeup Foundation Display Stand
Order(MOQ):50
Payment Terms:EXW, FOB Or CIF
Product Origin:China
Color:Black
Shipping Port:Shenzhen
Lead Time:30 Days
Service:Customization Service, Lifetime After-sales Service.
 Where is cosmetic retail display used?
Cosmetic retail display is used in cosmetics shops, makeup stores, beauty salons, supermarkets, and shopping malls.
What kind of cosmetic retail displays do we make?
There are so many cosmetics that need to be shown, there are decorative cosmetics, such as eyeliner, eyelashes, eyeshadow, highlighter, primers, foundation, nail polish, face powder, lip products and more. Besides, there are skin care products and hair care products as well as perfume. And make-up tools also need displays, for example, brushes. We make custom displays for all kinds of cosmetics and make-up tools, including display rack, display stand, display case, display cabinets, display box, display tray. Below is one of the foundation display stands we made.
This display is made for TEMPTU, a famous cosmetics brand, which has created showstopping looks for some of the most famous faces in fashion, music, and film for over 40 years. With the creation of the TEMPTU Air and Airpod System, they've finally made it possible for women and men to easily achieve our 'camera-ready' iconic airbrush finish at home every day.
The buyer told us that he needed a custom foundation display stand with branded logo for tabletop display.  And it should be made of acrylic in black color. It should be rotatable as it is convenient for shoppers. And he needed it to be easy to take out and put in the foundations.
To meet all his requirements, we made the cosmetic display stand as below.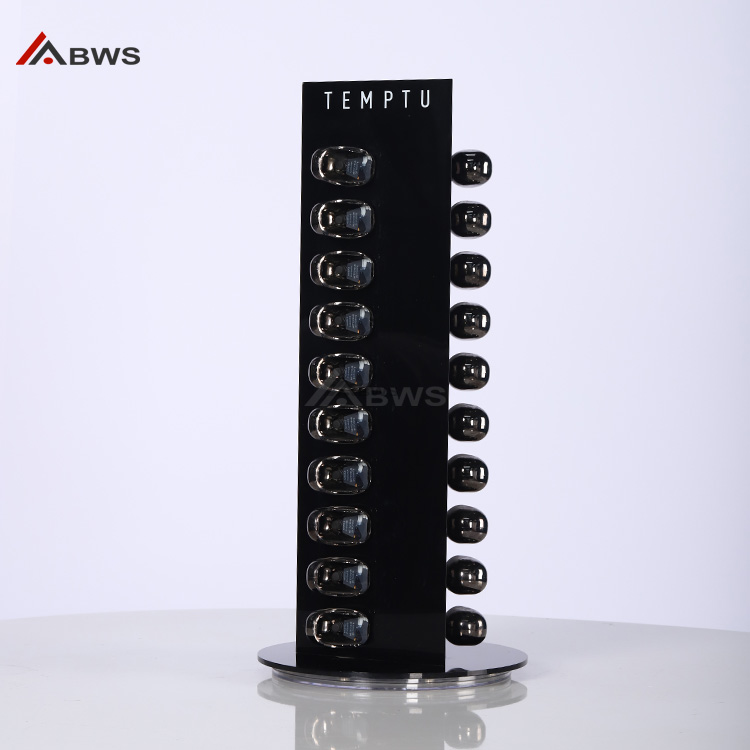 What are the features of this cosmetic retail display stand?
As you can see from the picture. The whole display stand is made of acrylic with 3 sides, every side has 10 pockets for foundations. The color is black and the custom brand TEMPTU is shown on the top of the display stand in 3 ways. There is a turntable on the base, so shoppers get the foundation on other sides by rotating it. The overall construction is simple but it is nice looking. Here are more pictures, so you view more details from different angles.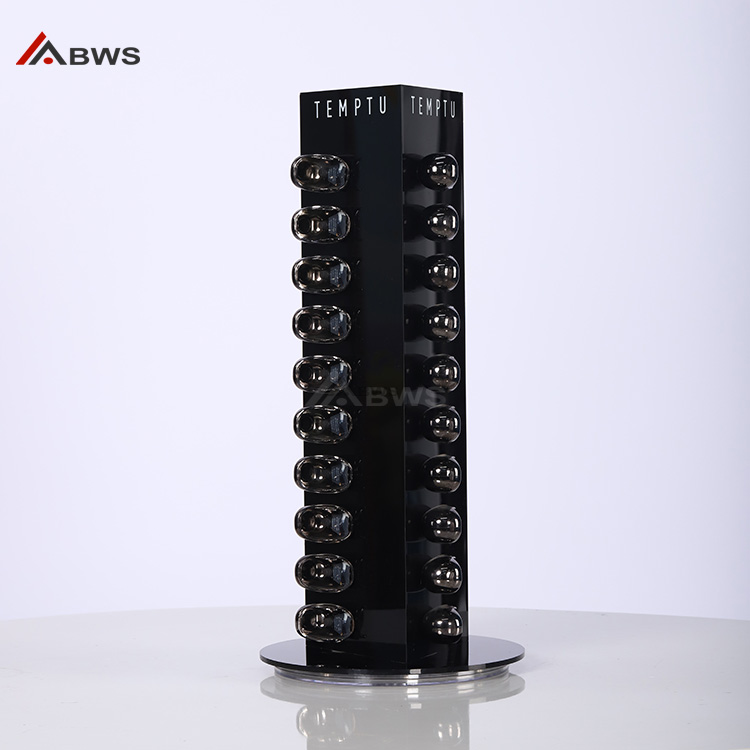 The above photo shows two sides with 20 pockets for foundations. All pockets are in a half-circle shape.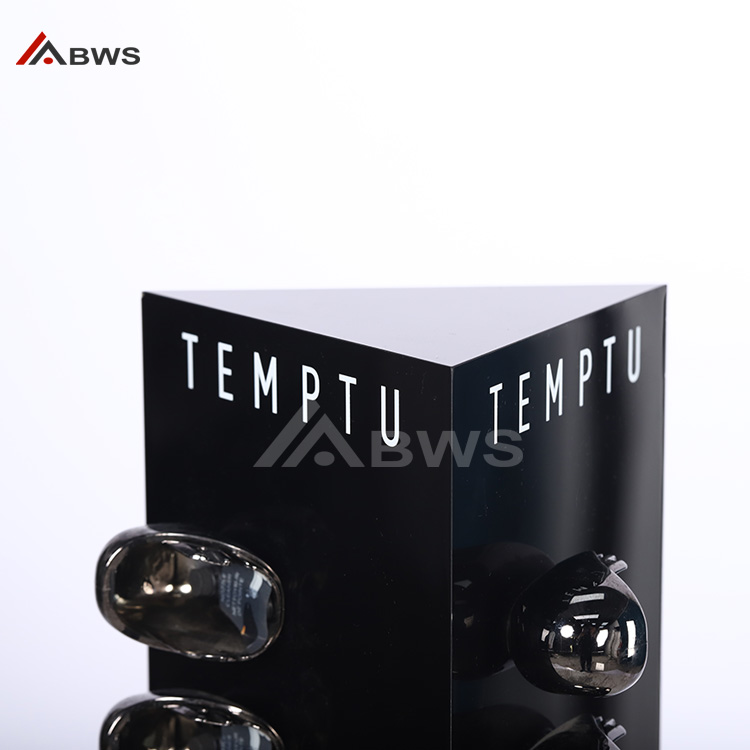 This photo shows the pockets better, and the top white logo is laser-cut letters.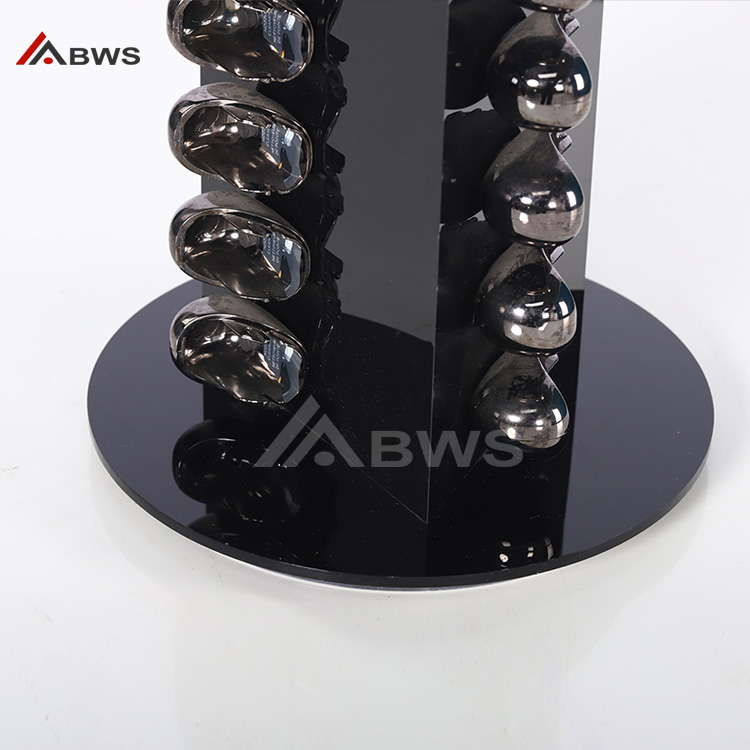 This photo shows how the sides are combined, and nice finishing. The base is round in shape, which is stable and sturdy.
Here are the photos that the cosmetic display stands are used on tabletop in stores.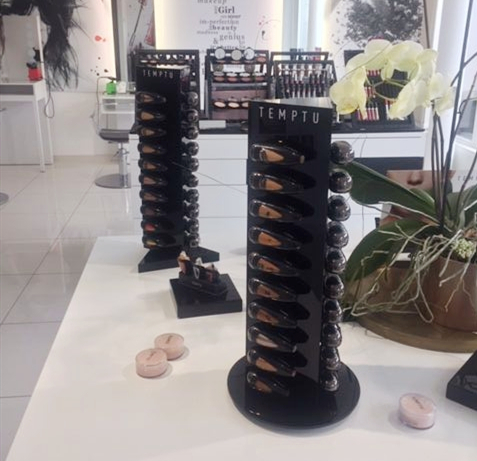 They are eye-catching on tabletop in black color. Tables are white, display fixtures are black. The foundations are in the pockets in different colors, so shoppers have many choices.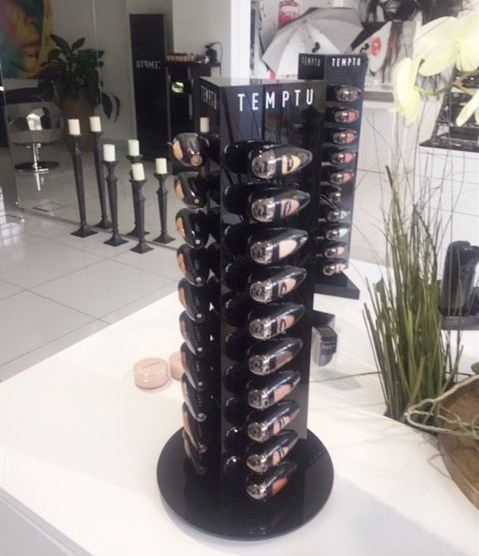 Actually, there is another base in a triangle shape with the same main body. Both of them show the real beauty of the products and work well in stores.
We need to know your needs first, and then we will discuss with you more details to make the display stand you are looking for.
You decide all these details in design, material, size, shape, finishing, style, function. We will send you a drawing and 3D rendering before a sample is made.
Below is the 3D rendering we made for TEMPTU.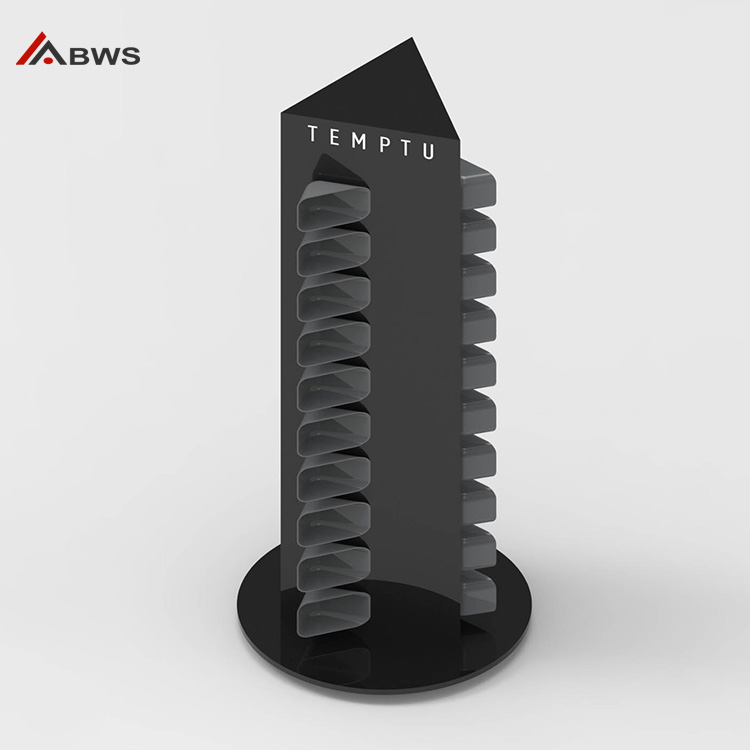 After the sample is approved, mass production will be followed. We control all the details in during mass production to make the display stand meet your needs.
And we will make a safe package and arrange the shipment. Sample can be delivered by Express, mass production can be delivered sea shipment or air shipment( for urgent needs only).
Can you share other designs for reference?
Of course, here you go. The first design is A shape display stand made of wood with custom signage. It is 3 layers with a cabinet on the base for storage.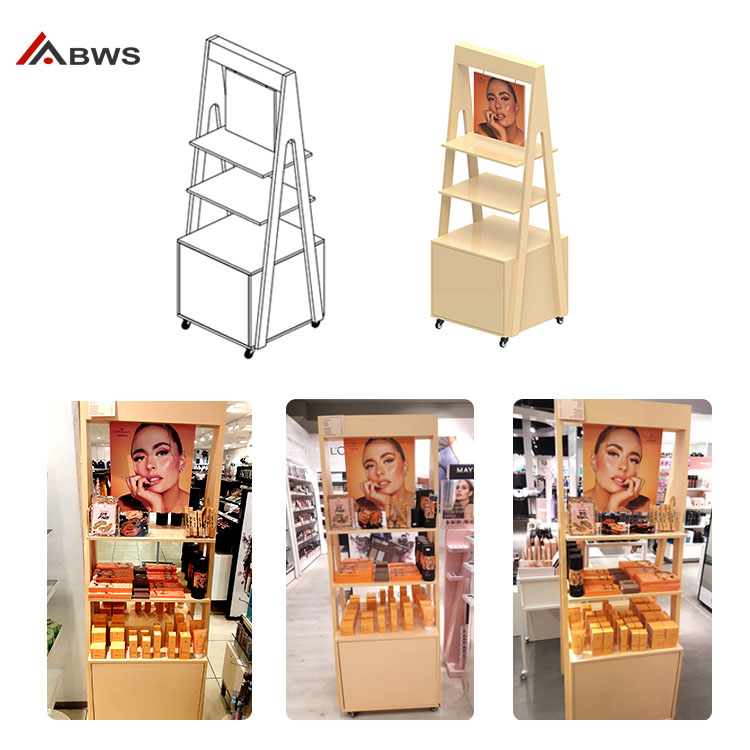 The second design is a tabletop display stand with the Icon beauty brand logo on it, simple but useful.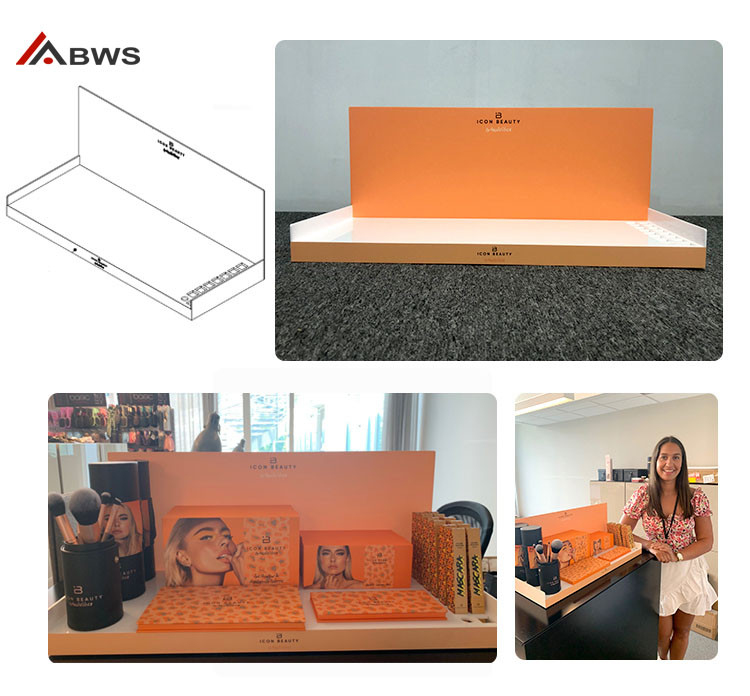 If you need more designs or start your project with us, please contact Jessie by mailing to jh@bwsdisplays.com, we will reply to you within 24 hours.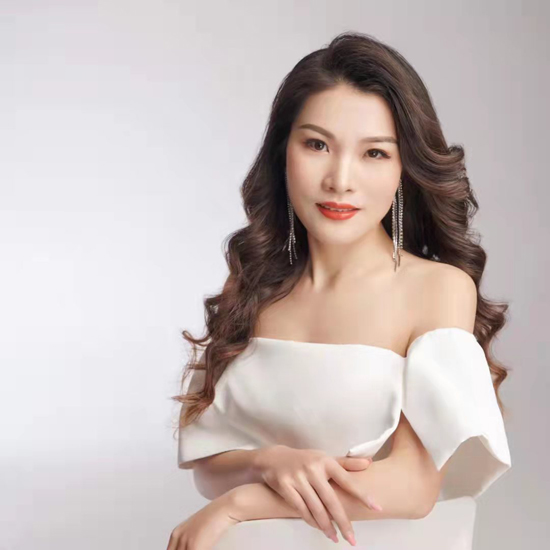 jessie huang
Love what we do and do what we love! Enjoy life, enjoy working in BWS DISPLAYS.