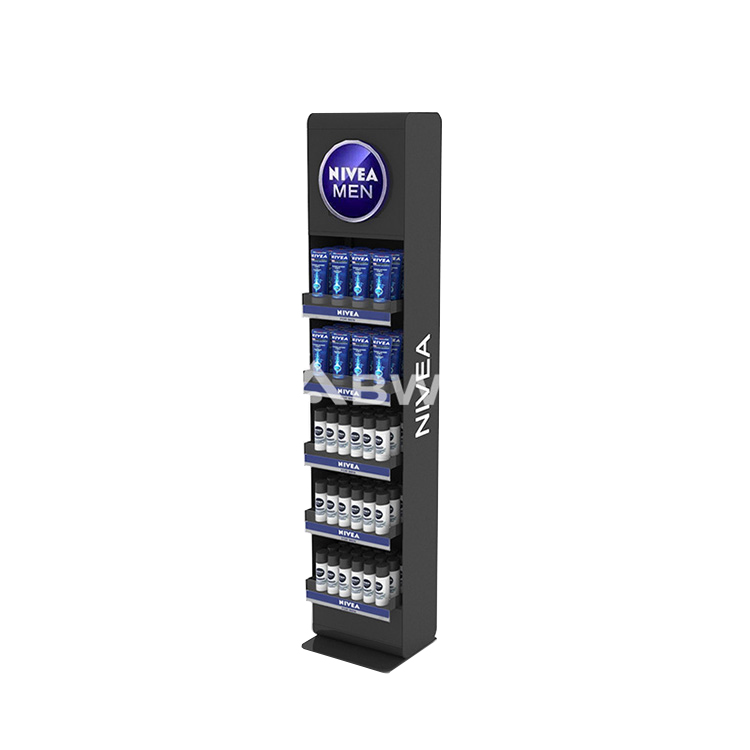 5-Tier Cosmetic Display Design Novelty Cosmetics Shop Display
Order(MOQ):50
Payment Terms:EXW, FOB Or CIF
Product Origin:China
Color:Black
Shipping Port:Shenzhen
Lead Time:30 Days
Service:Customization Service, Lifetime After-sales Service.
Cosmetics need to be organized and showcased, cosmetic display design is the first step to confirming how to display cosmetics on the floor or countertop. BWS is a factory of custom displays that makes displays to meet clients' specific needs.  We can make cosmetic display showcases, professional makeup displays, cosmetic counter displays, cosmetic shop displays as well as beauty products displays, pop displays, and pos displays to promote sales.
How to Display cosmetics?
The countertop is the perfect place to display cosmetic products. The cosmetics wholesale would be the easiest access to the customers. Clear acrylic display boxes or display stands or display racks or drawers would be a very good choice for this occasion. Display shelving is a very popular store fixture of your retailers or distributors. And cosmetic display design is to design your brand display fixtures to stand out among competitors.
Except for clear acrylic, black acrylic is also a good choice to be used in cosmetic display design, do does metal and wood, as well as paper, they are useful materials to make custom cosmetic shop displays. Today, we are sharing with you a floor-standing cosmetic display design that we designed for Nivea Men. NIVEA is one of the world's largest skincare brands with over 50 products available in 173 countries around the world.
What are the features of this cosmetic display design?
This Nivea men cosmetic display stand is made of metal with acrylic fencing above the brand logo on the shelves. There are 5 detachable shelves to insert the metal back panel for displaying different cosmetics, face cream, shampoo, or other skin care products. The custom brand logo in a circle shape is on the top of the display stand, which is made of acrylic with a screen-printed logo. To reinforce the NIVEA brand, there is a brand logo printed on two sides.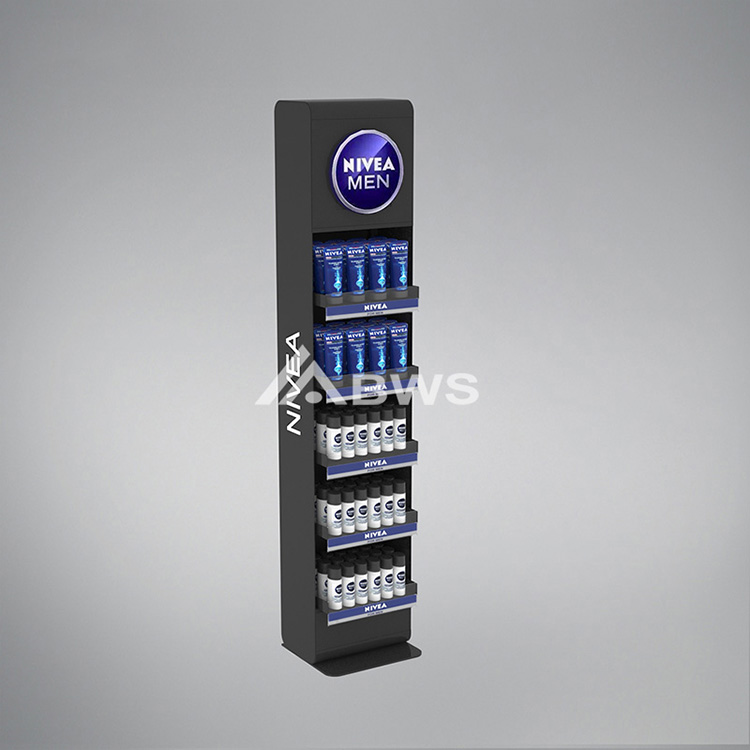 As it is designed to display men products, so the whole design is in black color, which can be powder-coated nicely. It has a long lifetime. Besides, the round corner on the metal frame is friendly to shoppers and also gives a soft feeling to shoppers.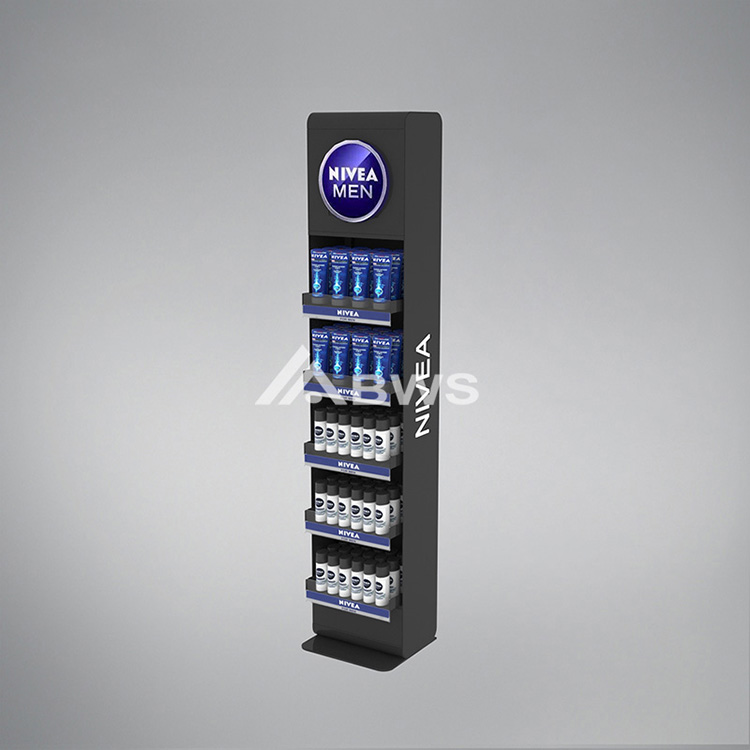 If you need a customized cosmetic display design for your cosmetics, you can contact us at any time.
How to customize your brand cosmetic display design?
First of all, we need to know your needs. You can give us the answer to these questions before we design for you.
1. Is this project confirmed to happen or at the idea stage?
2. What products will the display be presenting?
3. What kind of display do you require?
4. How long do they need to last in-store?
5. What materials are you anticipating?
6. What is your budget per display?
7. What quantity do you require?
8. Where to show your brand logo?
These will give us an idea of the structure of the cosmetic display you are looking for.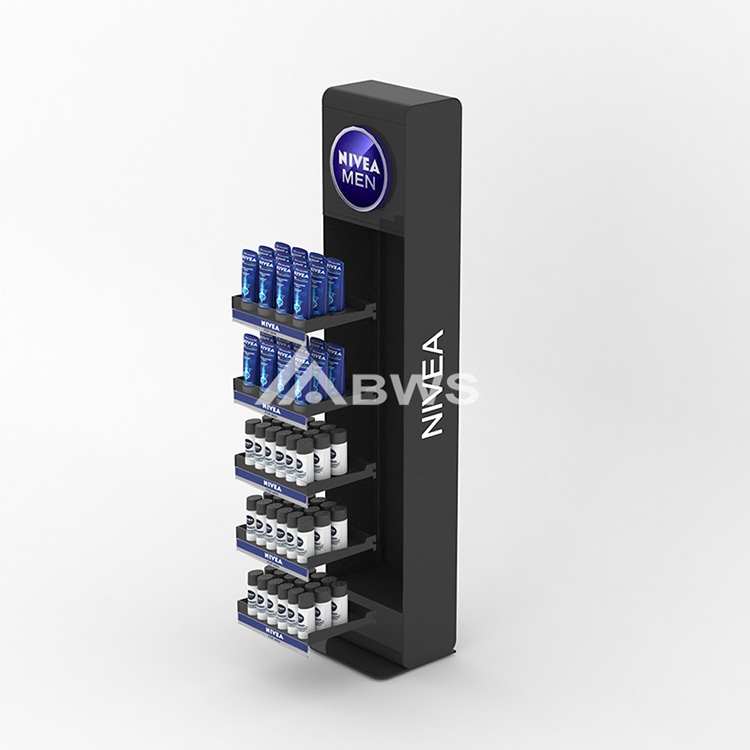 You can send us a reference design or rough drawing, then our engineering will design for you. We will send you a flat drawing and 3D drawing with products and without products for you after confirming the details with you. You can review and confirm the design or change the design according to your thoughts.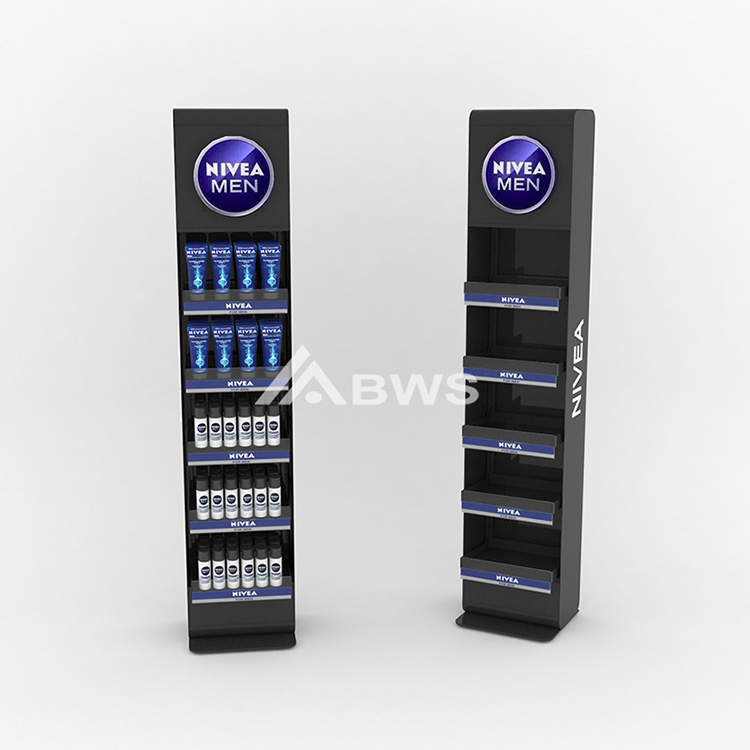 After making the cosmetic display design, we will turn it into reality.
How to build the cosmetic display according to the design?
BWS is a factory that specializes in the production of a variety of metal, wood/acrylic/paper pop displays, and retail display fixtures with about 5000 square meters of plant area. With a professional team of designers, excellent foreign trade personnel, experienced production management, mechanics, and strict quality management, BWS gets 100% satisfaction from our clients.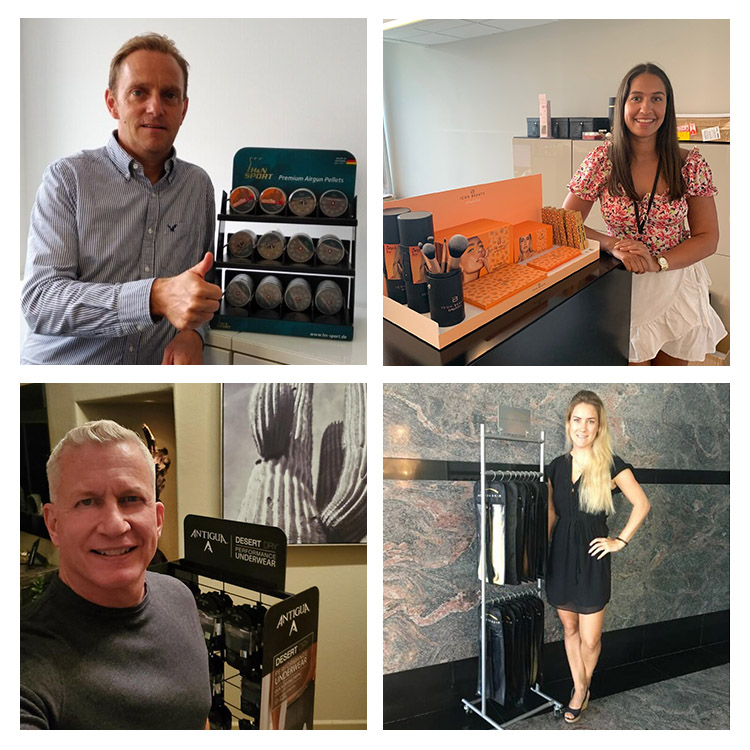 We will make a sample before mass production. We measure dimensions, test functions, check structure and surface fishing, and other details and will take photos and videos for you. Only with your approval of the sample, we will arrange the mass production according to the sample. There are some processes, engineering, tool making, prototyping, die cutting or laser cutting, CNC laminating, screen-printing, bending, powder-coating, assembling, and packaging.
Do you have other cosmetic display designs?
Please find below cosmetic display designs for your reference. If you need more designs, you can reach us at any time. We will be glad to work to you.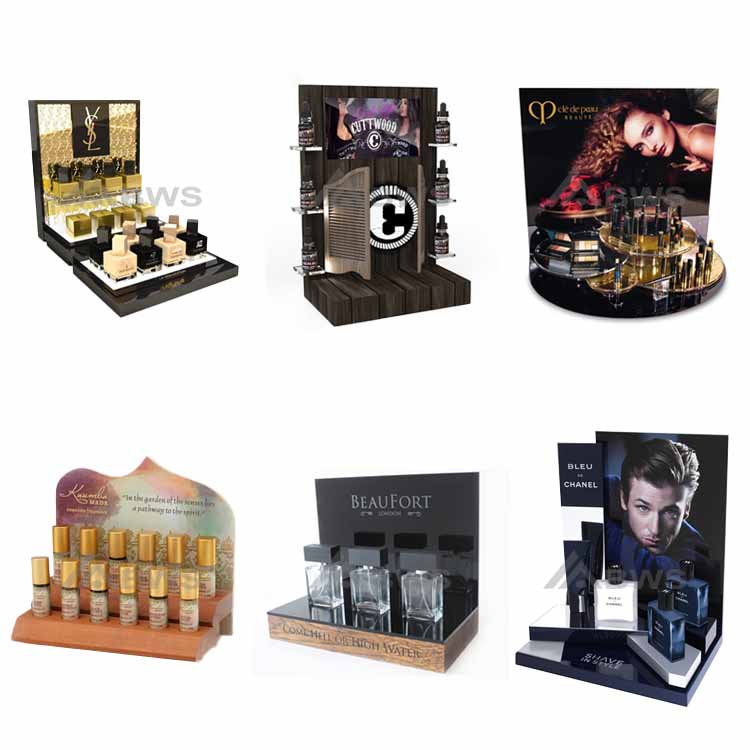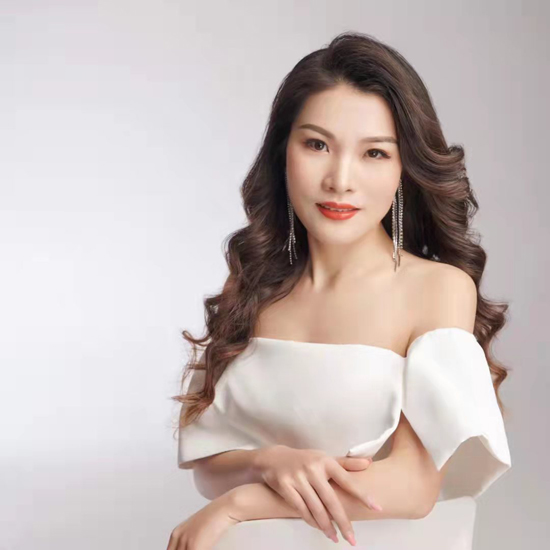 jessie huang
Love what we do and do what we love! Enjoy life, enjoy working in BWS DISPLAYS.