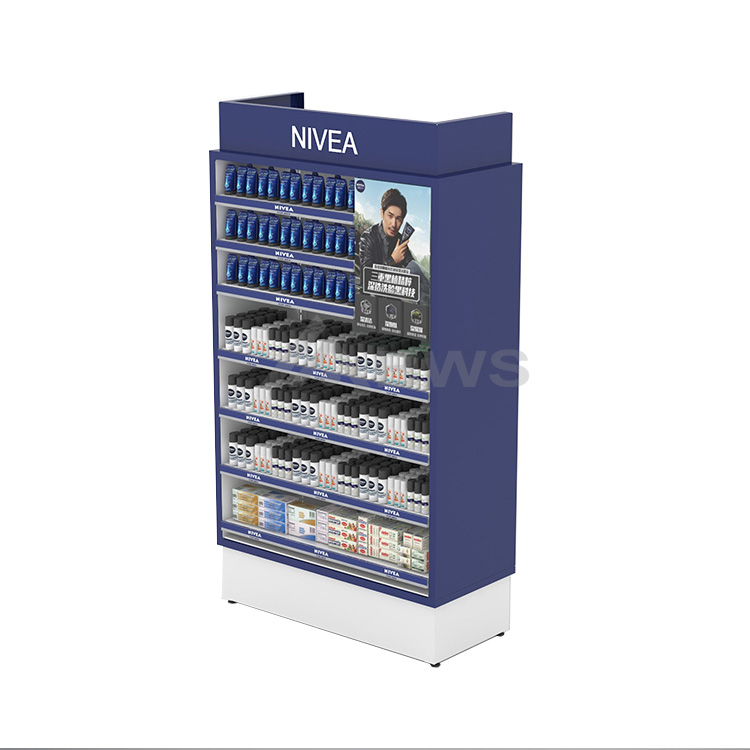 Reliable 7-layer Cosmetic Display Racks With Attractive Graphic
Order(MOQ):50
Payment Terms:EXW, FOB Or CIF
Product Origin:China
Color:White, Blue
Shipping Port:Shenzhen
Lead Time:30 Days
Service:Customization Service, Lifetime After-sales Service.
How to display cosmetics in stores?
Custom cosmetic display racks are one of the solutions to display cosmetics. Below are 4 tips to showcase your cosmetics in stores.
1. Add brand image
Visual displays are all about communicating your brand's image. Your customers can easily recognize your brand products even when placed in the crowded retail market when you integrate your brand's style into the cosmetic displays.
2. Use suitable displays
It is very important to choose the display suitable for your products and suitable for your branding, including cosmetic display racks, display stands, and display shelves, display cases, display cabinets. All displays can be made in acrylic, glass, wood, metal or plastic materials, when you choose which materials you should use is up to your display needs. Is it long-lasting? Is it expensive?
3. Use displays in the right space
Consider the place where you will set up cosmetic display stands to get more attention. Strategically using your cosmetic store display can help you gain more customers. Is it near the counter? Should you put it near the entrance and so on.
4. Don't overcrowd
You don't have to display all your cosmetics at once, though you have a lot of products that you want to introduce and promote. Making your display overcrowded, will affect the allure and efficiency of a display. It's best to showcase limited products or use more displays to accommodate all items.
Of course, you can hang some custom signage or POS displays to stand out and educate shoppers.
Today, we share with you a cosmetic display rack that is designed for NIVEA. NIVEA is one of the world's largest skin care brands with over 50 products available in 173 countries around the world. They have a global team of 1,290 scientists who are dedicated to continually improving cosmetic products and finding new breakthroughs in effective skin care.
What are the features of cosmetic display racks?
Here is one of the cosmetic display racks as follow, you can see it is a free-standing display rack. The brand logo NIVEA is on the header. The frame is made of metal, which is powder-coated in blue color which matches the package of the products. There are 7 shelves that are adjustable, so they can meet different display needs. And the brand NIVEA logo is on every shelf to get more brand awareness. An ample graphic on the left of the display shows the point of sale of cosmetics. While the base is made of wood with level feet, which is painted white.
The whole size of this cosmetic display rack is 900*402*1630mm, and weighs about 84.5kg. The package size is 1685*955*455mm.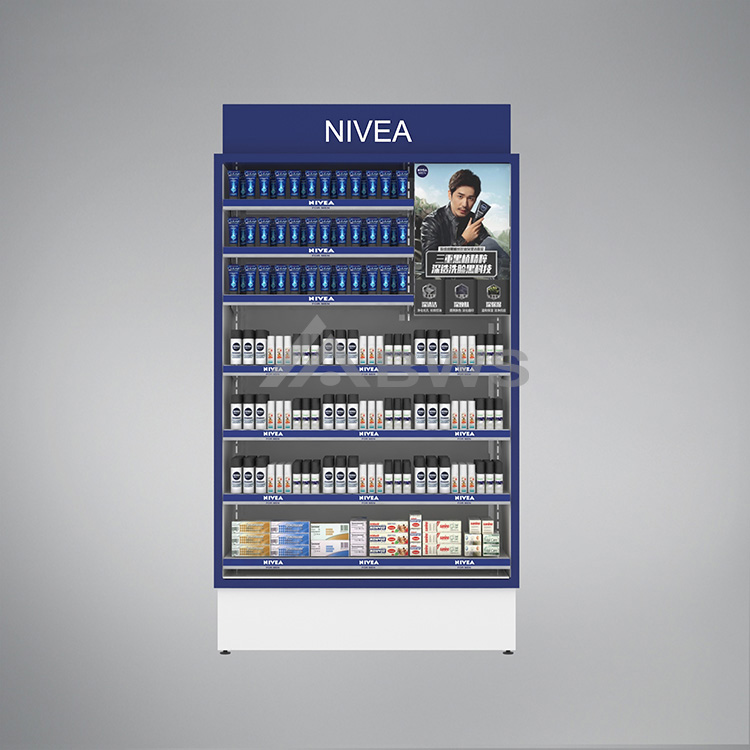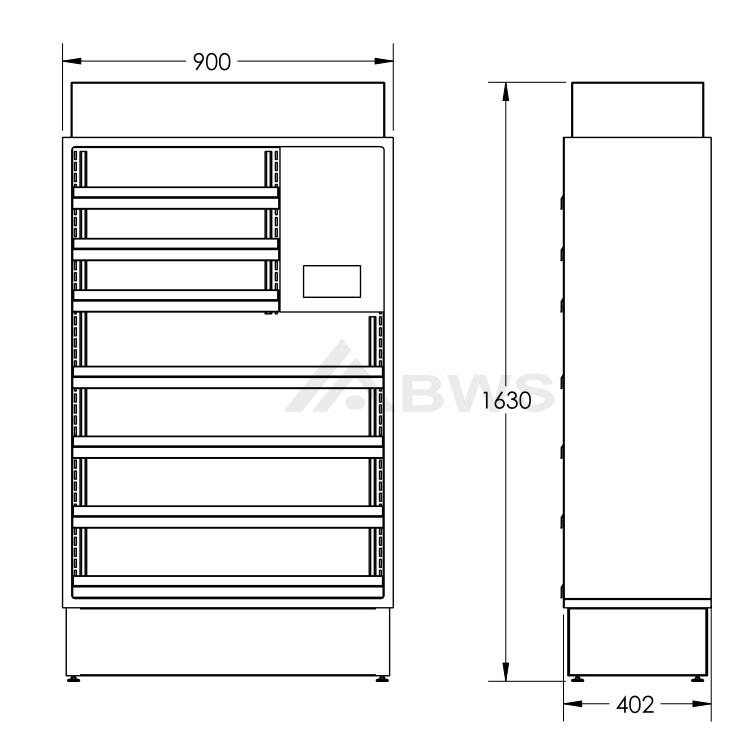 How to make custom cosmetic display racks?
When you come to BWS, a cosmetic display racks factory in China, you will feel it is easy to make your brand cosmetic display racks. We will guide you step by step.
First, we need to know whether you have a reference design, and what kind of displays you like in design, material, size, shape, finishing effect, style, function, etc., and then we will discuss with you more details for the cosmetic display racks.
Secondly, after confirming your needs in detail, we will provide you with a drawing and 3D rendering with cosmetics and without cosmetics.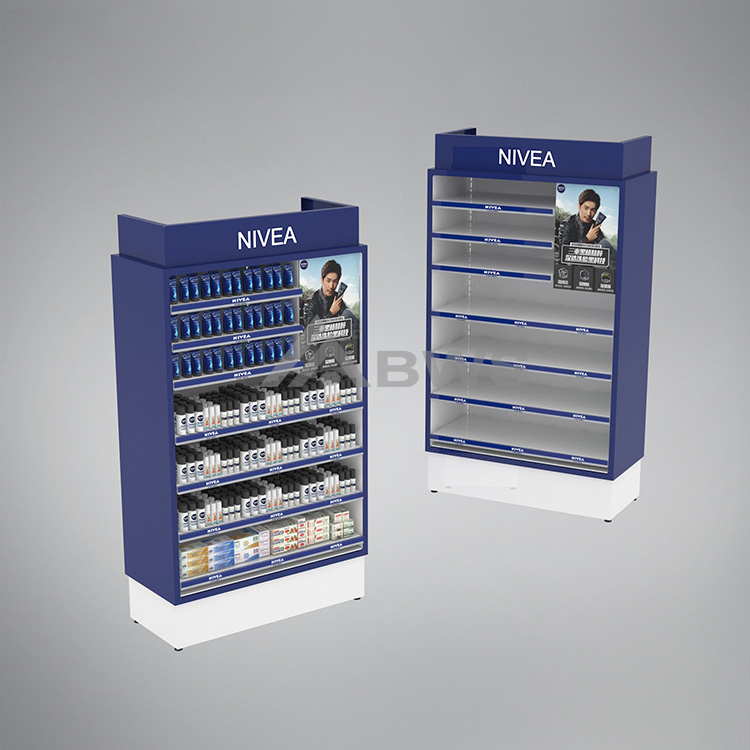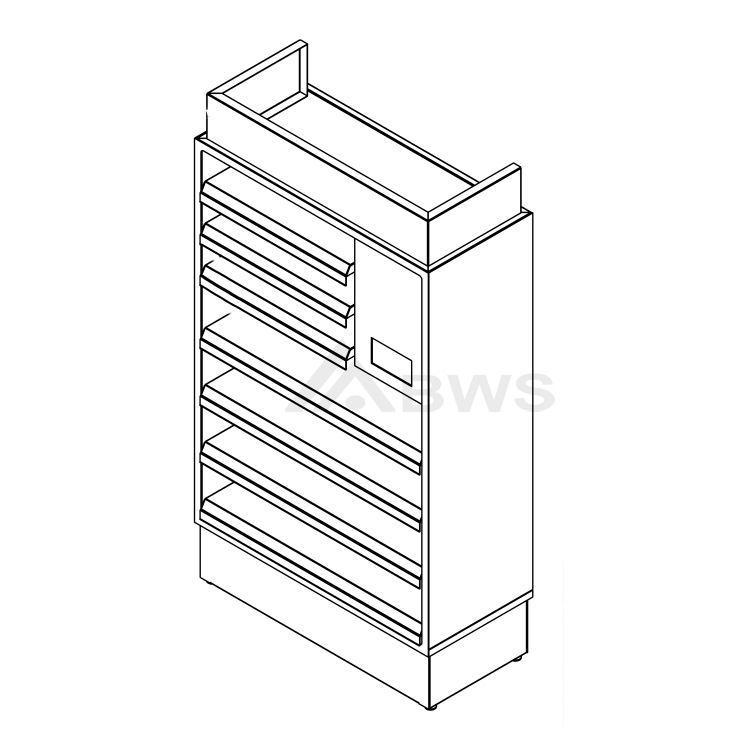 Thirdly, if you approve the design, we will make a sample for you, if you need to modify the design, we will update the drawing for you. When the sample is finished, you can check the quality, finishing effect, test the function, and more. After the sample is approved, we control all the details during mass production to make the display according to the approved sample.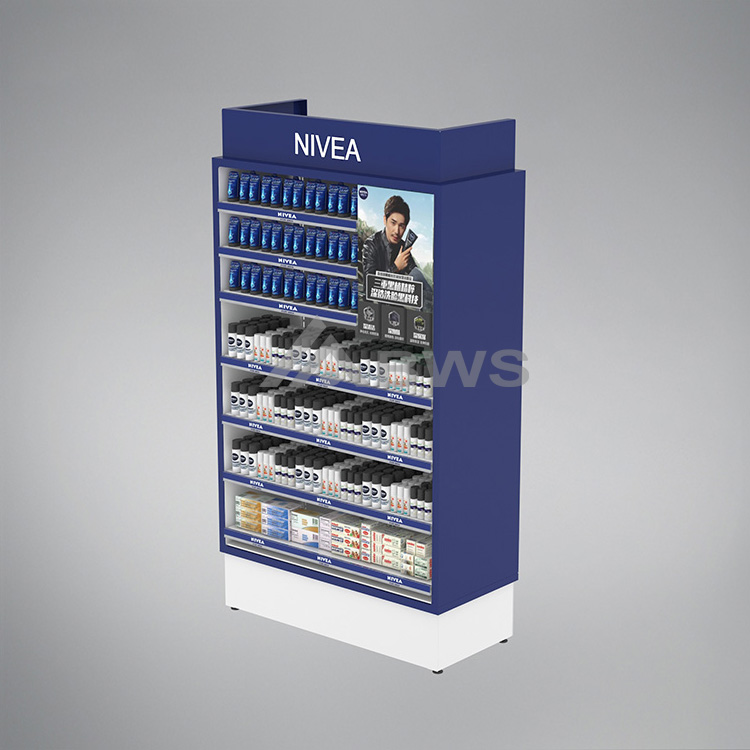 Fourthly, we will check the details and assemble the display for you. Besides, we will help you arrange the shipment, it is part of our one-stop service. If you have any questions, you can contact us at any time.
Do you have other designs for reference?
Yes, please find below designs for your reference. If you need more designs or want to try your project with us, contact us now.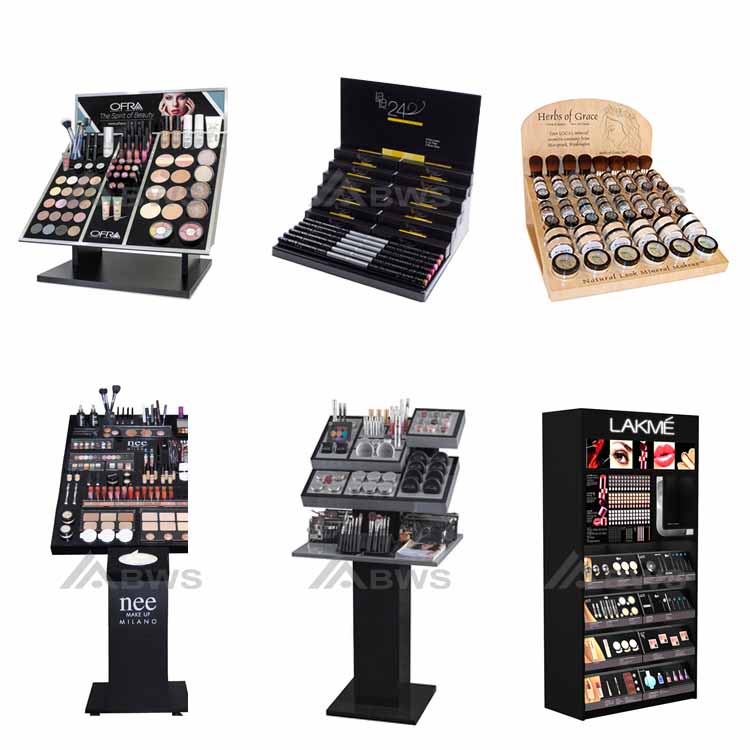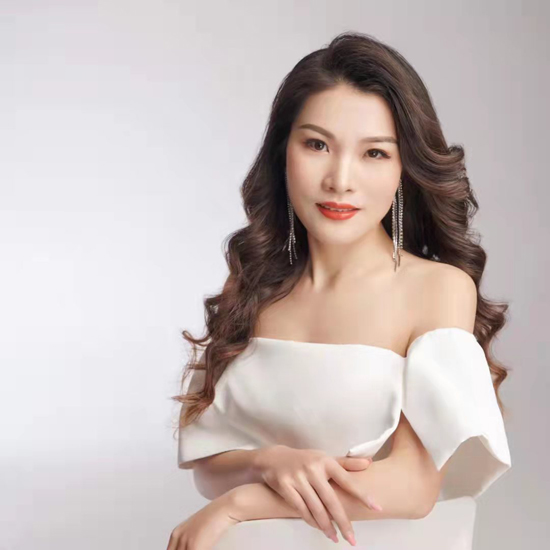 jessie huang
Love what we do and do what we love! Enjoy life, enjoy working in BWS DISPLAYS.