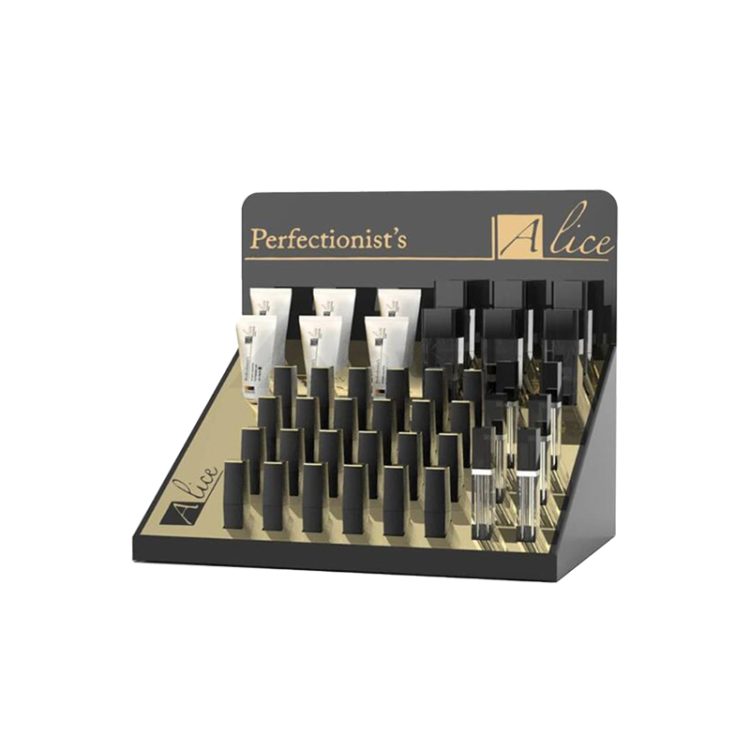 6-Layer Cosmetic Retail Displays Acrylic Countertop Display
Order(MOQ):50
Payment Terms:EXW, FOB Or CIF
Product Origin:China
Color:
Shipping Port:Shenzhen
Lead Time:30 Days
Service:Customization Service, Lifetime After-sales Service.
What are cosmetic retail displays?
Cosmetic retail displays are showcasing cosmetics in stores. There are cosmetic display racks, display stands, display shelves and boxes, display cabinets and more. We have been a factory of custom displays for over 20 years, we can make all kinds of displays to help you sell and increase your brand awareness. We can help you customize display design, logo design, custom size, custom color, custom logo and product development.
Furthermore, we have worked with over 3000 clients all around the world with different custom displays. We handle comprehensive materials including metal, wood, acrylic, cardboard, PVC, plastic, etc. So we can help you make cosmetic retail displays to help you showcase your cosmetics in a branded way and to help you sell.
Today, we are sharing with you a cosmetic retail display which is for countertops.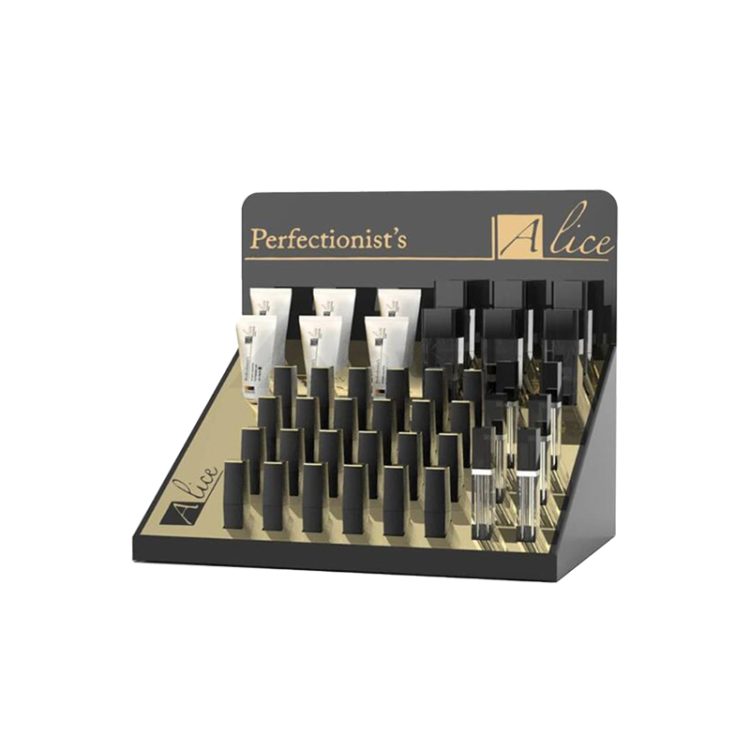 What are the features of this cosmetic retail display?
This is a countertop cosmetic retail display stand for cosmetics, it is made of black acrylic which is one of the best materials to showcase cosmetics. It is 6 layers to hold different cosmetics, such as essential oil, face cream, lip balm, perfume, etc. The tilt face design makes the cosmetics outstanding. Besides, the custom brand logo is shown on the back panel which is interchangeable. You can add a base to the cosmetic retail display stand, so it will create a different feeling for customers.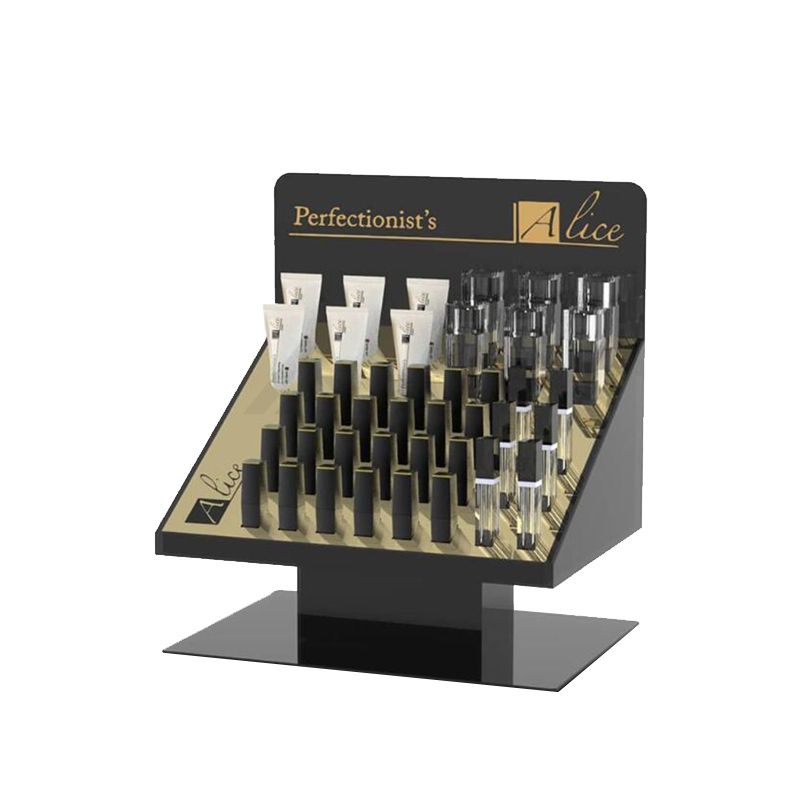 If you need cosmetic retail display stands, racks, cosmetic showcases, and other cosmetic store fixtures, you can contact us at any time. Here are other cosmetic retail displays for your reference.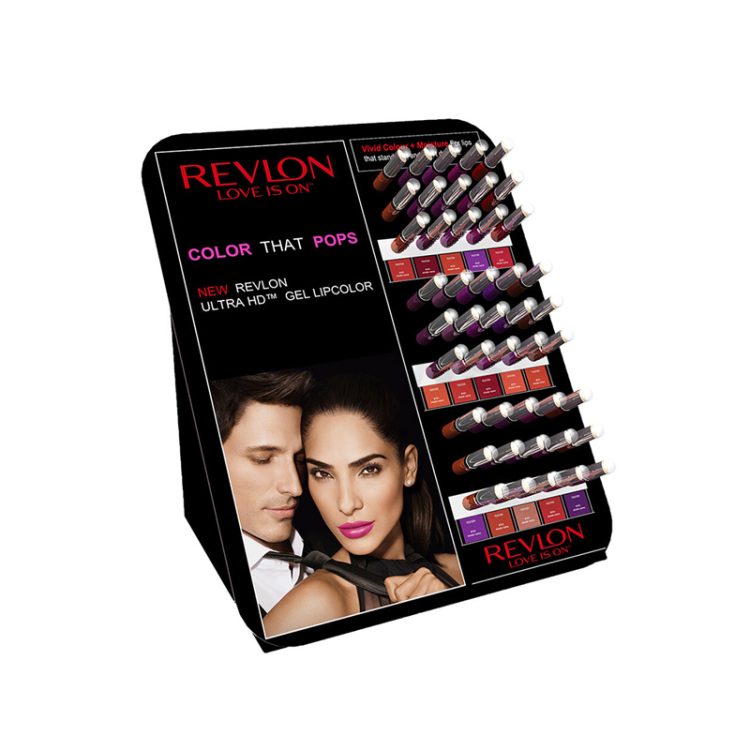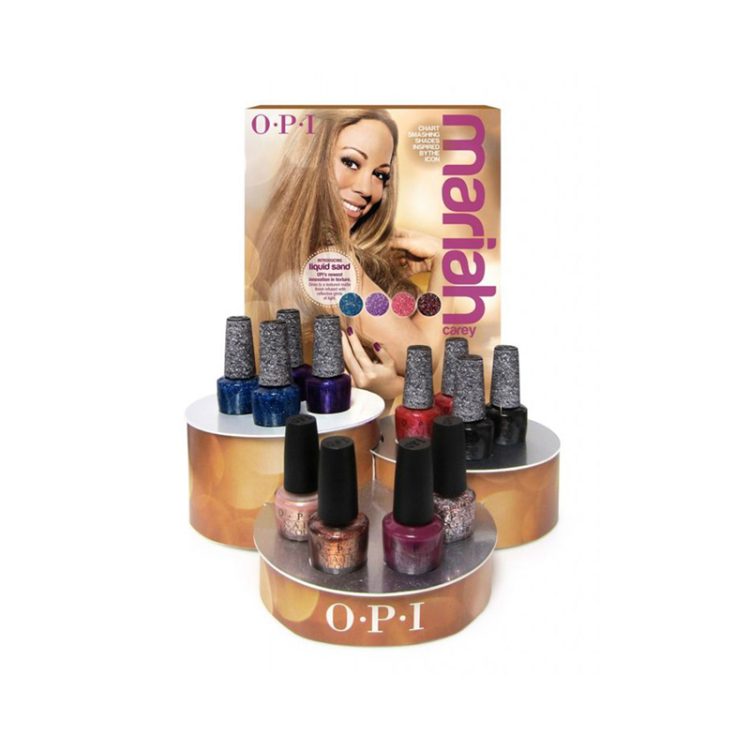 How to make your cosmetic retail displays?
We design and make custom cosmetic retail displays to meet all your display needs.
1. You share with us your design or display ideas. We need to know your requirements first, such as what kind of cosmetics you need to showcase, and their packaging dimensions. And we need to know below basic information. What's the weight of the item? How many pieces will you put on the display? What material do you prefer, metal, wood, acrylic, cardboard, plastic or mixed? What's the surface treatment? Powder coating or chrome, polishing or painting? What's the structure? Floor standing, countertop, hanging.
2. We will send you a rough drawing and 3D rendering of the cosmetic retail displays with products and without products after you confirm the design. 3D drawings to explain the structure more clearly. You can add your brand logo on the display, it can be stickier, printed or burned, or lasered.
3. We will make a cosmetic retail display sample for you to check everything about the sample to make sure it is meet your display needs. Our team will take photos and videos in detail and send them to you before delivering the sample to you. It takes around 5-7 days to finish the sample.
4. Express the sample to you and after the sample is approved, we will produce the cosmetic retail displays according to your order. Normally, knock-down design is prior because it saves shipping costs. The mass production takes around 25 days as normal, but we can speed up if you need them urgently.
5. Control the quality and check all the specifications according to the sample, make a safe package, and arrange the shipment for you.
6. Packing & container layout. We will give you a container layout after you agree with our package solution. Normally, we use foam and plastic bags for inner packages and strips even protecting corners for outer packages and put the cartons on pallets if necessary. A container layout is to make the best use of a container, it also saves shipping costs if you order a container.
7. Arrange shipment. We can help you arrange the shipment. We can cooperate with your forwarder or find a forwarder for you. You can compare these shipping costs before you make a decision.
We also provide photography, container loading, and after-sales service. If there are quality problems because of us, we guarantee compensation and free replacement.
The most crucial aspect of POP display marketing in business is to attract customers' attention every other time they come into the store. Custom cosmetic retail display marketing takes advantage of customers who aimlessly maraud the store aisle and are in a dilemma on which products to purchase. These cosmetic retail displays are often more prominent and visually appealing than the original product packaging and are therefore easy to spot and often very attractive. If you need any help in custom displays, we are here to help you.
If you want to try to turn your cosmetic retail display idea into reality, please feel free to contact us now. We will do our best to work for you. And we are sure you will be happy when you work with us. Below is some feedback we got from our clients for your reference.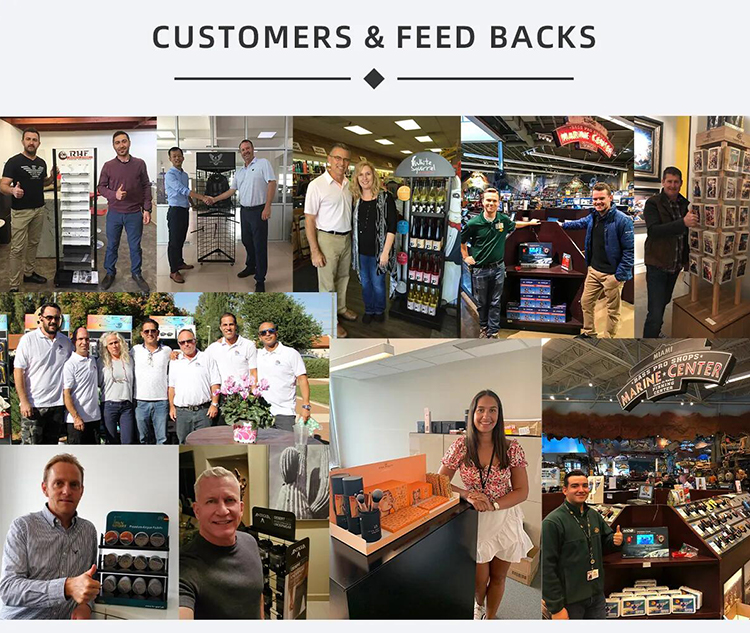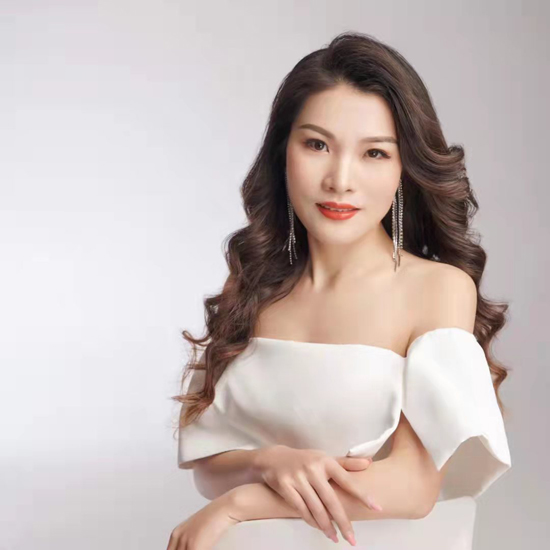 jessie huang
Love what we do and do what we love! Enjoy life, enjoy working in BWS DISPLAYS.