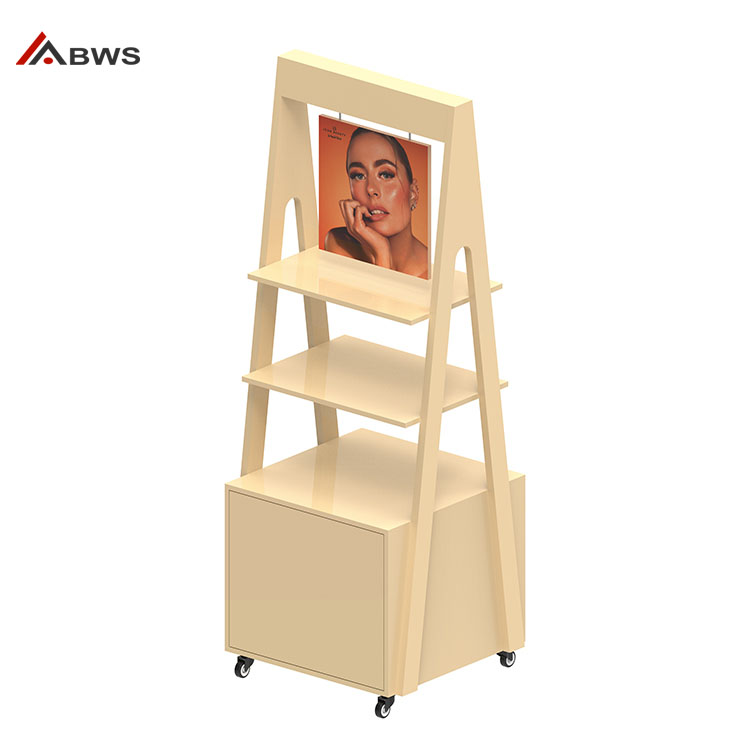 Natural Looking Wooden Cosmetic Display Stand for ICON BEAUTY
Order(MOQ):50
Payment Terms:EXW, FOB Or CIF
Product Origin:China
Color:Wood
Shipping Port:Shenzhen
Lead Time:30 Days
Service:Customization Service, Lifetime After-sales Service.
Why do we design like this style of cosmetic display stand?
This wooden natural-looking cosmetic display stand is designed to match the client's brand culture and products. Because the style for this cosmetic brand ICON BEAUTY is simple and natural. They do not need complicated decoration and design for the display stand. This brand is from Norway. As we know, Norway is a northern European country. And most northern European countries like Norway, Sweden, Swiss, Netherlands and so on all respect nature and simplicity a lot. So this client prefers wood material.
What's more, the package for the ICON BEAUTY cosmetics is orange. The color for natural wood is close to orange color.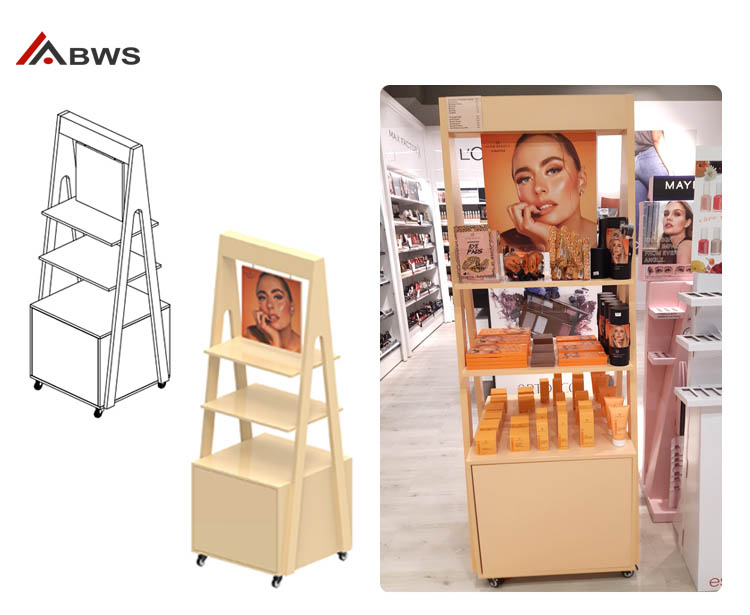 What are the functions of this cosmetic display stand in more detail?
There are 3 shelves for showing products for different cosmetic products with different usages, different shapes, and different dimensions.
You can see an attractive graphic image in the middle of the header. So that it can get consumers' attention about ICON BEAUTY brand name.
More new cosmetic products are available to put into the cabinet on the bottom as storage. It is very convenient to take out more new cosmetics from the cabinet when consumers buy some in
retail stores.
The wheels on the base will make this cosmetic display stand move very conveniently. One person can push it with one hand or two hands by himself and herself.
What dimensions for the display stand are suitable to your products and retail stores, shopping malls, or other retail environments?
For this cosmetic display stand, the total height is 170 CM, a similar height for European women height. And the height for the top shelf is 110 CM. Consumers can take the cosmetic products from shelves easily and conveniently.
The space between every two shelves is 300MM, big enough for putting either big packages or small items of cosmetics on each shelf.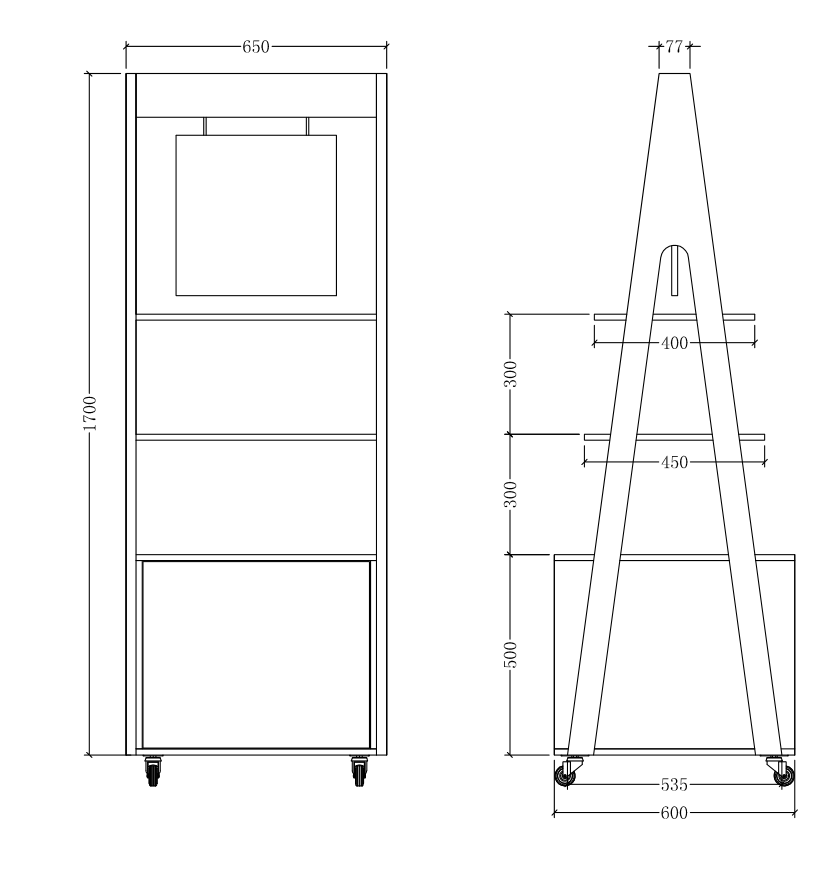 Anyway, we will design and customize the dimensions according to customers' products and applications.
For the packaging, we designed it as knock-down construction. So the cosmetic display stand can be put into a flat package to reduce shipping costs. This solution also protects the display stand better. Because flat panels, shelves, and parts are not easily damaged than one complete display. We will put small panels and parts into the cabinet. The left and right A shape frames are packed separately into a flat long carton.
There are some processes for mass production for your reference.
You can see the A shape frames of the cosmetic display stand are cut on this CNC machine automatically. So the size is very accurate, even holes are drilled together.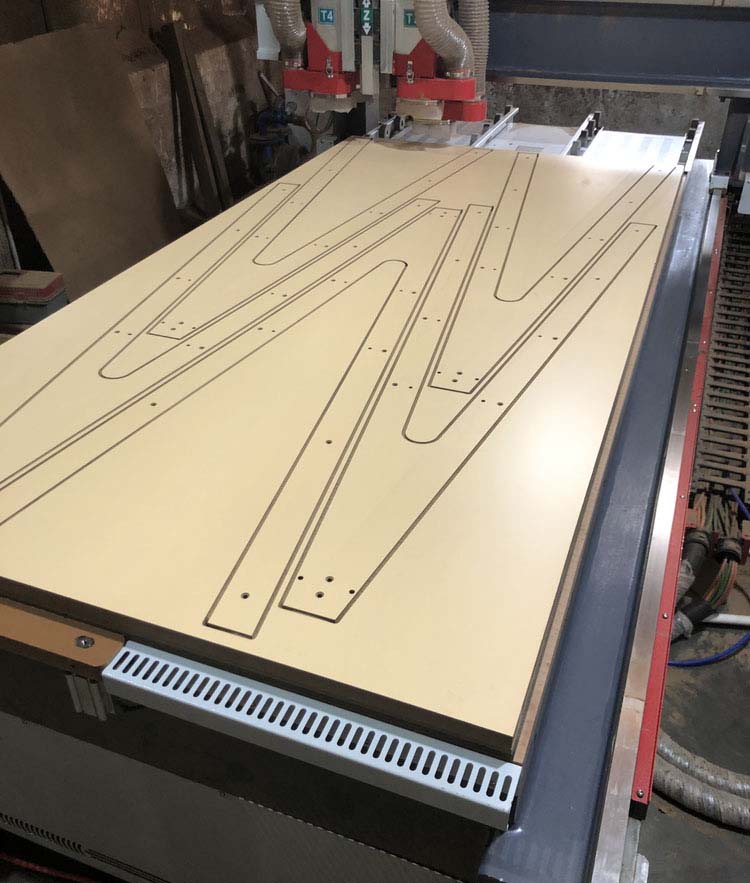 How to assembly the cosmetics display stand?
We provide an assembly instruction sheet to guide you. Firstly, we list all parts on the assembly instruction. Consumers check each part by comparing physical parts. Then we show you how to assembly the cosmetic display stands step by step. For example, you should turn upside down the cabinet and assembly four wheels on the base. Secondly, assembly the left and right frames.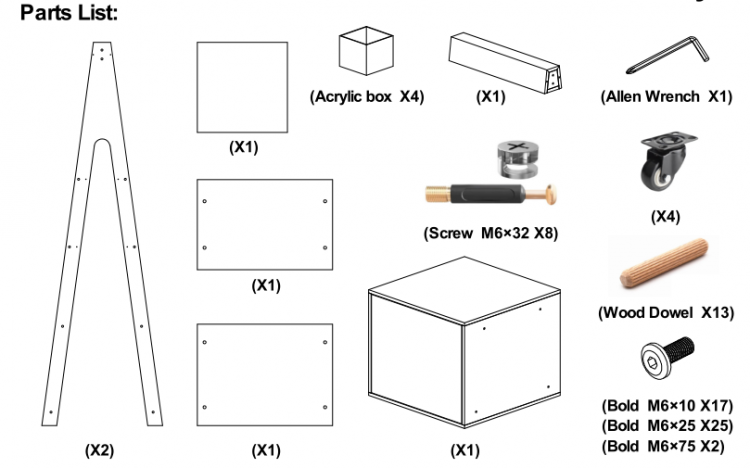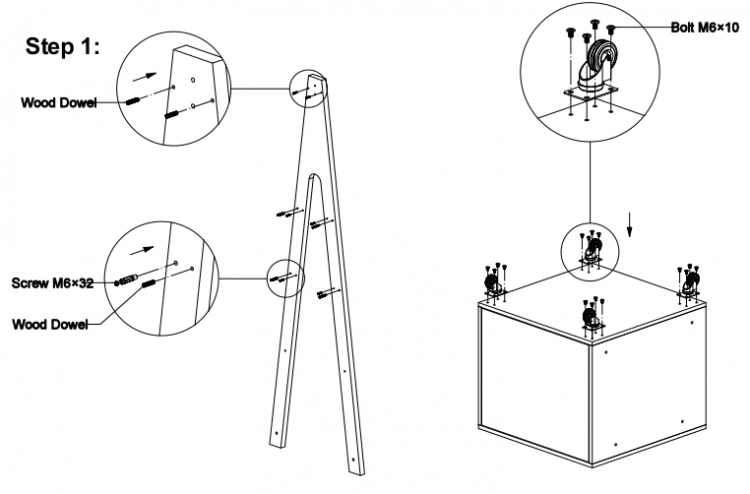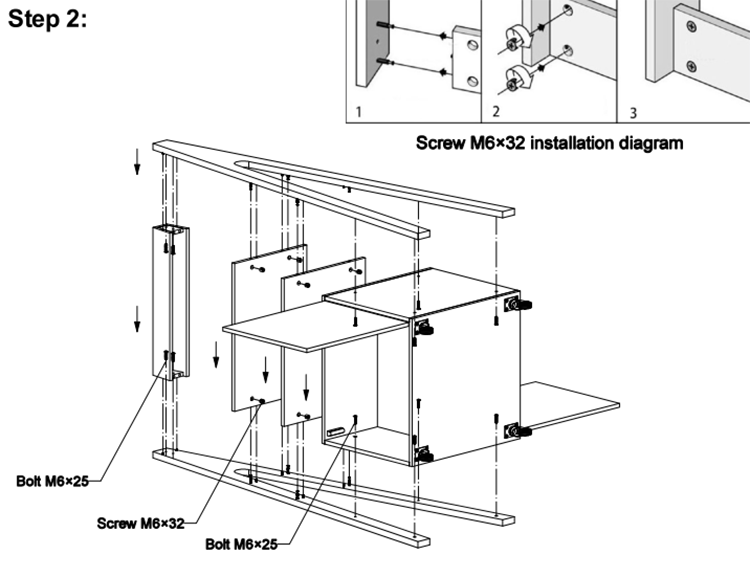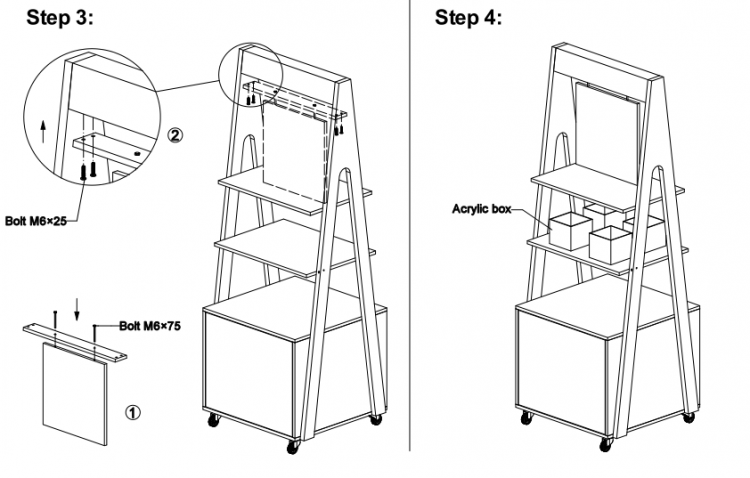 How to work with us?
Confirm your need: Firstly, you should let us know your need and requirements in detail. Because all displays are customized according to each client's need. For example, ICON BEAUTY must tell us what kind of cosmetics and how to show them on the display stand. You can send us pictures and provide details for your products, better ship us some cosmetics as samples.
And you tell us your ideas for the design of the display stand by sharing pictures, sketches, or drawings. More information about your brand, marketing plan, and your budget if have is helpful fur us to customize and design for you.
Design: Our team will design rendering to match your need and give you an estimated price.
Make a prototype: A sample is needed to test function, size, looking, packaging, and more details.
Confirm mass production order: Once you confirm the sample, price, quality, delivery, and all necessary information, as well as pay for the deposit,  we will start the mass production for you accordingly.
Quality control and inspection: We have a QC team to check the quality from beginning to the end. Our people will provide you with photos and videos during the whole mass production, especially the important steps and processes. You can inspect finished mass production in our factory before pay balance.
Shipping: If you need our help for shipping or delivery, our team can help you find suitable shipping solutions or cooperate with your own shipping agents to arrange loading and shipping for you.
More other cosmetic display stands for your reference. If you need any other displays, please feel free to contact us. We are a professional and experienced factory to design and fabricate various customized POP displays for different products, different industries, and different markets. Our rich experience and capability can help you create beautiful, attractive, and suitable displays.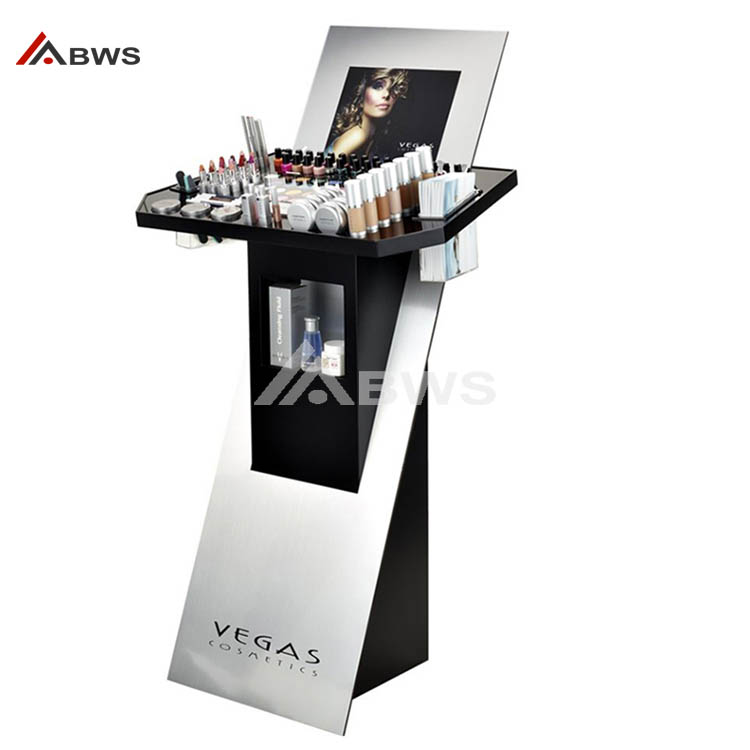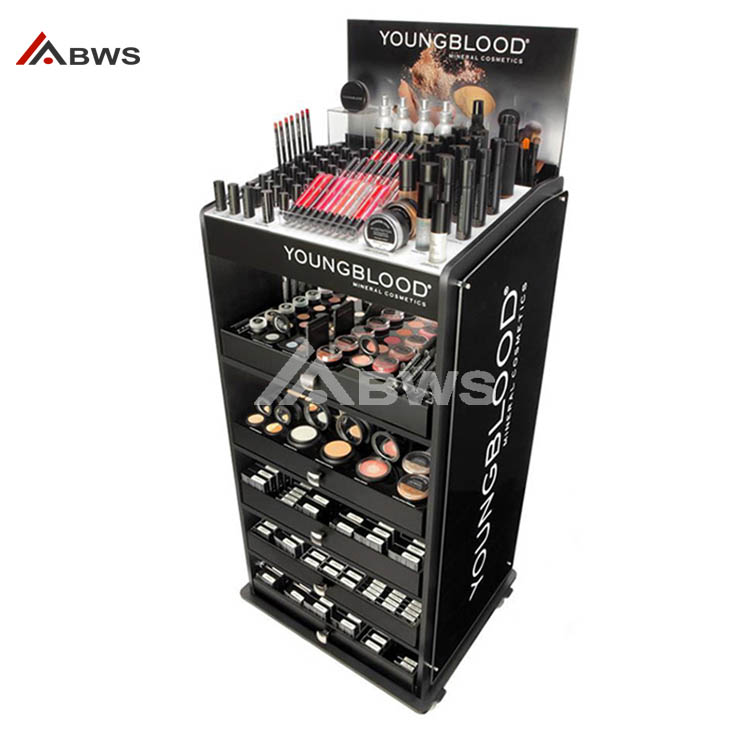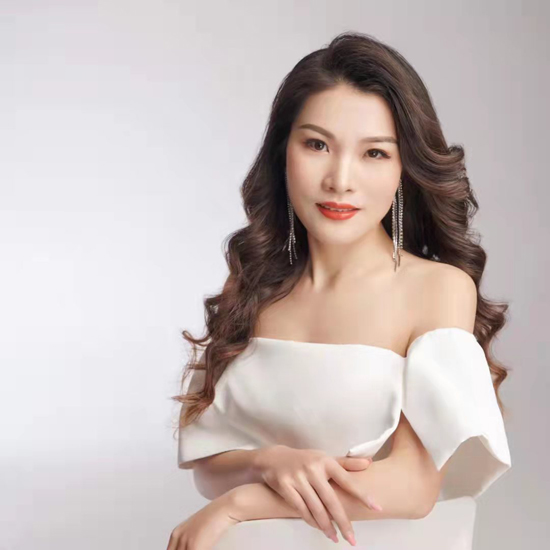 jessie huang
Love what we do and do what we love! Enjoy life, enjoy working in BWS DISPLAYS.