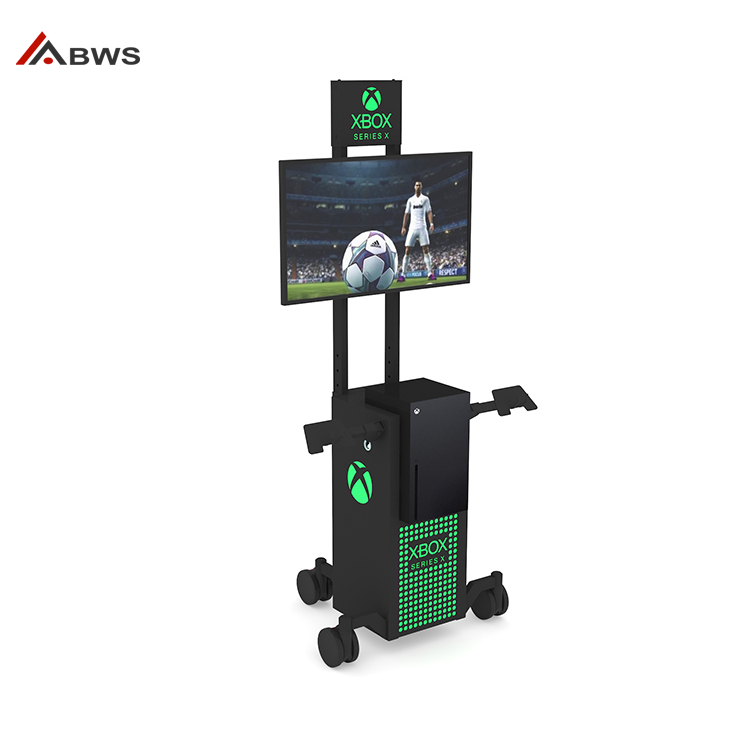 Helpful Moveable Xbox Display Stand Adjustable Height For Sale
Order(MOQ):50
Payment Terms:EXW, FOB Or CIF
Product Origin:China
Color:Black
Shipping Port:Shenzhen
Lead Time:30 Days
Service:Customization Service, Lifetime After-sales Service.
Why do you need an Xbox display stand?
The Xbox display stand is designed for Xbox which is a video gaming brand created and owned by Microsoft. The brand consists of five video game consoles, as well as applications (games), streaming services, an online service by the name of Xbox network, and the development arm by the name of Xbox Game Studios. The brand was first introduced in the United States in November 2001.  It reached over 24 million units sold by May 2006. Microsoft's second console, the Xbox 360, was released in 2005 and has sold 86 million units as of October 2021.
Today, we share with you an Xbox display stand for sale that makes it easy to move around the Xbox, and it leaves a deep impression on the users.
What are the features of this Xbox display stand?
This Xbox display stand is designed for Xbox series x, so you can see the silkscreen brand logo on the top and the base. Besides, there are two wings for the controller. And the top part is with holes for height adjustment after inserting the liquid crystal display. There are many holes on the back of the Xbox display stand, it is for heating radiating. The 4 casters on the base, it is so convenient for moving around. The material of this display stand is metal, and it is powder-coated black. The construction is simple, but it is strong and stable. It works very well for gaming stores and shops.
The Xbox Series X delivers sensationally smooth frame rates of up to 120FPS with the visual pop of HDR. Immerse with sharper characters, brighter worlds, and impossible details with true-to-life 4K. So it is a useful design, as it can hold an LCD screen, Xbox controller, and Xbox at the same time. All of them are the right height which gives a comfortable experience to the users.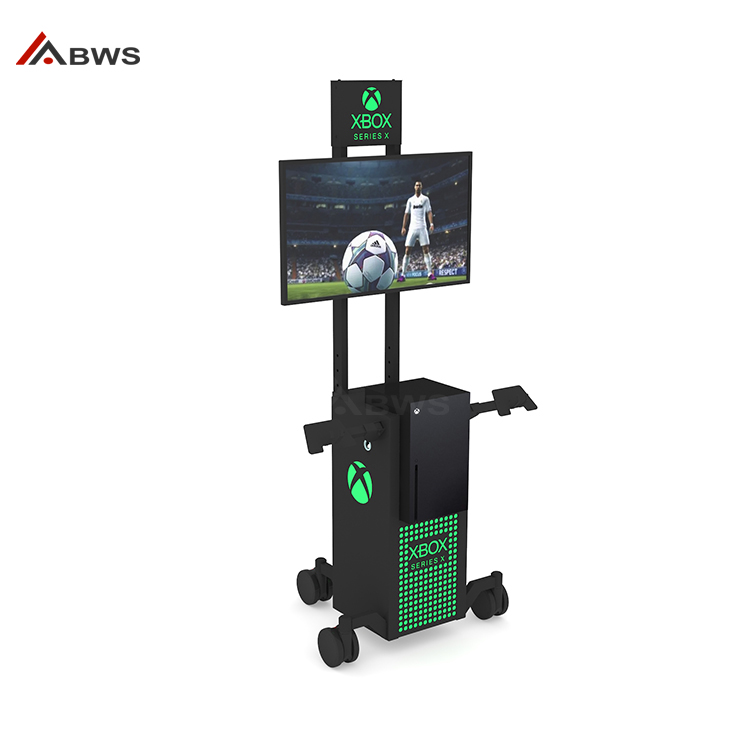 How to make a custom display stand?
When you decide to get a custom display stand for your store, the project is started. We will tell you how to turn your display idea into reality step by step.
Firstly, we listen to you to know what kind of display stand you need. You can choose from different materials, such as wire, tubing, sheet metal, steel, stainless steel, aluminum, acrylic, hardwoods, melamine, fiberboard, fiberglass, glass and more. Besides, we will give you advice according to the products you are merchandising. And we will understand your brand culture and add your brand logo to the custom display stand.
After confirming your needs, we will provide the rough drawing and 3D rendering from different angles with products and without products to you to confirm whether the display meets all your needs.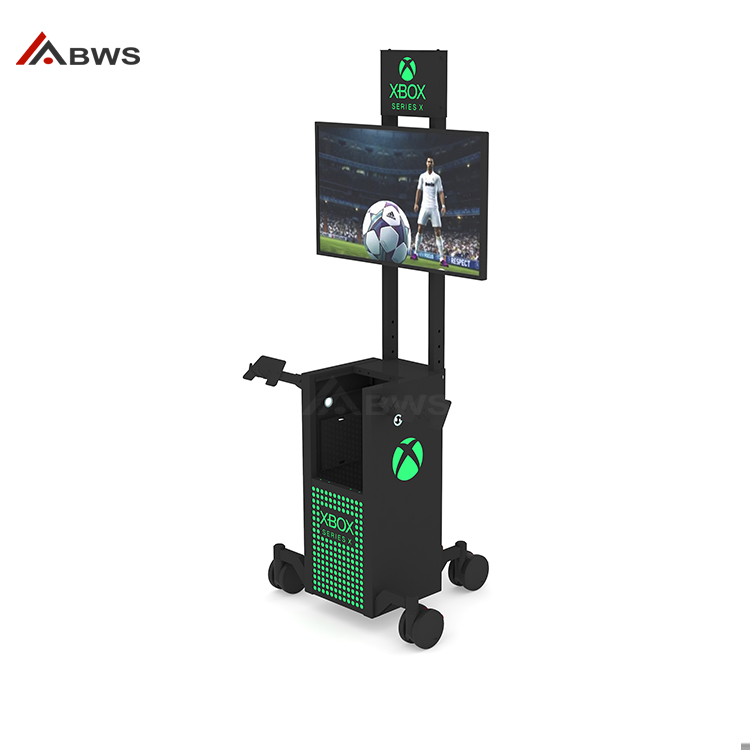 This is the rendering without X-box but with an LCD screen.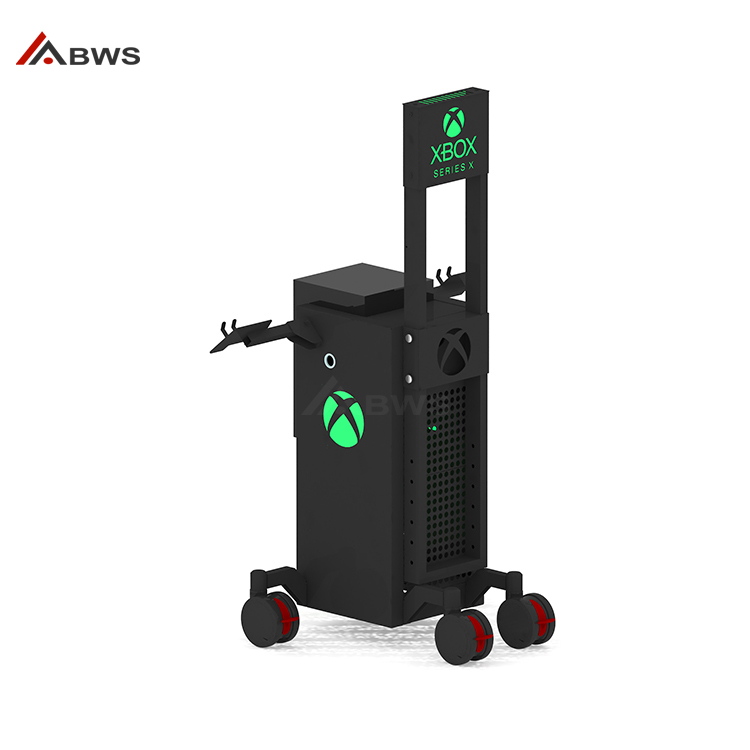 This is the rendering from the side, you can see the holes for heat radiating.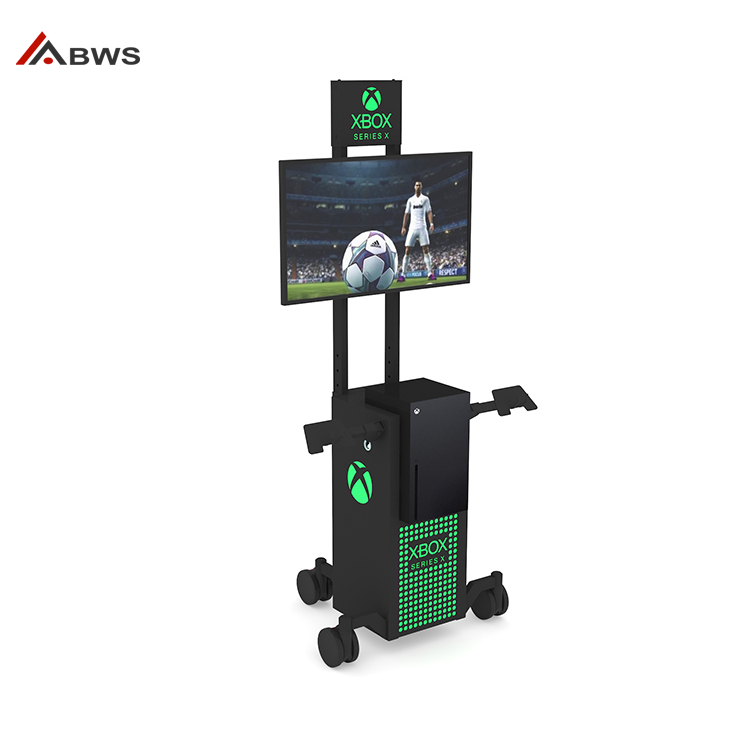 This is the rendering from the front side, Xbox is on the display stand.
Thirdly, if the design meets your needs, we will make a sample for you. If you need to change the design, we will update the design according to your requirements. Then sample will be followed. Only the sample is approved, we will arrange the production according to the sample.
Fourthly, we will assemble and test the display stand, and make sure everything is ok and then we will pack them and arrange the shipment for you.
Normally we suggest a knock-down package to save packing costs and shipping costs. The lead time of mass production is about 20-25days after the order is placed.
If you want to know more details or have any questions, you can contact us now.
Do you have other display designs?
Yes, here are 6 designs for your reference. They are Xbox display stands, but for other electronic products.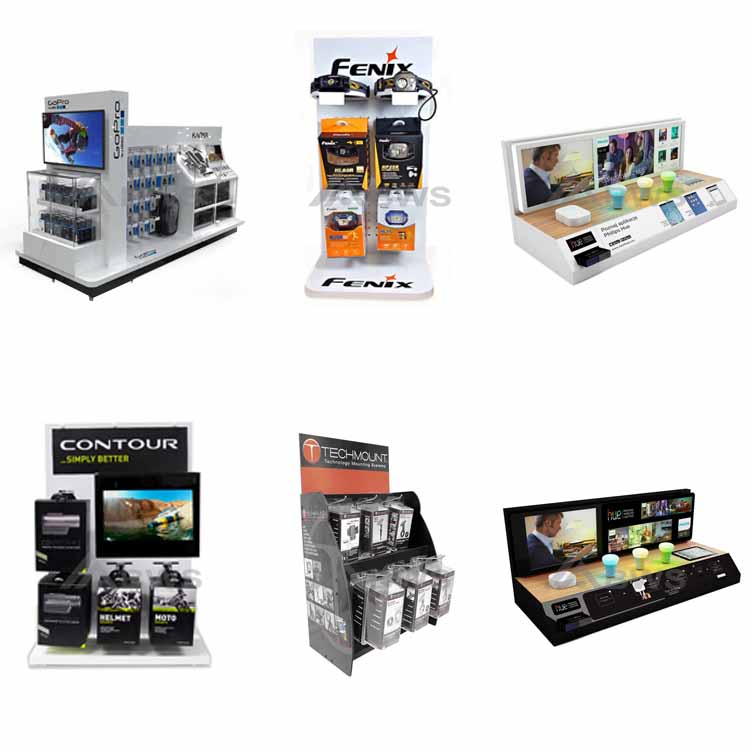 For more designs, reach us now.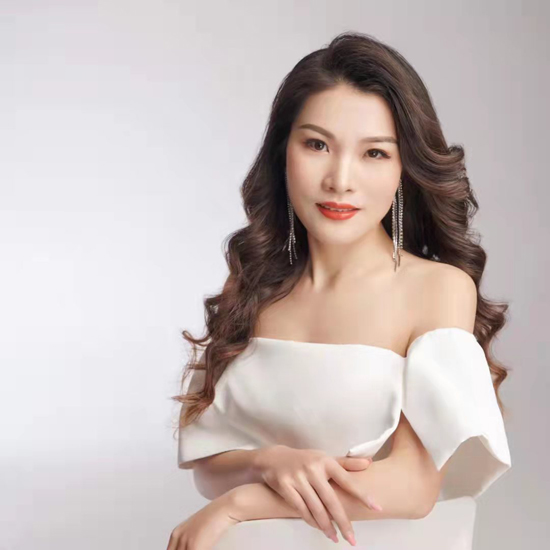 jessie huang
Love what we do and do what we love! Enjoy life, enjoy working in BWS DISPLAYS.