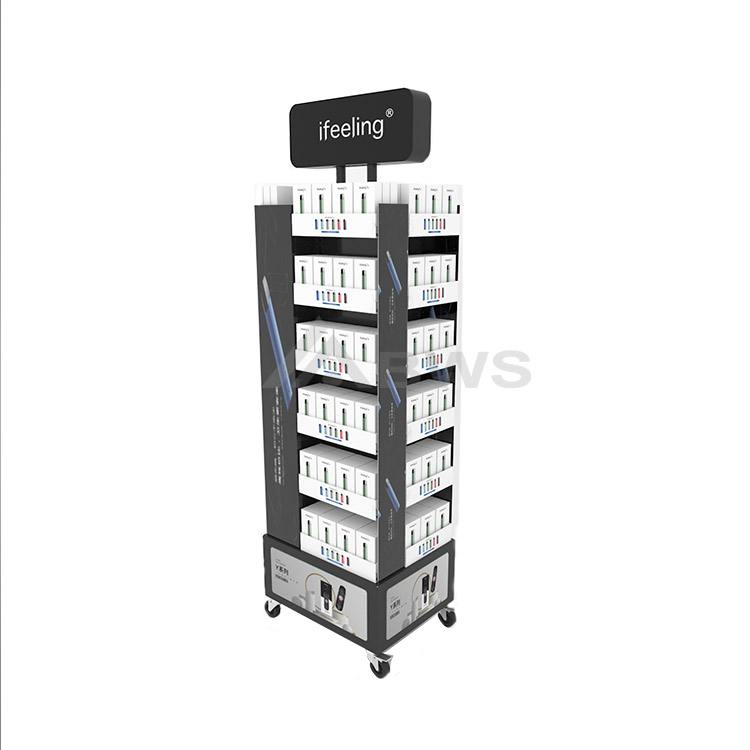 Latest 4-way E Cigarette Display Stand Investment For Merchandising
Order(MOQ):50
Payment Terms:EXW, FOB Or CIF
Product Origin:China
Color:White, Black
Shipping Port:Shenzhen
Lead Time:30 Days
Service:Customization Service, Lifetime After-sales Service.
How to display cigarettes?
There are many fixtures to display cigarettes, cigarette display stand is one of them. Your tobacco products should all be on display, not in storage. Place your most popular items in prominent positions so customers will see you have them. And even your less popular items should be visible to a curious customer who might be wondering if you carry his or her favorite brand.
A cigarette display stand can help you show your brand to customers. So do the cigarette display rack, cigarette display shelf, and cigarette display cabinet.
Cigarette sales have been declining in most countries over the years. Surprisingly, this trend was reversed during the COVID-19 pandemic in many markets, including the U.S., which saw a growth of 2.3% in sales volumes in 2020 compared to 2019. Revenue in the Cigarette segment amounts to US$0.81tn in 2022. The market is expected to grow annually by 2.28% (CAGR 2022-2027).
Why not choose a cigarette display fixture that not only enhances your product merchandising and investment but also increases usability and functionality. BWS is a factory of custom displays, and we have made different cigarette displays for Vape, and Marlboro. Today we share with you a cigarette display stand we made for Ifeeling, an e-cigarette brand in China.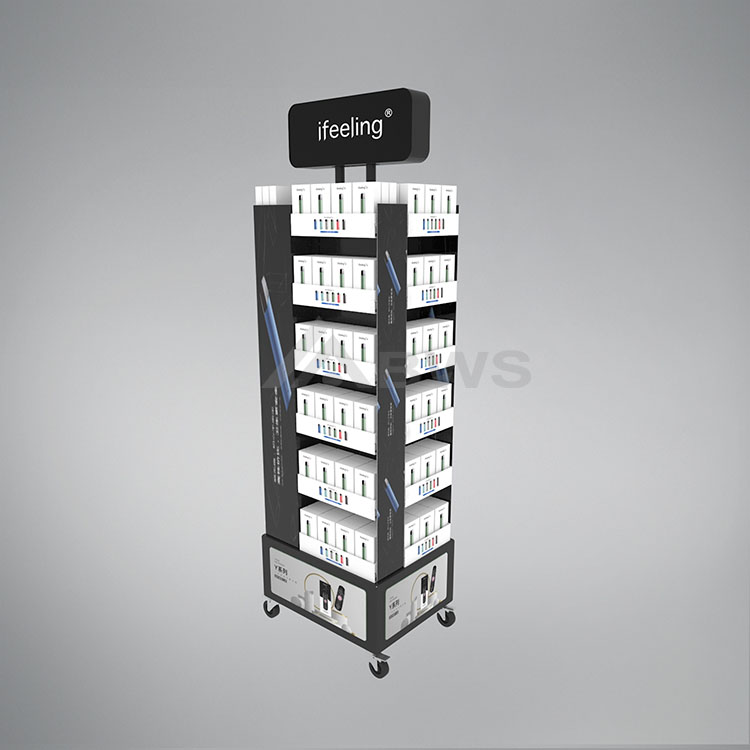 What are the features of this cigarette display stand?
This is a 4-way freestanding display stand. It is 1490.2*450*350mm, it is made of metal with detachable shelves. There are 4 shelves in every layer, and it is a 6-layer cigarette display stand, so in total, there are 24 shelves to display e-cigarettes. There are product images on the edge of the shelves, which makes it easy for customers to know the products. Custom die-cut header is with brand logo Ifeeling on both sides, while there are full-length graphics on 4 sides, and custom products graphics on the base. With 4 casters, it can move around easily.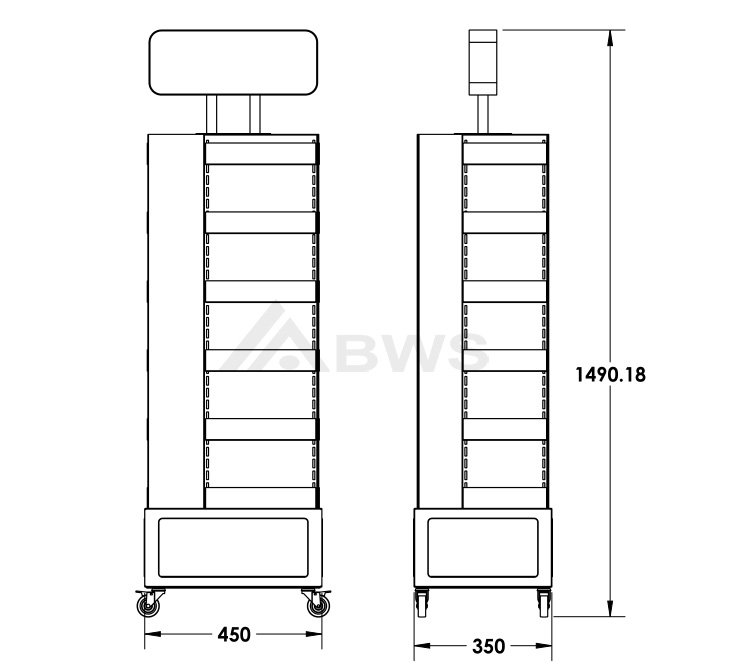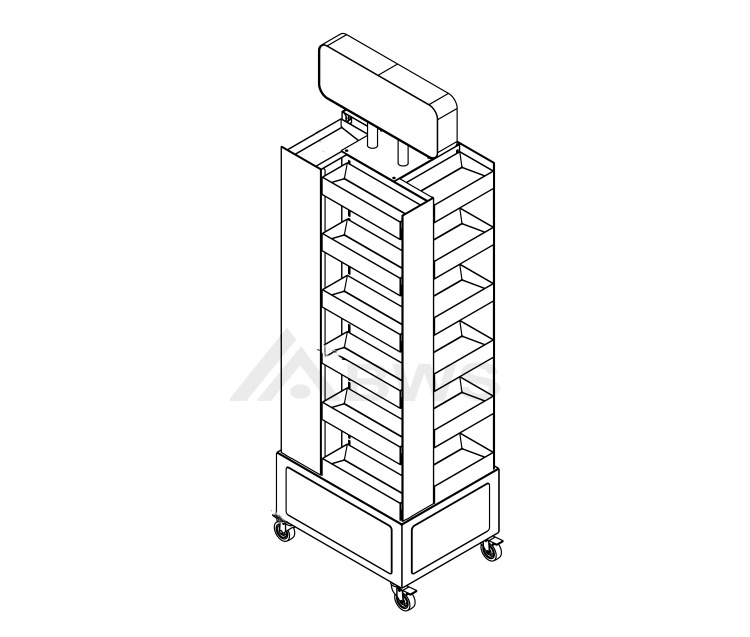 This display stand is around 48kg, it is stable and strong enough. While it can be knocked down into a flat package. And we provide assembling instructions in the package, so you can put it up together easily. With so many graphics, it is really good for brand marketing.
How to build a custom cigarette display stand?
All the displays are customized to fit your specific needs. Here are the basic steps to make your brand logo cigarette display stand. First of all, we need to understand your display needs in detail, you can send us a reference design, a rough drawing, or even a simple display idea, we can give you suggestions and guide you to confirm the details in design, size, style, material, logo location, function and so on.
Secondly, we will send you the drawing and 3D rendering before a sample is made. Below are the renderings that we made for Ifeeling. The renderings are from different angles and with cigarettes and without cigarettes, so you can know what the display stand looks like before a mock-up.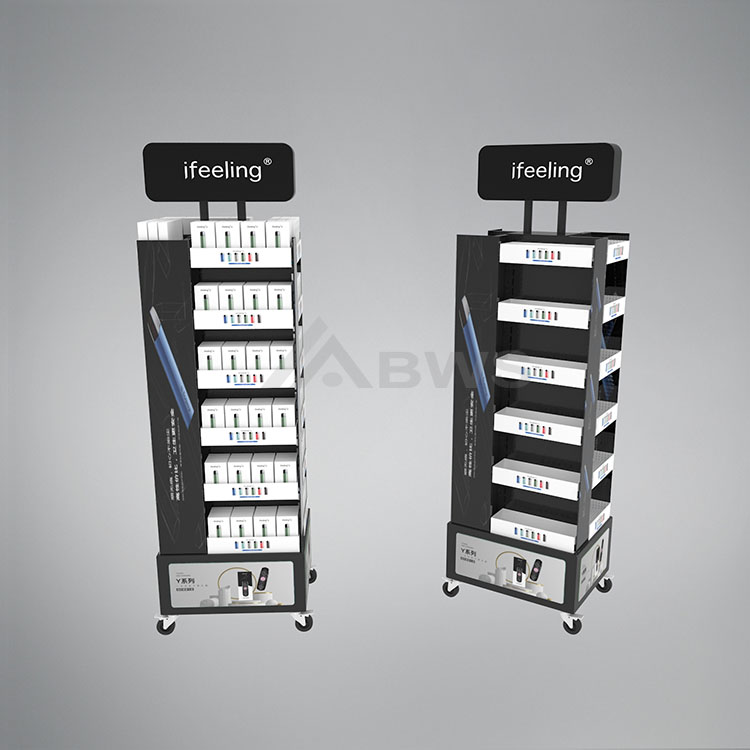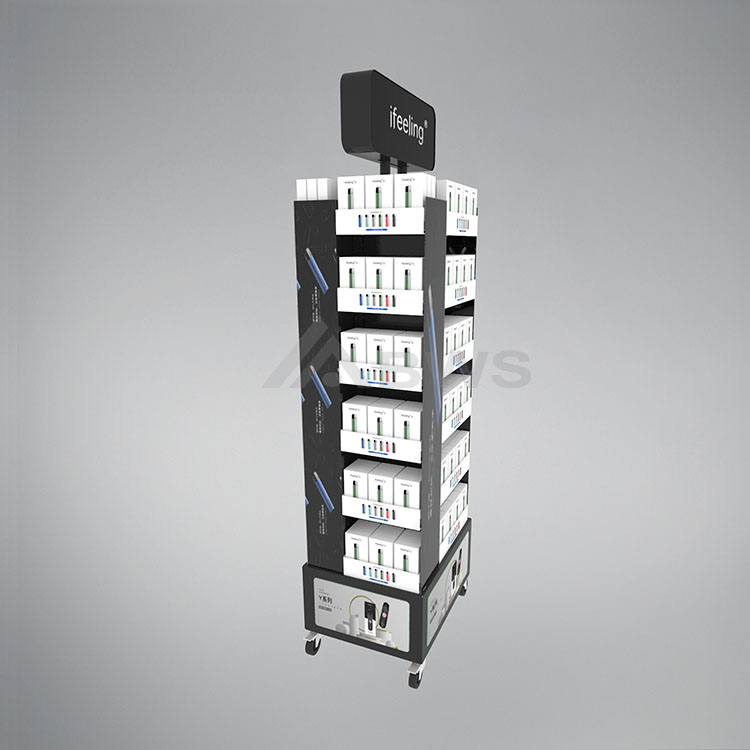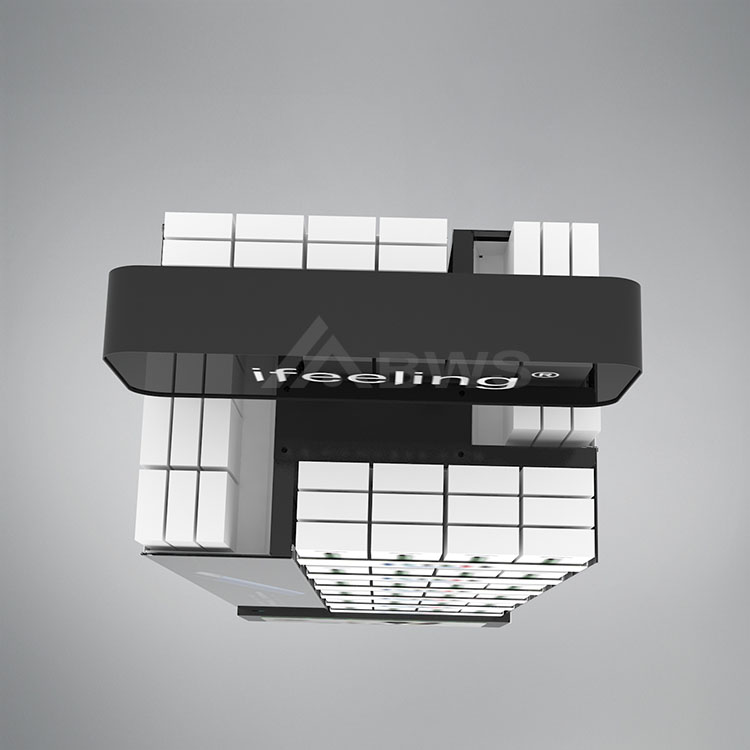 Thirdly, after you confirm the design, we will quote you the factory price, because we are a factory. When you approve the price and place an order, we will make a sample for you. It takes around 5-7 days to finish a display stand sample as normal. If it is very complicated, we need 2-3 days more. When the sample is finished, we will assemble and test the display in advance. We also measure the dimension, check the finishing effect, function, etc. to make sure the display stand fit your needs.
During this process, we will take photos and videos and send them to you.
Fourthly, when the sample is approved, we will arrange the mass production. According to the approved sample, we will control the quality to match the sample.
Fifthly, We did not stop after the mass production, we make safety packages and provide packing information and help you arrange the shipment.
And if you have any questions, you can contact us any time. We provide after-sales service too.
Where to find this cigarette display stand?
The top three sellers of tobacco products are cigars, electronic cigarette devices, and smokeless, BWS makes custom cigarette display stands for convenience stores and gas channels, and retail shops.
Do you have other designs?
Yes, please find below designs for your reference. We can make combined material display fixtures to meet your different needs, metal, wood, acrylic, cardboard, plastic is all available.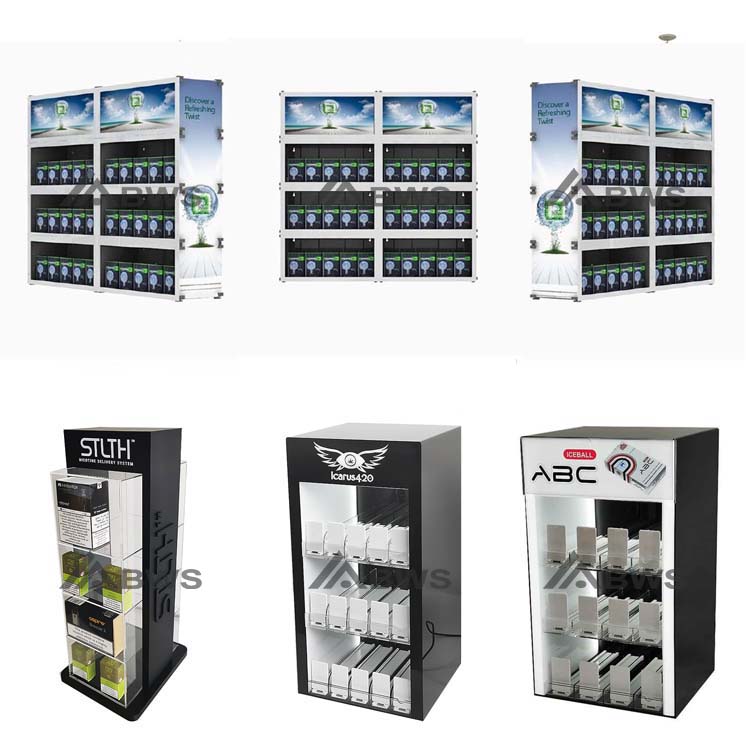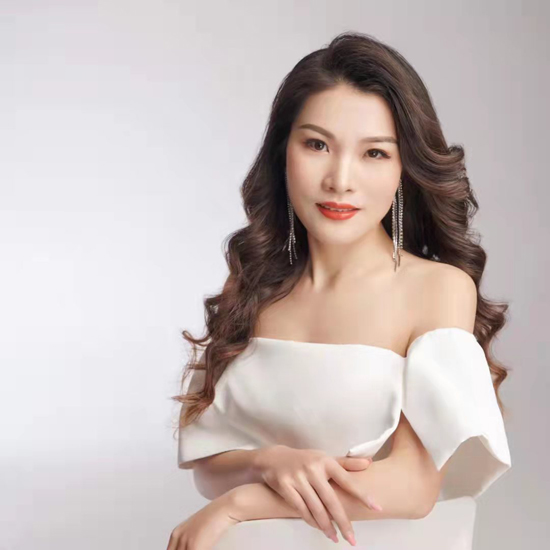 jessie huang
Love what we do and do what we love! Enjoy life, enjoy working in BWS DISPLAYS.