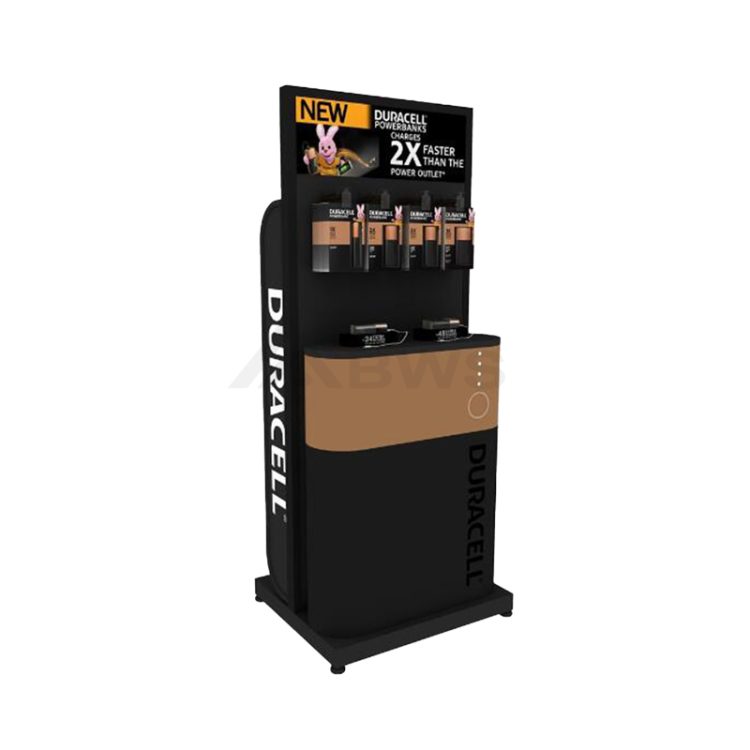 2-way Metal Duracell Battery Display Stand With Adjustable Feet
Order(MOQ):50
Payment Terms:EXW, FOB Or CIF
Product Origin:China
Color:Black
Shipping Port:Shenzhen
Lead Time:30 Days
Service:Customization Service, Lifetime After-sales Service.
Why do we make Duracell battery display stands?
This is the second Duracell battery display stand that we share with you. This Duracell battery display stand is designed to showcase batteries and battery chargers. They can be used in electronic stores, supermarkets, retail stores and shops, grocery stores, toy stores, tool shops and more, to help you sell. That is the worth of custom POP Displays.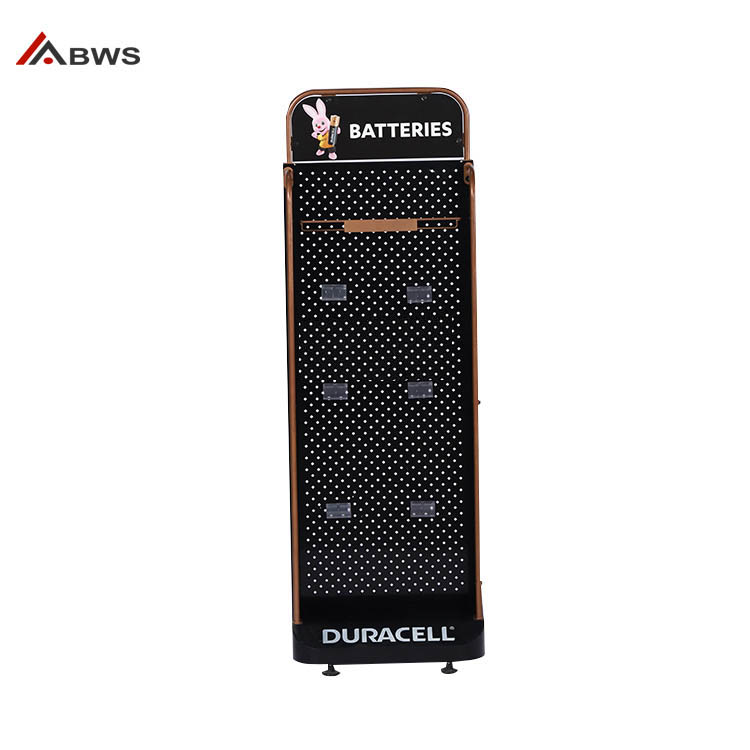 Since 2011, Duracell has brought its reliable power to thousands of families through the Duracell PowerForward program. Long-lasting batteries that power your everyday life. With the power to upgrade your devices to work even better, Duracell Optimum is no ordinary battery. Batteries include Duracell optimum, lithium coin, coppertop battery, rechargeables specialty & other, hearing aid batteries.
We have made battery display racks since 2002. BWS Displays is a factory of custom displays with over 20+ years of experience. We know how important to showcase your products in a unique way. There are different batteries in retail markets, so we make different battery displays to meet different needs, such as Duracell battery display stands, display racks, display cases, etc. This Duracell battery display stand is one example.
What are the features of this Duracell battery display stand?
This Duracell battery display stand is made of metal with brand signage. The size is 1492*590*420 mm. The black powder-coated color is classic and made the brand logo more outstanding. The metal base is made of a metal sheet, which is safe and stable. It can display batteries in different ways, hanging on with hooks and set on the stand with chargers. To save shipping costs, this battery display stand is in a knock-down design. We provide assembly instructions, so you can assemble it easily by following the steps.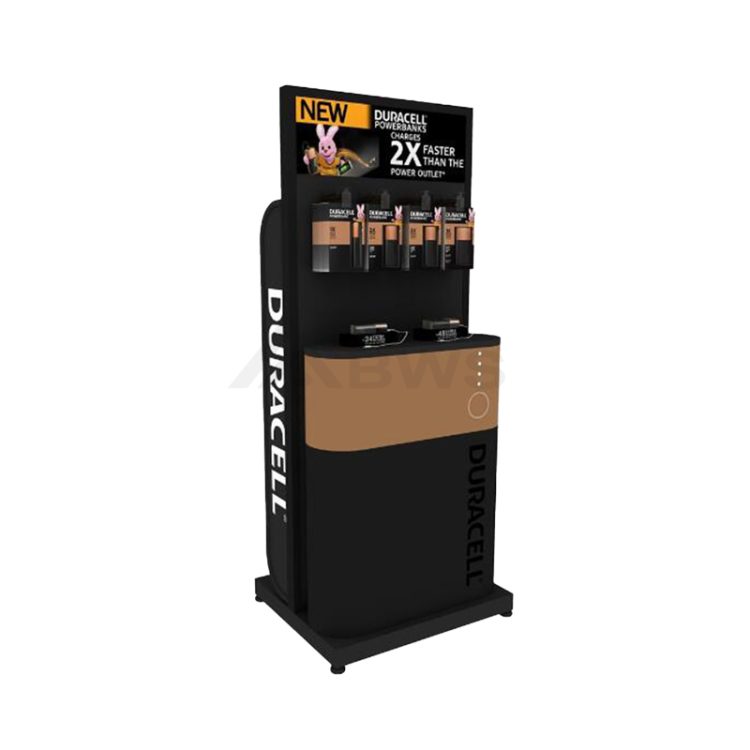 Of course, because all displays we made are customized, you can change the design in color, size, design, logotype, material and more. It is not difficult to make your brand display. We can turn your display ideas into reality.
How do we turn your display idea into reality?
We want to work with you from start to finish. We like being able to take an idea and manufacture it for our clients, but we want to do more for our clients. We are also able to greatly expedite projects. Below are the basic steps.
1. Understand your needs in detail. We will consider more than how to showcase your products, but will ask our team members to discuss these items: What are your markets? What kinds of strategic plans do you have not only for the short term but to grow your business in the future? What services can we offer? We want to make your business exceptional. Then we will start to design for you.
You can send us your design or share with us your display ideas too. And we can also make designs for you, too. In one word, OEM is acceptable and BWS Displays can design and craft wood displays, metal displays, acrylic displays, cardboard displays as well as displays made with PVC, EVA, and backlit. In this case, the Duracell battery display stand is made of metal.
2. We will send you a rough drawing and 3D rendering with products and without products after you confirm the design. 3D drawings to explain the structure clearly. You can add your brand logo on the display, it can be stickier, printed or burned or lasered. Different material displays are with different logotypes and different finishing.
3. Make a sample for you and check everything about the display rack to make sure it is meet your display needs. Our team will take photos and videos in detail and send them to you before delivering the sample to you.
4. Express the sample to you and after the sample is approved, we will arrange the mass production according to your order. Normally, knock-down design is prior because it saves shipping costs. For this case, the Duracell battery display stand sample was finished within 6 days. And mass production was finished in 24 days.
5. Control the quality and check all the specifications according to the sample, make a safe package and arrange the shipment for you.
6. Packing & container layout. A container layout is to make the best use of a container, it also saves shipping costs if you order a container. We will give you a container layout after you agree with our package solution. Normally, we use foam and plastic bags for inner packages and strips even protecting corners for outer packages and put the cartons on pallets if necessary.
7. Arrange shipment. We can help you arrange the shipment. We can cooperate with your forwarder or find a forwarder for you. You can compare these shipping costs before you make a decision.
No matter you need floor displays or tabletop displays, we can make them for you and also provide photography, container loading, and after-sales service.
Why choose us to make your custom display stand?
Because we understand your business, we also apply the same shared knowledge to the logistics of getting the materials to the location as we do to building your solution, ensuring all necessary moving pieces for the project are on time and within budget.
Because we are a factory worked for 3000 clients, our experience will help you.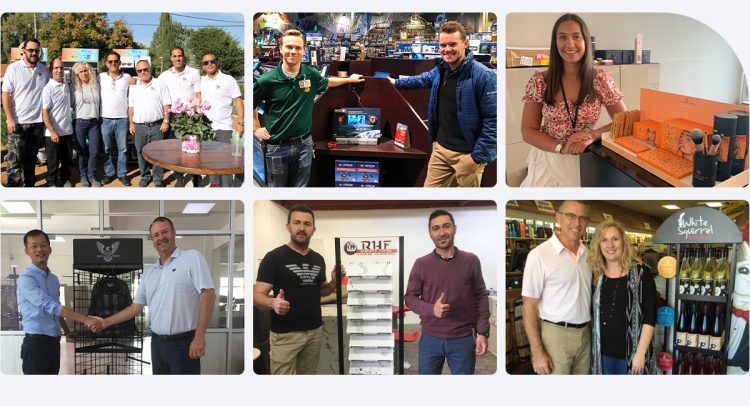 If you need more designs for reference. Here are another two battery display racks.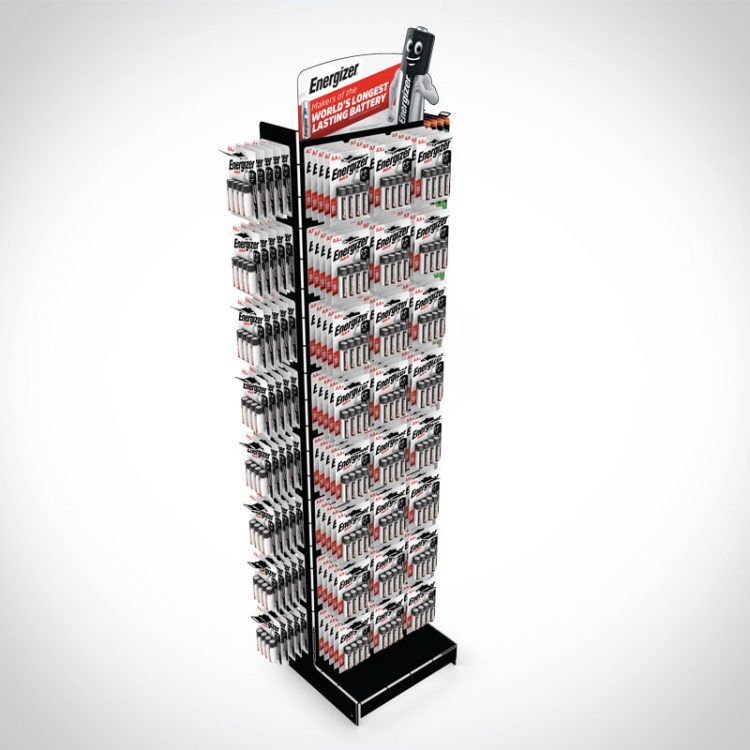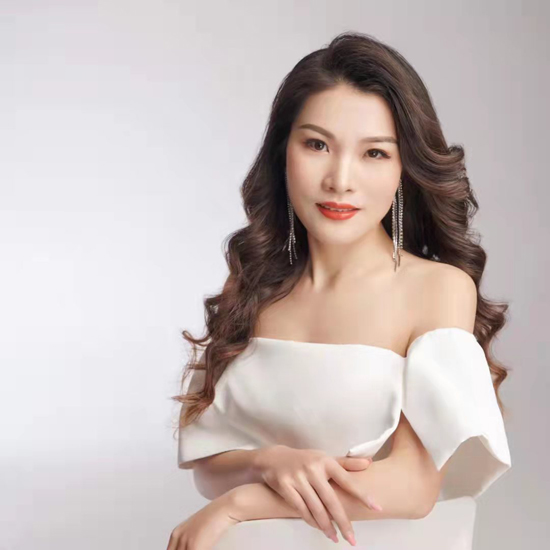 jessie huang
Love what we do and do what we love! Enjoy life, enjoy working in BWS DISPLAYS.