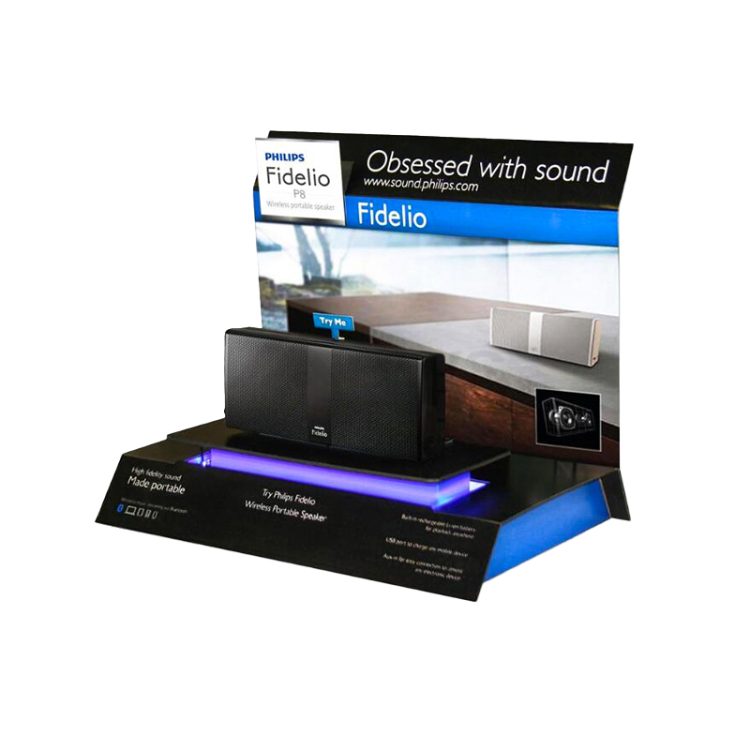 Useful Mobile Accessories Display Stand Customized Tabletop Acrylic Stand
Order(MOQ):50
Payment Terms:EXW, FOB Or CIF
Product Origin:China
Color:Black
Shipping Port:Shenzhen
Lead Time:30 Days
Service:Customization Service, Lifetime After-sales Service.
What is mobile accessories display stand?
The mobile accessories display stand is designed to showcase products that relate to mobile radio telecommunication services (for example, mobile handset chargers, mobile telephone cases, in-car accessories, Bluetooth headsets, and mobile card readers/writers).  Audio brings vivid sound to us, makes us enjoy the world better. There are so many audio brands around us, such as JBL, Yamaha, Infinity and more.
BWS Displays is a factory of custom displays and made so many audio displays, today we are sharing with you a display stand for Philips. We are sure you will be happy when you customize your brand mobile accessories display stand with us.
What are the features of this mobile accessories display stand?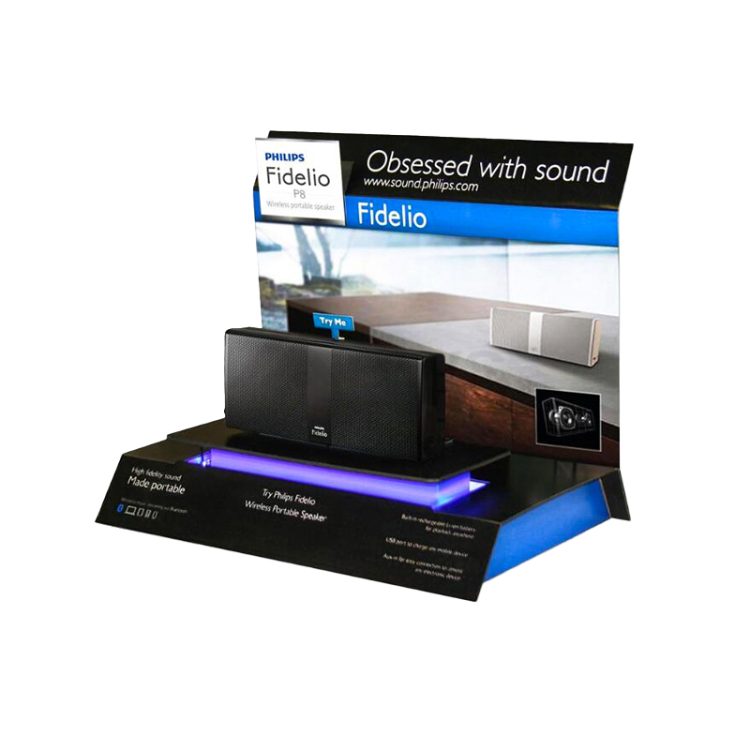 This is a table-top mobile accessories display stand for audio, which is made of acrylic with LED lighting. It is designed for Philips, which has a proud heritage of ground-breaking innovation that stretches back almost 130 years. Meaningful innovation – focused on customers' needs – remains at the heart of everything they do.
This mobile accessories display stand for audio is a nice design. The tilt base stand is with custom graphics which is for brand merchandising, and so does the back panel. Both of them show the point-of-sale features of the audio and increase the awareness of the brand Philips. There is a website on the header that gives shoppers more choices. Besides, The riser in the middle makes the audio stand out, and the LED lighting base makes the audio attractive.
As for the assembling, it can be assembled at our factory as well as we provide assembling instructions and tools you assemble in stores. We use foam to pack them safely, one set per carton. Of course, because all displays we made are customized, you can change the design in color, size, design, logotype, material, and more.
If you do not have an idea about what kind of earphone display stand you need, you can contact us to send you reference designs. Below are 2 designs for your reference.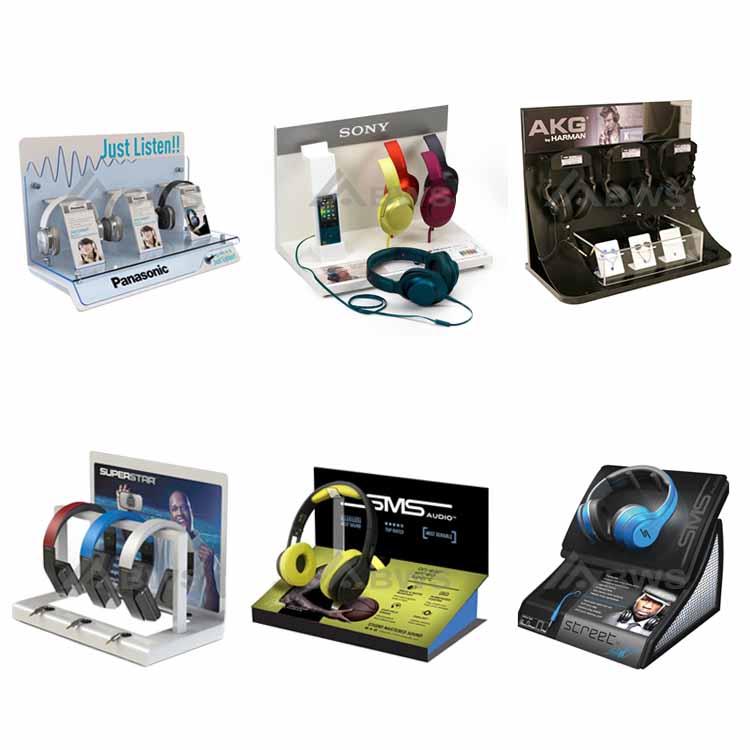 How to make your mobile accessories display stand?
1. Know your display needs. We need to know your product specification and how many you want to display at the same time. Our team will work out the right solution for you. Mobile accessories display stands can showcase mobile phones, headsets, phone cases, chargers, and much more. We can meet your different needs. Floor display racks, countertop display stands, showcases, cases, boxes and more.
2. We will send you a rough drawing and 3D rendering with products and without products after you confirm with our display solution. We can make wood displays, metal displays, acrylic displays as well as cardboard displays, and mixed material mobile accessories display stands to create eye-catching merchandising environments.
3. Make a sample for you and check everything about the sample to make sure it is meet your display needs. Our team will take photos and videos in detail and send them to you before delivering the sample to you.
4. Express the sample to you and after the sample is approved, we will arrange the mass production according to your order. Normally, knock-down design is prior because it saves shipping costs.
5. Control the quality and check all the specifications according to the sample, make a safe package and arrange the shipment for you.
6. Packing & container layout. We will give you a container layout after you agree with our package solution. Normally, we use foam and plastic bags for inner packages and strips even protecting corners for outer packages and put the cartons on pallets if necessary. A container layout is to make the best use of a container, it also saves shipping costs if you order a container.
7. Arrange shipment. We can help you arrange the shipment. We can cooperate with your forwarder or find a forwarder for you. You can compare these shipping costs before you make a decision.
8. After-sales service. We are not stopping after delivery. We will follow up on your feedback and solve your questions if you have any. We provide lifetime after-sales service.
Why choose BWS Displays to make your mobile accessories display stands?
Our factory is over 30,000 square meters, and there are more than 300 workers. Our project managers can communicate with oversea customers directly to improve efficiency and accuracy. We take care of quality, we know the quality custom displays stand for the quality product you sell. If there are quality problems because of us, we guarantee compensation and free replacement.
BWS Displays has worked for many brands, such as Pepsi, Coca-Cola, Blue Q, Addidas, Nike, Nivea, Happy socks, Energizer, and much more. We are sure you will benefit from our experience and the custom pop displays will help you sell more and build your brand.
Below is some feedback from our clients, they are happy with the custom displays we made for them. If you try a sample with us, we are sure you will be one of them.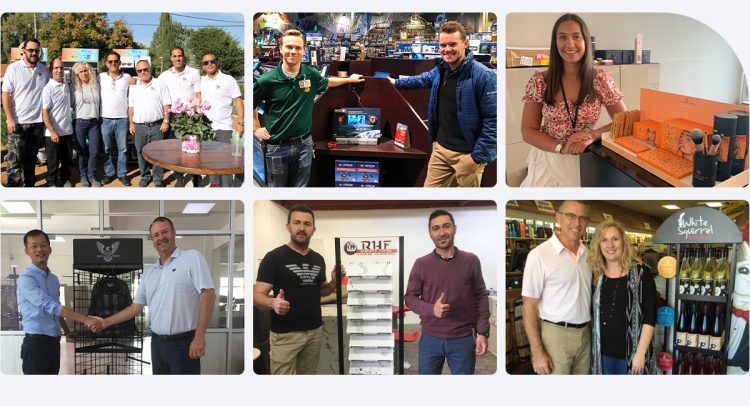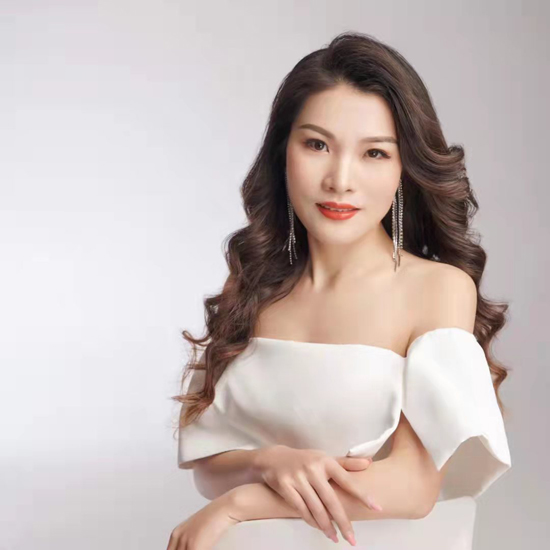 jessie huang
Love what we do and do what we love! Enjoy life, enjoy working in BWS DISPLAYS.