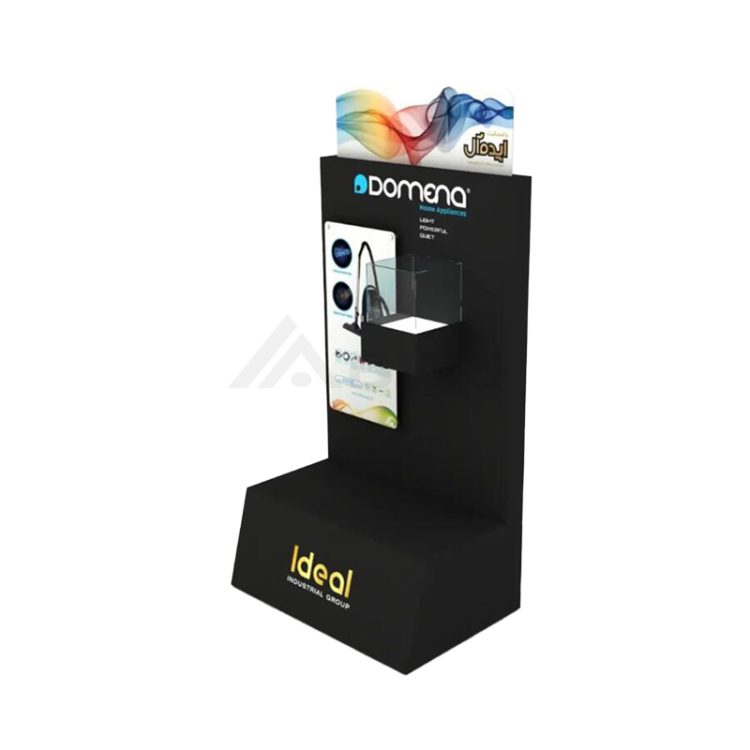 2-layer Earphone Display Stand With Lighting Focused Tabletop Display
Order(MOQ):50
Payment Terms:EXW, FOB Or CIF
Product Origin:China
Color:Black
Shipping Port:Shenzhen
Lead Time:30 Days
Service:Customization Service, Lifetime After-sales Service.
What is an earphone display stand?
An earphone display stand is designed and crafted to showcase earphone and headphone products, including earbuds, wireless earphones, headphones, and many other headwear products. Earphone is a brother of headphone, both of them help us enjoy the sound privately. The difference between them is as follows. Earphones plug into the internal part of the ear, covering the eardrums entirely. Headphones rest on the outer surface of the ear without covering the auditory surface entirely.
BWS Displays is a factory of custom displays, we can help you design earphone display stands for free. We can help you make the earphone display stand if you have your display ideas. We have made a lot of earphone display stands, headphone display racks, and headphone stands. Today, we are sharing with you an earphone display stand which is a tabletop design, it is with lighting and a backlit logo, which is attractive.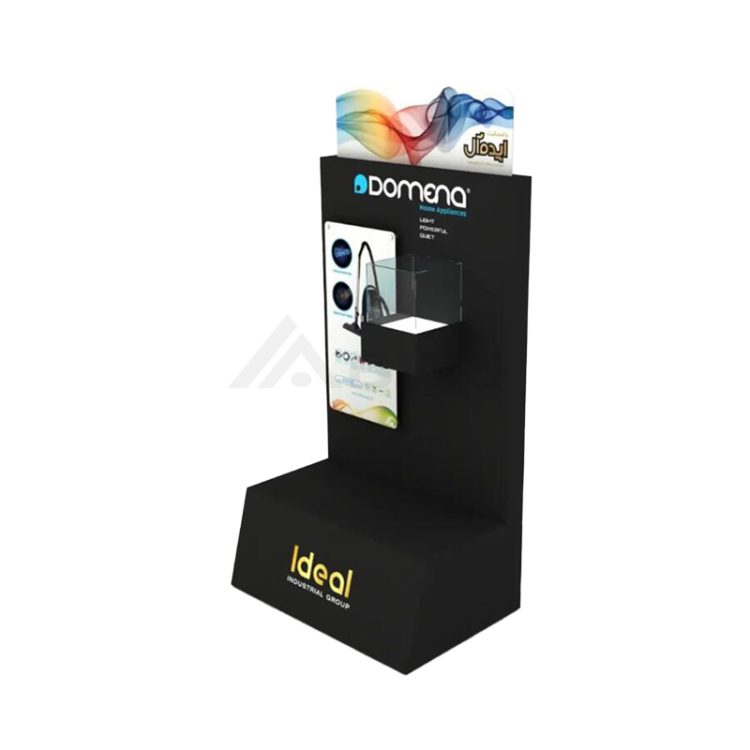 What are the features of this earphone display stand?
As we mentioned above, it is a countertop display stand.
The first feature of this earphone display stand is attractiveness. It is an excellent design for merchandising. The tilt base stand is with custom graphics which is for brand merchandising, and so does the backlit panel with an interchangeable colorful header. All of them show the point-of-sale features of the audio and increase the awareness of the brand.
The second feature is stable, strong, and functional. It is made of metal with acrylic. It has 2 layers. The first layer is for earphone packaging. The second layer is with an acrylic lid, which is for the sample earphone. Buyers can view the earphone directly and they can try the sample. Besides, the acrylic lid keeps the earphone from dust.
The third feature is the knockdown design. This is the best way to save shipping costs, but we provide assembly instructions, so you do not need to worry about the assembly.
Of course, because all displays we made are customized, you can change the design in color, size, design, logotype, material, and more. If you do not have an idea about what kind of earphone display stand you need, you can contact us to send you reference designs. Below are 2 designs for your reference.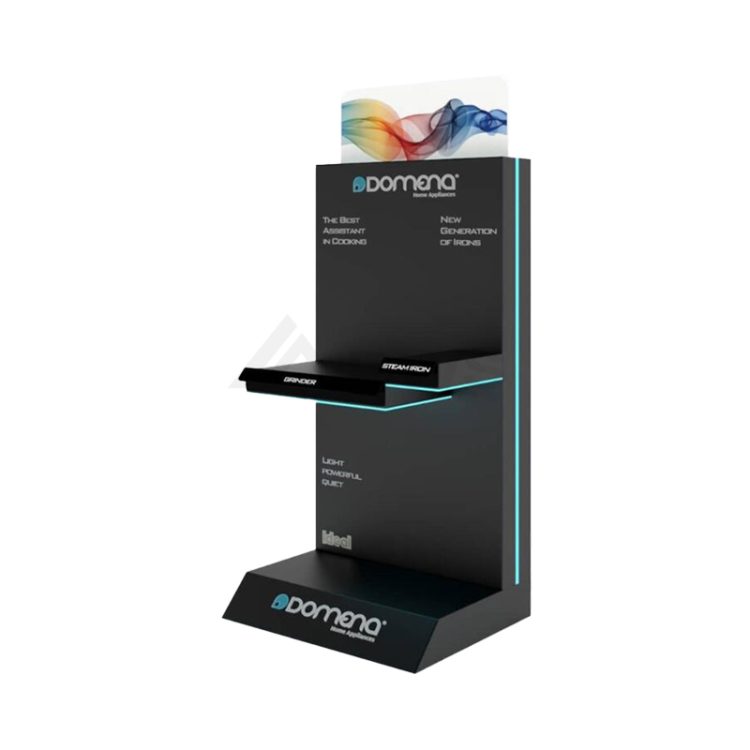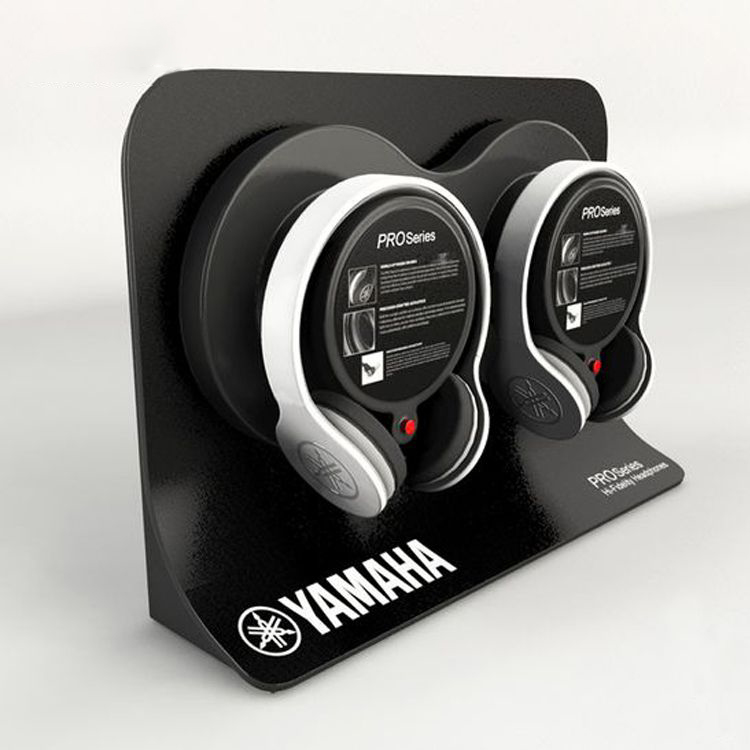 How to make your brand earphone display stand?
It is easy when you work with us. Below are general steps to make your brand earphone display stand or other custom display stand.
Step 1. Understand your specific needs. You can share with us your display ideas with a photo, rough drawing, or reference design, we will give you professional suggestions after we know more about your products, such as product specifications, brand culture, and more. If you can send us samples, it will be more helpful.
Step 2. Design and offer drawings. We will design and provide renderings and drawings to you. 3D drawing can be done with products and without a product. You can make some changes or approve the design before we offer you a quotation. We need to know how many you need to display at one time, where you want to use it, what material you need, where to add the logo, how many pieces you need, etc before we quote the EX-work price to you. If you need FOB or CIF price, we need to know where these displays ship to.
Step 3. Make a sample. We will make a sample for you after you approve the design and price and place an order. We need to make sure the earphone display stand will increase your brand influence and sales. It always takes 7-10 days to finish the sample. And we will take HD photos and videos in detail, such as measuring the dimension, packing, logo, assembling, gross weight, net weight, and more before we ship the sample out to you.
Step 4. Mass production. Our team will start mass production after you approve the sample. At the same time, our project manager will follow up and update regularly with photos and videos from laminating to packing. To make the best use of a carton and keep displays safe, we also will design a package solution before packing. The package solution is up to the design and material. We have quality control systems and teams to make sure quality is good. If you have an inspection team, they can come to our factory to check the display.
Step 5. Packing & container layout. We will give you a container layout after you agree with our package solution. Normally, we use foam and plastic bags for inner packages and strips even protecting corners for outer packages and put the cartons on pallets if necessary. A container layout is to make the best use of a container, it also saves shipping costs if you order a container.
Step 6. Arrange shipment. We can help you arrange the shipment. We can cooperate with your forwarder or find a forwarder for you. You can compare these shipping costs before you make a decision.
Step 7. After-sales service. We are not stopping after delivery. We will follow up on your feedback and solve your questions if you have any.
Why you can trust BWS Displays?
BWS Displays has worked for many brands, such as Pepsi, Coca-Cola, Blue Q, Addidas, Nike, Nivea, Happy socks, Energizer and much more. We are sure you will benefit from our experience and the custom pop displays will help you sell more and build your brand.
Our factory is over 30,000 square meters, and there are more than 300 workers. Our project managers can communicate with oversea customers directly to improve efficiency and accuracy. We take care of quality, we know the quality custom displays stand for the quality product you sell. If there are quality problems because of us, we guarantee compensation and free replacement.
Time is money, we keep our promises. We will deliver the displays on time. If you have urgent orders, we will try our best to make them for you without delay. We also keep you posted and show you pictures and videos for every important step of production, so you have more confidence in us and can check the date when the custom displays arrive at your side.
We believe in the client is God, and we will offer our best service and provide long-term after-sales service from shipping. Besides, we have oversea design teams and partners in the United States, Italy, and Australia.
Seeing is believing. You can try a sample with us or you can pay us a visit. We will be glad to serve you.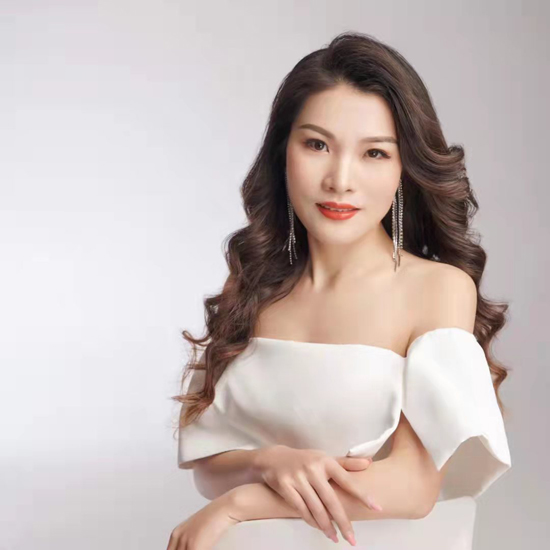 jessie huang
Love what we do and do what we love! Enjoy life, enjoy working in BWS DISPLAYS.