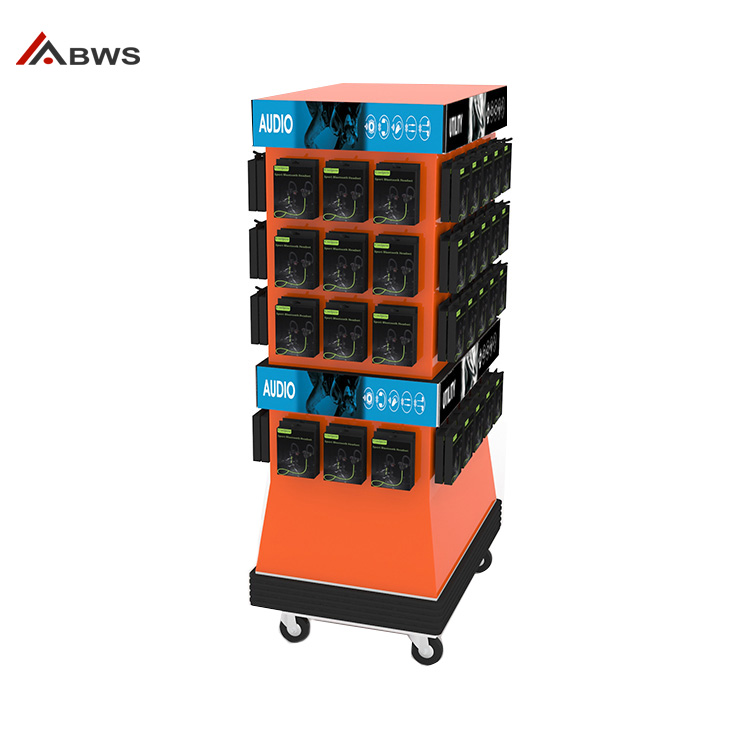 Easy Move 4-side Electronic Display Stand With Detachable Hooks
Order(MOQ):50
Payment Terms:EXW, FOB Or CIF
Product Origin:China
Color:Orange, Black
Shipping Port:Shenzhen
Lead Time:30 Days
Service:Customization Service, Lifetime After-sales Service.
How to display electronic products?
An electronic display stand is one of the electronic display fixtures which will help you showcase your electronic devices more efficiently, such as batteries, phone cases, earphones, headphones, mobile accessories and more. Displaying your items is easier and more convenient now with a sturdy and trendy electronic display stand, especially with custom floor display stands, electronic product displays, 3C electronics counter display racks and more, we are an electronic display stand manufacturer in China with more than 10 years experience.
The global Consumer Electronics market size is expected to grow from USD 1099440 million in 2020 to USD 1538410 million by 2027; it is expected to grow at a CAGR of 4.9% during 2021-2027. And the update in electronics are fast and new products need custom display fixtures to show their features and educate buyers. Today, we share with you a custom 4-way display stand for electronics retail shops and stores.
What are the features of this electronic display stand?
This is a floor-style, 4-way display stand which is made of metal sheets and metal hooks. There are casters on the base, so it is easy to move around to display electronics in different spaces. It is in a special shape, it has a waist. The graphics are on the 4-sides both for the top and waist. And the hooks of this display stand are detachable. The finishing of the metal parts is powder-coated in a warm color orange, which makes buyers feel happy when they see it. And there is a black wave cover for the base, which makes the electronic display stand more attractive.
It is a display stand for electronics, audio, speaker, earphone, phone case, and other electronic components.
How to make an electronic display stand?
Retail can be complex, time-consuming, and expensive. We work with you to create a retail environment that reflects your brand. Our designers and engineers incorporate a deep understanding of industry trends and marketing best practices to ensure we produce the right display for your product. We make it fast and easy. And it is easy to make your brand electronics displays. Below are some key points.
Firstly, you need to tell us what kind of electronic display stand you like, floor or countertop, a single way or multiway, you decide all the details after we give you professional suggestions, such as size, color, design, logo location, finishing effect, material and more. The materials we use to create custom pop displays can be wire, tubing, sheet metal, steel, stainless steel, aluminum, plastic, styrene, acrylic, mirrored acrylic, coroplast, vinyl, vacuum forming, hardwoods, melamine, fiberboard, fiberglass, glass and more.
Secondly, you need to confirm the design after we send you the drawing and 3D rendering. From the drawing, you can see the dimension, design, style, material, as well as your logo and the finishing effect of the display stand. From the rendering, you can see the overall appearance of the display stand and how your products are displayed. And we will quote to you so you can place an order (sample or mass production).
Thirdly, we make the sample step by step manually, and we will assemble and test the sample before we ship it to you. We take photos, and videos to show the details that we will send to you.
Fourthly, you can confirm or modify the sample before mass production. Only the sample is approved, we will arrange the mass production. Normally, we design the display stand in knock-down design in order to save costs to meet your budget. But we provide detailed assembly instructions with the display stand which makes it easy to assemble.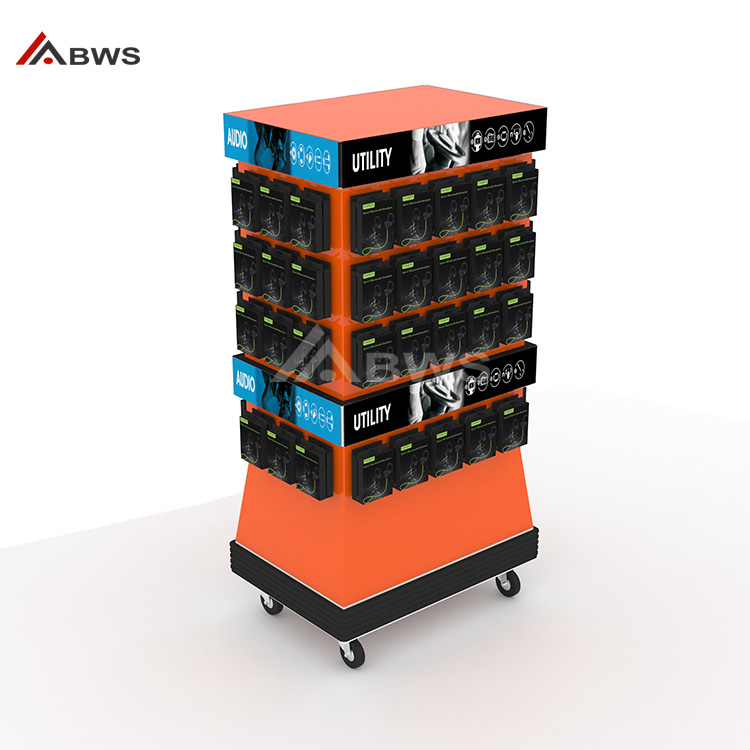 This is a rendering with products.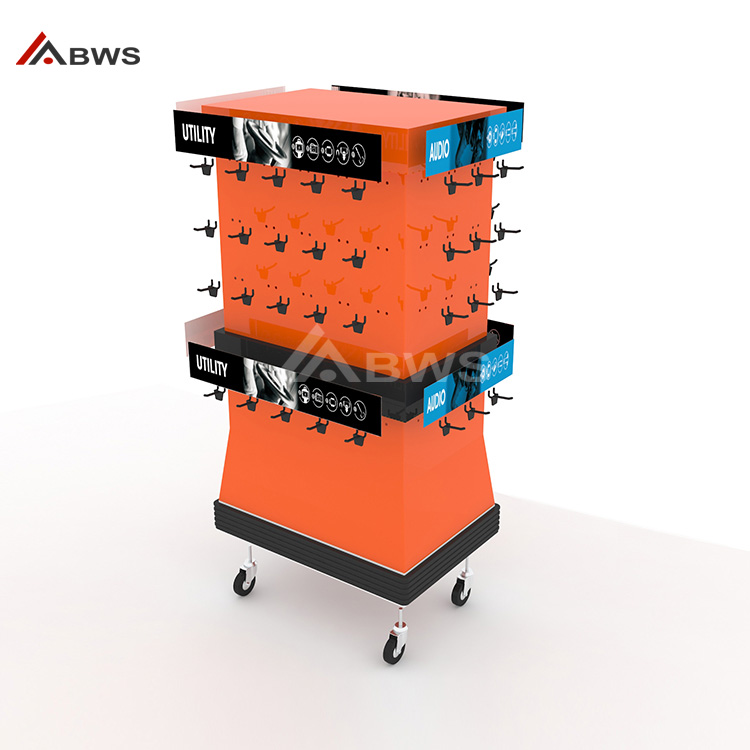 This shows what the electronic display stand is made of, it is with PVC graphics, detachable hooks, and moveable casters.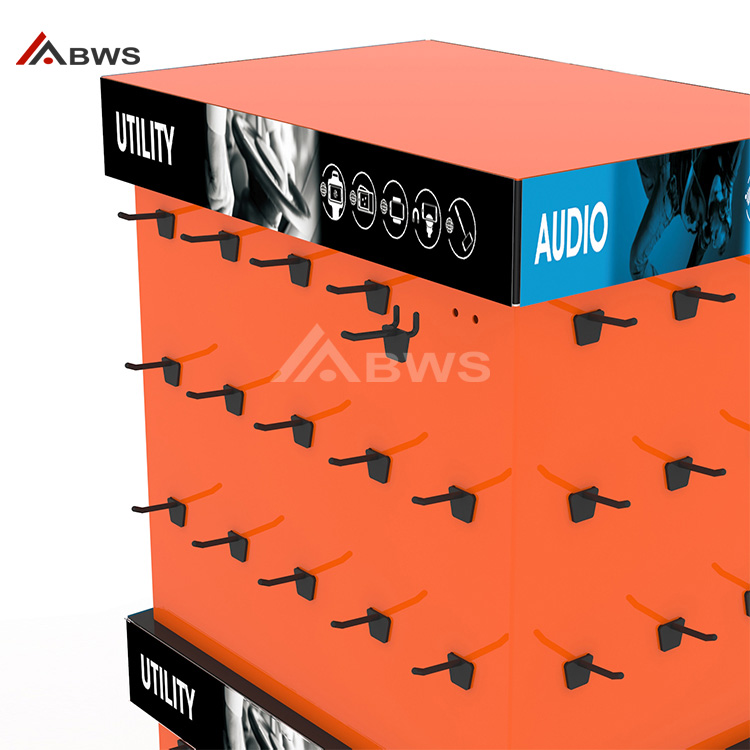 This shows how the hooks are added to the back panel of the display stand.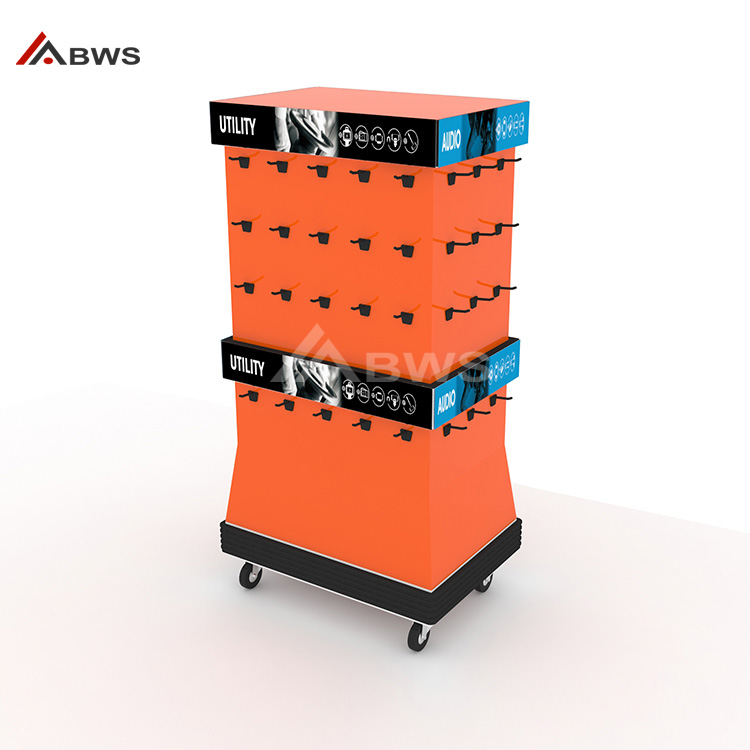 This is the rendering without products, from which you can see the constructions better.
Do you have other display ideas for electronics?
Yes, we do. Here are 6 different designs in different materials to display kinds of electronic products.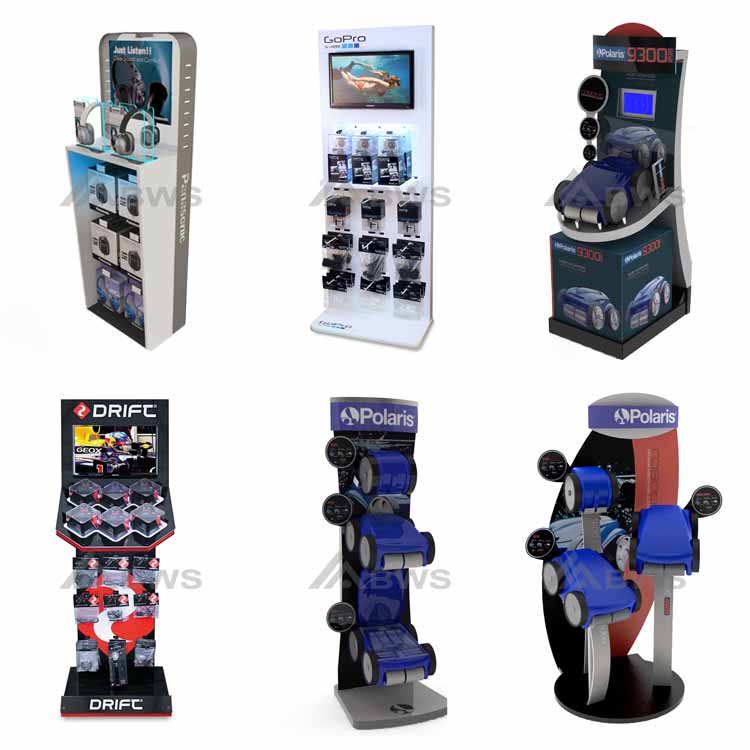 If you need more designs or want to try your next project with us, contact us now.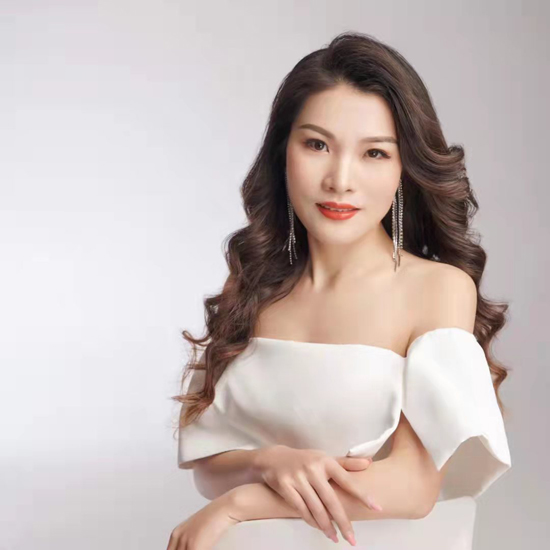 jessie huang
Love what we do and do what we love! Enjoy life, enjoy working in BWS DISPLAYS.