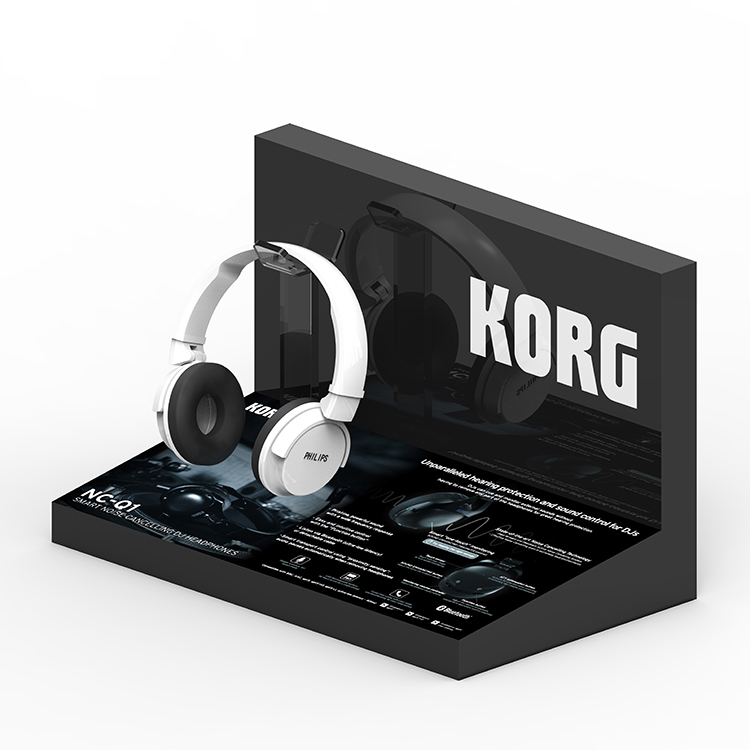 Countertop Earphone Stand Acrylic Holder With 4 Reflective LED Letters
Order(MOQ):50
Payment Terms:EXW, FOB Or CIF
Product Origin:China
Color:Black
Shipping Port:Shenzhen
Lead Time:30 Days
Service:Customization Service, Lifetime After-sales Service.
Earphone stands are useful tools to organize earphones and showcase them in a visual merchandising way. They can help you increase your brand awareness and boost your sales. We have shared 3 earphone and headphone displays in the past. And we would like to share one more design. The market for earphones accounted for 89.40% of the overall share in 2022 and is anticipated to witness a CAGR of 13.2 % within the forecast period. Increasing consumer demand for higher fidelity and style may favorably impact market growth.
The global earphones and headphones market is segmented into virtual reality, music & entertainment, gaming, and fitness/ sports. Due to their rising consumer popularity, gaming and music & entertainment are two of these that are most important to the global earphones and headphones market and will continue to rule during the projection period. South Asian countries have experienced rapid expansion in information technology and telecommunication in recent years, attracting the interest of multinational corporations from Europe and the United States.
To stand out among competitors and get more attention from consumers, customized earphone stands are necessary. Below earphone stand is designed for Korg, since 1963, Korg's goal has been to create new experiences in music and performance. That was what drove the creation of Japan's first disc-based rhythm machine, the Doncamatic, and then led to the development of Japan's first synthesizer and the world's first needle-type tuner, followed by numerous unique instruments that have brought the enjoyment of musical performance to many people all around the world.
What are the features of this earphone stand?
1. This earphone stand is made of smooth black acrylic, it is reflecting light and is like a mirror, which gives a high-end feeling to consumers. 2. It has a nice design. The slanting base of this earphone stand is a unique design. And it is easy to showcase the features of the earphone to buyers with a custom graphic. 3. Visual merchandising. There is a custom graphic and a LED-backlit brand logo on the back panel, which is shining. Though there is only one clear acrylic earphone holder, this earphone stand creates a positive shopping environment for buyers.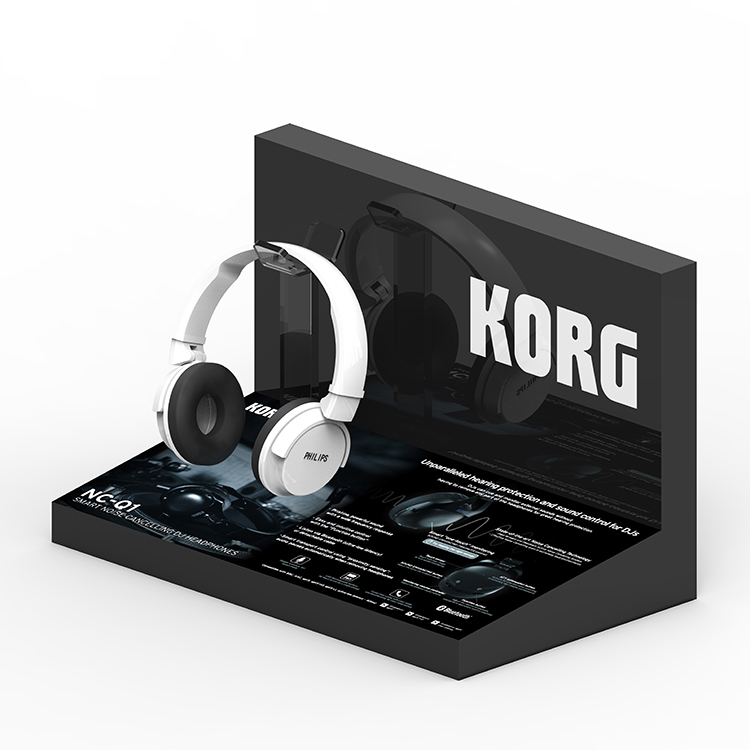 As for the packing, it is one set per carton. In order to keep it safe, we use PE foam to protect it. And the users can take it out and assemble the acrylic holder and then hang the earphone on. That's easy for showcasing.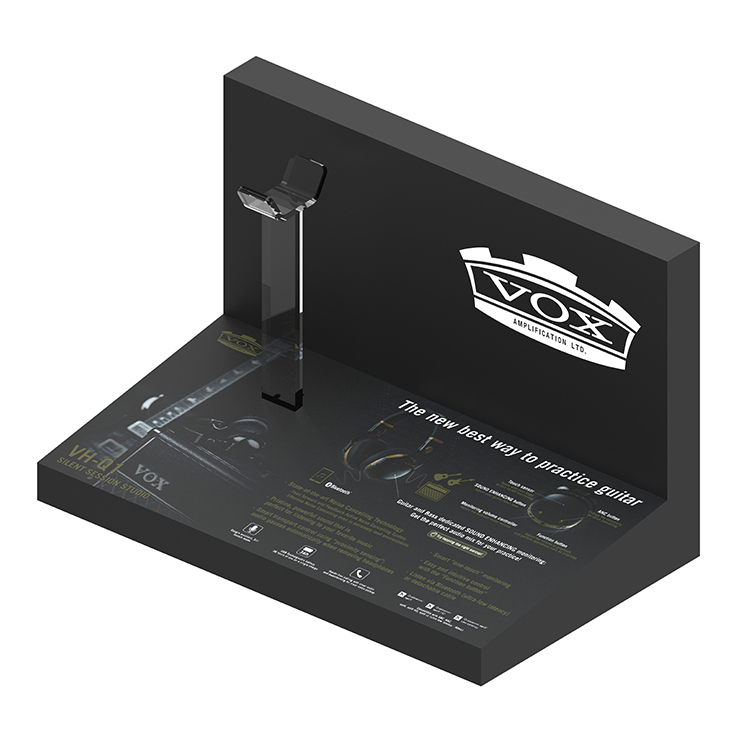 Of course, this earphone stand is designed for Korg, you can tell us your requirements, and we can design and craft your unique earphone stand. With more than  20 years of experience, our core competence is designing and crafting custom displays.
How to make your brand earphone stand?
To make your brand earphone or headphone display stand, there are 8 steps as below. In fact, it can be concluded as 4 steps, that is design, sample, production, and delivery. In order to make you understand the process better, we list more details below.
1. We need to know your product specification and how many you want to display at the same time. Our team will work out the right solution for you. You can share us your display idea or reference design with us, which will help us understand your needs better. As we mentioned before, you can decide on the design, size, style, material, color, logotype and more.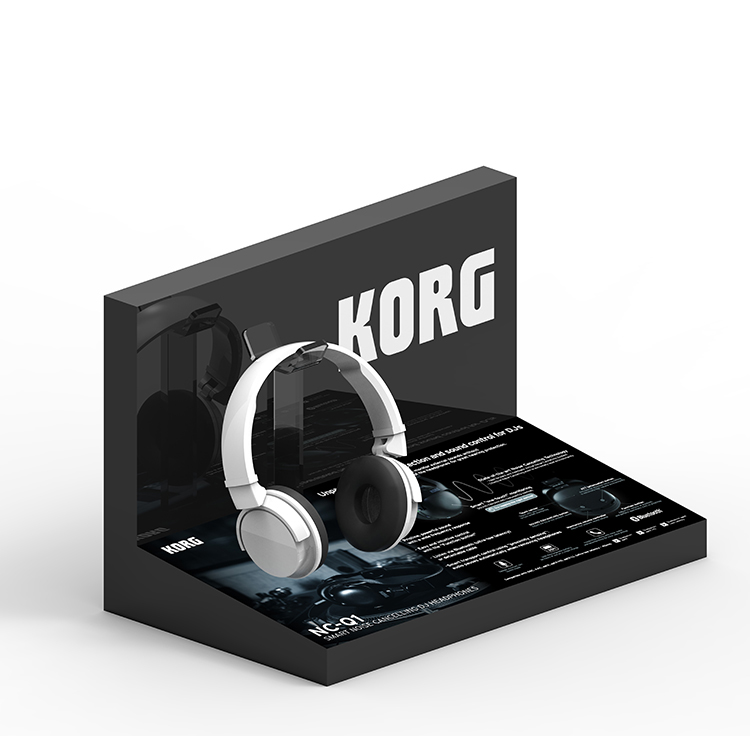 2. We will send you a rough drawing and 3D rendering with products and without products of the headphone display stand after you agree with our display solution.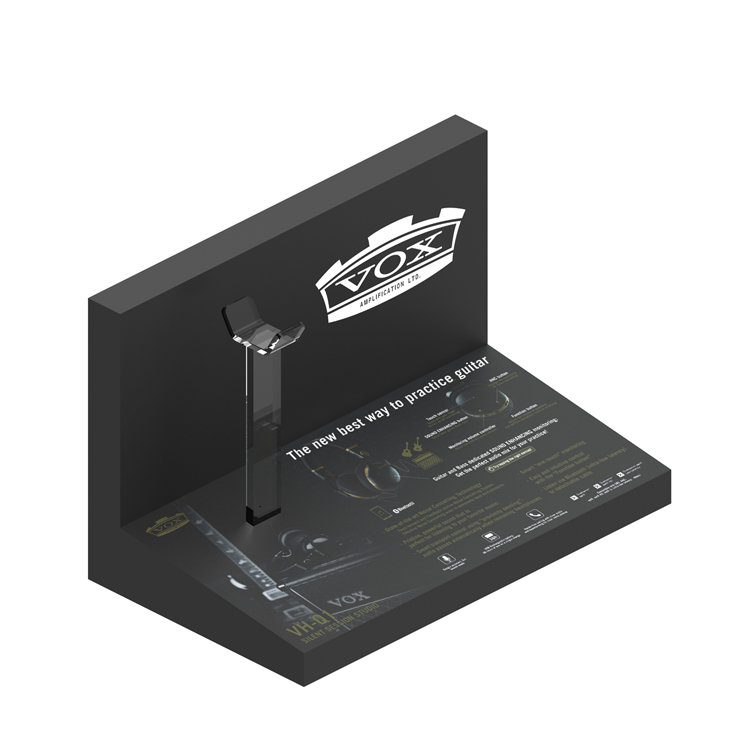 3. Make a sample for you and check everything about the sample to make sure the earphone stand is meet your display needs. Our team will take photos and videos in detail and send them to you before delivering the sample to you.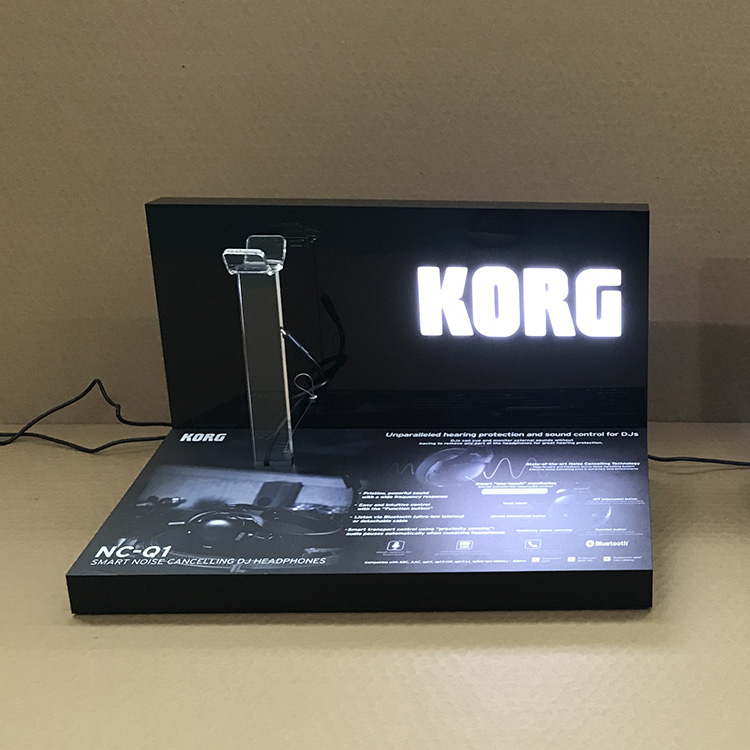 4. Express the sample to you and after the sample is approved, we will arrange the mass production according to your order. Normally, knock-down design is prior because it saves shipping costs.
5. Control the quality and check all the specifications according to the sample, make a safe package, and arrange the shipment for you. We will make the headphone display stand sample according to the display design. There are knock-down packaging and assembled packaging, below are several examples.
6. Packing & container layout. We will give you a container layout after you agree with our package solution. Normally, we use foam and plastic bags for inner packages and strips even protecting corners for outer packages and put the cartons on pallets if necessary. A container layout is to make the best use of a container, it also saves shipping costs if you order a container.
7. Arrange shipment. We can help you arrange the shipment. We can cooperate with your forwarder or find a forwarder for you. You can compare these shipping costs before you make a decision.
8. After-sales service. We are not stopping after delivery. We will follow up on your feedback and solve your questions if you have any.
Here are 6 other designs which may help you get some ideas to showcase your brand earphones. If you need more designs or want to know more about this earphone stand, please feel free to contact us.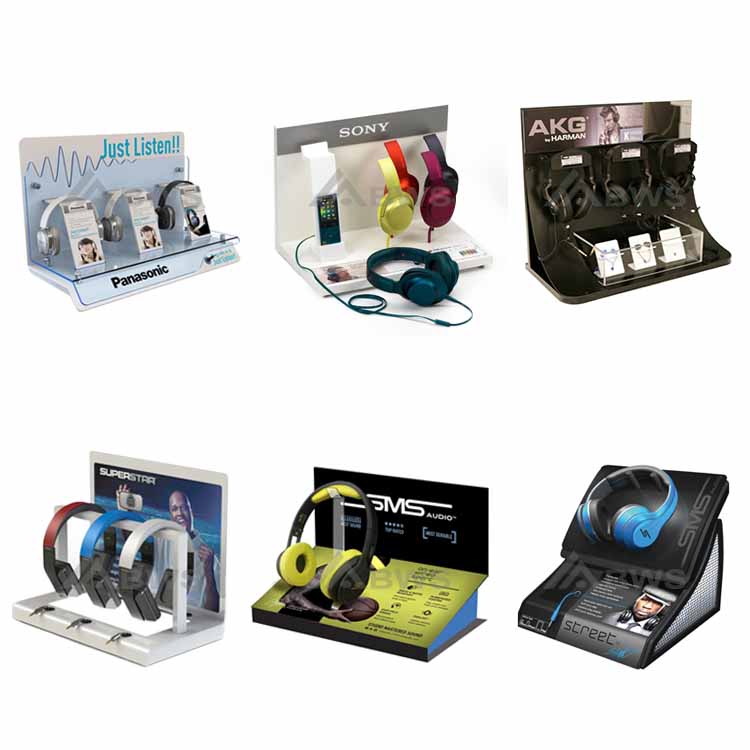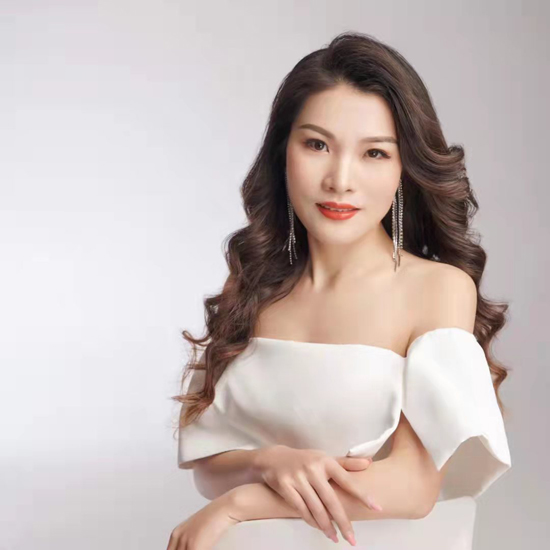 jessie huang
Love what we do and do what we love! Enjoy life, enjoy working in BWS DISPLAYS.