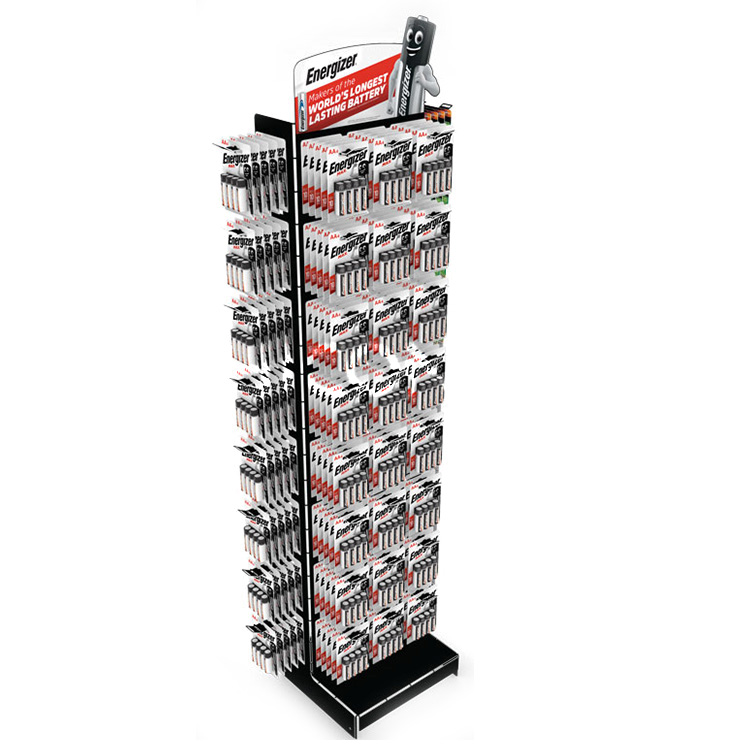 Energetic Battery Display Stand 4 Feet with Black Back Panel
Order(MOQ):50
Payment Terms:EXW, FOB Or CIF
Product Origin:China
Color:Black
Shipping Port:Shenzhen
Lead Time:30 Days
Service:Customization Service, Lifetime After-sales Service.
Where is the battery display stand used?
The battery display stand can be used in electronic stores, supermarkets, retail stores and shops, grocery stores, toy stores, tool shops and more because so many products need batteries.
What kind of battery display stands do we make?
There are different batteries in retail markets, so we make different battery displays to meet different display needs, such as display rack, display stand, display case, display cabinets, and display box, Below is one of the battery display stands we made.
Why did we make this battery display stand?
We made this display stand for Duracell. Since 2011, Duracell has brought its reliable power to thousands of families through the Duracell PowerForward program. Long-lasting batteries that power your everyday life. With the power to upgrade your devices to work even better, Duracell Optimum is no ordinary battery. Batteries include Duracell Optimum, lithium coin, coppertop battery, rechargeables specialty & other, hearing aid batteries.
We made this battery display stand as below to meet different display needs for different batteries. With a custom header, this display stand educates shoppers and builds the brand.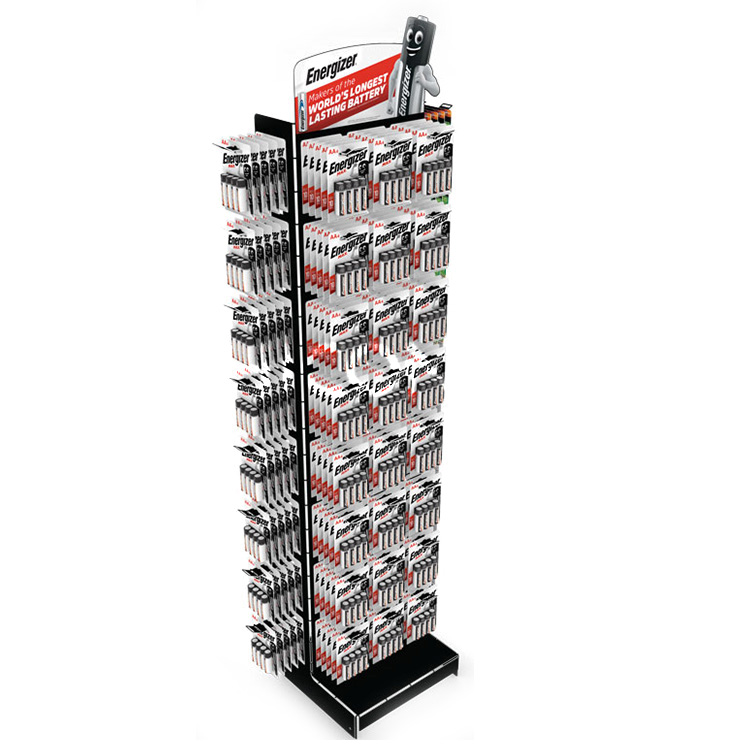 What are the features of this battery display stand?
This battery display stand comprises metal tubes and an MDF base in black color with detachable hooks. The header signage is detachable as it is fixed by screws. It has a large capacity which can showcase at least 1000 batteries at the same time. This battery display stand is also functional, it can showcase more than batteries but other hanging items, which can meet the diverse needs of many retailers. With a square base, it is stable and sturdy on the floor. Besides, to decorate this display stand, there is a white color around all the edges.
Of course, you can change the design as all displays we made are customized to meet clients' specific display needs. You decide the design, shape, size, color, material, layer and tier, with a LED lighting or not, with a LCD player or not.
Below are more photos with details of the display stand for your reference.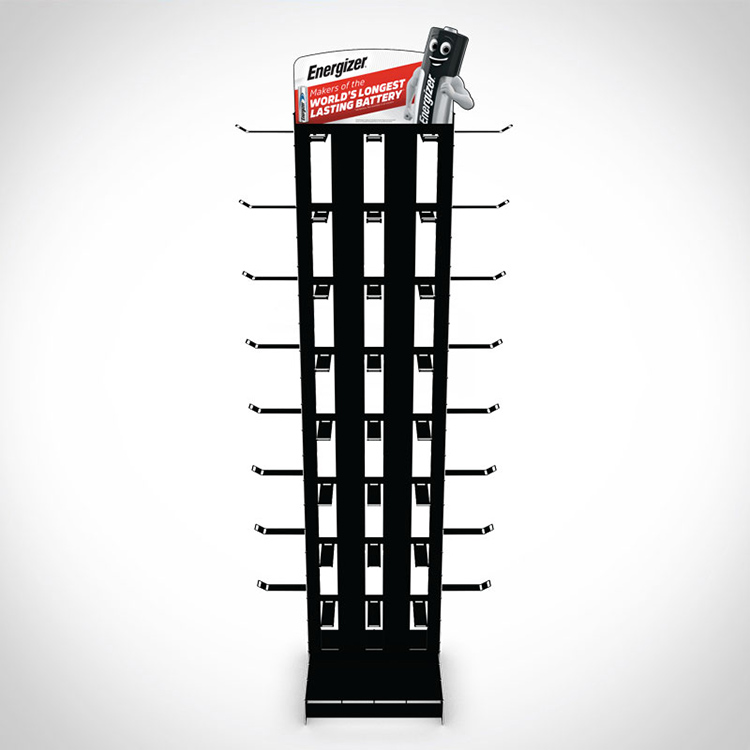 The above shows the battery display stand without batteries, you can see the constructor better and there are hooks on 4 sides.
From this photo, you can see a header with a customized brand logo.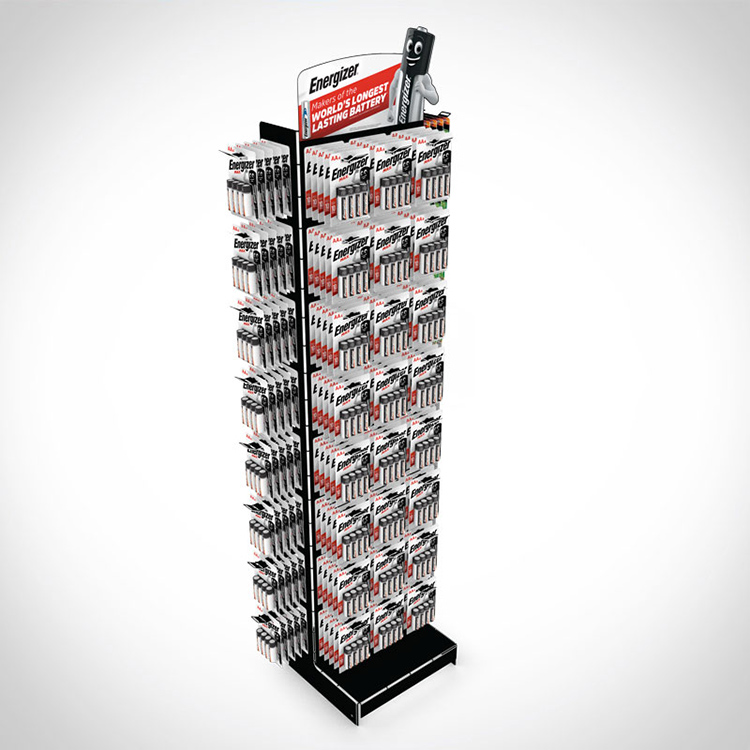 It is simple to make your brand logo battery display stands. We need to know your needs first, what kind of design you like, the materials to be used, sizes which is up to how many batteries you'd like to display, shape, finishing, color, style, function, etc. And then we will discuss with you more details to make the display stand that you are looking for.
After the sample is approved, mass production will be followed. We control all the details during mass production to make the display stand to meet your needs.
We will make a safe package and arrange the shipment. Samples can be delivered by FedEx, UPS, or DHL,  while mass production can be delivered by sea or by air( for urgent needs only).
Can you share other designs for reference?
Of course, here you go. The first design is a countertop display stand made of wood with metal hooks. Two sides are with custom graphics, so customers can know more about the products.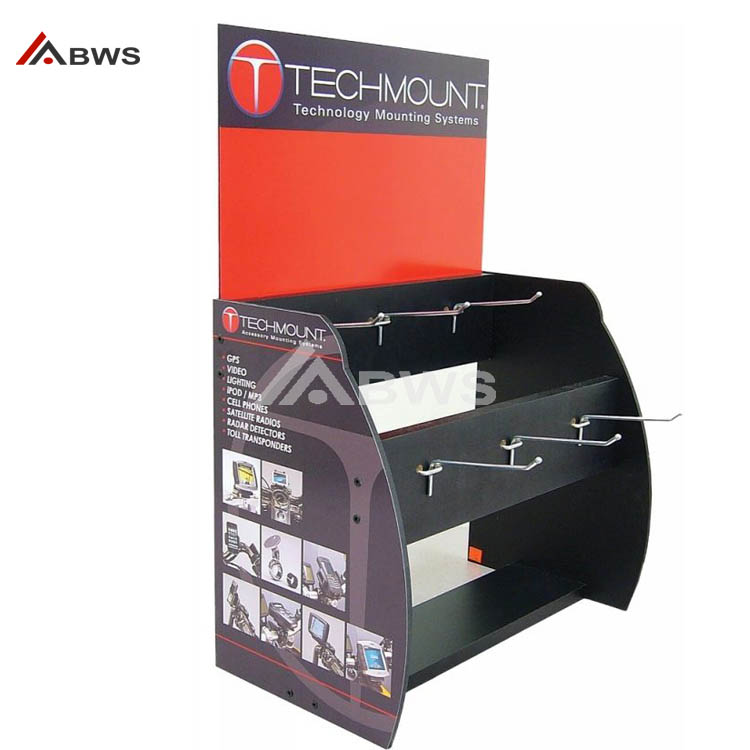 The second design is a floor display stand with casters, it is functional. It can display products on 4 sides, rotatable.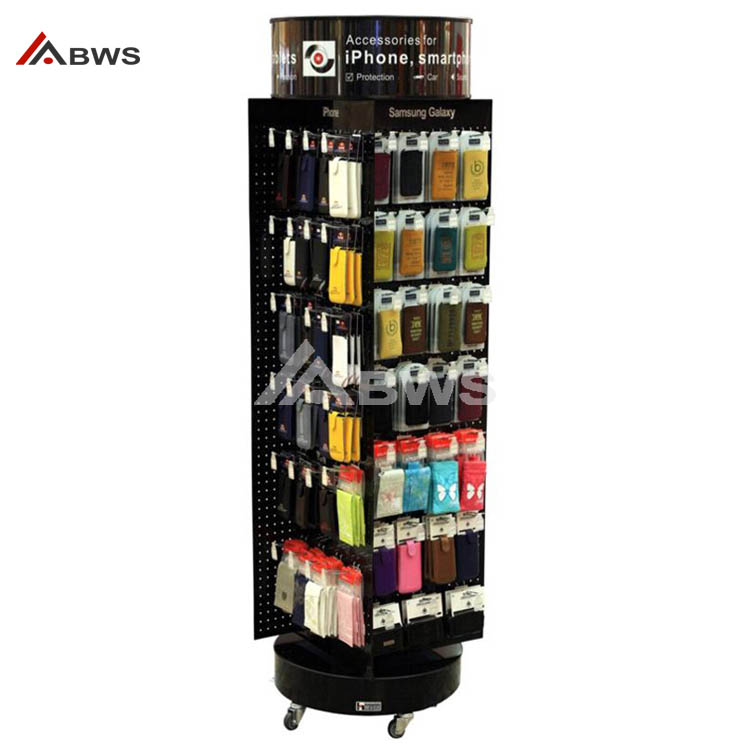 If you need more designs or start your project with us, please contact Jessie by mailing to jh@bwsdisplays.com, and we will reply to you within 24 hours.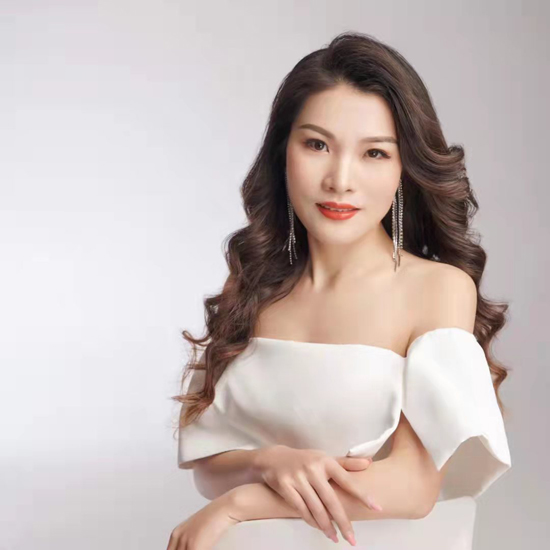 jessie huang
Love what we do and do what we love! Enjoy life, enjoy working in BWS DISPLAYS.