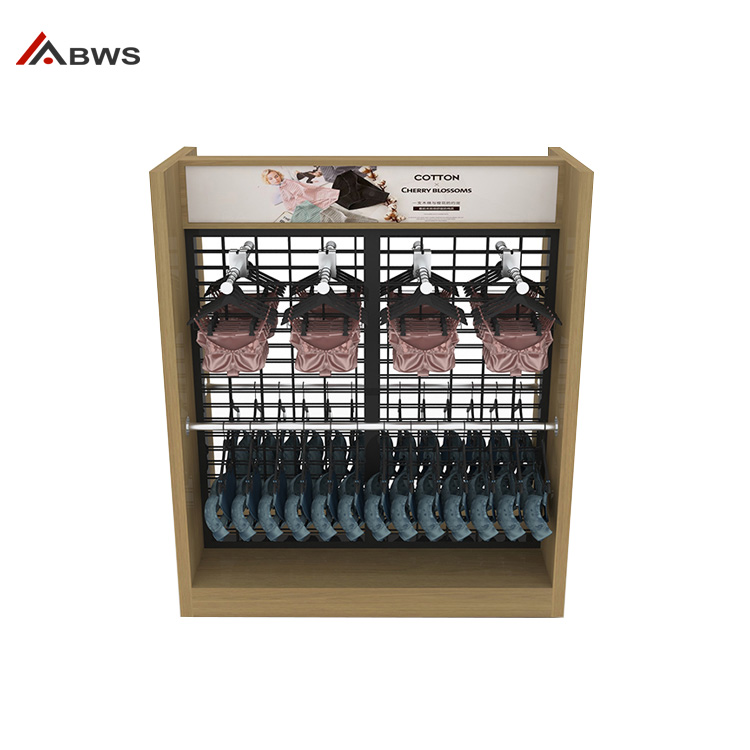 Innovative 2-way Underwear Display Stand For Clothing Stores
Order(MOQ):50
Payment Terms:EXW, FOB Or CIF
Product Origin:China
Color:Wood, black
Shipping Port:Shenzhen
Lead Time:30 Days
Service:Customization Service, Lifetime After-sales Service.
How to display underwear?
A custom underwear display stand is a nice choice for displaying underwear with brand logos and graphics for retail stores and shops. It is different from underwear mannequins, underwear display stand can showcase much underwear at the same time. You can find underwear display stands common are used in lady's undergarments shops and clothing retail stores.
There are many ways to display underwear, including wall-mounted racks, mannequins, custom display racks, display stands, display cabinets, display shelves and more. Different display ways give a different shopping experience to shoppers. Mannequins work as models, but they can only display one set, but custom displays can be the best complement.
Intimate Underwear products can be divided into four major product segments, namely, bras, underpants, sleepwear and loungewear, shapewear and others. In 2020, the global Intimate Underwear market size was US$ 81250 million and it is expected to reach US$ 139290 million by the end of 2027, with a CAGR of 8.0% during 2021-2027.  And underwear products have a short lifetime as they should be replaced around 3-6 months. So there is a big market for underwear retailers. Today, we share with you an underwear display stand that we designed.
What are the features of this underwear display stand?
This underwear display stand is made of wood, metal and PVC graphics. The frame is wood, and the middle panel is metal grid. It is a free-standing display stand that can display underwear on double sides. The steel bars for hanging are detachable, and you can use them to meet different display needs. Custom graphics are on the top and two sides, which show the material and features of the underwear. The finishing of the wood parts is painted, while the metal parts are powder coating black. This underwear display stand is steady and very nice for boutiques and retail stores.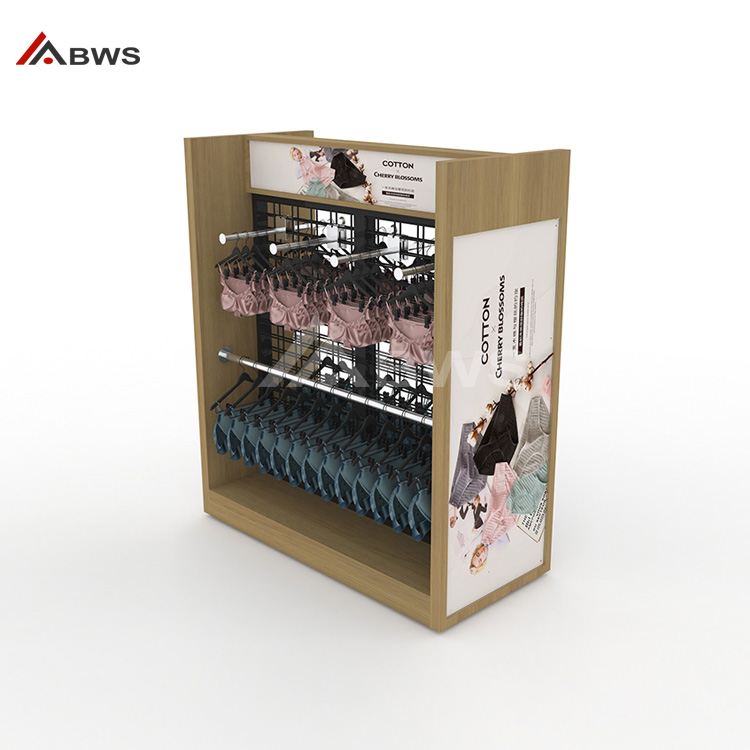 How to make an underwear display stand?
It is easy to make a custom underwear display stand if you work with BWS Displays. We are a factory with professional design teams and international project managers.
The most important thing is that you share with us your requirements in detail, such as what kind of displays you are looking for, a rough drawing or a reference picture, even a display idea, how do you like to display your underwear or lingerie, our team will give you the right display solution based on the specification of your underwear and work out a design with rough drawing and 3D rendering with and without your products for your confirmation.
This is the display stand with underwear in front.
This is the right side of the display stand, custom graphic on the side.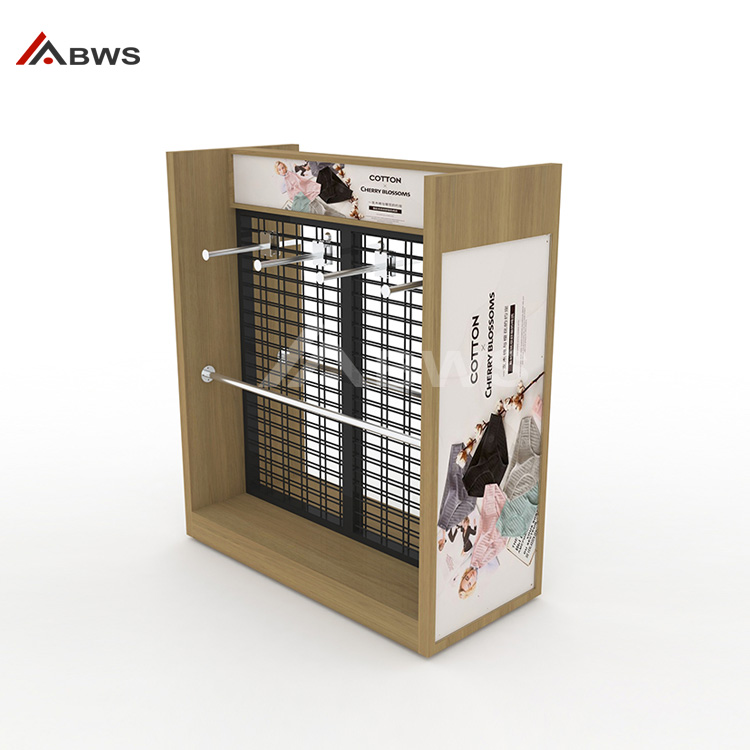 This is the display stand without underwear, you can see the construction better.
Secondly, if you are satisfied with the design, and we can move to a sample. If you need to modify the design, it is ok, we will update the design according to your change. Until you confirm the design, we will make a sample for you.
We make custom displays in different materials, wood, metal, acrylic, cardboard, PVC and more, so we can make the mixed material display for you which make full use of the material to be cost-effective and visual merchandising.
Thirdly, when the sample is finished, we will assemble and test the sample. We measure the dimensions, check the construction, function, stability, and finishing, to make sure everything is ok. We take photos and videos, we will send them to you. You decide whether you need to ship the sample to you. It takes 5-7days to finish the sample, another 5-7days for express.
Fourthly, when the sample is approved, and then we will arrange the production which takes around 20-25days. The same as what we do for the sample, we will assemble and test the displays before packing. Knock-down package saves packing cost and shipping costs, so we always design displays with knock-down construction for floor-standing displays. For countertop displays, they can be assembled.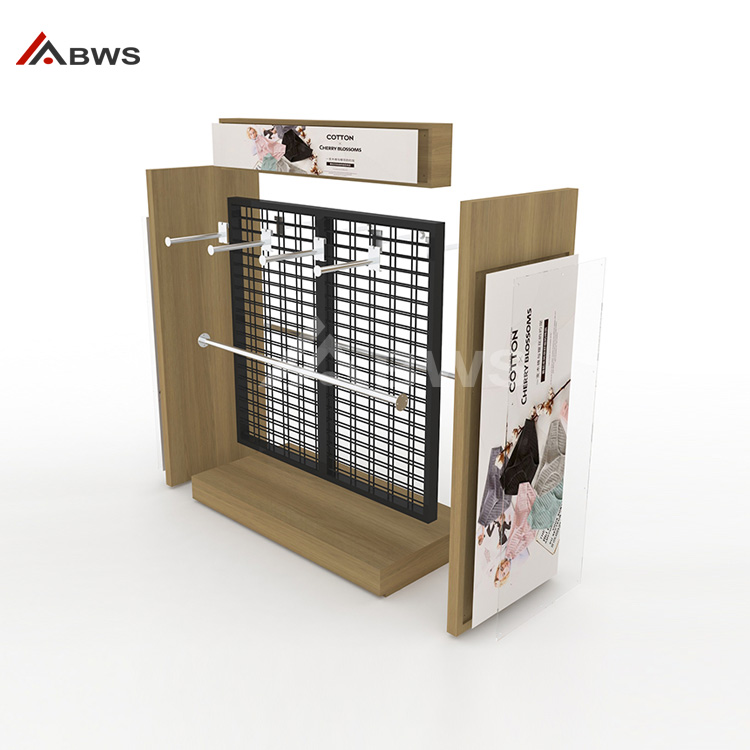 Fifthly, we will arrange the shipment for you after packing safely (we make different packages according to the material, construction, and size of the displays, we will make double cartons and put them on pallets if necessary), our aim is that displays are safe and sound during the transportation.
What custom displays have we made?
Here are 6 designs we have made for your reference, we are a factory of custom displays. The displays work for different industries.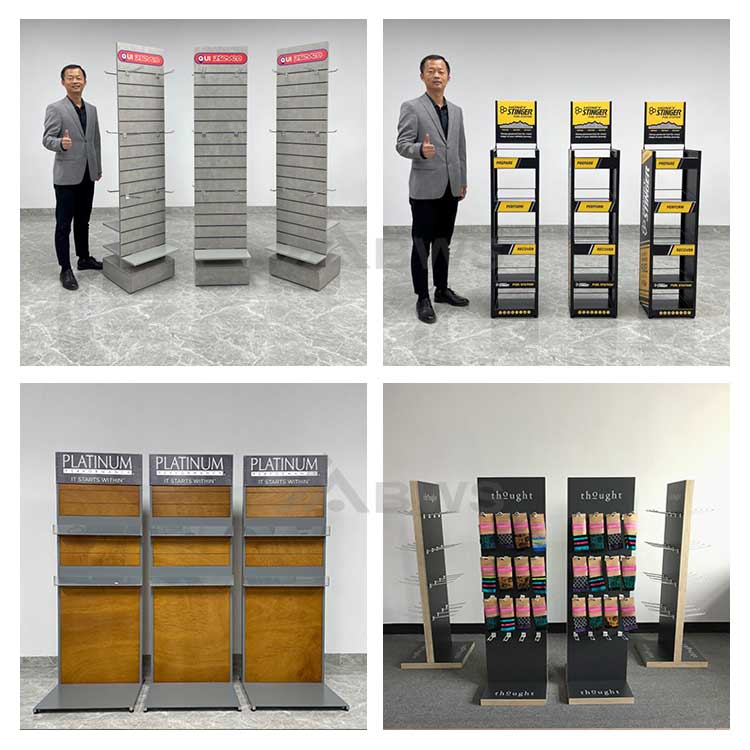 If you need help getting a display idea, please feel free to contact us. Here we share with you more designs for reference.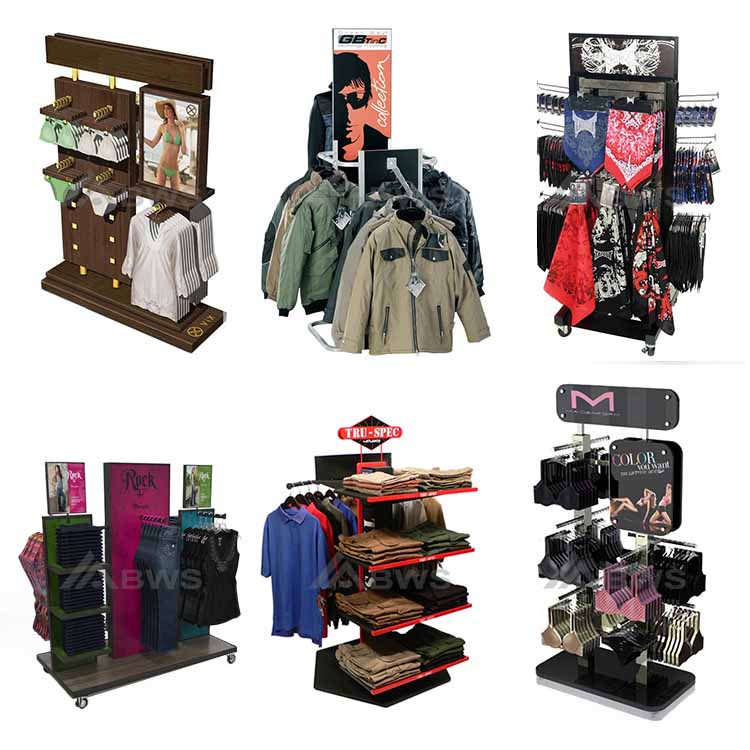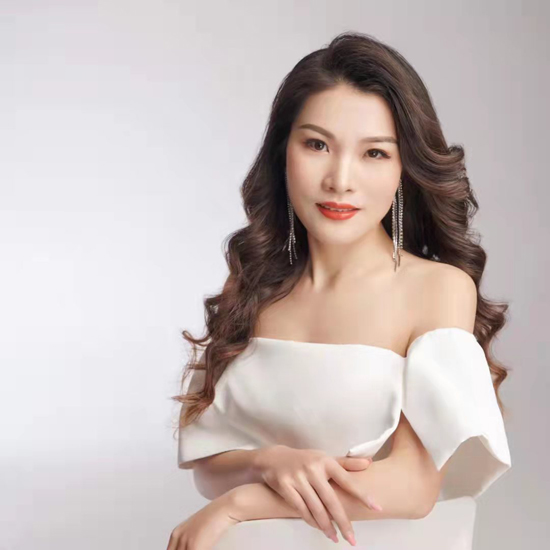 jessie huang
Love what we do and do what we love! Enjoy life, enjoy working in BWS DISPLAYS.