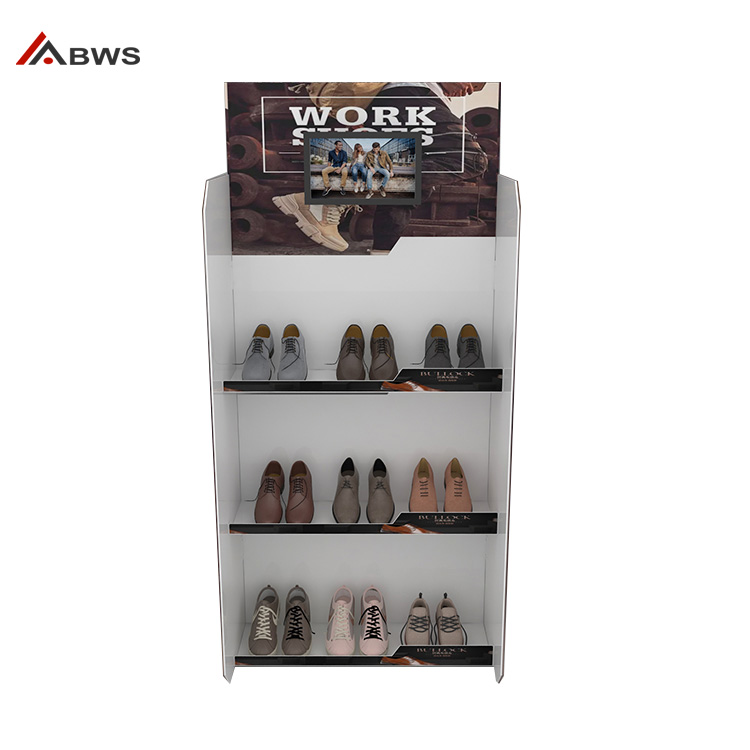 Efficient 3-Tier Shoe Display Stand With Digital Player
Order(MOQ):50
Payment Terms:EXW, FOB Or CIF
Product Origin:China
Color:White
Shipping Port:Shenzhen
Lead Time:30 Days
Service:Customization Service, Lifetime After-sales Service.
How to display shoes?
A custom shoe display stand is one of the merchandising displays to inspire attention and encourage impulse purchases. In fact, every inch of space in a retail store counts when displaying merchandise. If potential customers can't see it, they won't buy it. Compared to wall-mounted displays, a shoe display stand is more helpful to achieve its brand merchandising goal. They can group the shoes by style to show off your selection rather than spreading the shoes around the store.
BWS Displays is a factory of custom displays for more than 10 years in China, we produce shoe displays for retail stores, shoe display stands for shops, shoes display racks, and retail shoe displays, they showcase, sandals, running shoes, boots, flipflops, slippers, sports shoes, high heel shoes and other footwear products.
To promote your shoes, one of the most effective ways is to put your product on display from the best angles and use videos to indulge and educate consumers about your products. Today we share with you a shoe display stand we made which is with the digital player.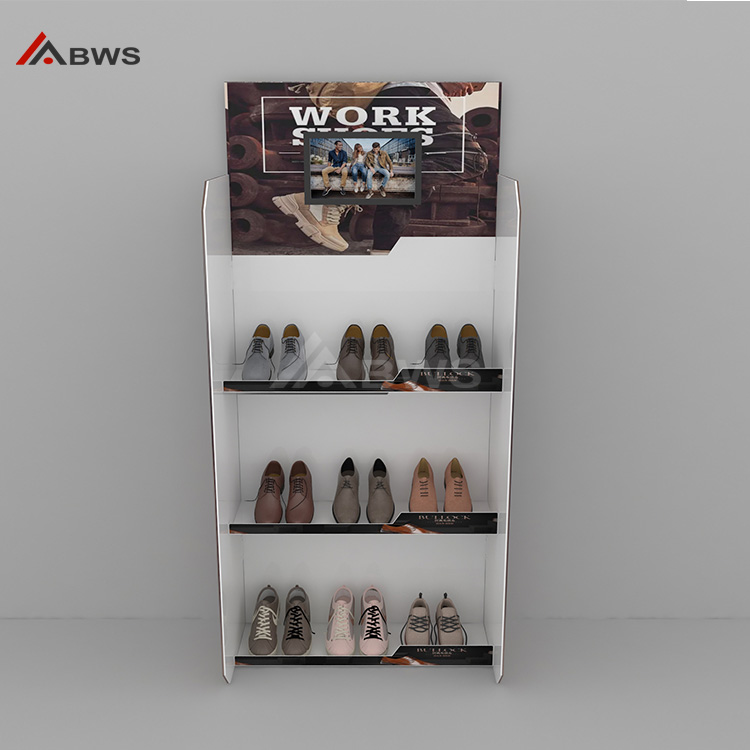 Why did we design this shoe display stand with a digital player?
The digital player makes it easier to stream and deliver impactful multimedia content to your intended audience. It can show the buyer what material your shoes are used, how the shoes are made, what are the features of your shoes, and what the shoes look like when they put them on, how to take care of the shoes, and so on. It also will create a reliable feeling for the shoppers. So we designed this shoe display stand with a digital player, it is more than brand merchandising.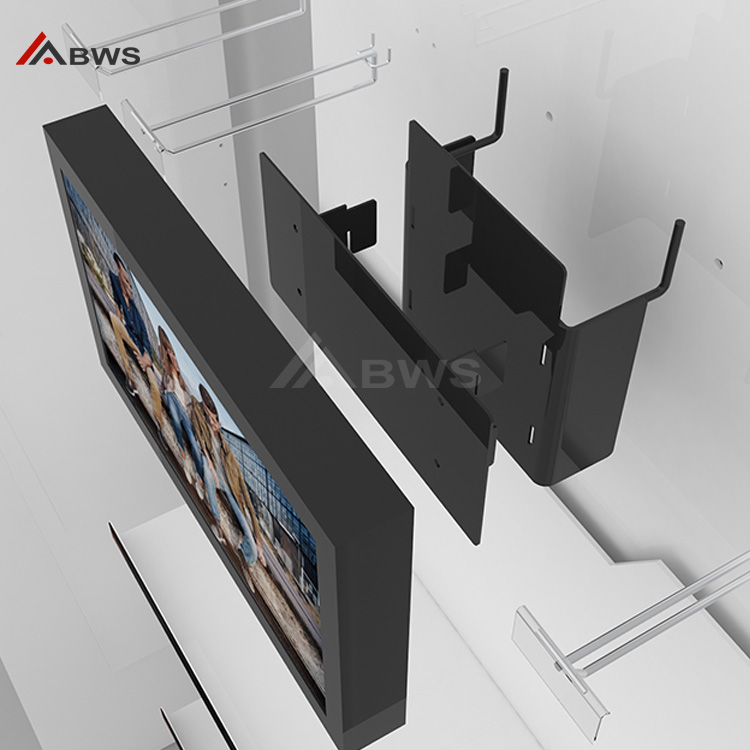 This photo shows how the digital player is added to the display stand. And hooks can be added to hang accessories or socks.
What are the features of this shoe display stand?
As we mentioned above, the most important feature of this display stand is a digital player. This is a free-standing display stand in 3 layers, it can display at least 3 pairs of shoes in each layer, no matter for work shoes or leisure shoes. In order to build the brand, we add graphics on two sides and front layer barriers, and a big graphic with a digital player on the top. As the shoes are not so heavy, the display stand is made of white acrylic, and there are clear acrylic shoe risers on each shelf.
Besides, the shoe display stand can be combined to meet different display needs.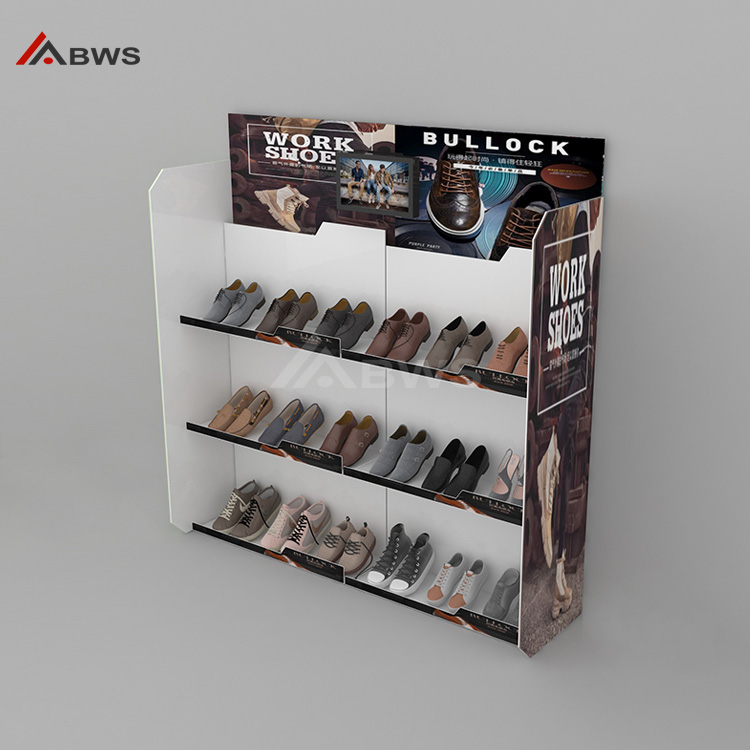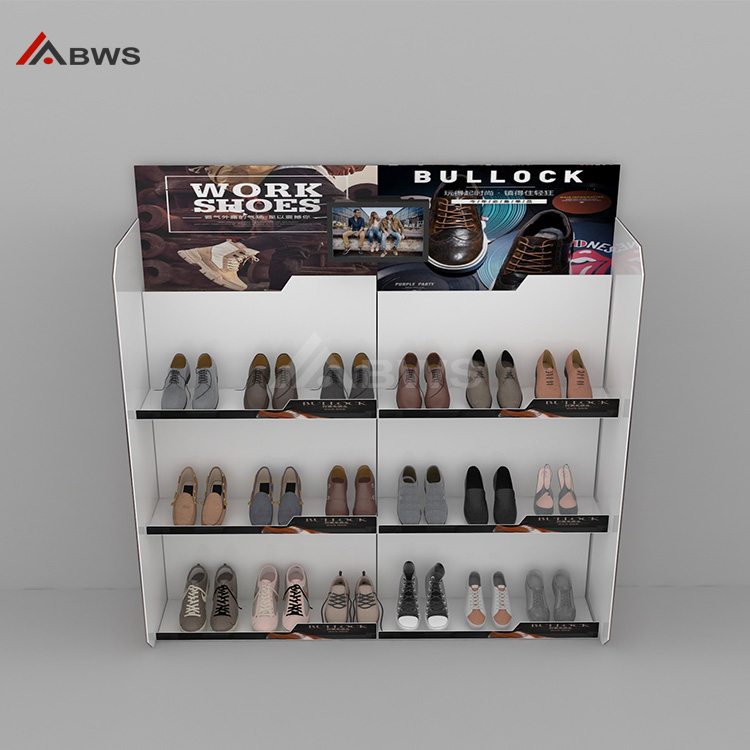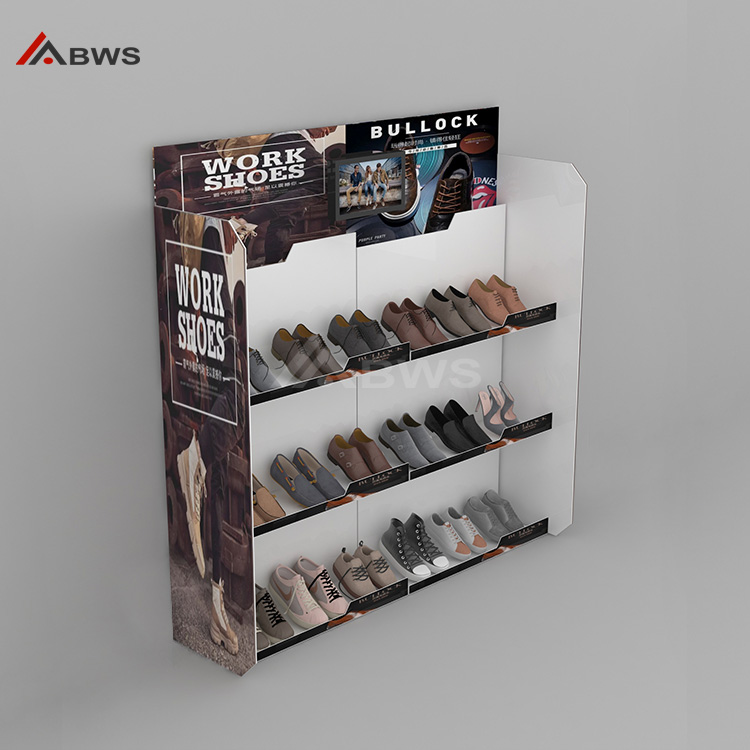 How to make a custom shoe display stand?
People love shoes! Whether they love shoes because they protect their feet or because they just look cool, shoppers are always in search of new kicks. And the revenue in the Footwear market amounts to US$94.53bn in 2022. The market is expected to grow annually by 3.60% (CAGR 2022-2025), so using custom shoe display stands to increase your sales is important.
It is not complicated when you start your custom shoe displays at BWS Displays.
First, we need to know what kind of shoe display you need, freestanding or countertop, and how many shoes are displayed at the same time. You can send us your product's dimensions or pictures,
Second, we know the shoe display rack should be eye-catching, so we added graphics and your brand logo on the display stand. You decide the design, materials to use, the color, the brand logo, the finishing and the package, but we will give you professional suggestions to help you make the decision. Once all details are confirmed, we will send the rough drawing and 3D drawing with shoes on for your reference.
Thirdly, after the design is approved, we will make a sample for testing, and we arranged mass production only the sample is satisfied. We take care of details during the production, assemble the shoe display stand, and test the function.
At last, we made a safety package by adding foam to protect the shoe display stand.
Is it easy to assemble the shoe display stand?
Yes, it is. we will provide customer Assembling Instructions in detail. First, you need to check all parts lists to make sure all the parts are included. And follow the steps to assemble the display stand. We designed the shoe display stand to be knock-down, which saves package costs and shipping costs.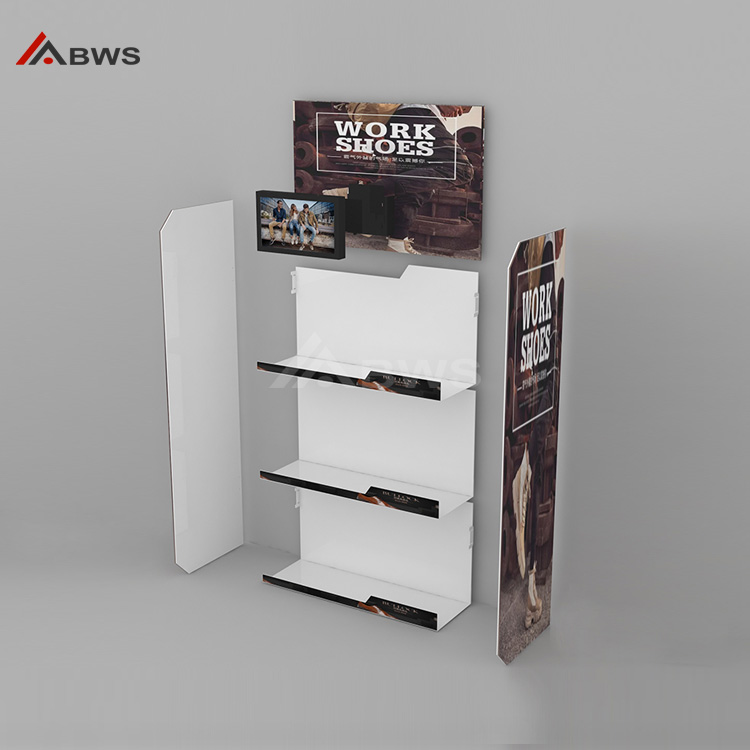 Shoe display stands in stores
Below you can see that the shoe display stands will work well in stores.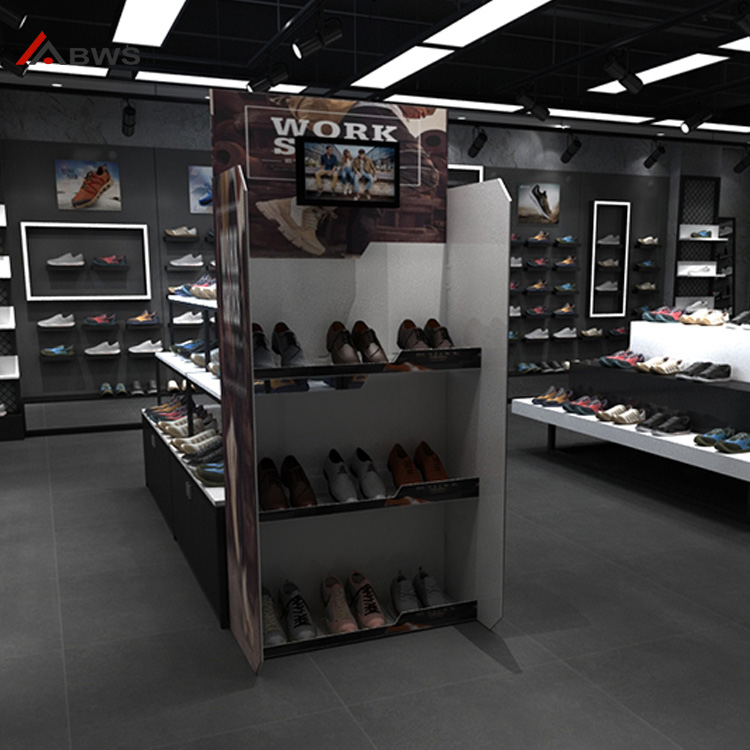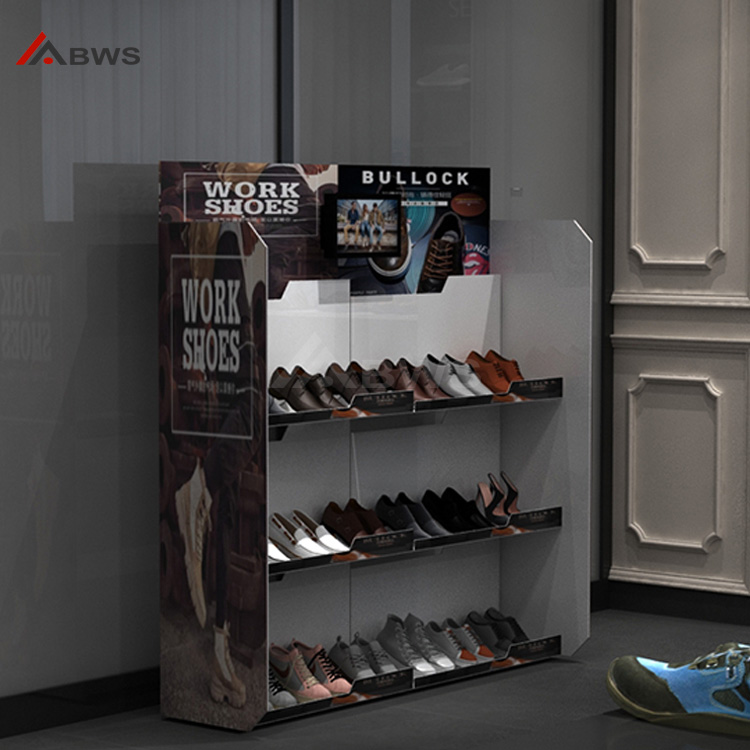 Here are other designs for your reference
If you do not know what kind of shoe display you like, maybe below designs will give a shoe display idea. Or you can contact us to get more designs or suggestions.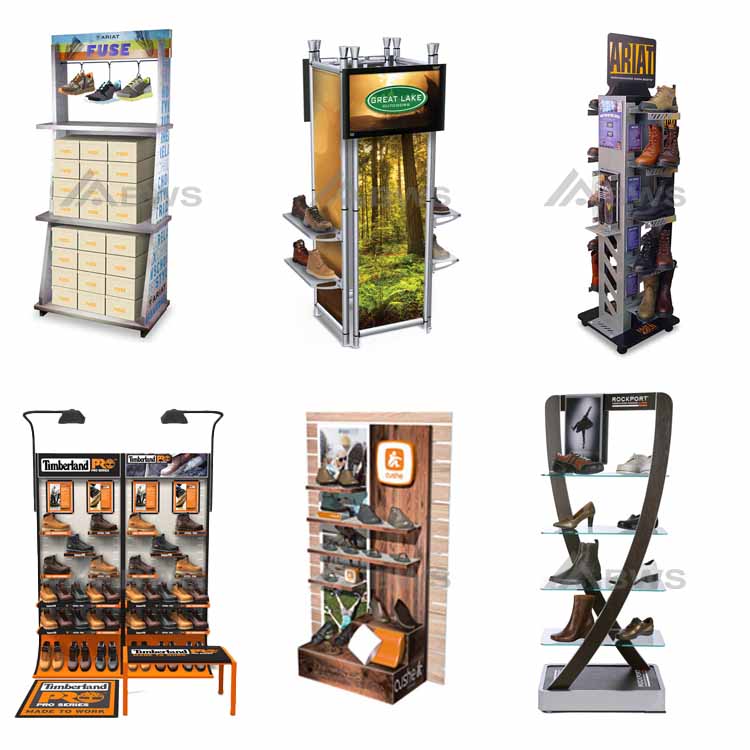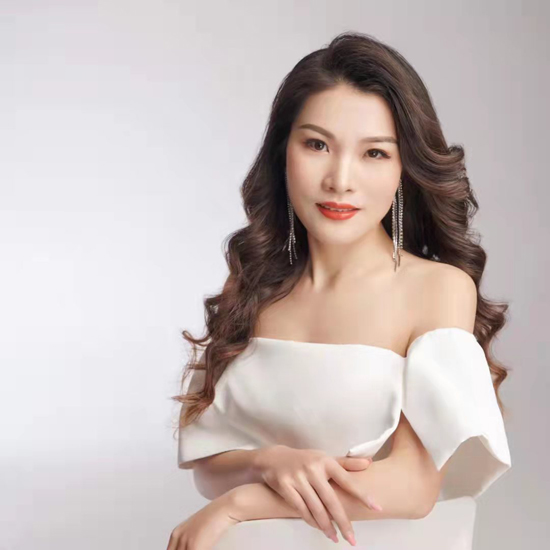 jessie huang
Love what we do and do what we love! Enjoy life, enjoy working in BWS DISPLAYS.