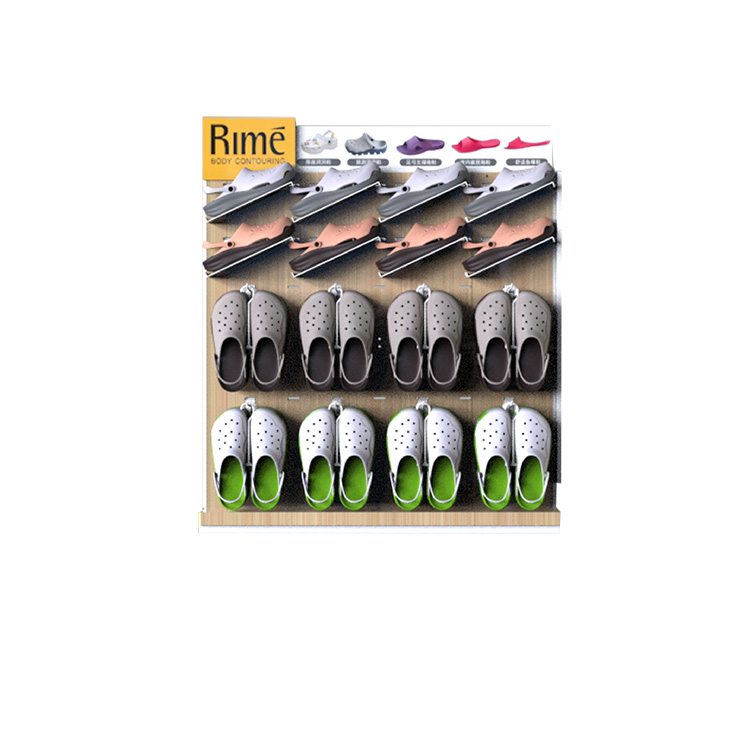 2-way Wooden Shoe Display For Stores Creative Floor Standing Display
Order(MOQ):50
Payment Terms:EXW, FOB Or CIF
Product Origin:China
Color:Wood, white
Shipping Port:Shenzhen
Lead Time:30 Days
Service:Customization Service, Lifetime After-sales Service.
Shoe displays that BWS made are customized to fit clients' shoes and brand culture. There are various styles of shoes for different occasions, such as athletic shoes, dress shoes, sandals, and boots. The global footwear market size was estimated at USD 387.74 billion in 2022 and is expected to grow at a compound annual growth rate (CAGR) of 4.3% from 2023 to 2030. Shoe displays are an essential tool for any retailer looking to showcase their footwear products in a visually appealing and organized manner.
Shoe displays for stores include metal displays, acrylic displays, wood displays, and combined material displays that are designed to accommodate different types of shoes, from high heels to sneakers. It is an economical way to showcase your shoes and sell more pairs by using custom shoe displays for stores. Today, we are going to showcase a wooden shoe display for stores, brand stores, and supermarkets visual merchandising.
What are the features of this shoe display?
This is a double-sided shoe display for stores' showrooms. It is made of wood and metal, which is stable and durable. There are two rows of shoe shelf holders, a total of 8 shelves to hold shoes.  4 rows of 8 metal pegs for hanging sneakers under the shelves. All the shelves and pegs are detachable. Custom brand graphics are on two sides, and the brand logo Rime is on the head which shows the features of the shoe products and gets more attention. This shoe displays for stores' showrooms merchandising.
This shoe display can showcase more than 50 pairs of shoes at the same time which takes a small footprint. The size of this shoe display for stores is 1150*80*1350 mm, while it is a knockdown design, it can be knocked down to 2 cartons. But it is easy to set it up by following the assembly instructions we provide. Here are more photos of this display for your reference. Of course, you can customize it according to your needs, no matter the size, shape, color, shape or graphics. Our core competence is custom displays.
The process of making a shop display for stores?
Below is the process we made this slipper display, it works for your brand shoe display too.
The buyer sent us an inquiry regarding a shoe display. He told us that he needed to showcase his slippers in big chain stores. There are different sizes of slippers to be showcased, from size 22 to 43, for kids, women, and men. He wanted the shoe display can showcase 40 pairs of shoes at the same time. After knowing the weight of their shoes and his basic requirements, our salesman gave him some reference designs we made and suggested he use wood and metal materials to make his display stand. The reason is that wood and metal are strong and durable.
To meet the requirement of showing shoes in different ways, we recommended pegs and shelves, shelves can hold shoes, and pegs can hang shoes.  As POP displays, we need to showcase the features of the shops. Understanding the point of sale of the shoes, we added the brand logo and graphics on the sides and top that are shown on the 3D rendering we made for the client before making a sample.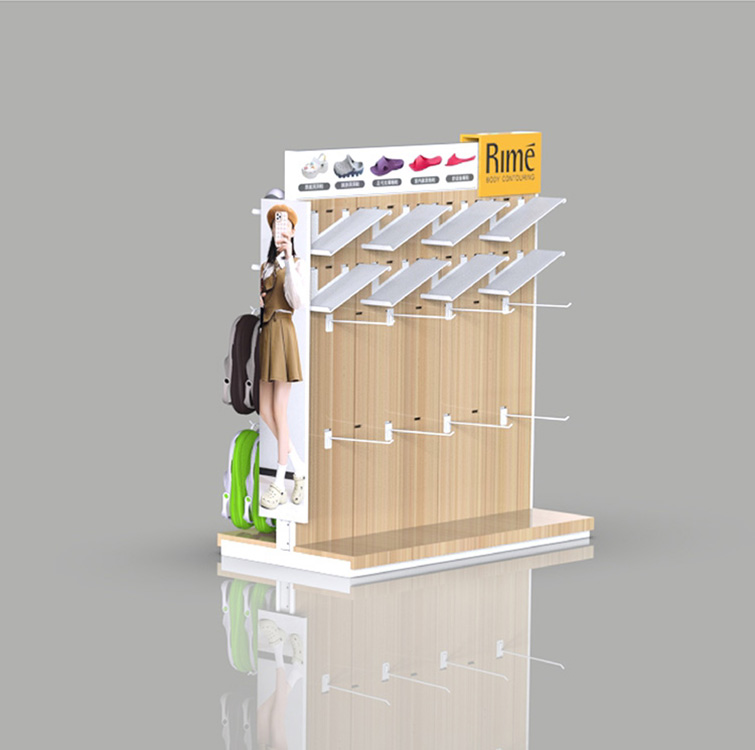 After the buyer confirmed the design and then we made a sample for him. He was happy with the sample and placed an order. We spent 25 days finishing the production. He has cooperation partners in China, that's why you can see the below photos.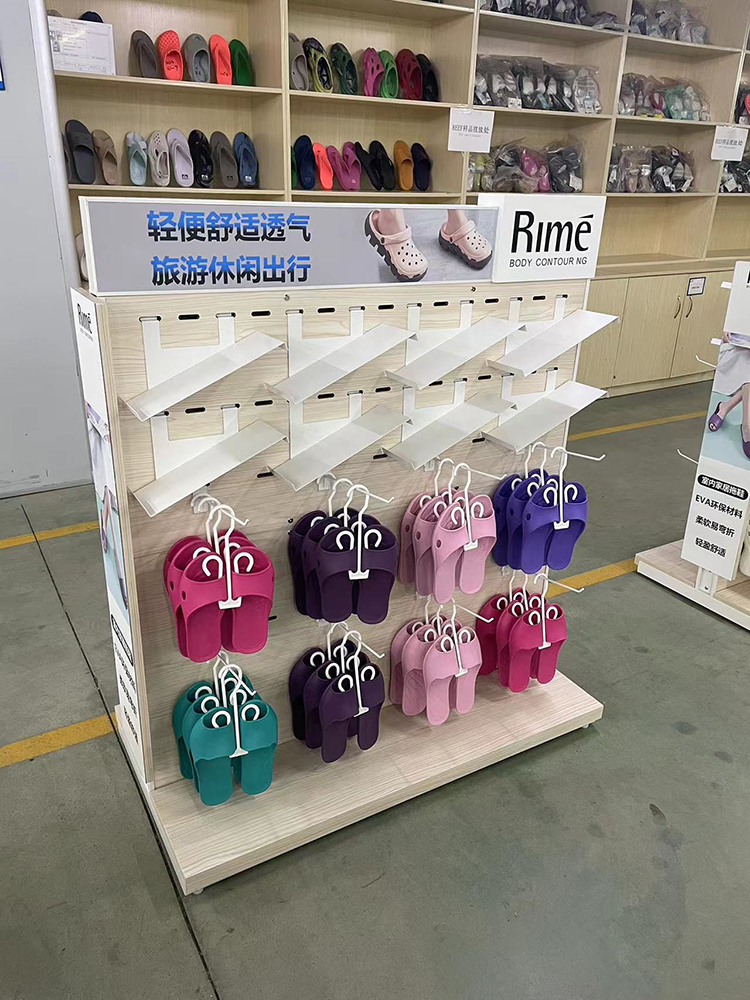 The feedback we got from the buyer, it is nice when the shoes are added on.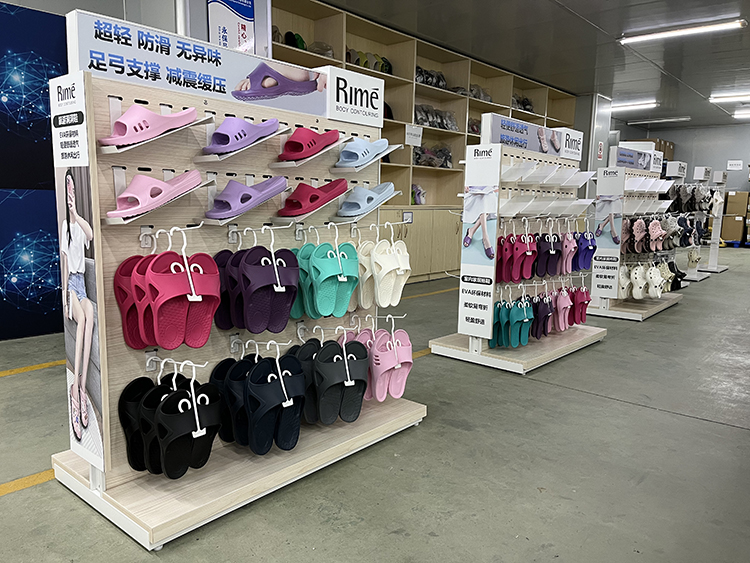 If you have any questions or want to try a custom shoe display for stores, please feel free to contact us now. We will do our best to provide you with satisfied service and quality displays to meet your needs. Here are other displays for your reference which may help you get an idea to make your brand displays.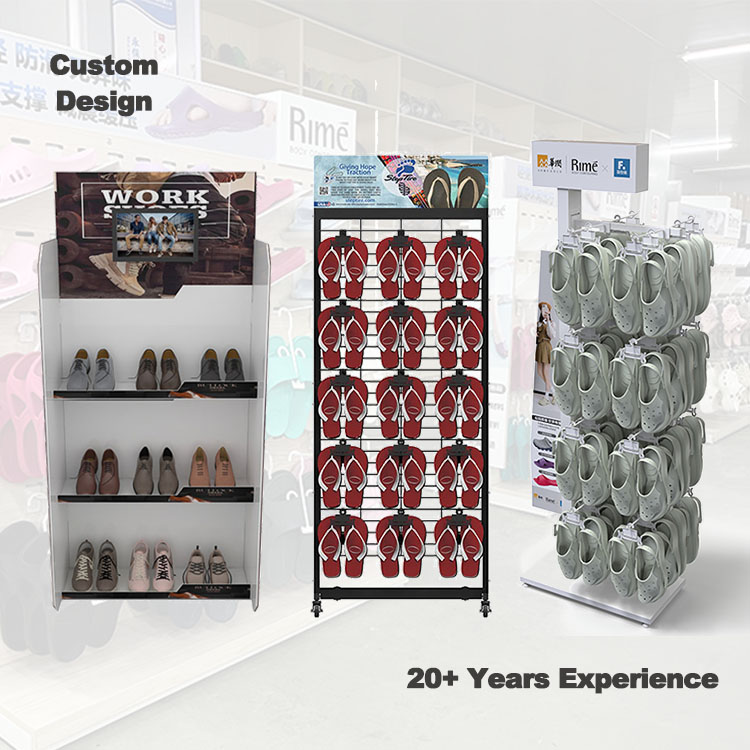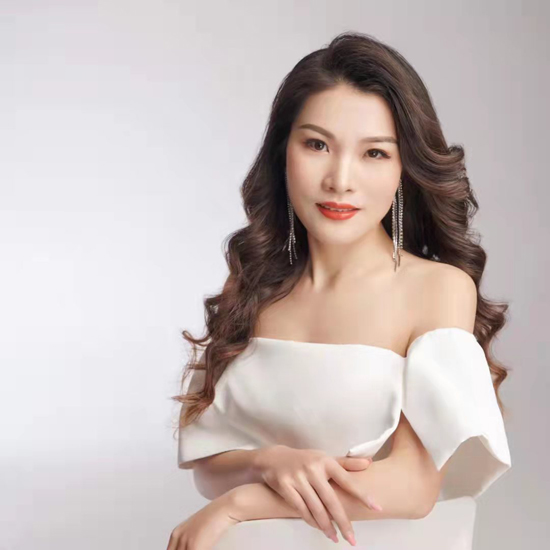 jessie huang
Love what we do and do what we love! Enjoy life, enjoy working in BWS DISPLAYS.