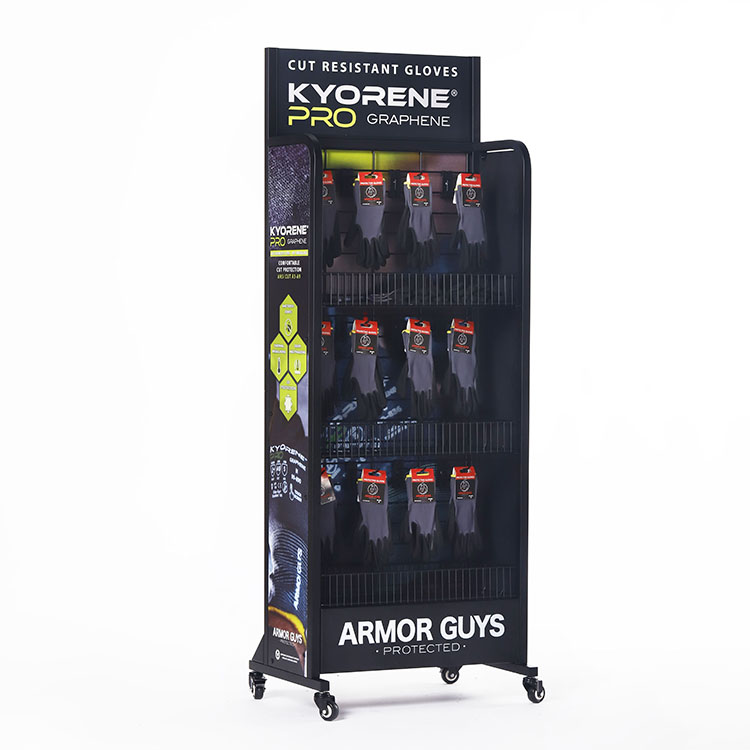 3 Metal Baskets Glove Display Movable Create Cool Shopping Experience
Order(MOQ):50
Payment Terms:EXW, FOB Or CIF
Product Origin:China
Color:Black
Shipping Port:Shenzhen
Lead Time:30 Days
Service:Customization Service, Lifetime After-sales Service.
What does glove display do for you?
Glove Displays include floor glove displays, countertop displays, and wall-mounted display units. No matter what kind of glove display fixture you use, custom brand display racks will dramatically change how customers perceive your store and boost sales. Why?
A well-organized glove display can create an attractive and professional look for your store. Not only does it showcase your attention to detail, but it also exudes expertise. Customers who see gloves neatly arranged and displayed are more likely to trust your store to have quality products. By using a vertical display, you can display more gloves without taking up valuable floor space. You can also schedule showcases to showcase popular or featured products, etc.
Today we are sharing a movable floor glove display stand with you.
What are the features of this glove display stand?
This is a floor-standing glove display stand we made for Armor Guys, Kyorene Pro is the brand logo. Kyorene Pro® raises the bar for hand protection. Free of stainless steel and fiberglass, Kyorene Pro® is the only range of gloves to offer an array of features in one product that benefits the wearer like nothing before.
As you can see from below photo, this glove display stand is made of metal with nice black powder, it is strong and of good quality, which matches the gloves, cut-resistant gloves. Besides, there are 12 hooks and 3 baskets for gloves, it has a large capacity and all the hooks are detachable. The back grid wall panel is with PVC brand graphic, which is for brand merchandising, so do two sides, customized graphic shows the features of the gloves and where to use them. In order to give a friendly experience to shoppers, the back wing is with R corner.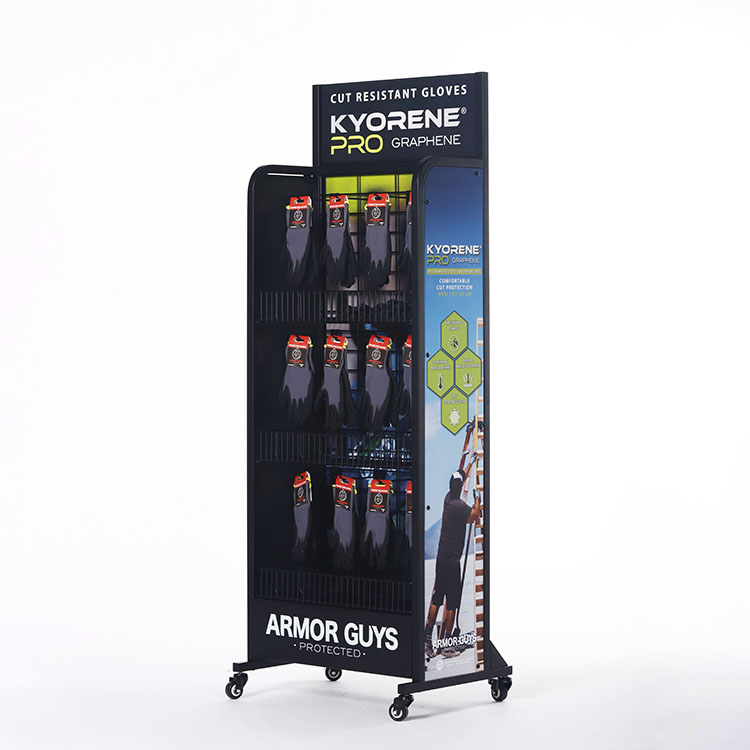 Furthermore, both the header and the base of this glove display stand are screen-printed brand logos which shows the gloves are cut-resistant and protect your hands. There are 4 casters under the base, so it is easy to move around to meet different display requirements. As for the packaging, it is knocked down, which saves shipping costs. But it is easy to assemble as we provide Assemble Instructions in the carton.
Below are more photos of this glove display stand.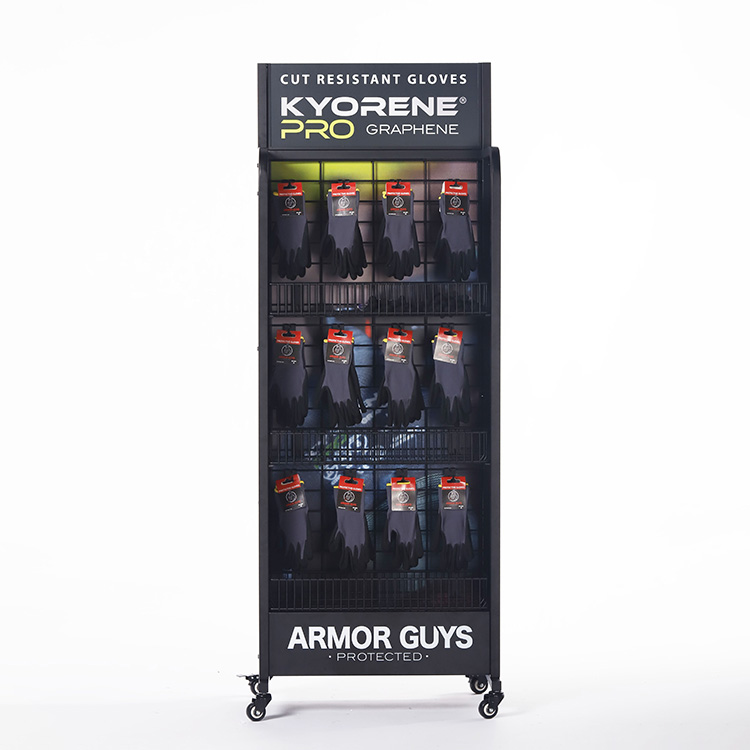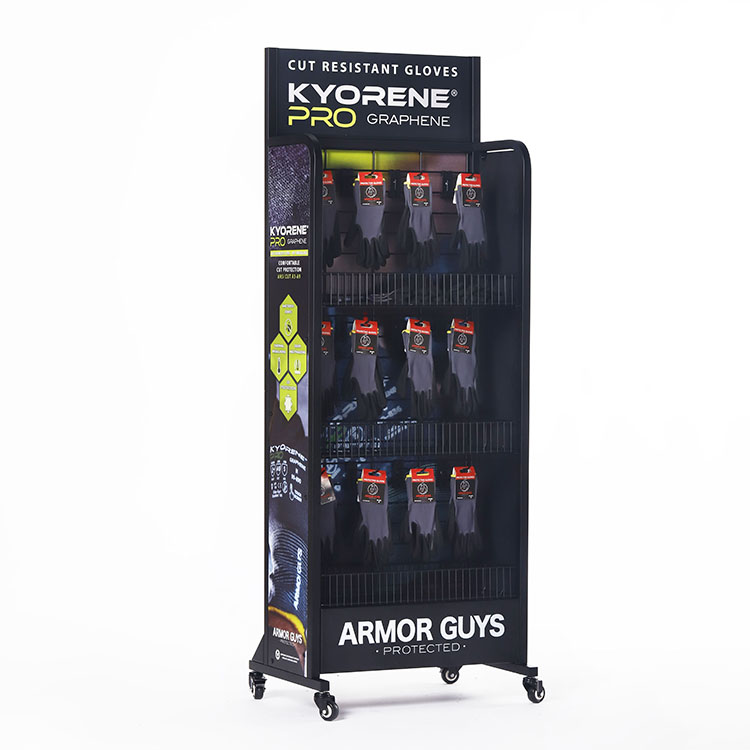 This is one of the customized glove displays we made, you can change the design, size, material, and more. And we shared with you one wooden glove display rack last time. All the displays we made are up to your requirements.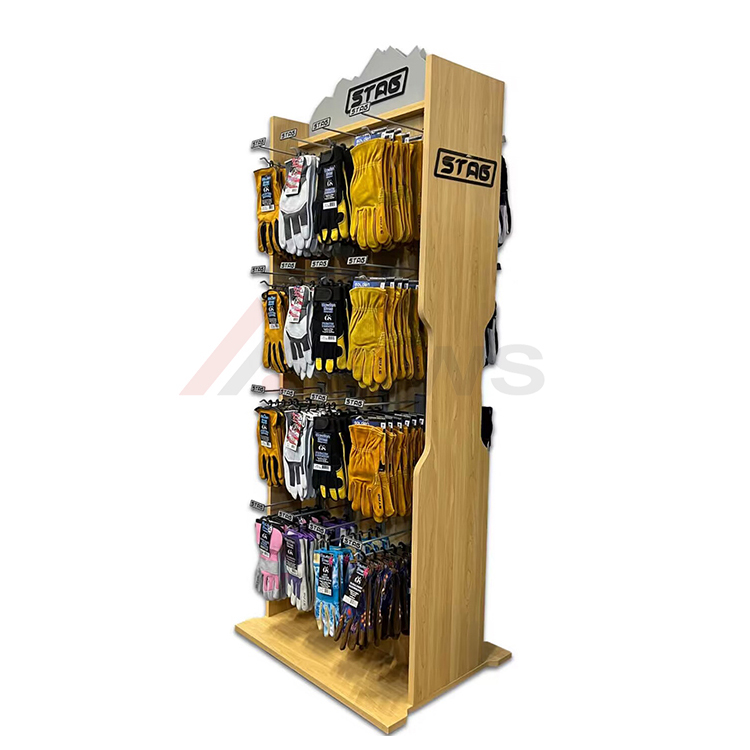 How to make your brand glove display?
It is the same process as we made other custom displays.
First of all, we need to understand your needs, for example, what kind of displays you like, a countertop display rack or floor displays. What material do you like, metal, wood, acrylic, or other materials? How many items do you want to showcase at the same time? Etc.
And the second is to design or modify the design you like. You can send us a reference design or just share your display idea with us, we will come out with the right display solution for you, no matter whether you need a countertop display or a floor display. We will send you drawings from different angles, so you can see what the glove display looks like.
The third step is to make a sample. A  sample is important to check how the displays work for your products, and how the clients think about the sample. Does this glove display match your items?
Only after the sample is approved, we will process mass production. We have a professional team to control the quality and our project manager will update the status for important steps with pictures and videos.
The fifth step is to check the quality and arrange safe packing. We will give you a container layout after you agree with our package solution. Normally, we use foam and plastic bags for inner packages and strips even protecting corners for outer packages, and put the cartons on pallets if necessary. A container layout is to make the best use of a container, it also saves shipping costs if you order a container.
The sixth step is to help you arrange the shipment. We can cooperate with your forwarder or find a forwarder for you. You can compare these shipping costs before you make a decision.
And last is long-term after-sales service. If you have any questions about this display rack or other custom displays, send us an e-mail, and we will give you the right solution within 24 hours.
Above is the process to make your brand display, if you need help with custom displays or need more designs for reference, please feel free to contact us now. We are a factory of custom displays with more than  20 years of experience. We can help you design and turn your display idea into reality. Below are some other designs for your reference.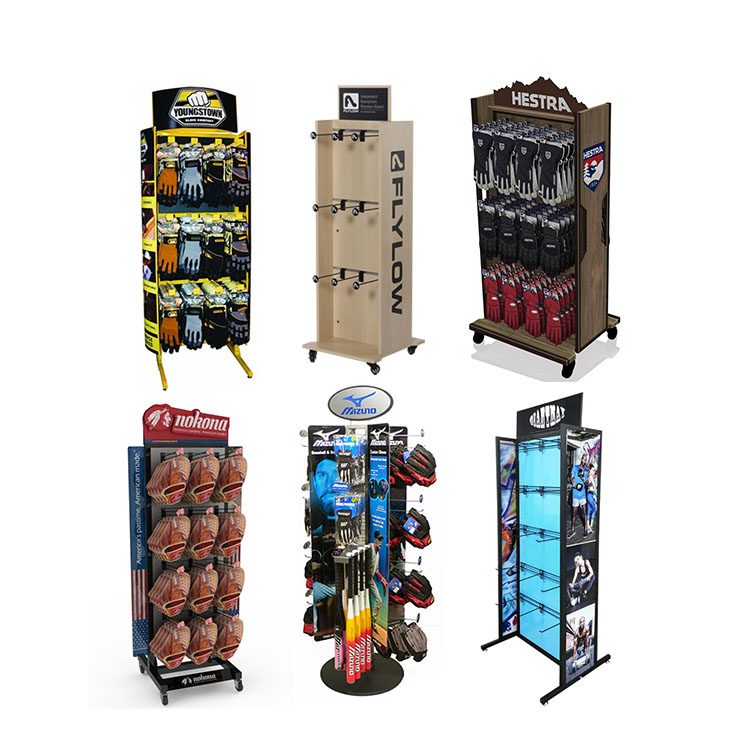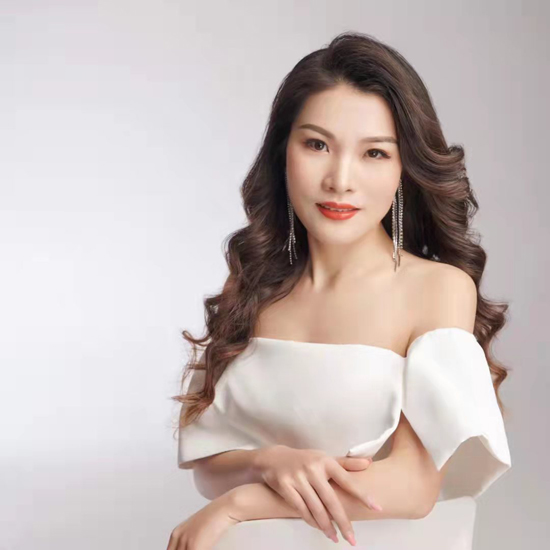 jessie huang
Love what we do and do what we love! Enjoy life, enjoy working in BWS DISPLAYS.