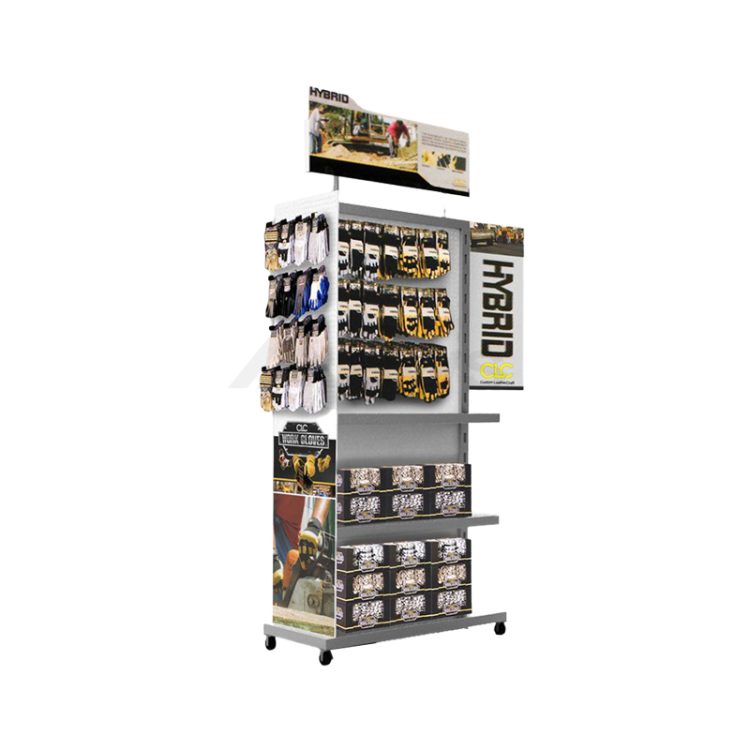 Functional 2-way Glove Display Stand Adjustable Movable For Hybrid
Order(MOQ):50
Payment Terms:EXW, FOB Or CIF
Product Origin:China
Color:Gray
Shipping Port:Shenzhen
Lead Time:30 Days
Service:Customization Service, Lifetime After-sales Service.
What does a glove display stand do for you?
A custom glove display stand is designed to showcase your gloves in an organized and visual merchandising way. It is with your brand logo to impress buyers and increase sales. The global gloves market is expected to gain market growth in the forecast period of 2022 to 2029. Data Bridge Market Research analyses that the market is growing with a CAGR of 9.4% in the forecast period of 2022 to 2029 and is expected to reach USD 47,410.83 million by 2029.
There are many types of gloves, including ski gloves, gardening gloves, work gloves, dress gloves, etc. Custom gloves displays are designed to merchandise gloves in different retail environments where the gloves are sold, such as retail stores, including department stores, mass market retailers, sporting goods stores, hardware stores, and specialty stores.
We are a factory of custom POP displays in China for decades, we have accumulated professional experience, and know how to design a better structure to make the best use of material, but not scarify the quality and nice appearance. So we provide affordable custom displays.
Today we are sharing with you a floor-standing glove display stand that is functional that can be used in different retail spaces.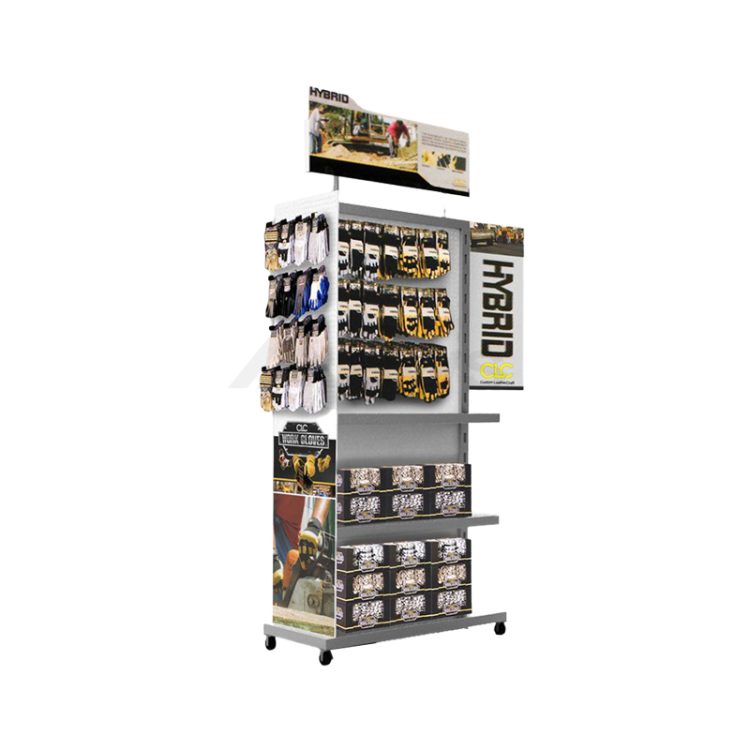 What are the features of this glove display stand?
This glove display stand is designed for Hybrid. It has these features.
1. It is stable because it is made of metal with custom side graphics and an interchangeable header.
2. Informational graphics. Both side graphics and header are sharing where the gloves are used.
3. This glove display stand is functional, it can showcase gloves in different ways. a. There are slots on the back panel, so you can add shelves and adjust them to showcase different safety products. b. There are hooks on the back panel, where you can hang gloves. c. The sideboard is also with hooks for hanging items.
4. Movable. There are 4 casters, so it is really easy to move around.
5. Knock-down design. We provide assembly instructions, so you can assemble it easily.
Of course, all displays we made are customized, you can change the design to meet your display needs, including style, size, color, material as well as brand logo and finishing. Our core competence is custom displays. We have more than 20 years of experience so we know how to make affordable displays without sacrificing quality. Below are two other glove display stands for your reference.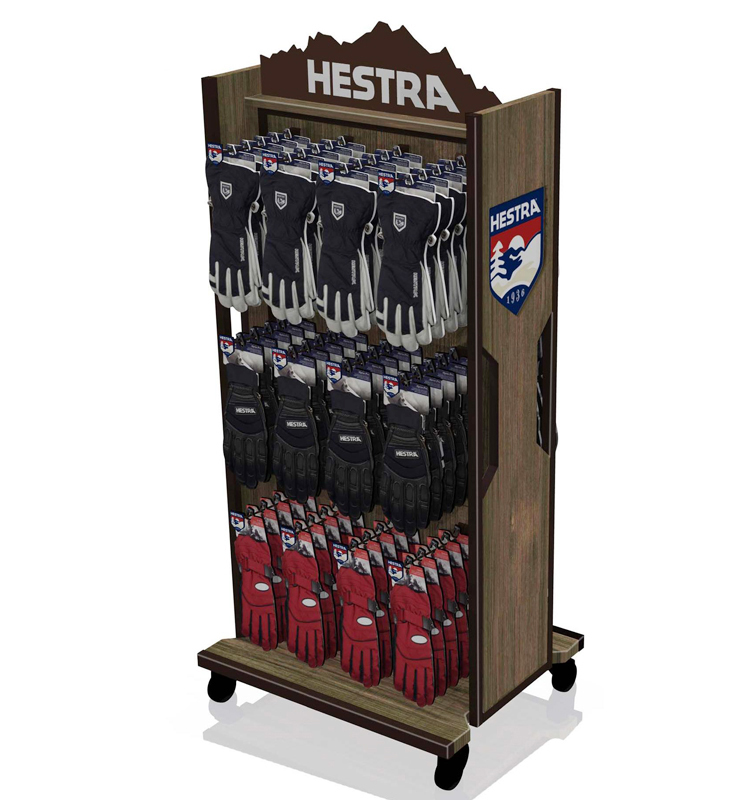 This is a glove display stand made of wood with casters for Hestra. It is also a double-sided.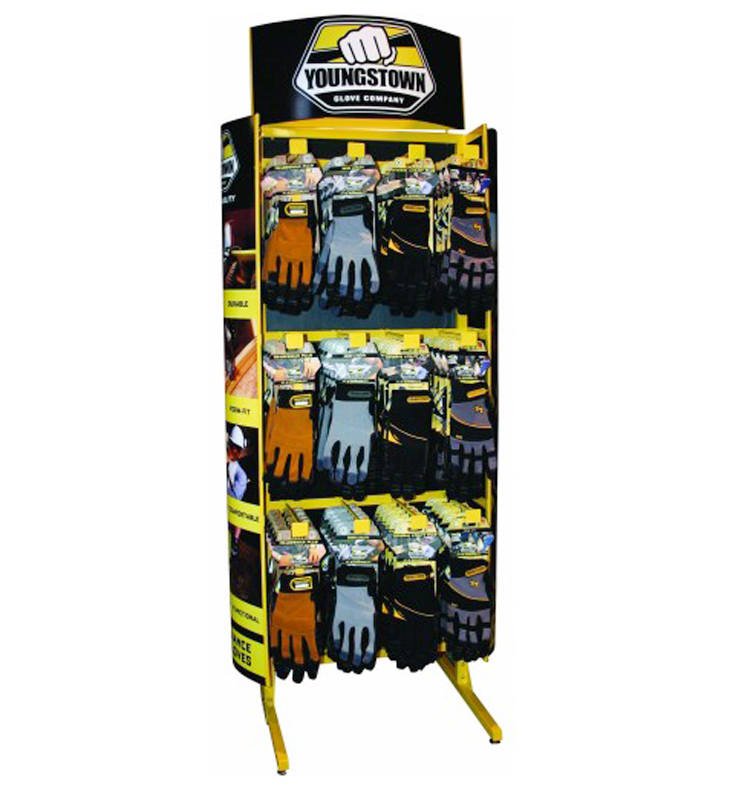 This is a metal glove display stand for Youngstown. It is freestanding with two-wing graphics.
How to make your brand glove display stand?
1. We need to know your requirements first, such as what's the size of your glove in width, height, and depth. And we need to know below basic information.
What's the weight of the glove? How many pieces you will put on the display? What material do you prefer, metal, wood, acrylic, cardboard, plastic or mixed?
What's the surface treatment? Powder coating or chrome, polishing or painting? What's the structure? Floor standing, countertop, hanging. How many pieces you will need for potential?
You send us your design or share with us your display ideas. And we can also make designs for you, too. BWS Displays can customize the design as per your request.
2. We will send you a rough drawing and 3D rendering with products and without products after you confirm the design. 3D drawings to explain the structure more clearly. You can add your brand logo on the glove display stand, it can be stickier, printed or burned, or lasered.
3. Make a sample for you. We will check the glove display stand sample to make sure it is meet your display needs. Our team will take photos and videos in detail and send them to you before delivering the sample to you.
4. Express the sample to you and after the sample is approved, we will arrange the mass production according to your order. Normally, knock-down design is prior because it saves shipping costs.
5. Control the quality and check all the specifications according to the sample, make a safe package, and arrange the shipment for you.
6. Packing & container layout. We will give you a container layout after you agree with our package solution. Normally, we use foam and plastic bags for inner packages and strips even protecting corners for outer packages, and put the cartons on pallets if necessary. A container layout is to make the best use of a container, it also saves shipping costs if you order a container.
7. Arrange shipment. We can help you arrange the shipment. We can cooperate with your forwarder or find a forwarder for you. You can compare these shipping costs before you make a decision.
We also provide photography, container loading, and after-sales service.
Why you can trust BWS Displays?
Bws is a factory for custom displays, we make more than glove display stands, and we have worked with over 3000 clients. Below are 8 designs we have made for your reference.
We have metal workshops, acrylic workshops, and wood workshops with more than 300 staff and 20 engineers. We have worked for Happy socks, Google, Energizer, Oakley, Revlon, and more.
Acrylic displays: Acrylic displays are made of clear plastic, which is clean and easy to showcase products. They can be designed in a variety of shapes and sizes and are often used to display lightweight items.
Wooden displays: Wooden display racks are made of wood and are ideal for stores with a more traditional or rustic aesthetic. They can be designed to match the store's decor and are often used to showcase larger and heavier items.
Metal displays: Made of metal wire or metal tubes or metal sheets, these display racks are stable and strong to display a large number of items.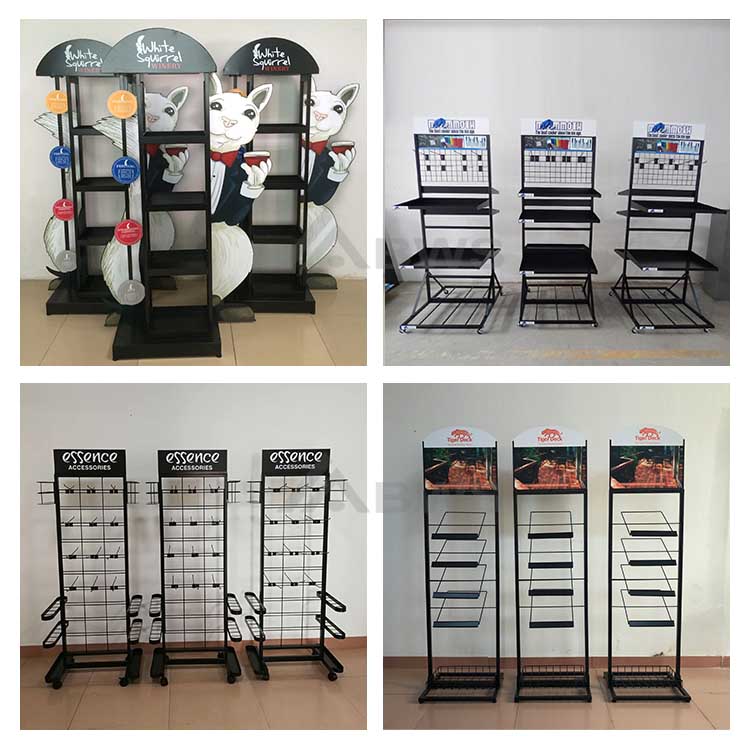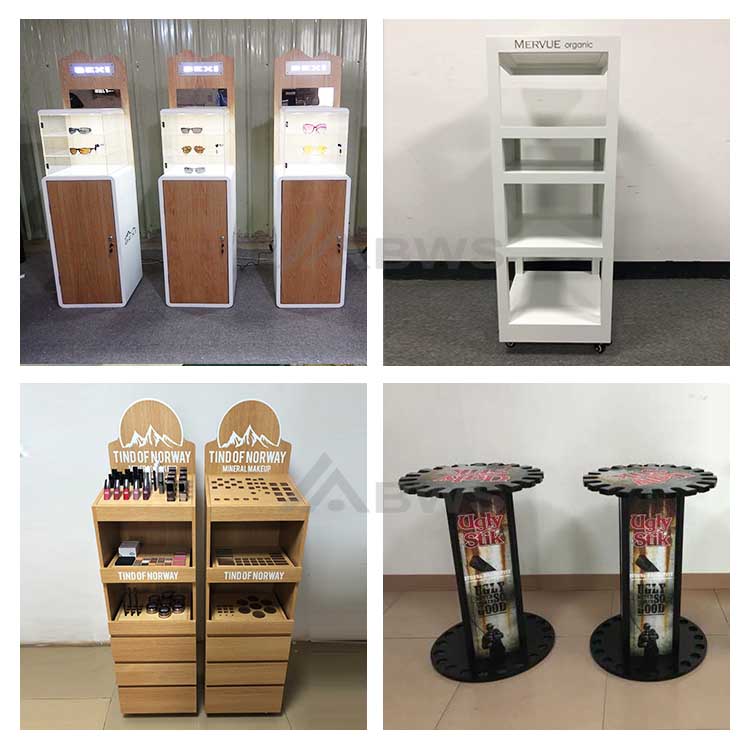 No matter you need countertop displays or floor-standing displays, we can make them for you.
Countertop displays: Countertop displays are compact and designed to fit on a counter or tabletop. They typically feature a compact design with shelves, pegs, or pockets to showcase limited products.
Freestanding displays: Freestanding displays are standalone fixtures that can be placed anywhere in a store. They are often larger than countertop displays and may feature several shelves or compartments for organizing and displaying a large number of products.
You can visit us on Alibaba if you need more designs or more information about glove display stands, contact us now. We will be happy to work for you.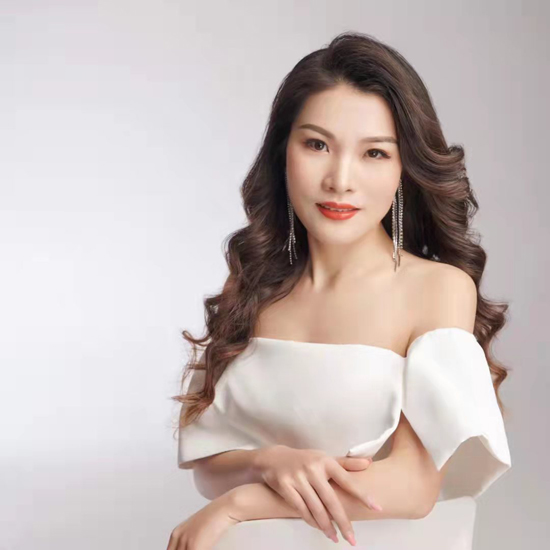 jessie huang
Love what we do and do what we love! Enjoy life, enjoy working in BWS DISPLAYS.