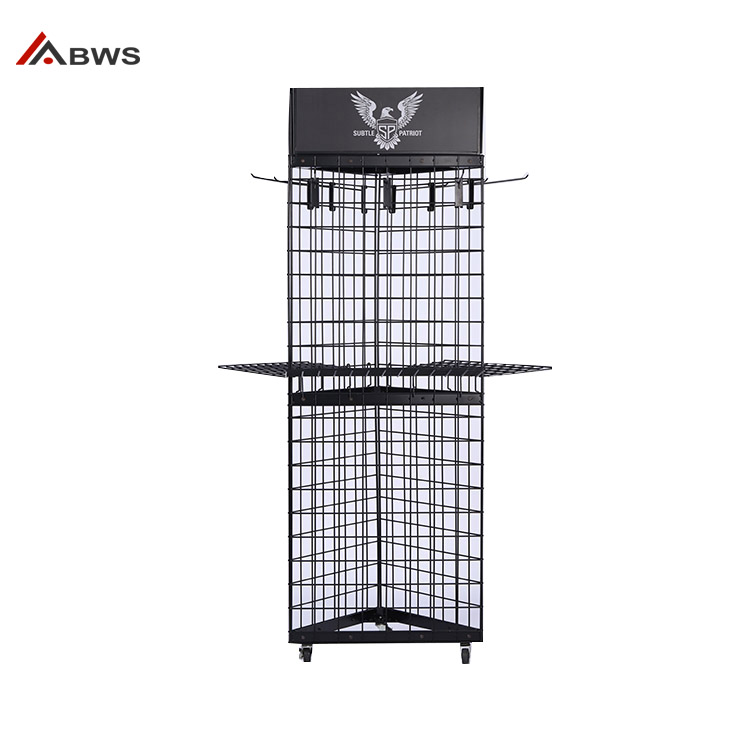 Practical 3-way Customized Bag Display Stand for Bags
Order(MOQ):50
Payment Terms:EXW, FOB Or CIF
Product Origin:China
Color:Black
Shipping Port:Shenzhen
Lead Time:30 Days
Service:Customization Service, Lifetime After-sales Service.
Where is this bag display stand used?
This bag display stand is designed for Subtle Patriot, whose mission is the creation of artistically understated, best-in-class patriotic work, travel, golf, sport shooting and lifestyle collections. Their gear is designed to combine maximum protection and organization with innovative features that function in multiple environments. So this bag display stand works well in retail stores, golf products stores, sports stores, bag stores as well as other retail environments for hanging products if you change the header graphics.
This bag display stand is a 3-way floor standing fixture, it is made of 3 pieces metal grid panels and 3 triangle metal frames. It is easy to be knocked down or put up together. Besides, accessories such as metal hooks, metal shelves can be added. The grid panel makes it convenient for attaching hooks and shelves, and you can add accessories freely to meet different display needs. Except for bags, you also can display many other products, such as gloves, caps, hats, socks and more.
This display is strong and stable, it is powder-coated black. With three casters, it is easy to move around. Silk printed logos are made of PVC, they are fixed by U shape metal tube, they can be changed easily if you want to.
How did we make this display stand?
There are many processes of producing this display stand, while it is not so difficult for us as all work is done in-house. We are a factory with more than 10 years experience.
First, when we got an inquiry from buyer Tom, he told us his requirements. He needed a floor display stand for his stores. His products are used for travel and golf, work and life and more. So needed the display to show more than golf stand bags, backpack, women's tote, fitted hat, runners hat and more.
And he shared his idea for this display and discussed details with our project manager Steven.  After e-mails communication and video call meetings, we finalized this design, which is simple but practical as below.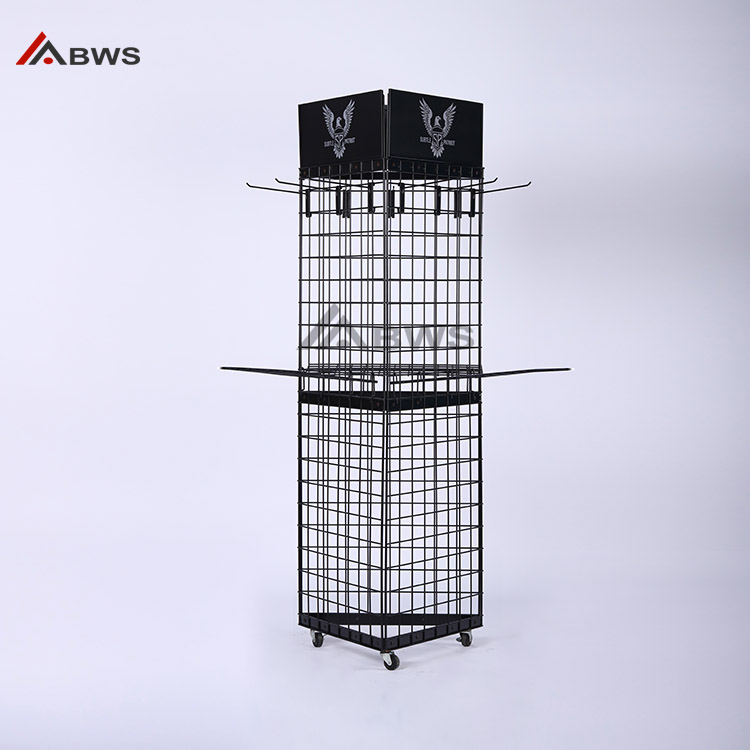 We made a sample for Tom before mass production. We cut metal wires to the same height and welded them together to make grid panels and grid shelves. Our experienced worker bent wires to make hooks and powder-coated this bag display stand in black.
Tom was on a business trip in China, we invited him to pay a visit to our factory. When he arrived, he shared with us how he started his business. He loves his country and honors the person who has worked for the military.
He assembled and confirmed the sample with Steven at the office, you can find more information from below video.
Tom was satisfied with what we have made for him.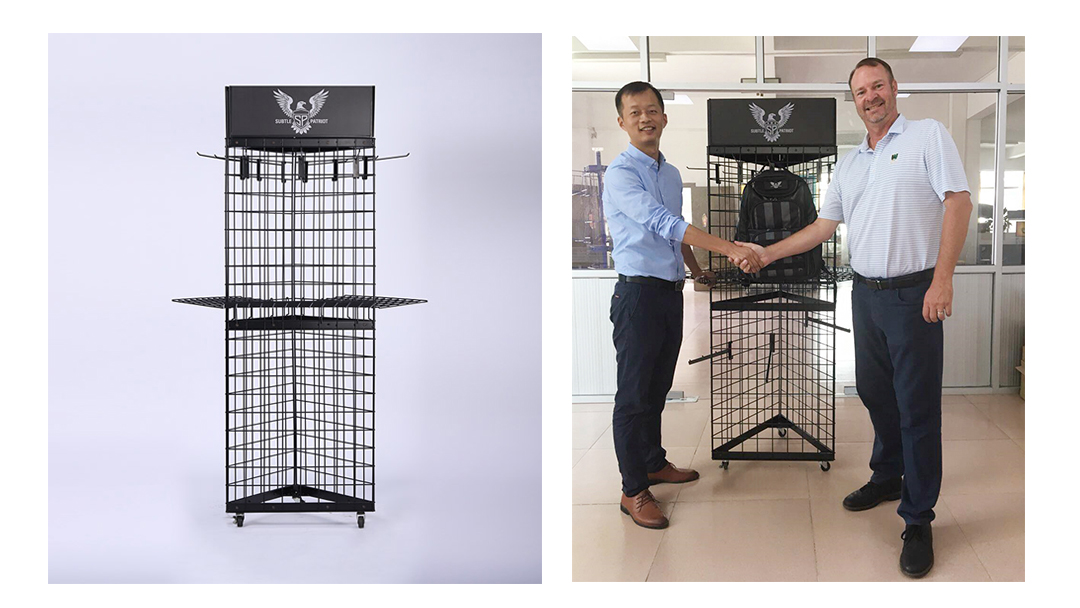 Here are more photos of the display stand. You can view more details.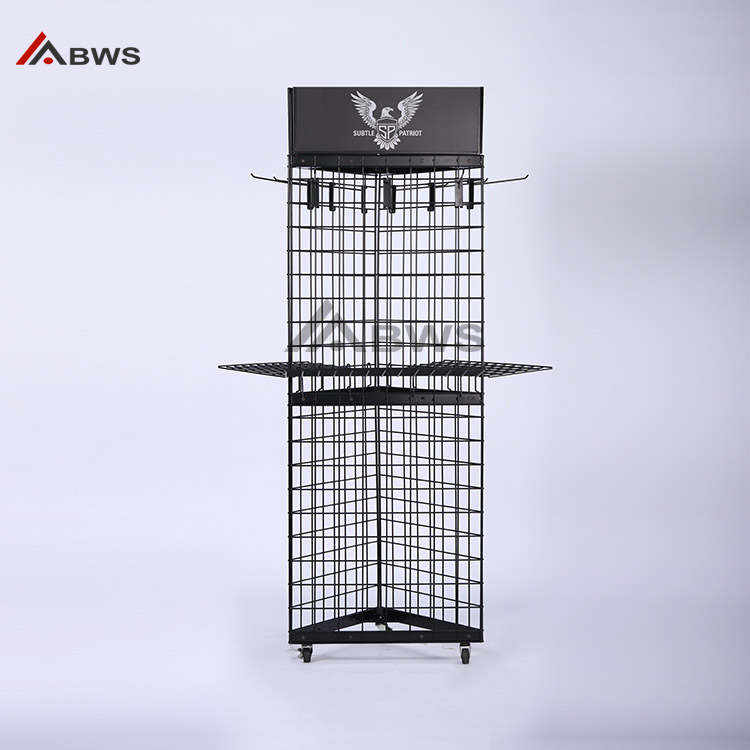 This photo shows the overall appearance, which is nice and movable.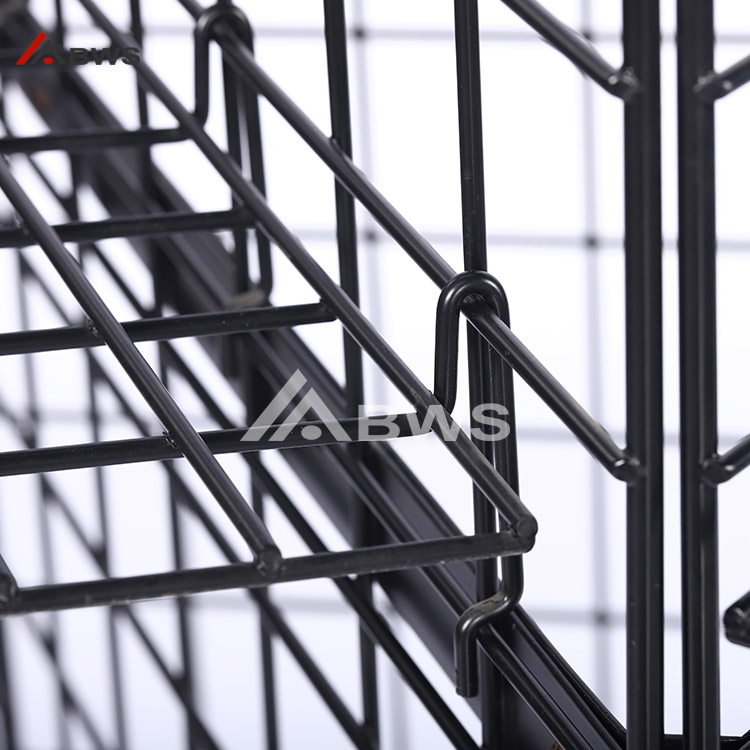 This shows how the metal grid shelves hang on the grid panel. They are easy to hang on and take off these shelves.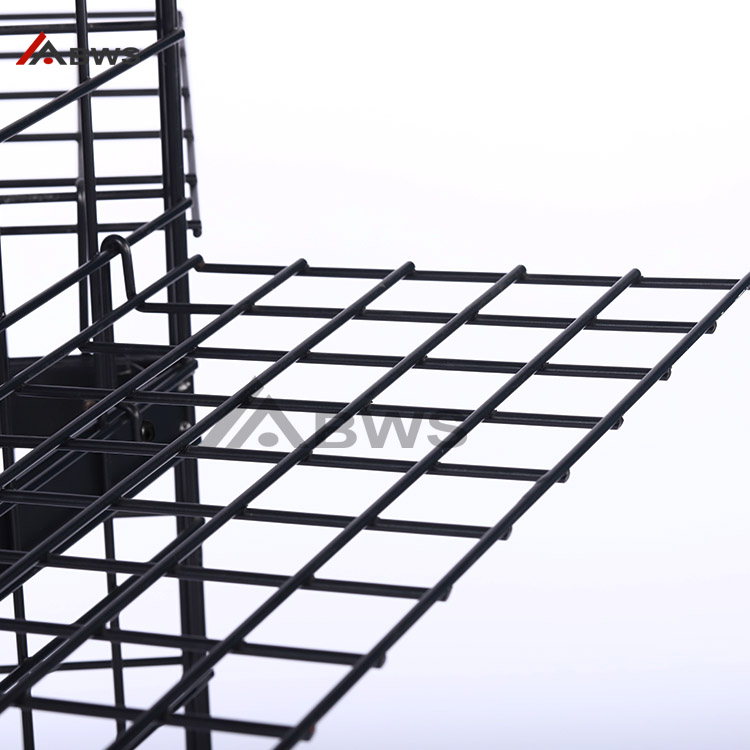 This shows how the metal hooks hang on the grid panel. They are easy to hang on and take off too. And custom logos are fixed with U shape metal tubes.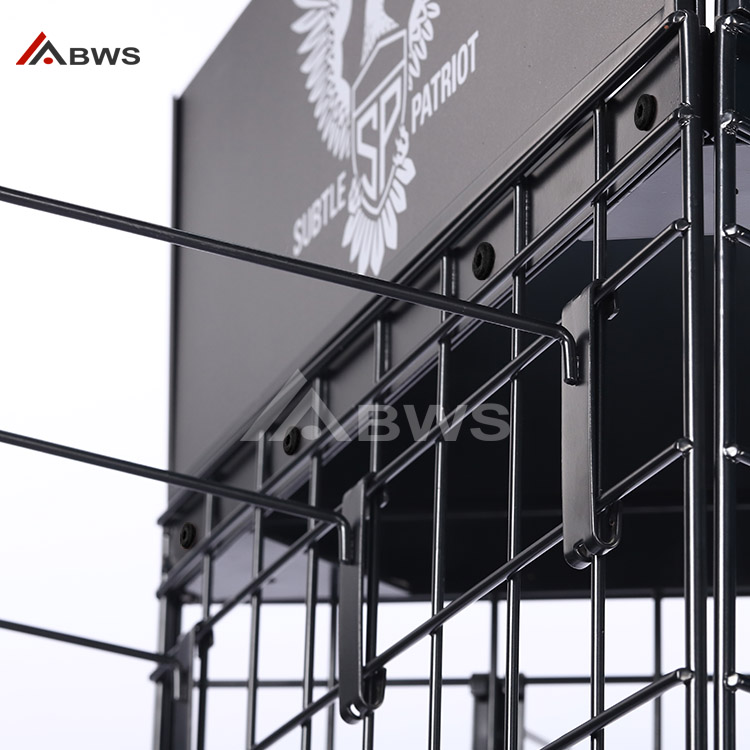 The welding is nice, so does the finishing.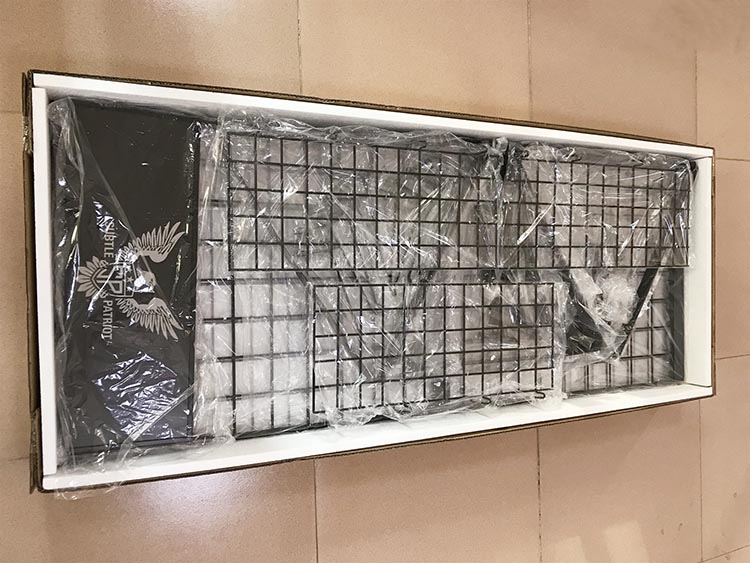 Above is how the bag display stand is packed, we used foam as an inner protector.
Here are 2 photos to show how the display stand works in stores.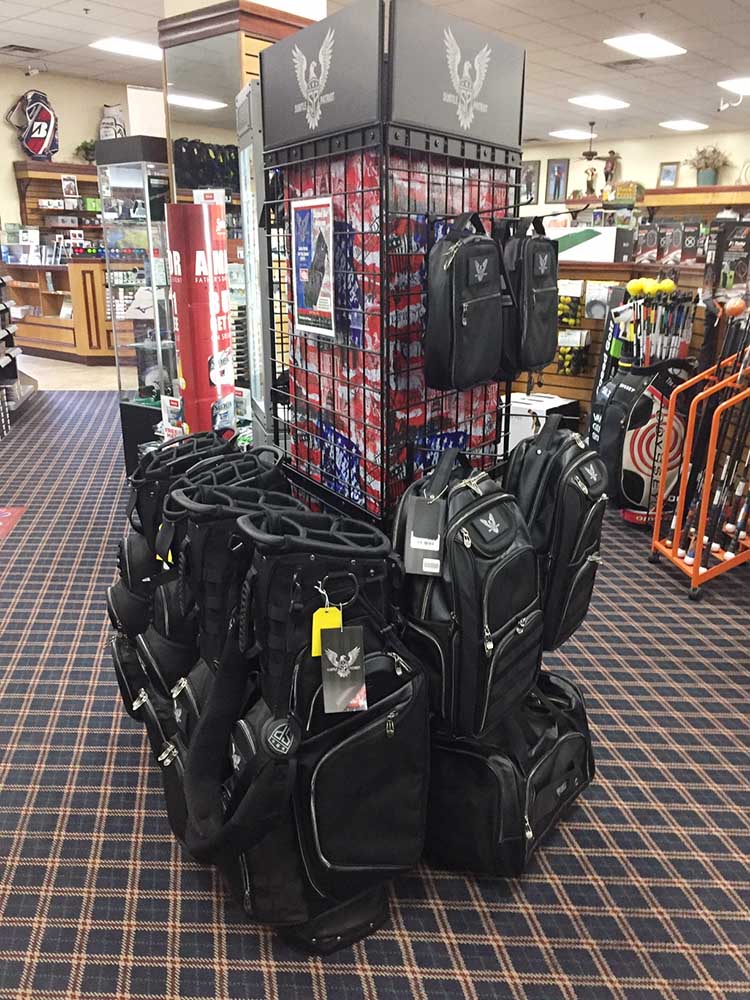 From this photo, you can see the golf stand bags, backpacks are well displayed.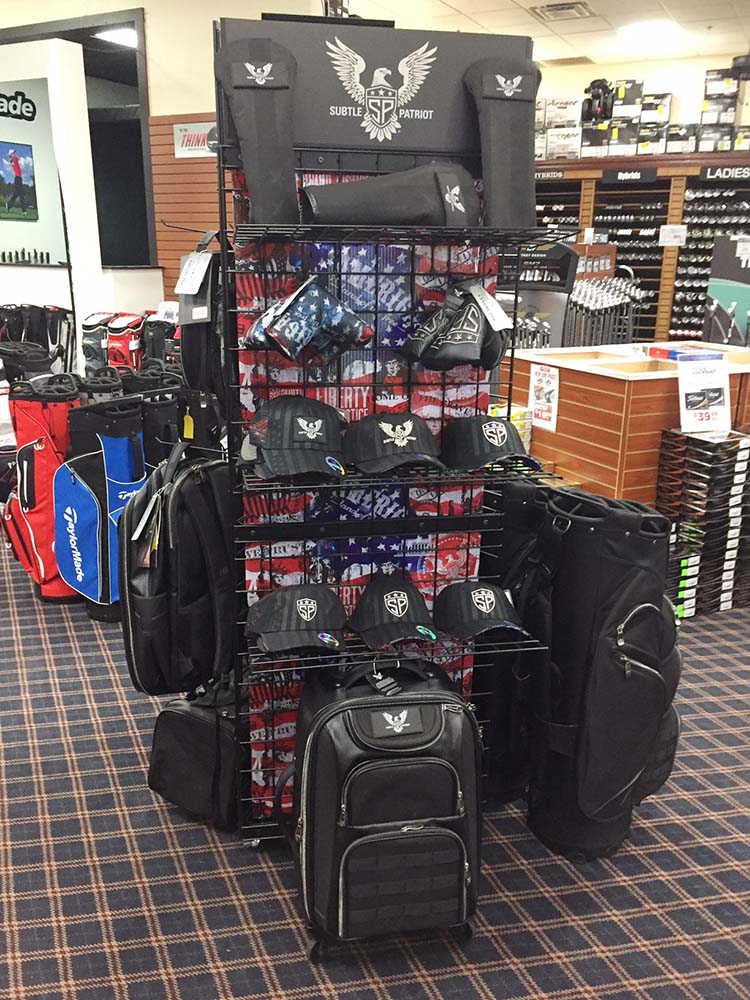 From this photo, you can see that add metal grid shelves, this display stand can display caps and gloves, as well as driver covers.
Are there more designs for reference?
Yes, please find more bag display stand designs for your reference below.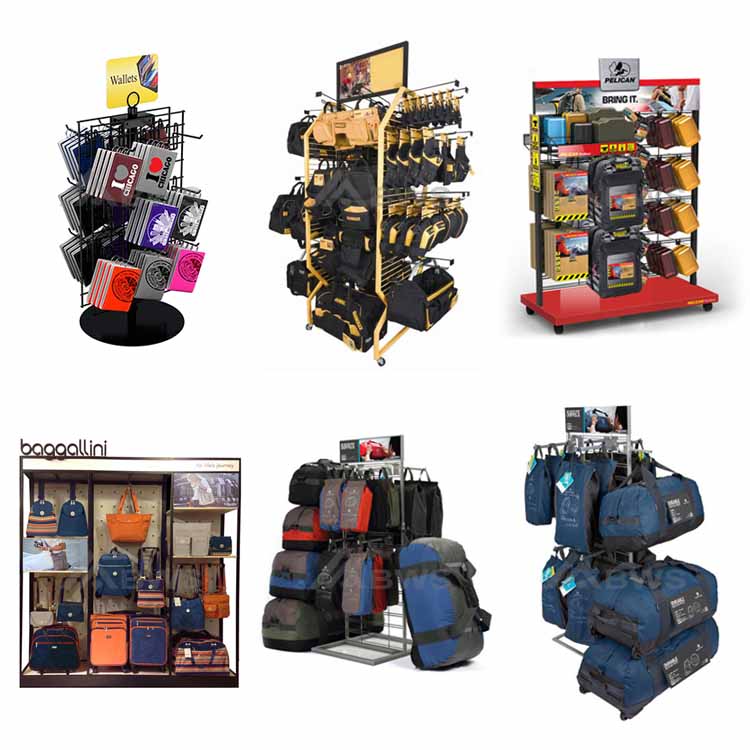 All displays we made are customized, you can share your ideas or give us reference design, we can move on your project and turn it into reality for you.
What have we made?
Below are 4 of the custom displays we have made for your reference.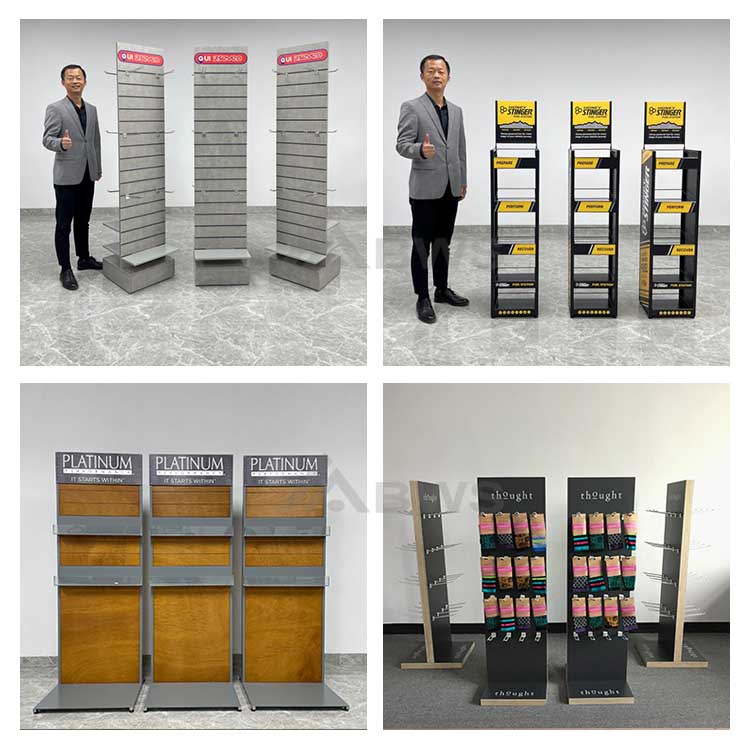 Please contact Jessie by mailing to jh@bwsdisplays.com to start your next project with us, we will reply to you within 24 hours.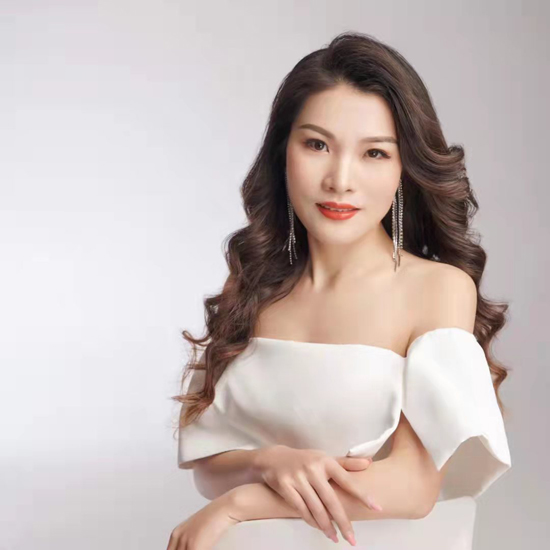 jessie huang
Love what we do and do what we love! Enjoy life, enjoy working in BWS DISPLAYS.