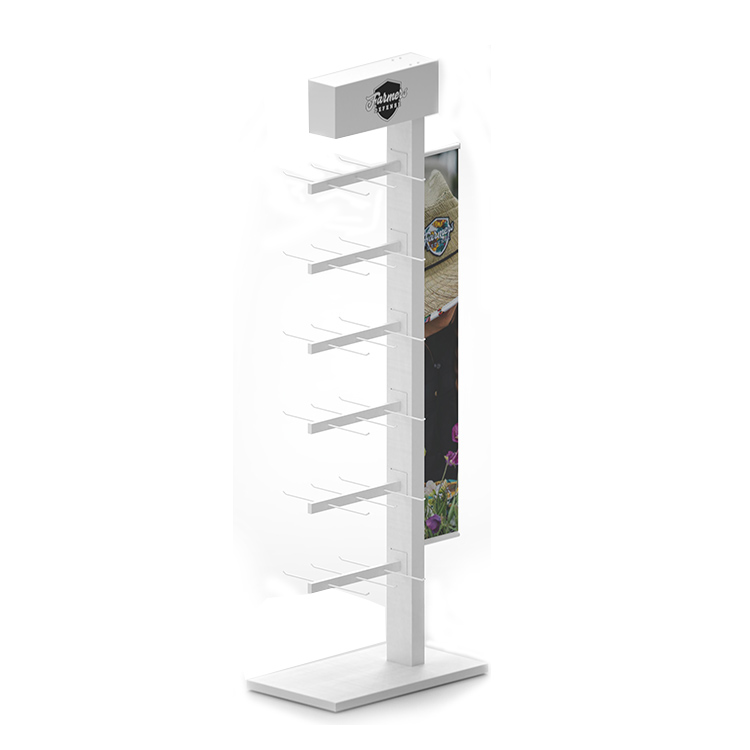 Custom 6 Hook Sleeve Rack Outstanding Metal Floor Standing Display Rack
Order(MOQ):50
Payment Terms:EXW, FOB Or CIF
Product Origin:China
Color:White
Shipping Port:Shenzhen
Lead Time:30 Days
Service:Customization Service, Lifetime After-sales Service.
Sleeve racks are customized to hang sleeves and other products, such as socks, gloves and other hanging items.  Sleeves protect our hands from damage during daily work. This sleeve rack is designed for Farmer Defense. Farmer Defense is a company's mission to make the best protective apparel and accessories to keep farmers, gardeners, and outdoor workers more comfortable.
Farmers' Sleeves are made for the ultimate protection of arms and skin for any farmer, gardener, or outdoor worker. Say goodbye to irritated skin and hot days in the garden and say hello to comfort and stay protected against the elements. This sleeve rack meets Farmer Fefense's display needs with these features.
What are the features of this sleeve rack?
This sleeve rack is made of a metal sheet, a metal square tube, and metal hooks. It is strong and has a long lifetime. With a square metal sheet base, it is stable and steady. It is a nice design, with one side for custom graphics, which is for brand merchandising. The other side is with 6 arms which are designed for double-sided hooks, there are 6 hooks for every arm, a total of 36 hooks. It can hang sleeves on both sides. Except for the side wing graphic, the header is with custom brand logo on the front and back. This sleeve rack is powder-coated white, which makes the colorful sleeves outstanding.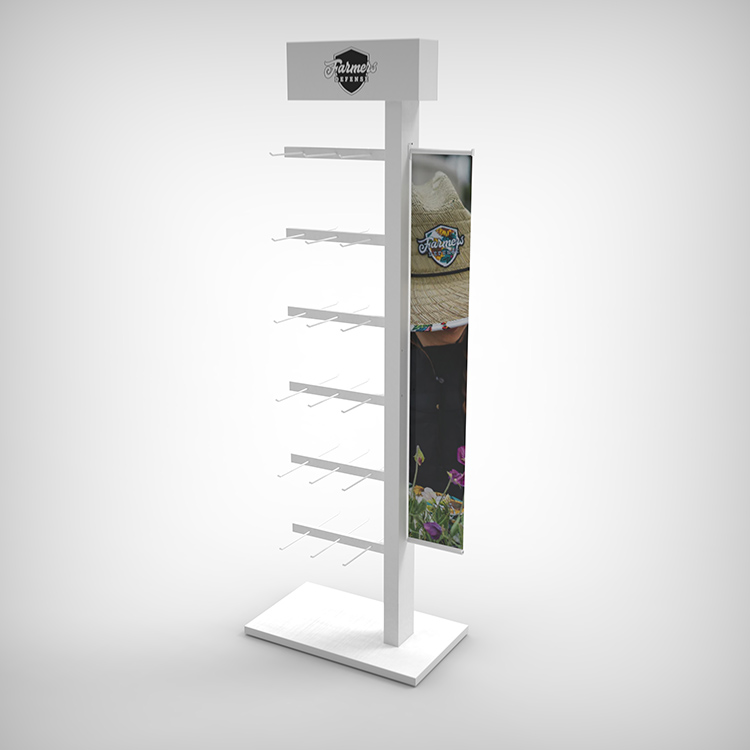 Here are more photos for your reference of this sleeve rack.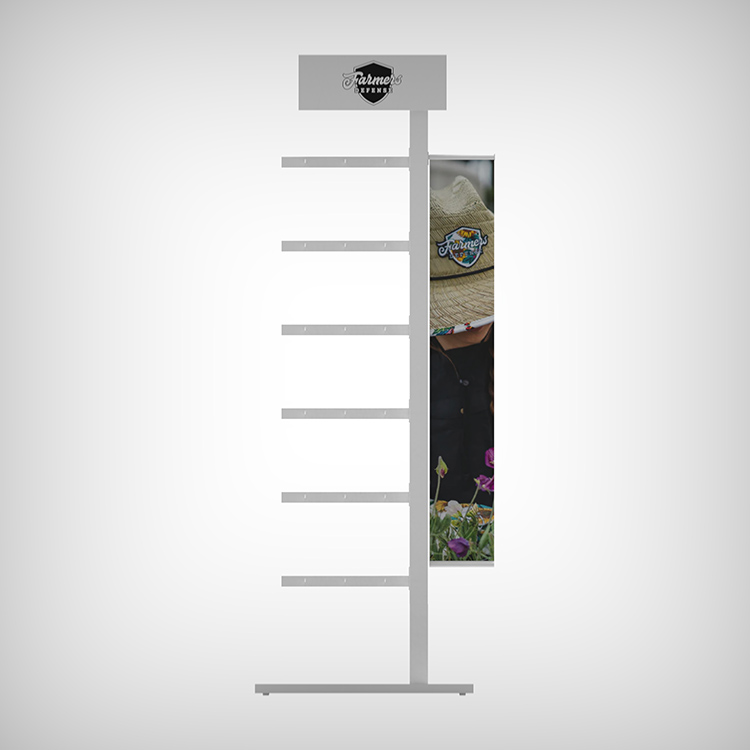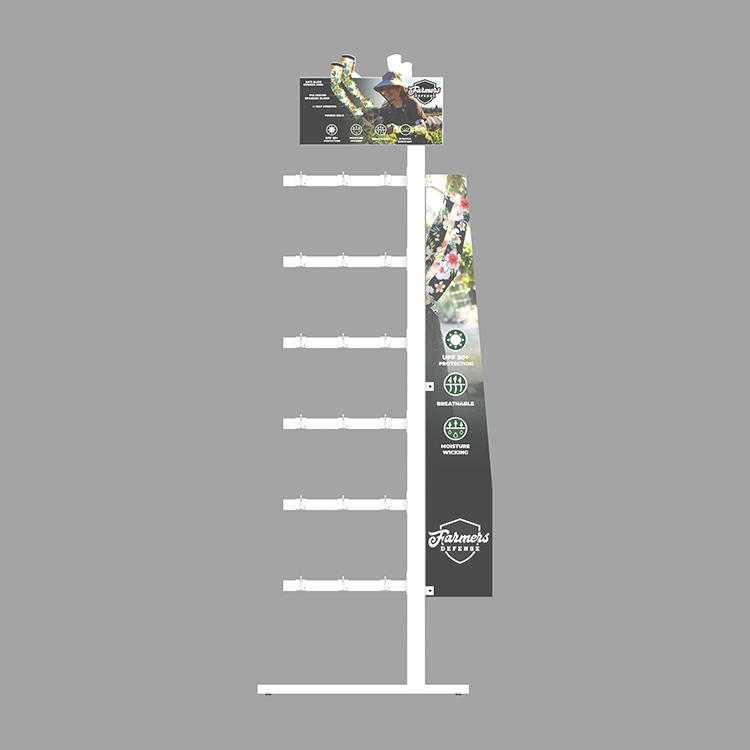 All displays we made are customized, so you can change the design or modify this sleeve rack to fit your product.  You can follow the below steps to make your brand display rack to showcase your items and increase your brand awareness.
How to make your brand display racks?
We can make wooden, metal, acrylic displays, cardboard displays, or combined material displays. The normal process of making a custom display is as follows.
Step 1. Understand your display needs. If you share with us your display ideas with a photo, drawing, or reference design, we will discuss them with you for more details and design for you. No matter whether you need free-standing displays and countertop displays, or wall displays, we can craft them out for you. For this sleeve rack, the buyer tell us their requirements in detail and shared a rough drawing.
Step 2. Design and drawings. Before we design and provide renderings and drawings to you, we need to know your product specifications and how many you like to display, if you can ship us samples, it will be more helpful. You also can make some changes or approve the design before we give you a quotation. Below is the 3D drawing of the sleeve rack.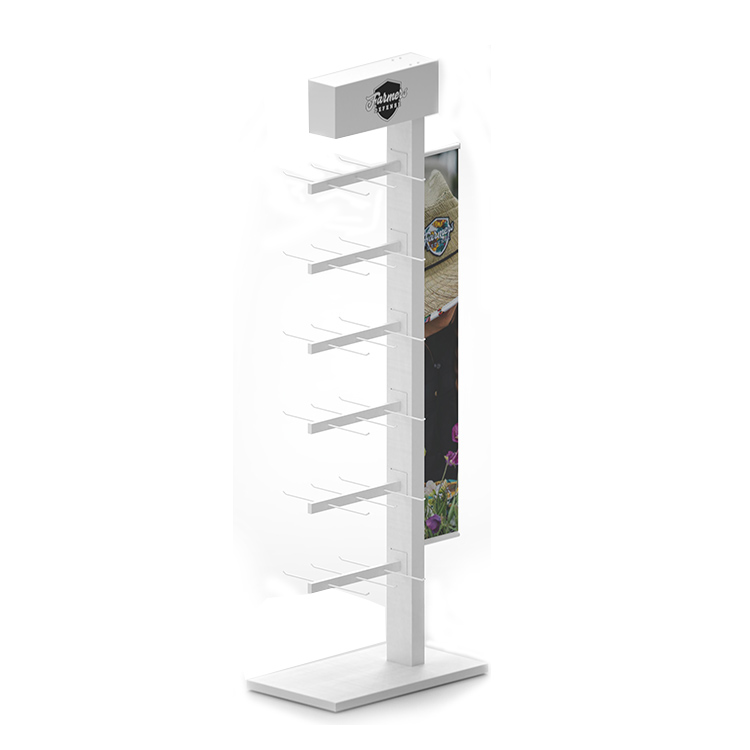 Step 3. Make a sample. A sample is very important, it decides the detail for mass production. After you approve the design and price and place an order, we will make a sample for you. We will use the right material and spend 7-10 days finishing the sample. And we will take HD photos and videos before we ship the sample out to you. Our aim is to make a display rack to increase your brand influence and sales. Below is the sample we made for Farmer Defense. There is a change according to the 3D drawing, change the header and the arms to 5.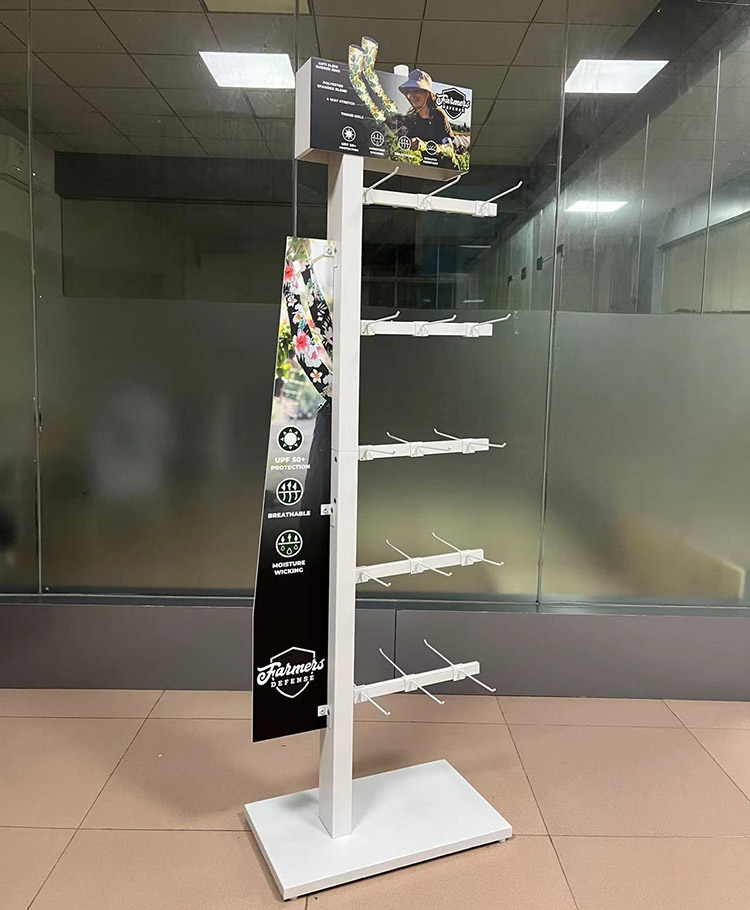 Step 4. Mass production. After you approve the sample, mass production will be followed. When mass production is finished, we will assemble and check everything, and take photos and videos too. We also will design a package solution to make the best use of a carton and keep your display racks safe. During this process, our QA team will control all details and our project manager will follow up and update regularly.
Step 5. Safety package and container layout. We will give you a container layout since the package design is settled. To pack safely, we will use foam or strips even protect corners, and pallets according to the material and design of your display stand. A container layout is to make the best use of a container, it also saves shipping costs if you order a container. Detailed assembly instructions will be within the carton.
Step 6. Arrange shipment and provide after-sales service. We can cooperate with your forwarder or find a forwarder for you. You can compare these shipping costs before you make a decision. We come to after-sales service after delivery.
If you have any questions or want to try a custom display stand sample, please feel free to contact us now. We will do our best to provide you with satisfied service and quality displays to meet your needs. Here are other displays for your reference which may help you get an idea to make your brand display stand.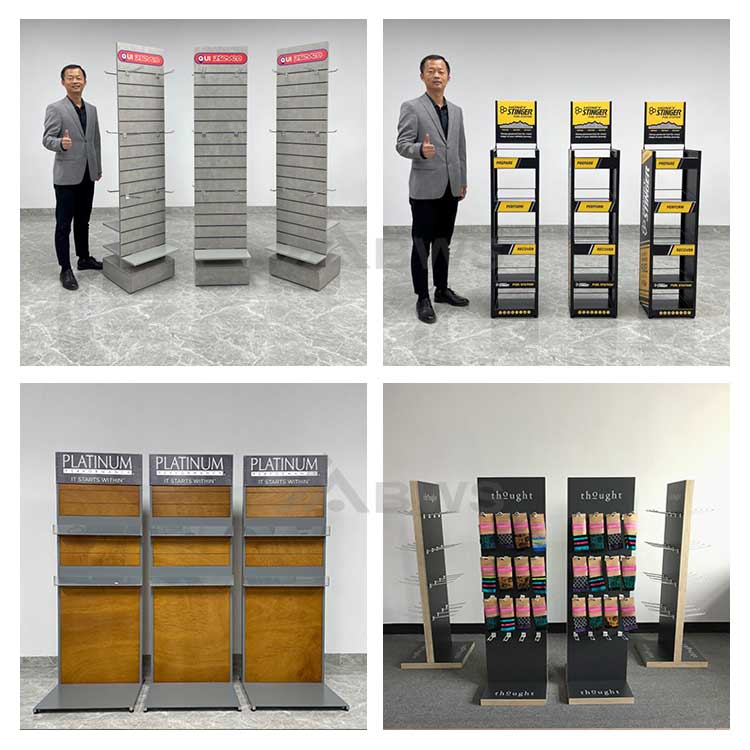 If you have any questions about custom displays, please feel free to contact us. We will be glad to work for you.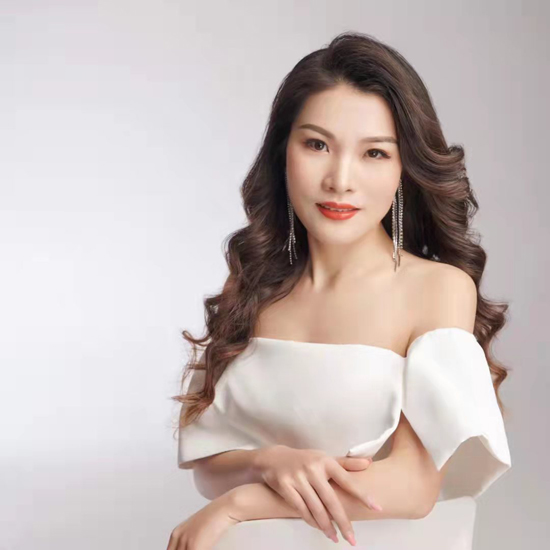 jessie huang
Love what we do and do what we love! Enjoy life, enjoy working in BWS DISPLAYS.