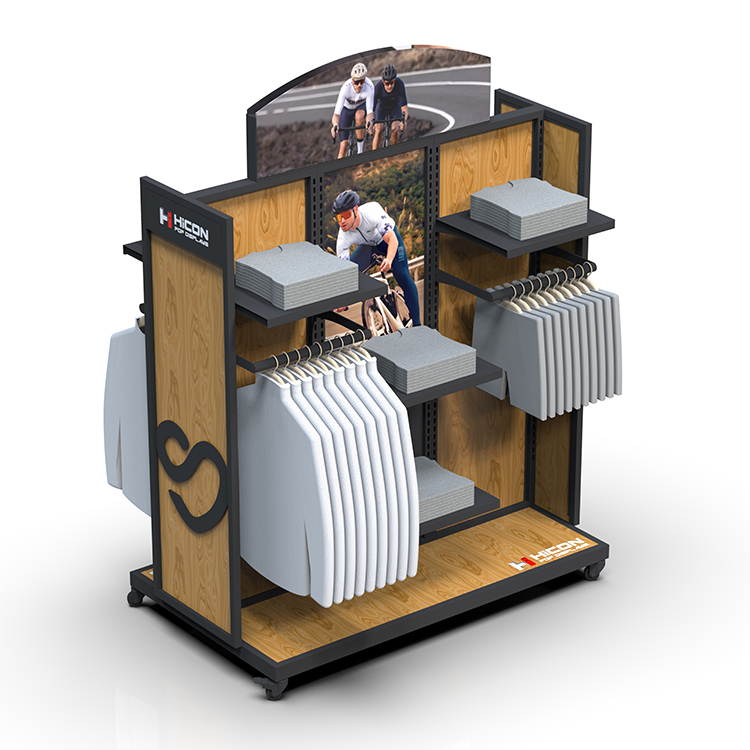 Attractive 2-way Clothing Rack With Casters For Retail Stores
Order(MOQ):50
Payment Terms:EXW, FOB Or CIF
Product Origin:China
Color:Black, Wood
Shipping Port:Shenzhen
Lead Time:30 Days
Service:Customization Service, Lifetime After-sales Service.
Clothing racks are essential for clothing stores, boutiques, sportswear stores, and other clothing retail spaces. The apparel industry is fast-paced, highly competitive, seasonal, and driven by constantly changing fashion trends. Apparel displays are essential for survival in physical retail stores. To be effective, apparel displays need to be flexible and configurable to continue to be useful and relevant as products change in accordance with the fashion cycle.
Today we are sharing with you a clothing rack display that is effective and configurable.
What are the features of this clothing rack?
1. This clothing rack combines wood shelves with a metal structure. It is stable and strong. 2. This clothing rack is functional to meet different display needs. It is a double-sided slotted upright column and a center hanging bar to give this display ultimate reconfigurability. It works with shelves, side signs, faceouts, waterfalls, and other accessories to showcase shirts, pants, t-shirts, other apparel. 3. It is visual merchandising. The dimensional header creates visual interest and draws attention to the brand. 4. It is movable. This clothing rack is with 4 casters, it is easy to move around.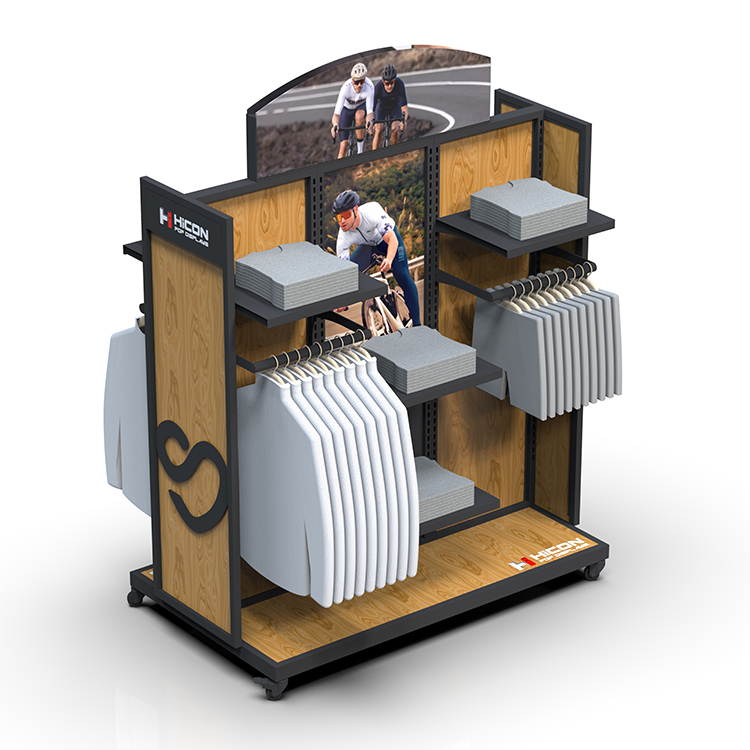 As for the brand logo, it shows on both sides, base, and top, which builds your brand awareness. You can change the design, material, logo and more to fit your items. We can use recyclable and eco-friendly materials to make the displays you are looking for. Here are two more photos of this clothing rack for your reference.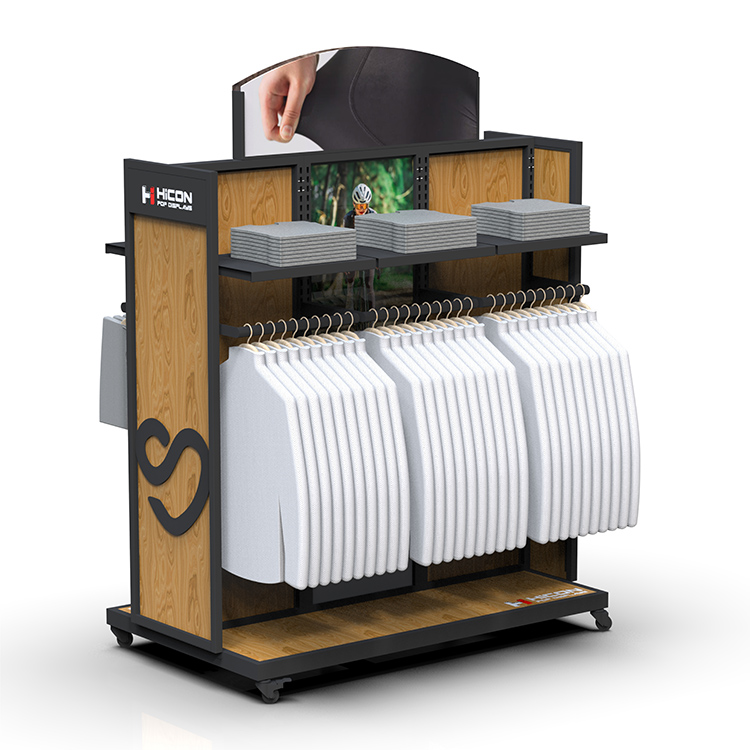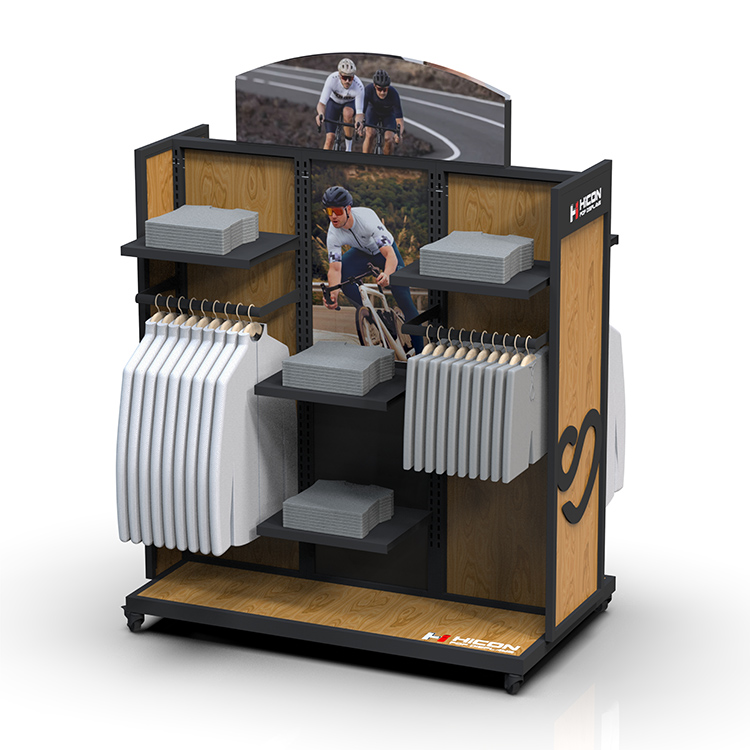 If you need more designs, please feel free to contact us, we will be happy to share more. Here are three designs we have shared in other posts.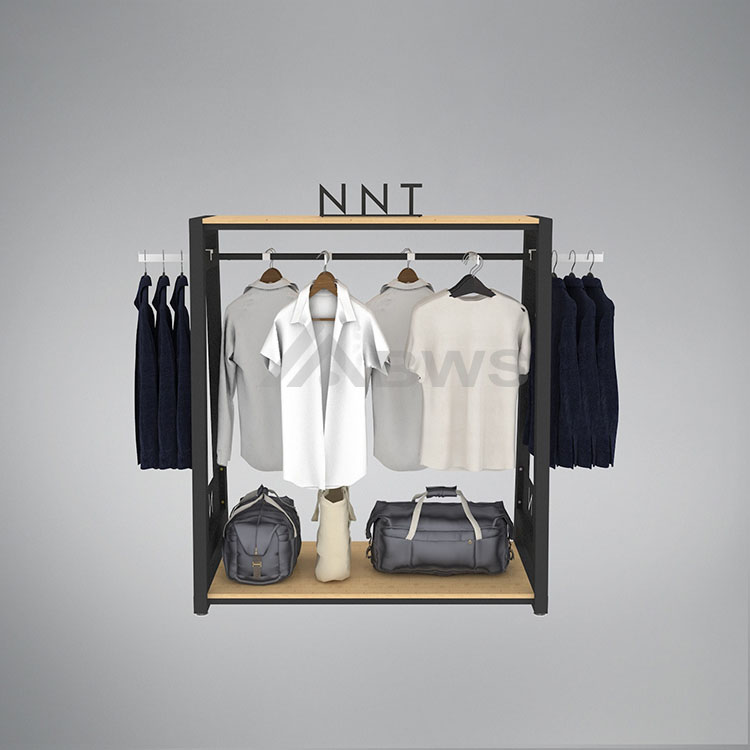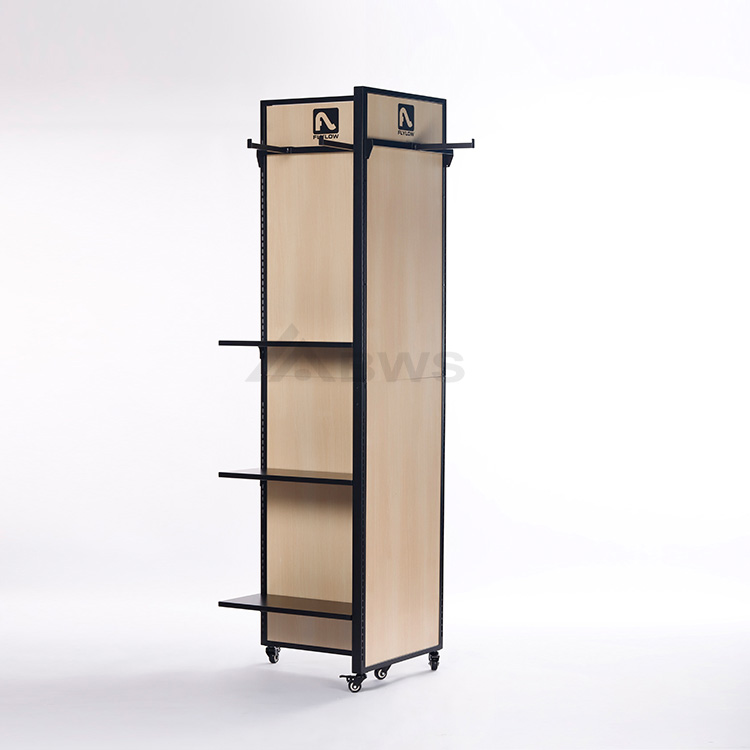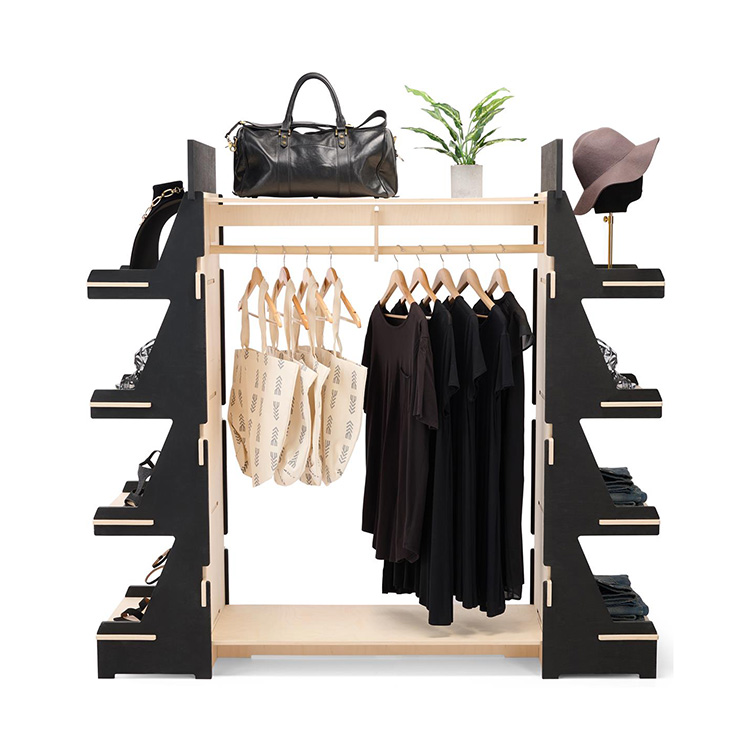 How to make your brand logo clothing rack?
To customize your brand logo and innovative clothing display rack, we need to know your requirements first. What kind of display do you need, countertop or freestanding style? What material do you prefer, metal, wood, or acrylic? How much apparel do you want to display? How do you like to add our brand logo or graphics?
Secondly, we will provide you with rough drawings and 3D drawings so that you can check what it is like when your clothing is on after confirming your specific needs. If you need to change, we will update the drawing for you. Only after your approval and order, we will start to make a display sample for you.
Thirdly, when the sample is finished, we will assemble and check the dimensions, and finishing effect and test the sample. Of course, we will take photos and videos for you. It takes around 7 days to finish the sample.
Fourthly, When this sample is approved, we will arrange mass production. We will control production quality according to the sample. When production is finished, we will check all details to make sure these display racks meet your needs. The mass production takes around 25-30 days.
Fifthly, safety packing. Normally, displays are packed in a flat package, and we provide assembly instructions in the carton. So it is easy for you to assemble them on your side. For this clothing rack display, it is knock-down into one carton.
Last but not end, we will help you arrange the shipment and provide after-sales service. If you have any questions, we will give you the right solution within 48 hours.
Why you can trust BWS Displays?
We are a factory with more than 300 workers and a 30,000 square meter factory, which can handle comprehensive materials including metal, wood, acrylic, cardboard, PVC, plastic, etc. Besides, we have oversea design teams and partners in the United States, Italy, and Australia.
Besides, we keep you posted and show you pictures and videos for every important step of production and our project managers can communicate with oversea customers directly to improve efficiency and accuracy by providing long-term after-sales service from shipping.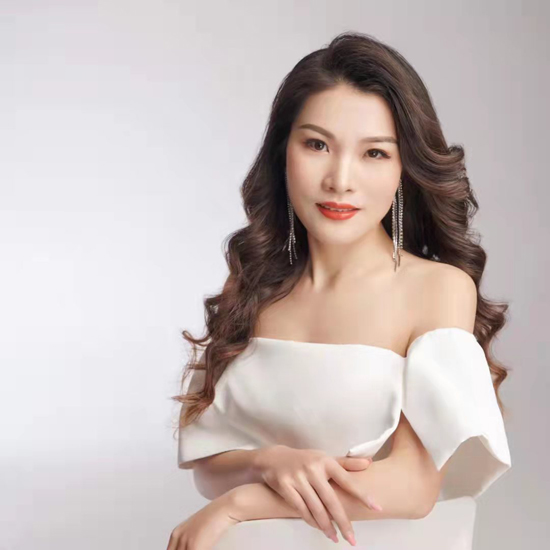 jessie huang
Love what we do and do what we love! Enjoy life, enjoy working in BWS DISPLAYS.