Practical Custom Jewelry Display Stands Help You Sell More In 6 Ways
Jewelry display stands include bracelet displays, earring displays, necklace displays, and more. When it comes to jewelry, presentation is key. If you are a jewelry business owner looking to showcase your jewelry, a jewelry display stand is an absolute game-changer. From earring displays to bracelet and necklace displays, these versatile and stylish tools take your jewelry organizing game to the next level. In this blog, we will explore the benefits of using jewelry display stands and how they can enhance the aesthetics and functionality of your jewelry.
There are 6 advantages of using jewelry display stands
1. Maximize space utilization:
No matter how large your jewelry is, jewelry display stands can effectively improve space utilization. A well-designed jewelry display stand ensures that each piece of jewelry has its designated place for easy browsing and minimizes the risk of tangling or misplacement. Earrings, bracelets, and necklaces all feature separate compartments to keep everything organized and secure. There are floor-standing jewelry display stands and countertop display stands to make the best use of your retail space. Below is a floor-standing jewelry display we have shared before.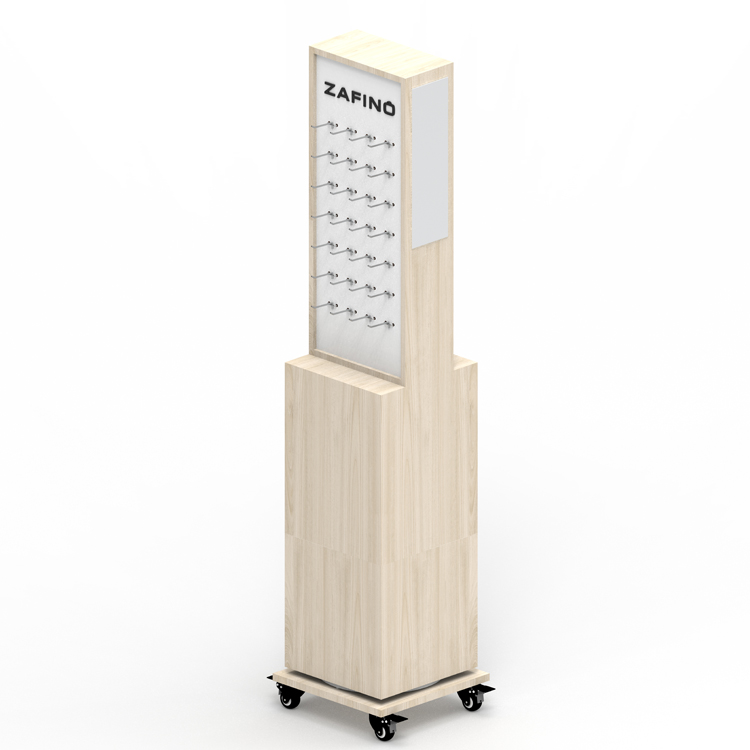 2. Demonstrate the beauty of each piece:
Have you ever found yourself struggling to untangle a mess of necklaces or find a matching pair of earrings? In jewelry retail stores, this can't happen. Jewelry display stands will keep your jewelry organized and show its real beauty. By arranging them in order, you can create stunning visual displays that accentuate the intricate details, colors, and designs of your jewelry. Below is a countertop bracelet display we have made.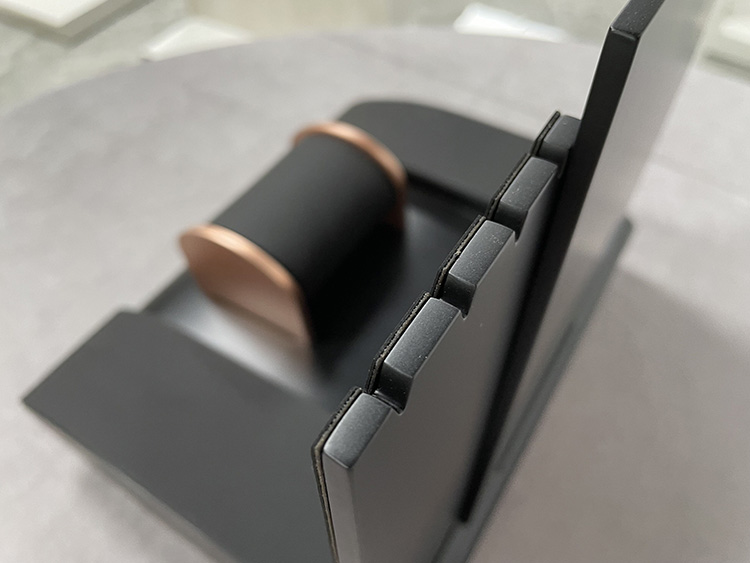 3. Easy access and selection:
Jewelry display stands not only add beauty but also provide convenience. By displaying jewelry, you can easily view and access your items. Imagine how happy the consumers will be when they are able to quickly and easily choose the perfect pair of earrings or necklaces to complement their outfits. You can use bronze color jewelry display stands, silver or golden color jewelry display stands, or wood bracelet or earring display stands to showcase different jewelry in different types and sizes, which really create a one-stop purchaser for a consumer.
4. Protection and Preservation:
Jewelry is an investment, both financially and emotionally. By using a jewelry display stand, you can protect and preserve your precious items. Separate compartments and hooks keep delicate items like necklaces from twisting or tangling. Jewelry display stands are often fitted with soft padded or velvet linings to protect them from scratches and damage. With a display stand, you can display your jewelry with peace of mind knowing it's safe and well protected. Below is the earring display stand with velvet.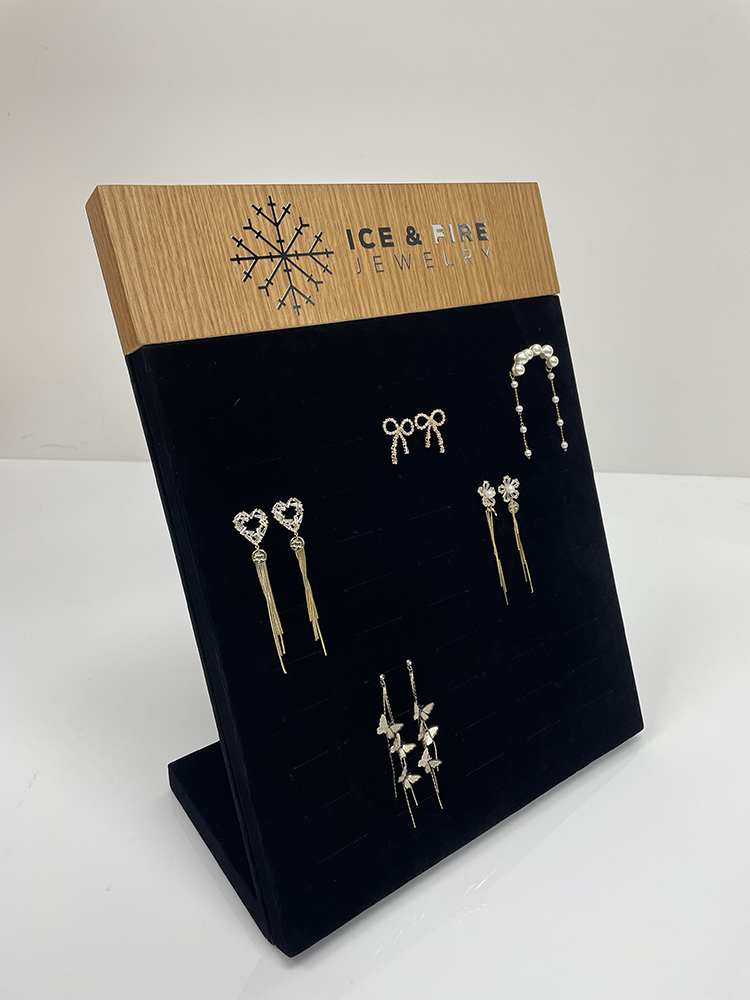 5. Versatile and stylish design options:
Jewelry display stands come in all shapes, sizes, materials, and designs to suit different tastes and styles. Whether you prefer a sleek, modern aesthetic or retro-glam design, there's one to suit your needs. Additionally, some stands offer adjustable hooks, tiers or slots, allowing you to tailor the display to the exact needs of your jewelry. From wood to acrylic, metal, simple to decorative, the options are endless, ensuring you find the perfect display to suit your jewelry and brand culture. Below is a wooden earring display stand we made.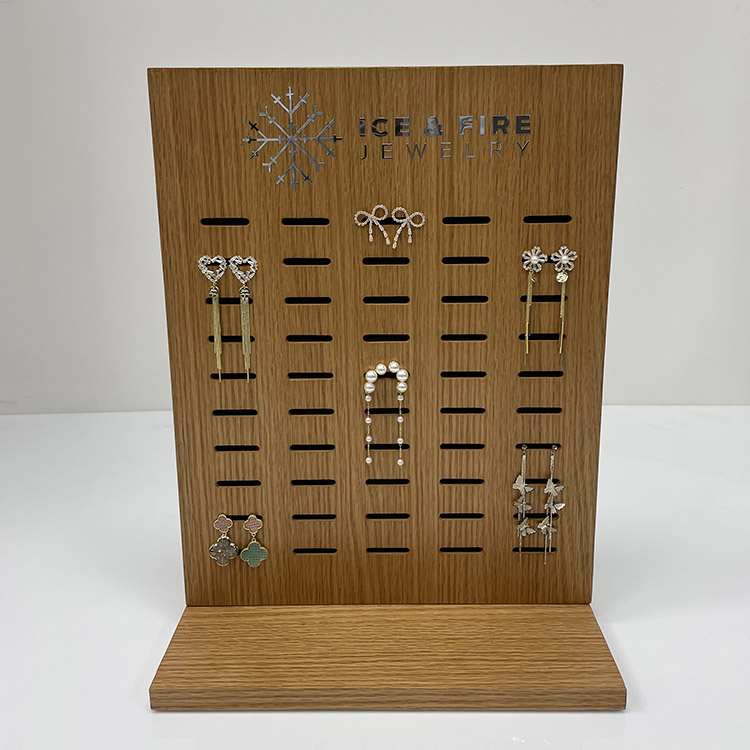 6. Brand merchandising and increasing brand awareness:
Display stands are a must if you run a jewelry business.  Customized jewelry display fixtures are with brand logos and graphics. Not only do they add professionalism and sophistication to your store, but they also help attract customers and increase sales. A well-organized and visually appealing display can catch the eye of potential buyers, prompting them to explore your jewelry offerings further. Additionally, a dedicated display stand makes it easy for customers to try on jewelry, encouraging them to interact with your products, and thereby improving the chances of making a purchase.
You can see jewelry displays are worth investing in. If you need custom jewelry displays, we can help. BWS Displays has been a factory of custom displays for more than 20 years, we can make your brand jewelry displays according to your specific requirements. You can send us a reference design or rough drawing, and tell us your requirements, we will work out a solution for you. We are sure, you will be happy when you work with us.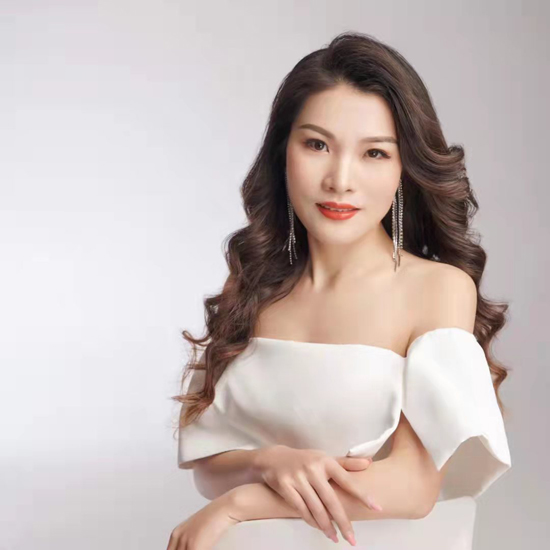 jessie huang
Love what we do and do what we love! Enjoy life, enjoy working in BWS DISPLAYS.