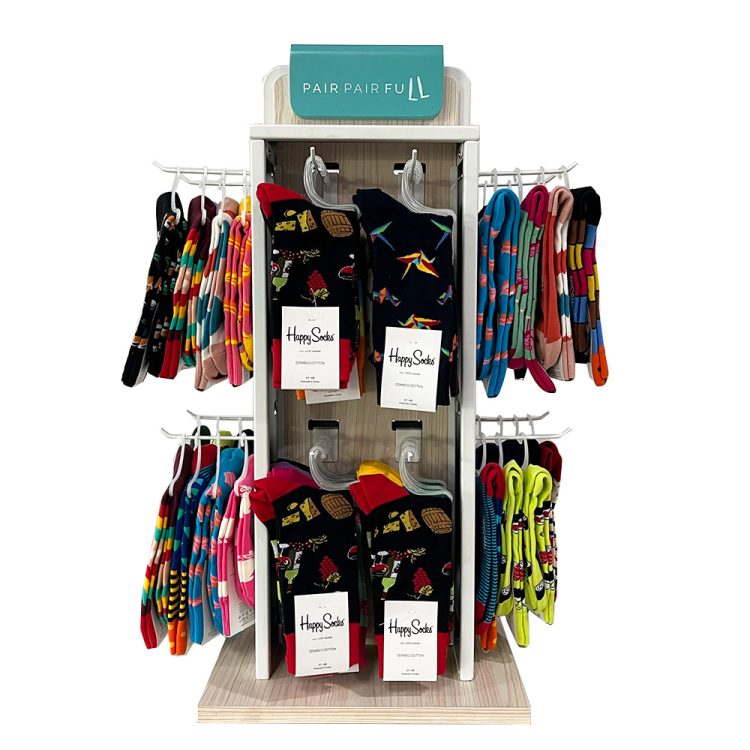 4 Way Hanging Stand For Socks Tabletop Rotatable Cool In Retail Store
Order(MOQ):50
Payment Terms:EXW, FOB Or CIF
Product Origin:China
Color:White, wood
Shipping Port:Shenzhen
Lead Time:30 Days
Service:Customization Service, Lifetime After-sales Service.
A custom stand for socks is a piece of useful advertising equipment for retail stores and brand stores.  We have made many display stands for socks, including tabletop displays and floor-standing displays. No matter tabletop displays or floor-standing displays, they are designed to organize and showcase socks, and hosieries. These stands for socks are made in different sizes and shapes, double-sided, single-sided, 4-sided, and more to meet different display needs.
Normally, the most different from the normal stand for socks, a customized stand for socks has a customized brand logo and graphics to get more attention and showcase their features to buyers. The most common materials to make custom stands for socks are metal, wood, or combined. Today, we are going to share with you a tabletop hanging stand for socks, which will help you stand out among the fierce competition because the socks market is estimated at USD 46.1 billion in 2022 and is expected to reach USD 71.51 billion by 2028, growing at the rate of 6.72 % CAGR.
What are the features of this stand for socks?
This sock display stand has these features. 1. Nice design with an eye-catching logo background. This display stand combines wood and metal perfectly in the size 350*350*720mm, which gives a beautiful appearance to buyers. 2. Stable and strong. We know both wood and metal materials have a long lifetime. 3. Functional and large capacity. It is a 4-way stand for socks, every side has 4 hooks in 2 layers, and it can showcase 64 pairs of socks at the same time. Of course, you can use it to showcase other hanging items, for example, keychains. And all the hooks are detachable.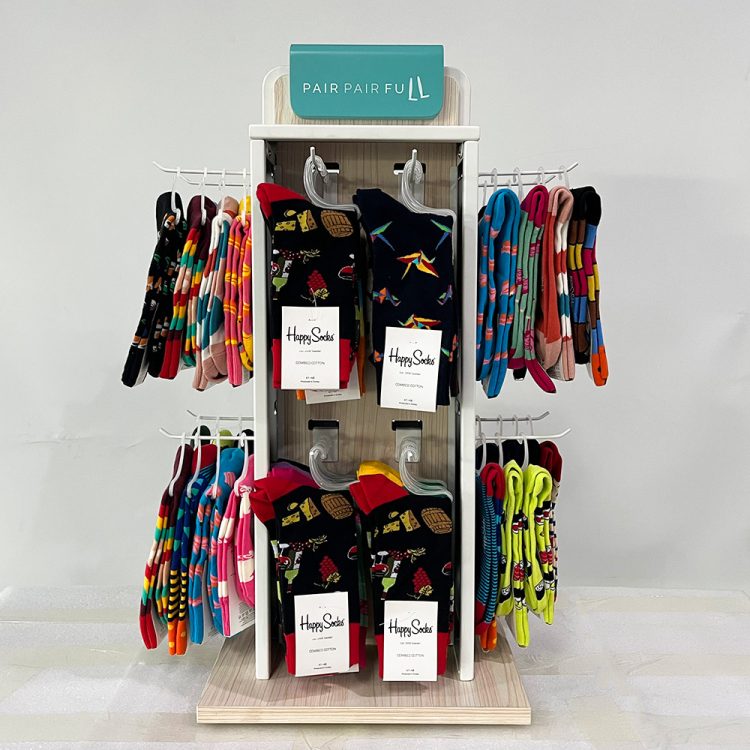 4. Rotatable and small footprint. As you can see from the photo. It has a small base, it is only 350*350mm. There are 8 hooks inside instead of keeping the same two sides.  There is a turntable under the base, you can see it in the below photos. The rotating function is really convenient for buyers to choose what they like. 5. Knock-down design. This display stand for socks is easy to set up when you follow the assembly instructions we provide within the carton.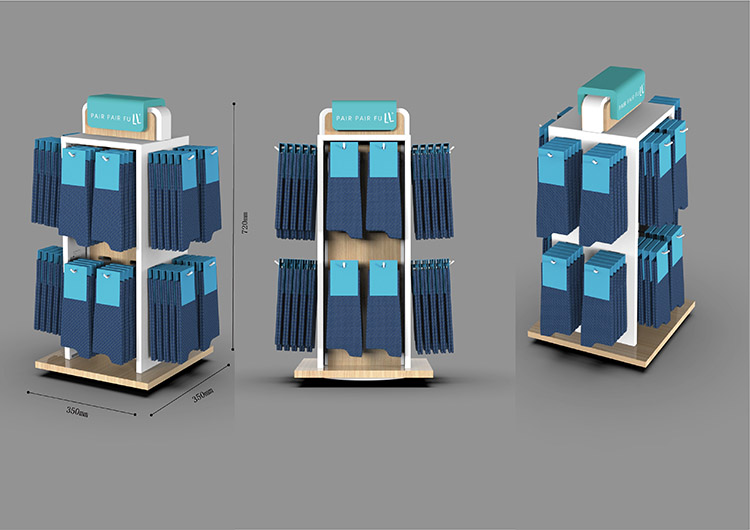 If you want to change the design or change the logo to be yours, please feel free to contact us. Our core competence is custom displays. We can make the sock display according to your needs.
How do we make your brand stand for socks?
There are a host of factors that determine the most effective type of display to use, including the required floor space availability, and breadth of product selection, what kind of products you are going to showcase, and how many you like to showcase at the same time.  Below is the common process we make custom displays, it is for your sock display too.
First of all, to customize your brand logo and innovative display for socks, we need to know your requirements. What kind of display do you need, countertop or freestanding style? What material do you prefer? How many socks do you want to display? Of course, we need to know your socks' specifications first. You can tell us your sock package dimensions.
Secondly, we will provide you with rough drawings and 3D drawings so that you can check what it is like when your socks are on after confirming your specific needs. If you need to change, we will update the drawing for you. Only after your approval and order, we will start to make a display sample for you. We have shown you the 3D rendering above. Here are the photos for the empty stand.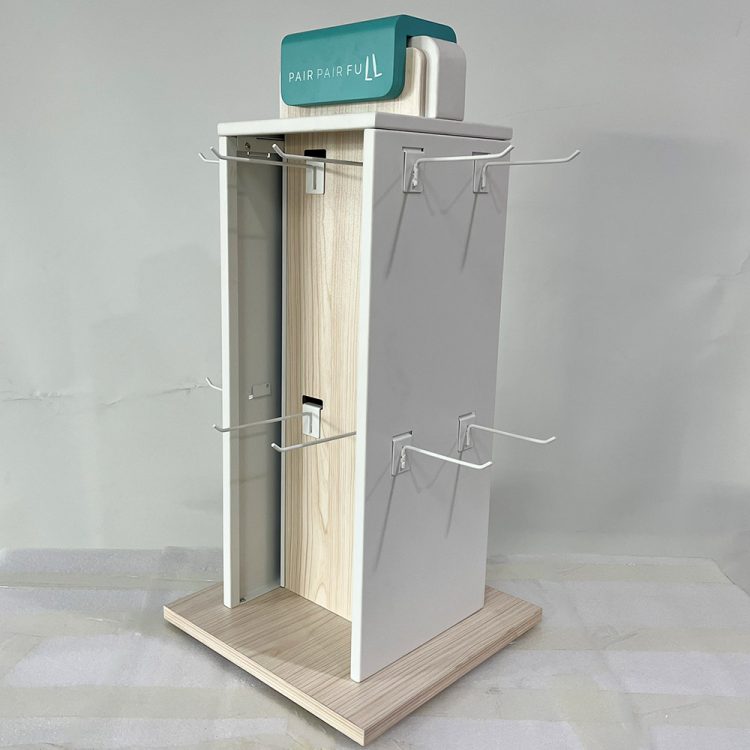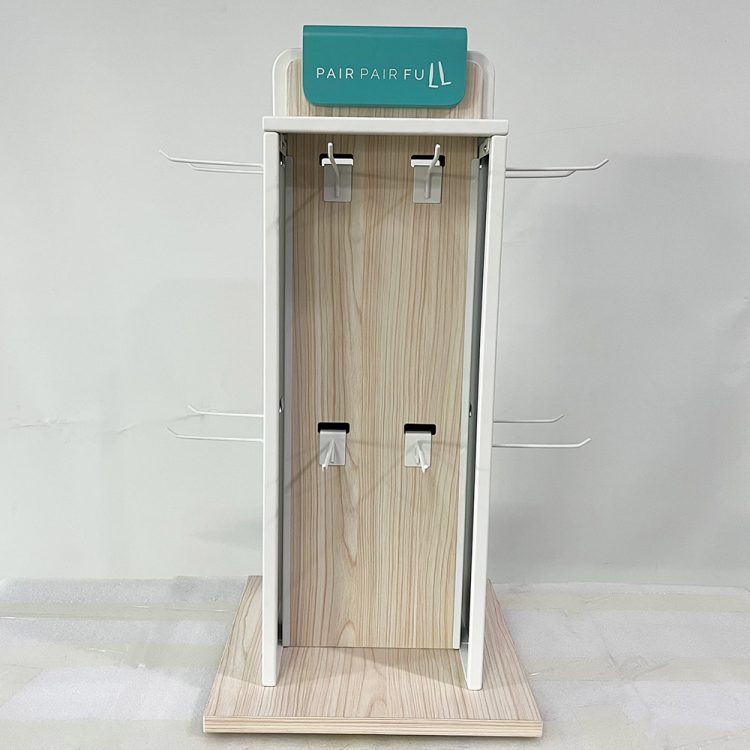 Thirdly, when the sample is finished, we will assemble and check the dimensions, and finishing effect and test the sample. Of course, we will take photos and videos for you. It takes around 7 days to finish the sample. Here are photos of the sample we made of this stand for socks.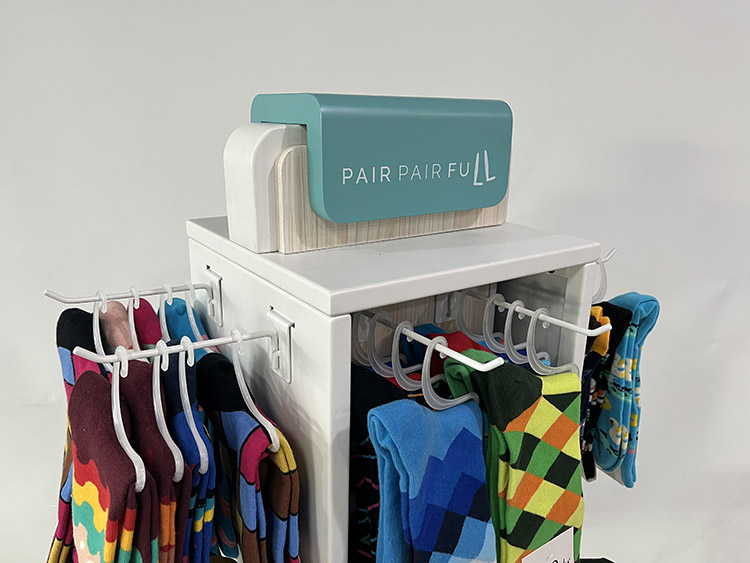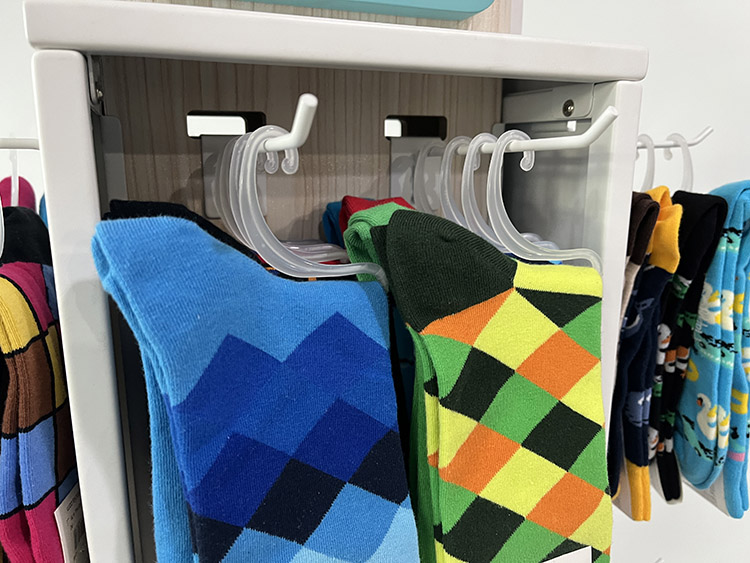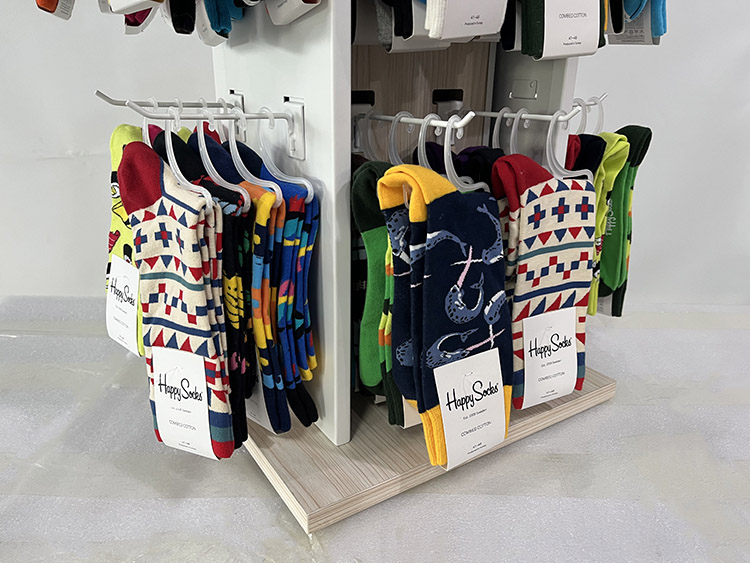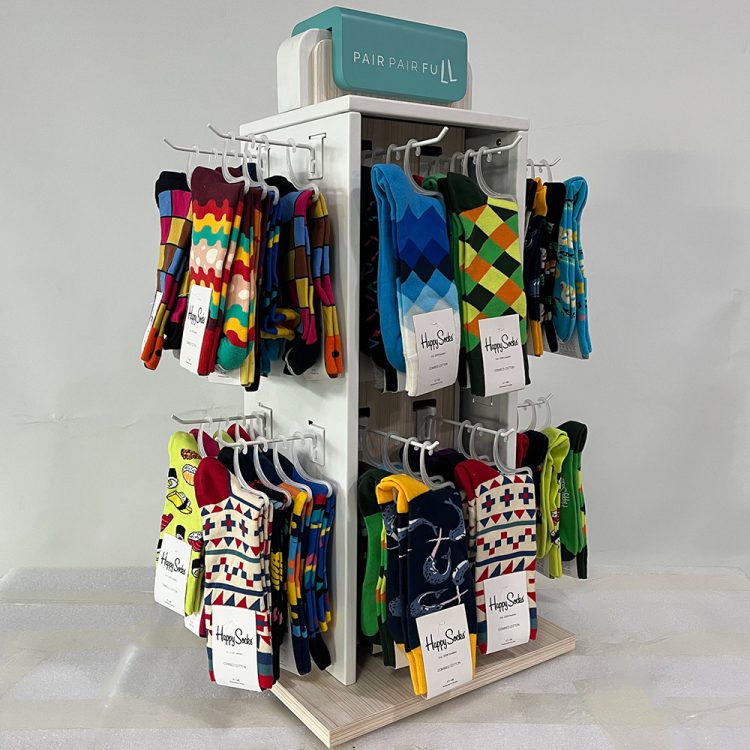 Fourthly, When this sample is approved, we will arrange mass production. We will control production quality according to the sample. When production is finished, we will check all details to make sure these display racks meet your needs. The mass production takes around 25-30 days.
Fifthly, safety packing. Normally, displays are packed in a flat package, and we provide assembly instructions in the carton. So it is easy for you to assemble them on your side. This sock display rack is knocked down into one carton.
All sock display fixtures are customized according to your socks, your brand culture, etc. You decide the design, size, style, material, color, logo location, graphics as well as package. But we will give professional suggestions before we finalize the design. Our aim is to help you increase sales within your budget.
Below are some of the sock displays that work well in retail stores, which make the best use of the retail space, including floor sock displays and countertop displays.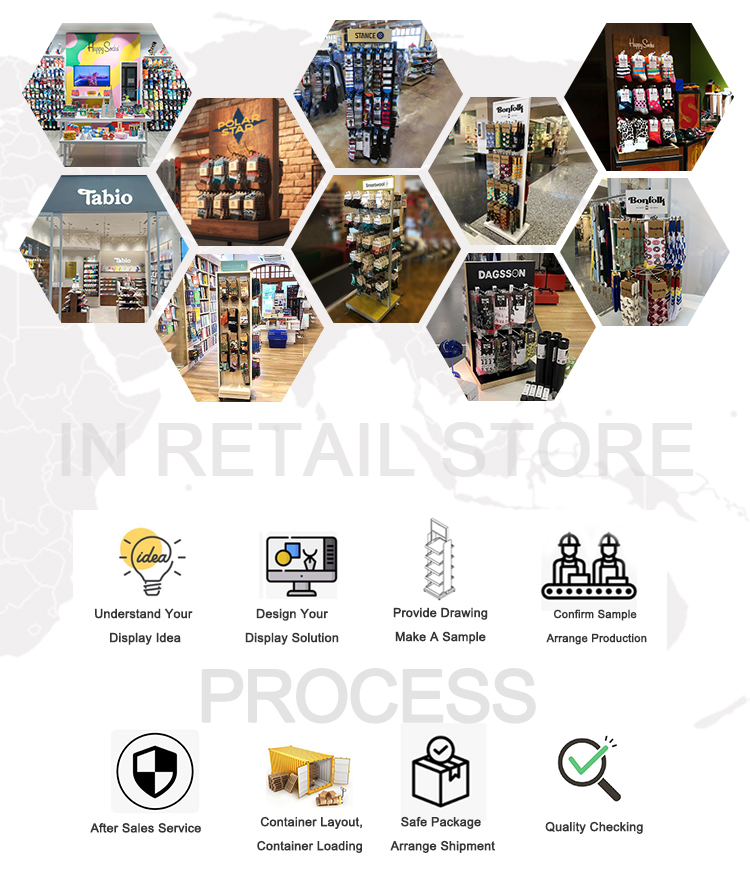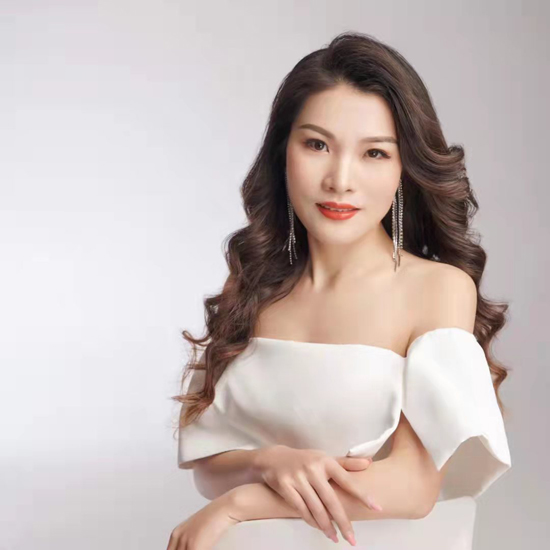 jessie huang
Love what we do and do what we love! Enjoy life, enjoy working in BWS DISPLAYS.