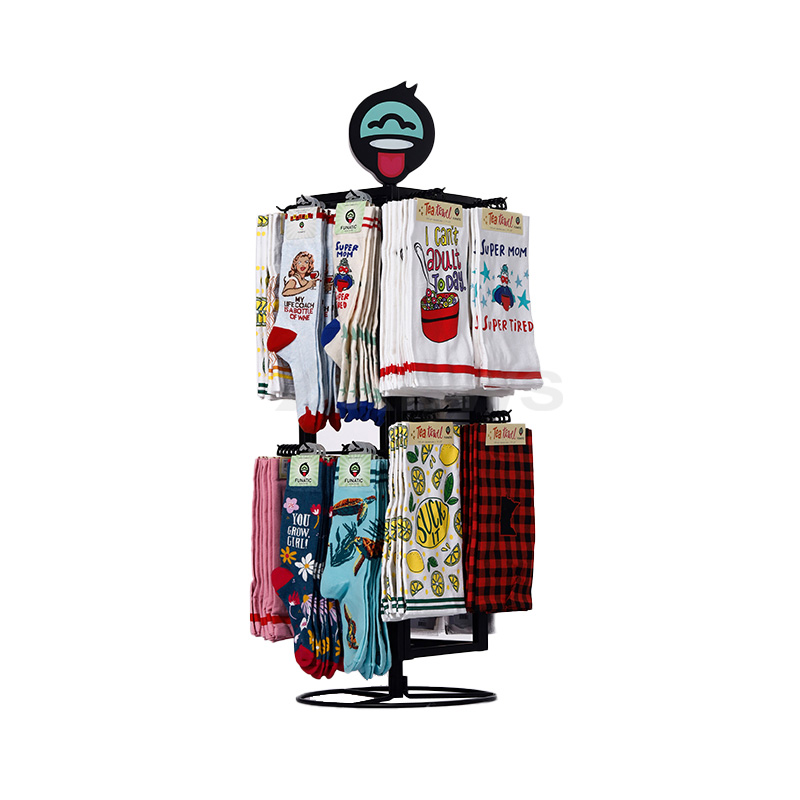 2-tier Table Top Sock Display Stand Rotatable Simple Design
Order(MOQ):50
Payment Terms:EXW, FOB Or CIF
Product Origin:China
Color:Black
Shipping Port:Shenzhen
Lead Time:30 Days
Service:Customization Service, Lifetime After-sales Service.
Why do we share with you this table top sock display stand?
Table top sock display stand works well on the tabletop. We have shared with you at least 5 different floor-standing sock displays, they help you sell on the floor. While your countertop space can also be fully used, table top sock display stand takes small print while easier to get attention. We have posted two posts about tabletop sock display stand, we would like to share one more design.
What are the features of this table top sock display stand?
Funatic makes hilarious funny, edgy, pop-culture-inspired socks that appeal to men and women from 10-100. They'll all make you feel good, so spice up your feet with Funatic. We also made a floor display for socks for Funatic as below.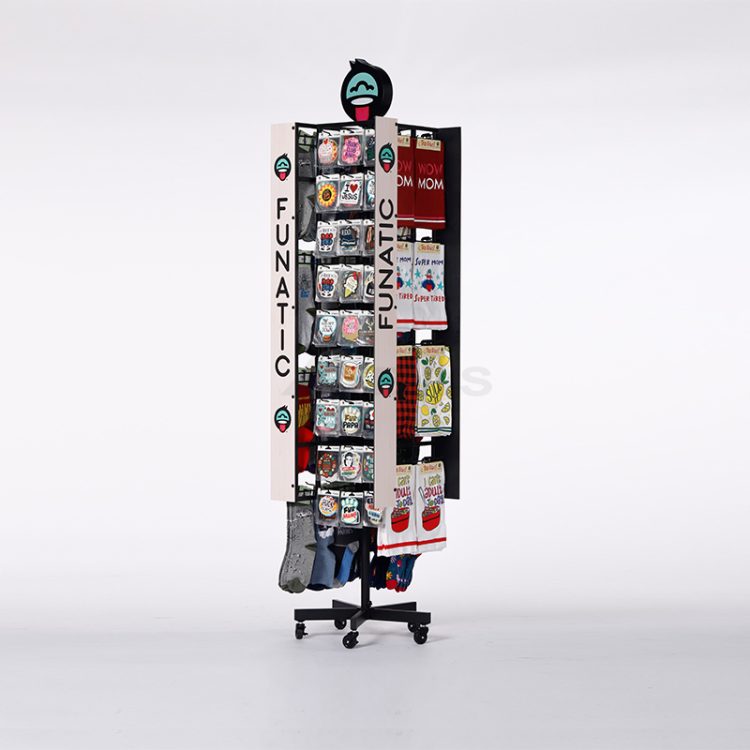 Below are the features for this table top sock display stand, though there are common features with the floor display for socks.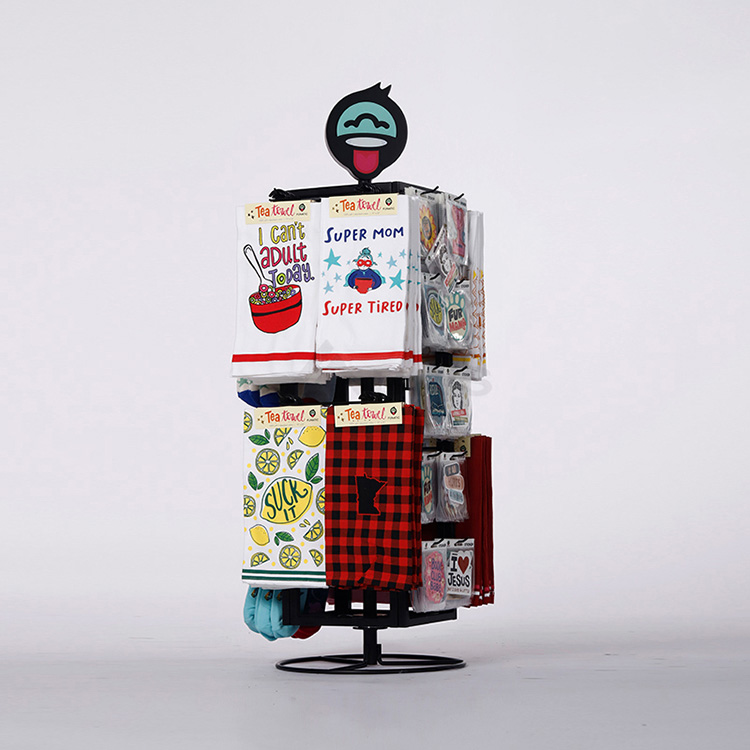 The first feature is stable and lightweight. This table top sock display stand is made of metal wire, which is much lighter than metal sheets or metal tubes. All the metal parts are powder-coated black, which fits these colorful socks very well.
The second feature is attractive. This table top sock display stand has a 25mm MDF die-cut header with a custom brand sign which is the same as the floor display.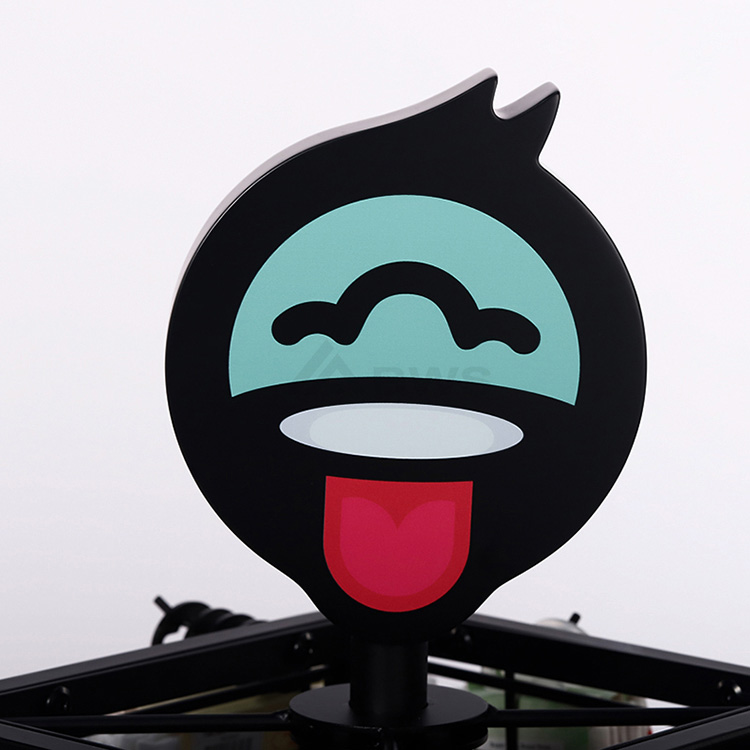 The third feature is rotatable.  It is also the same feature as the floor display. There are bearings that make it rotate 360 degrees, but it is stable and sturdy. This table top sock display stand displays socks on 4 sides, it is really convenient for shoppers to choose the sock by turning it around.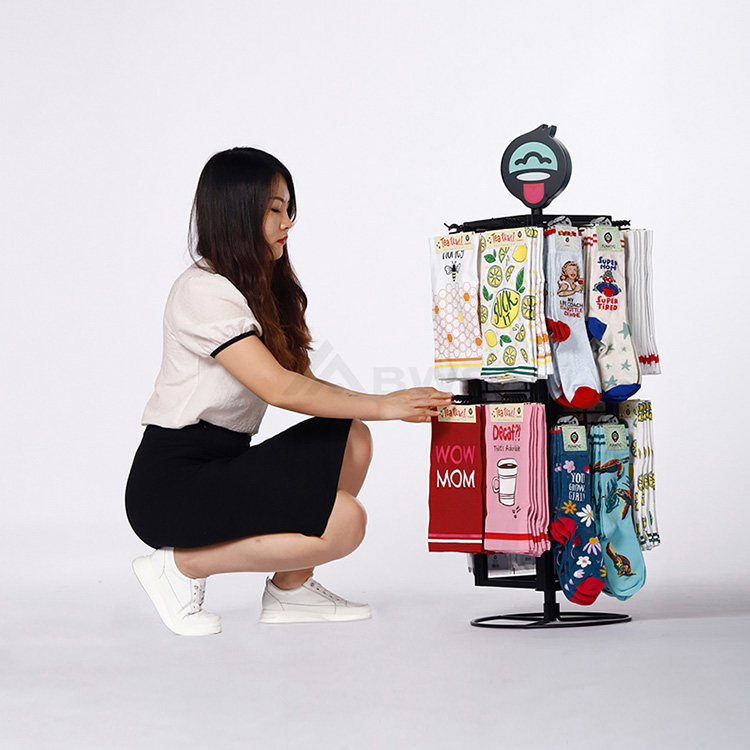 The fourth feature is practical. It has 28 metal hooks, 4 on the front and back sides, and 10 on the left and right sides. It can display more than socks, it also can display other products, such as gloves, scarves, and gifts which you can give shoppers for free.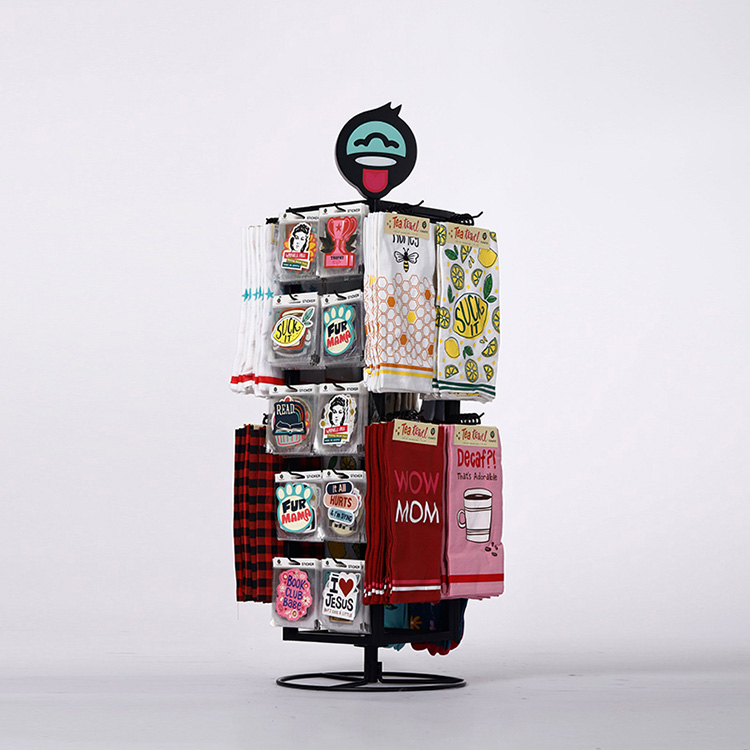 Besides, This table top sock display stand is can be knocked down, so the packing size is not big. It is good for saving shipping costs.
This sock display stand is really nice for brand stores and retail stores, it is your silent salesman who tells brand stories.
BWS Displays is a factory of custom displays, we can turn your display idea into reality from concept design to real displays. We have metal workshops, wood workshops as well as acrylic workshops, we can meet all of your display needs.
How to make your brand sock display stand?
It is the same as we shared on the floor display socks, all the displays we made are customized to meet your specific display needs.
Step 1, confirm needs.  You have to tell us your socks specification and if you have a display idea, you can share it with us by sharing pictures, sketches or drawings. You can send us pictures and provide details for your socks or hosiery, if you can ship us a few samples, it is more useful.  More information about your brand, marketing plan, and budget is helpful for us to customize and design for you.
Step 2, confirm design: Our team will send you a drawing for approval and give you an estimated price after getting details about the display stand.
Step 3, prototype: A sample is important, you can test functions, check appearances, measure sizes, check packing safety, and more details. We will make a sample for you after you confirm the design. We will send you photos, and videos before we ship the sample to you. For this case, we took more photos for this table top sock display stand.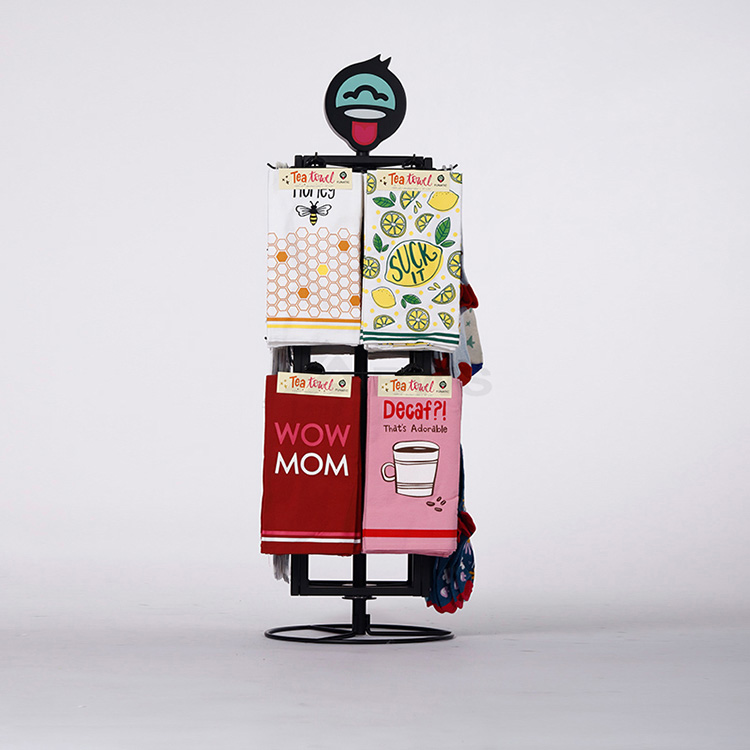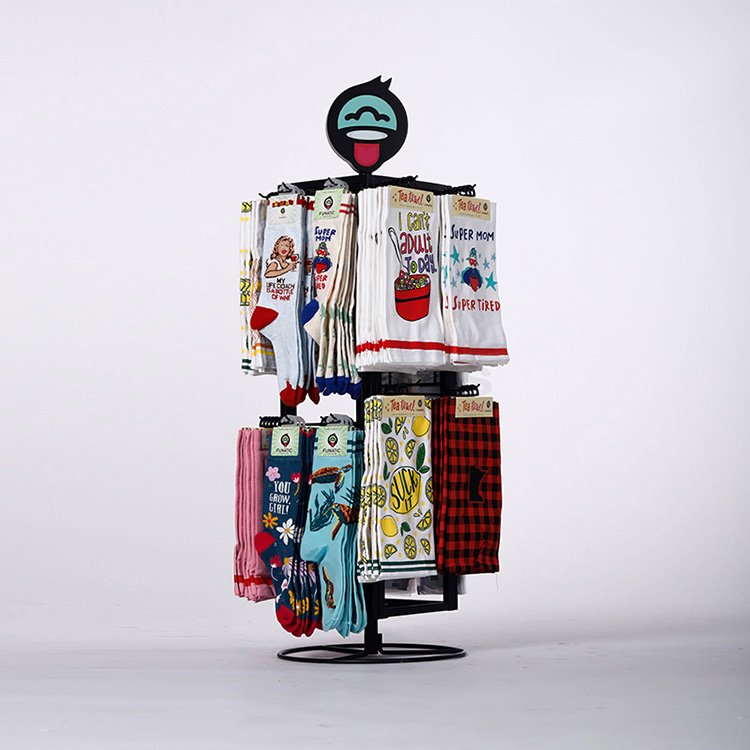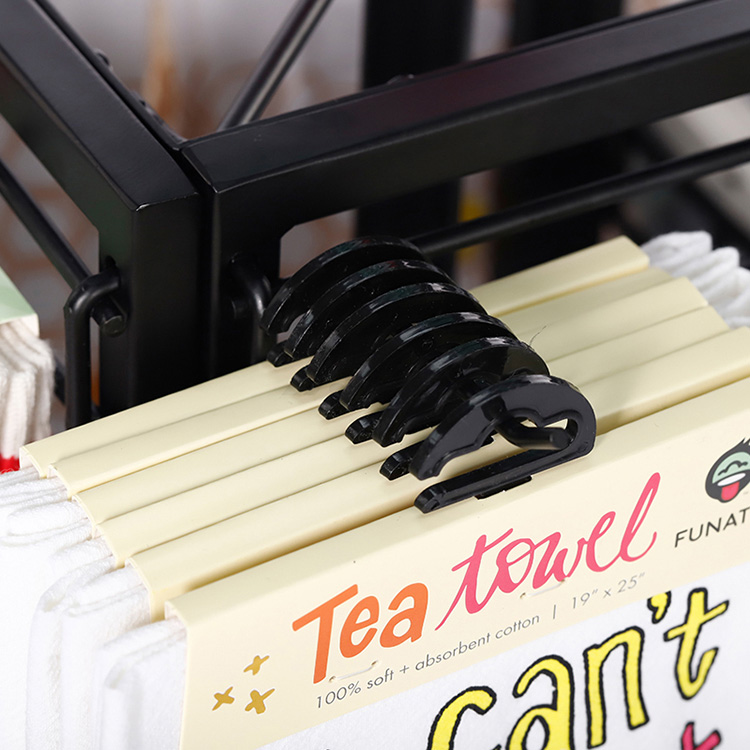 Step 4, mass production: Once you approve the sample and price and pay the deposit according to your order quality and terms, we will start mass production. We have a project manager to follow up on your project from the beginning to delivery. He or she will update progress to you regularly. And our QC teams check the quality all the way. We provide you with photos and videos during the whole mass production, especially the important steps and processes.
Step 5, inspection and package. You can inspect finished mass production in our factory before paying the balance. And we will provide assembly instructions within cartons before packing. Besides, we will send you a loading container solution to make the best use of the space before delivery.
Shipping: If you need our help with shipping or delivery, our team can help you find suitable shipping solutions or cooperate with your own shipping agents to arrange loading and shipping for you.  We also offer packing lists including quantity, gross weight, and net weight for custom clearance.
The socks market is increasing 5-6% per year, and every person needs 15-20 pairs of socks per year. We are sure creative socks retail displays will totally make a big difference in retail environments. So if you use custom sock displays, it is a good investment.
If you do not have an idea what kind of socks display meets your needs, we can help you with our 10-plus years of experience.
More sock display designs for your reference
To give you a better idea about sock displays, no matter it is a table top sock display stand or floor sock display rack, or sock display box, we give you below reference designs.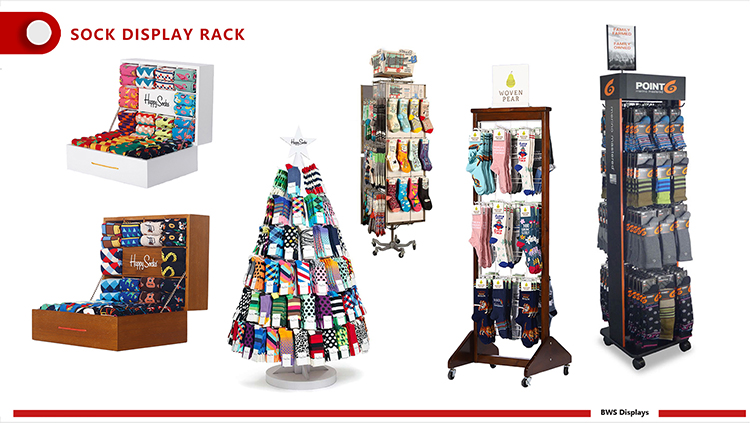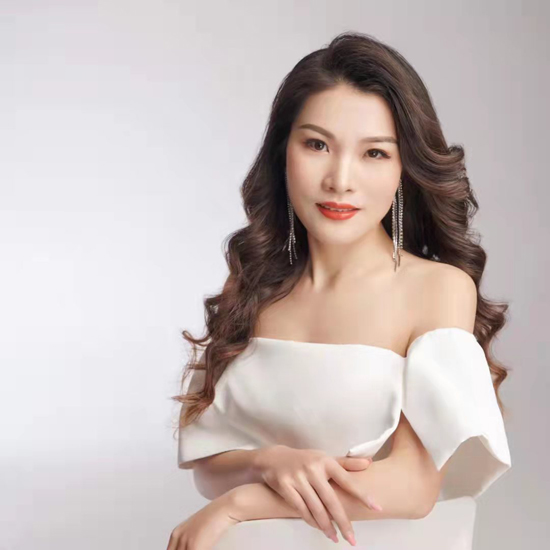 jessie huang
Love what we do and do what we love! Enjoy life, enjoy working in BWS DISPLAYS.