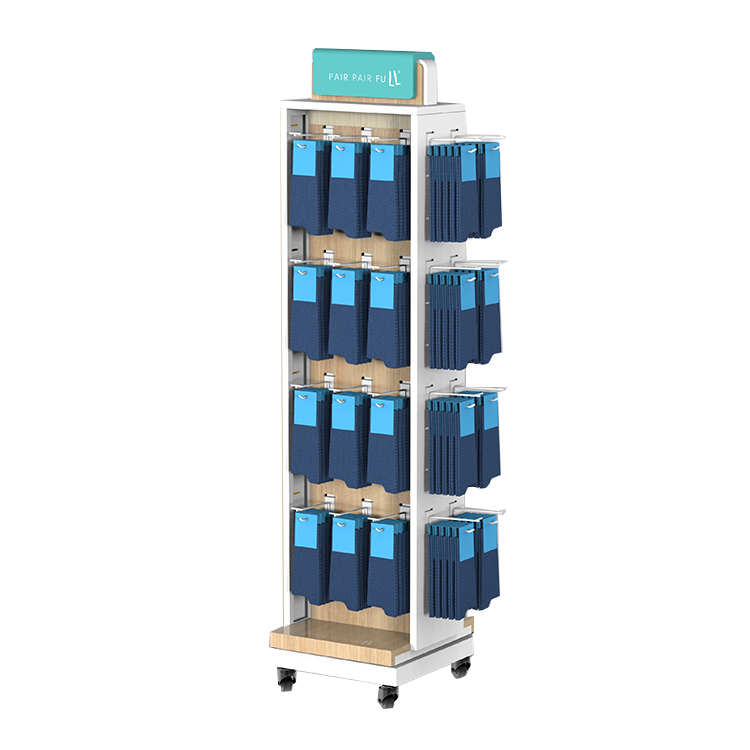 Custom 2-way Floor Socks Display Rack Successful Tested Movable Stand
Order(MOQ):50
Payment Terms:EXW, FOB Or CIF
Product Origin:China
Color:Wood, White
Shipping Port:Shenzhen
Lead Time:30 Days
Service:Customization Service, Lifetime After-sales Service.
Custom socks display racks are made for brand store and retail store merchandising. They are with custom graphics and brand logos to attract more attention.  Socks could be effectively merchandised with the right POP display, and that display could have a relatively small footprint. And it should be a relatively modest investment that would enable stores to try it out with little risk. Pair Pair Full experience helped them to understand the vital role that custom socks display racks play in generating sales.
Socks are usually regarded as the least important element on everyone's daily outfit. We made different sock display racks for Pair Pair Full and have received positive feedback. Yes, every pair of socks shall be full of fun, whether it's color, playfulness, attitude, or personality. You can always find a pair of socks here to express yourself.  That is what Pair Pair Full does, provides distinctive design, personality, and excitement socks. The socks display rack we made for Pair Pair Full is a distinctive design, unique and attractive. Today we are sharing the floorstanding socks display rack below.
What are the features of this socks display rack?
We posted the tabletop stand for socks made for Pair Pair Full previously, this sock display rack has the same features.
1. Nice design with an eye-catching logo background. This display stand combines wood and metal perfectly in the size 423*487*1720mm, which gives a beautiful appearance to buyers. 2. Functional and large capacity. It is a 2-way stand for socks with custom graphics on 2 sides, there are 12 hooks on each side, and it can showcase 120 pairs of socks at the same time. Without the graphics, it can showcase socks on 4 sides, which can display 80 pairs of socks more (both two wings showcase 40 pairs each with 8 hooks).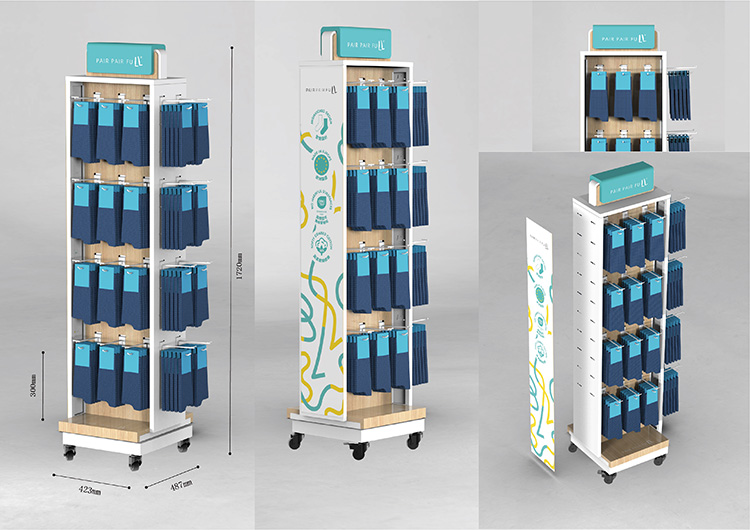 3. Stable and strong. We know both wood and metal materials have a long lifetime. Of course, you can use it to showcase other hanging items, for example, keychains. And all the hooks are detachable. 4. Rotatable, movable and small footprint. As you can see from the photo. It has a small base. There are 12 hooks inside instead of the frame.  There is a bearing on the base and 4 casters under the base, so you can move it easily. 5. Knock-down design. This socks display rack is easy to set up when you follow the assembly instructions we provide within the carton.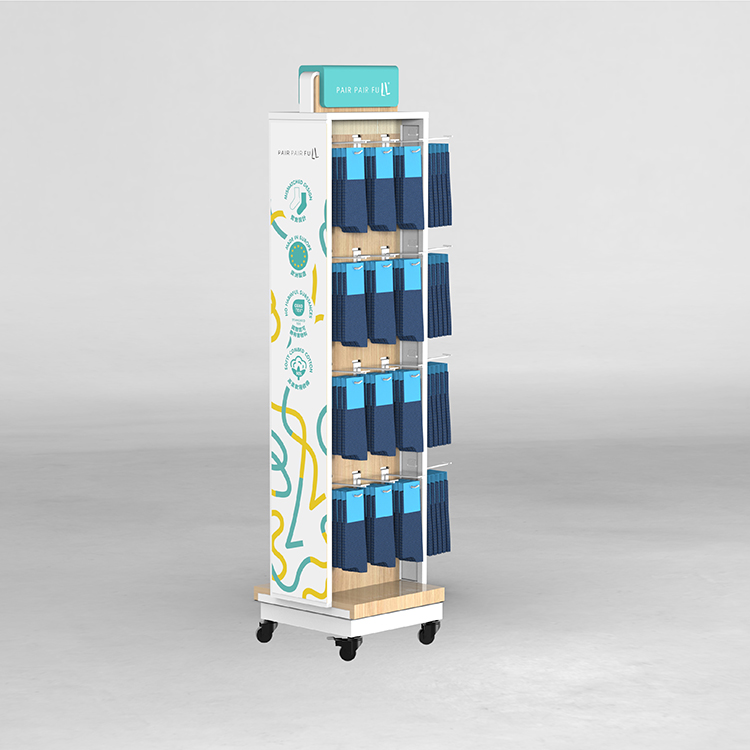 If you want more information or want to make your brand display racks, please feel free to contact us. Our core competence is custom displays, we can make the display according to your display needs. You decide the size, color, material, logo and more.
How do we make your brand socks display rack?
Below is the common process we make custom displays, it is for your socks display rack too.
First of all, to customize your brand logo and innovative display for socks, we need to know your requirements. What kind of display do you need, countertop or freestanding style? What material do you prefer? How many socks do you want to display? Of course, we need to know your socks' specifications first. You can tell us your sock package dimensions.
Secondly, we will provide you with rough drawings and 3D drawings so that you can check what it is like when your socks are on after confirming your specific needs. If you need to change, we will update the drawing for you. Only after your approval and order, we will start to make a display sample for you. We have shown you the 3D rendering above. Here is a 3D rendering with socks on.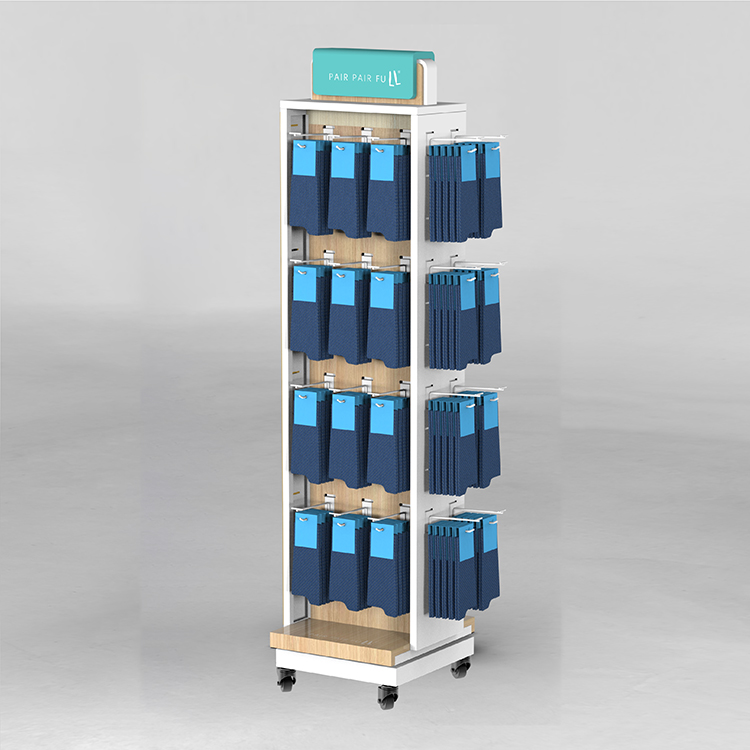 Thirdly, when the sample is finished, we will assemble and check the dimensions, and finishing effect and test the sample. Of course, we will take photos and videos for you. It takes around 7 days to finish the sample. Here are photos of the sample we made of this stand for socks.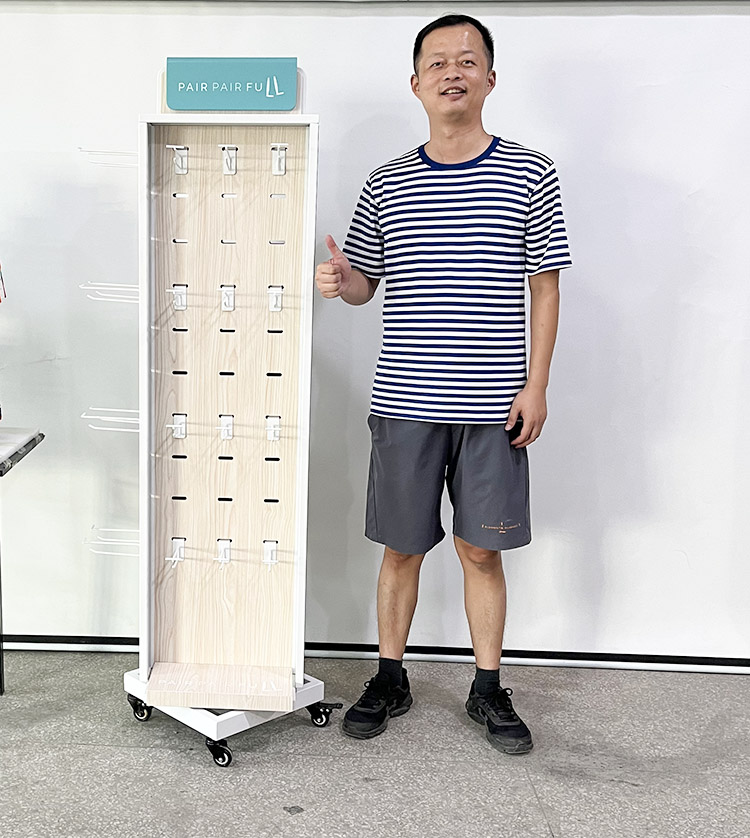 Fourthly, When this sample is approved, we will arrange mass production. We will control production quality according to the sample. When production is finished, we will check all details to make sure these display racks meet your needs. The mass production takes around 25-30 days.
Fifthly, safety packing. Normally, displays are packed in a flat package, and we provide assembly instructions in the carton. So it is easy for you to assemble them on your side. This socks display rack is knocked down into 2 cartons.
Sixly, lifetime after-sales service. We will follow up and reply to you within 48 hours if you have any questions. Below is the socks display rack in retail stores, which the buyer sent us. And the buyer is satisfied with the display we made for him.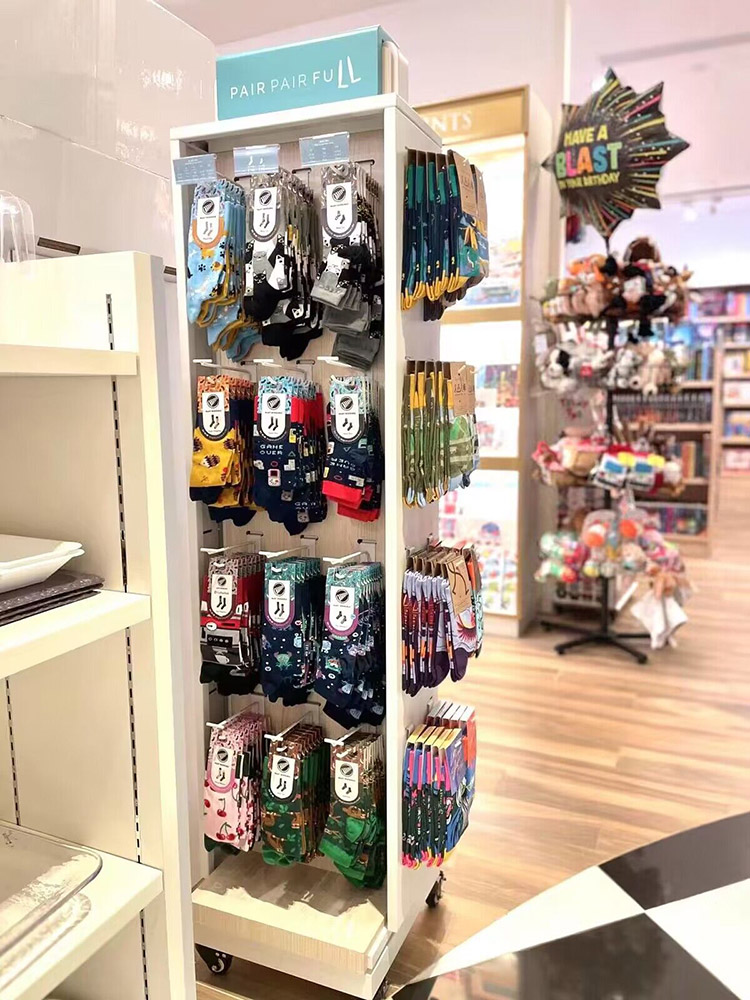 Here are 3 other socks display racks that are popular.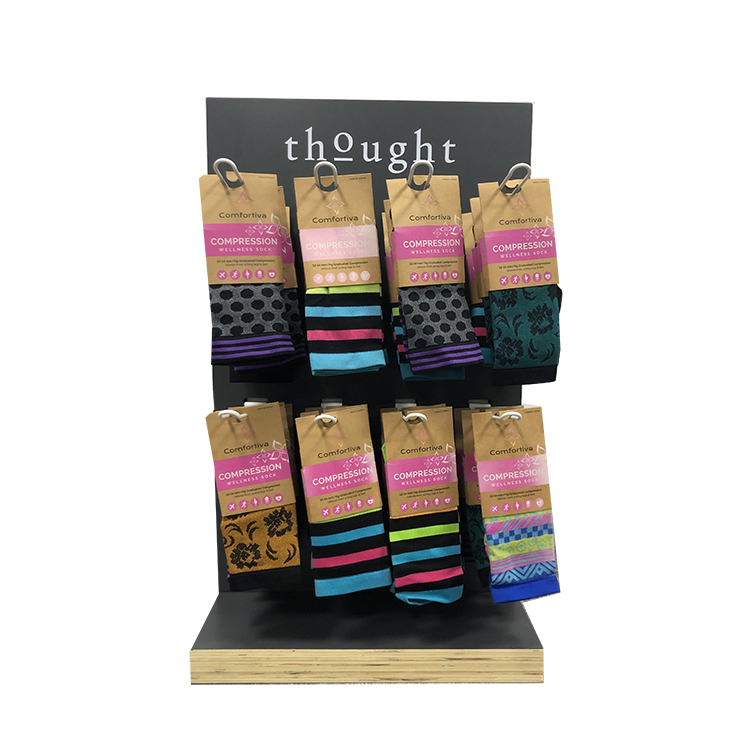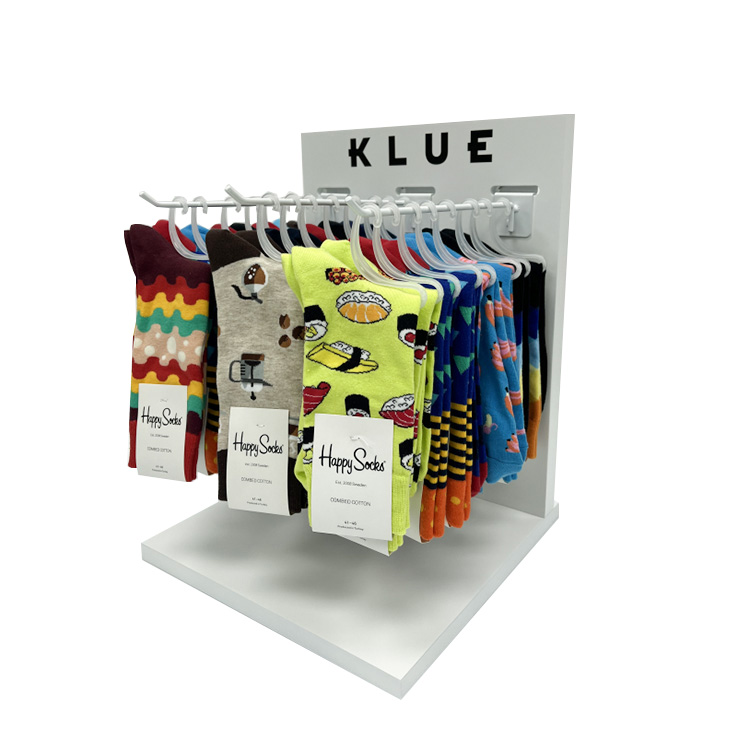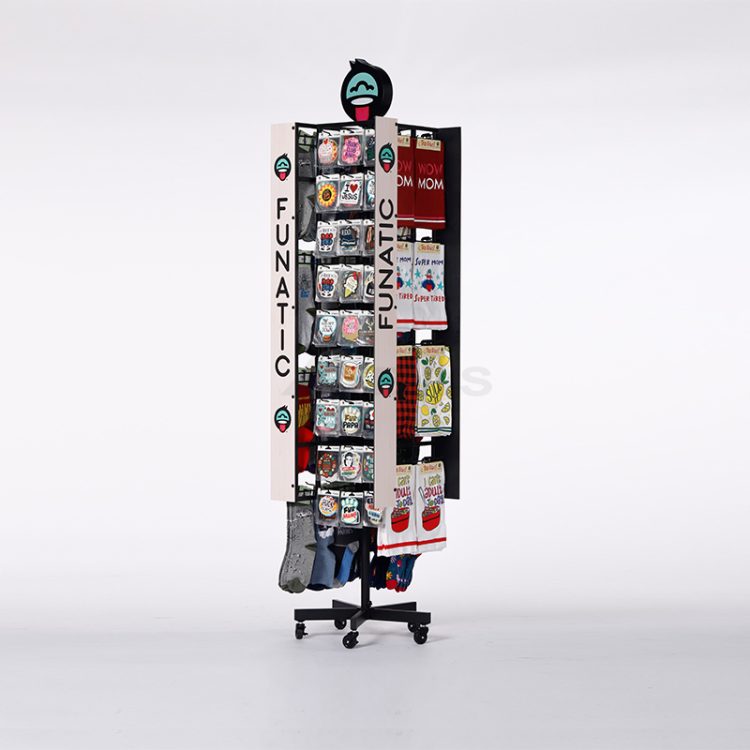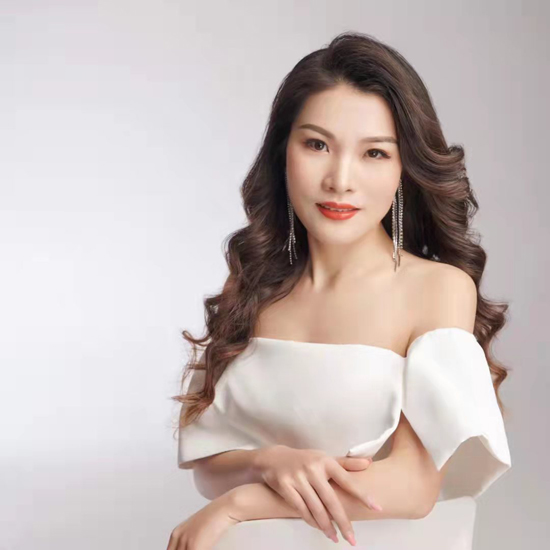 jessie huang
Love what we do and do what we love! Enjoy life, enjoy working in BWS DISPLAYS.