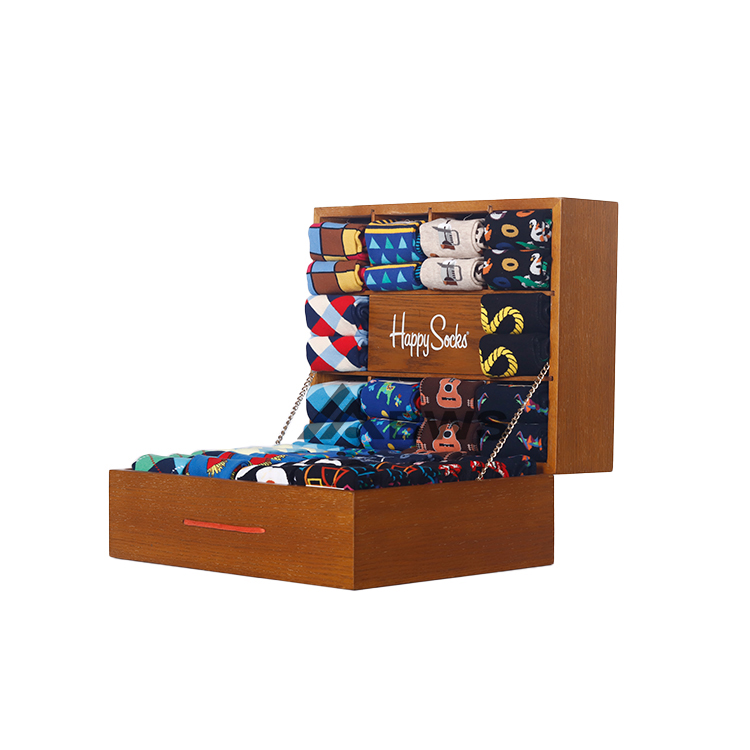 Wooden Socks Box 14 Dividers Happy Socks Logo Sock Display Box
Order(MOQ):50
Payment Terms:EXW, FOB Or CIF
Product Origin:China
Color:White/Brown
Shipping Port:Shenzhen
Lead Time:30 Days
Service:Customization Service, Lifetime After-sales Service.
Today we are sharing with you a wooden socks box for Happy Socks that you can put your socks in and display to shoppers with your brand logo. It is not a common package box for socks.
Why do we share this socks box?
There are many sock display racks, sock display stands, sock display hangers, sock display mannequins as well as other sock display fixtures for retail stores and shops. They can be in different designs, different styles, different materials, different graphics, and different brands, they are all for visual merchandising. Socks are hung on the display or put on a mannequin, and socks are presented to shoppers in a directly visible way. While this socks box is special, it can be closed, all socks are in the box.
Besides, this socks box is very popular, we have made this socks display box since 2012.  It is made for Happy Socks, which is a Swedish manufacturer and retailer of socks, underwear, and swimwear. The company was founded in 2008. Their merchandise is sold in 90-plus countries, with 12,000 points of sale, and over 100 Happy Socks stores. Happy Socks carries tons of funky designs and fun patterns. As the name suggests, the Happy Socks brand creates socks with a fun flair. Happy Socks creates "a high-quality sock that combines unique designs and craftsmanship."
Below is the real Happy Socks display box.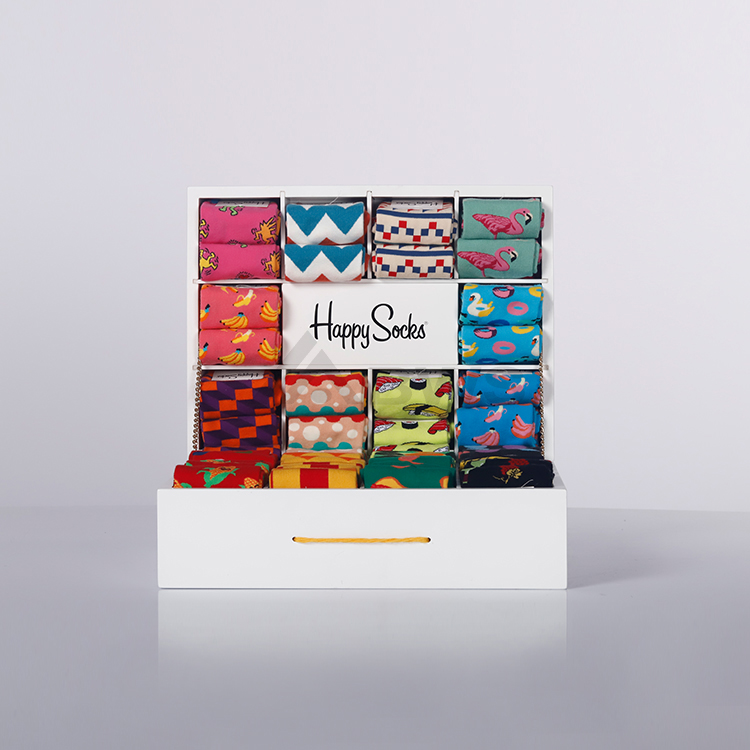 What are the features of this socks box?
As you can see from below photo, it is a square wooden display box with many dividers inside. Both the top box and the base box can be shown with socks or stored socks. Dozens of socks are available to put into one sock box. Brand logo Happy Socks on the inner top, which is brand merchandising. There are two colors we have made, one is white, the other is brown. Both of them are of the same size, 306*306*194mm. Two golden-stamp chains on each side can hold the top straight at 90 degrees when the sock display box is open.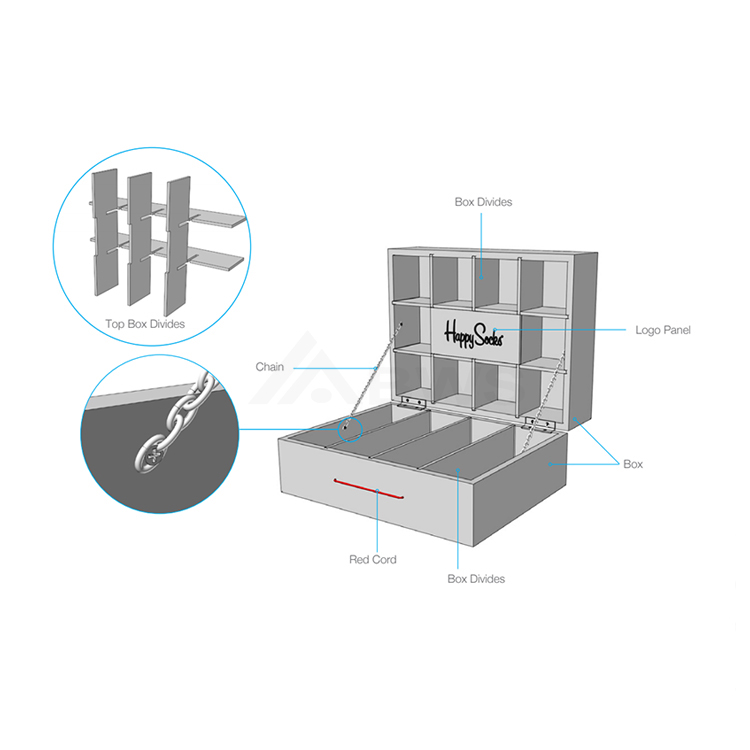 Above drawing shows every part of this sock display box, which contains box divides, box, logo panel, chains as well as a cord (many colors are available for the cord).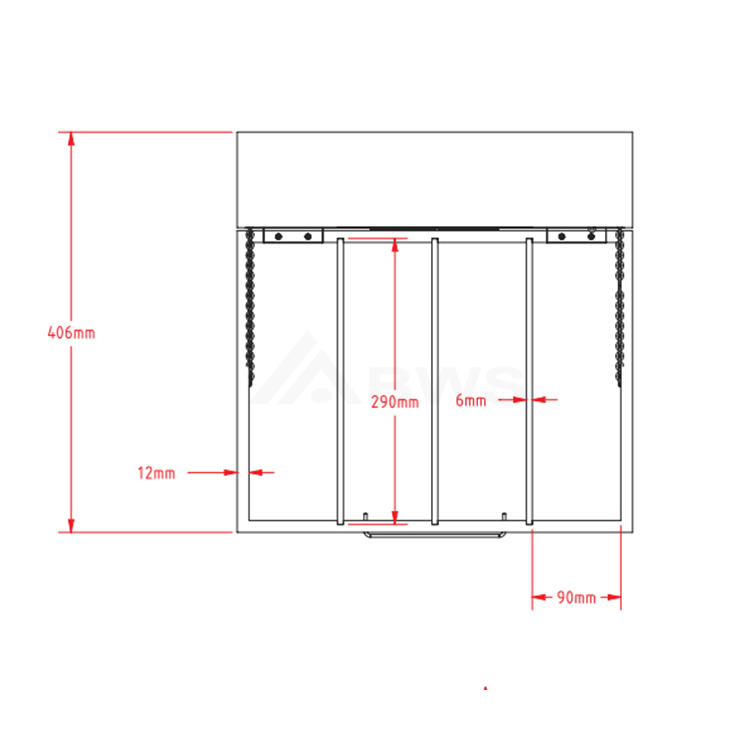 This shows the dimension when the sock display box is open.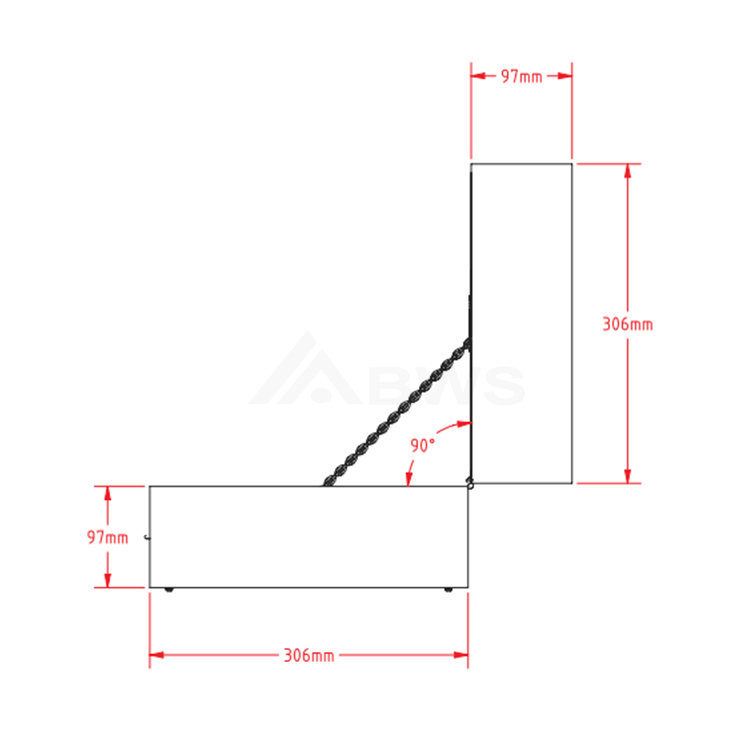 Here is the full dimension, both the top and bottom box are 97mm high.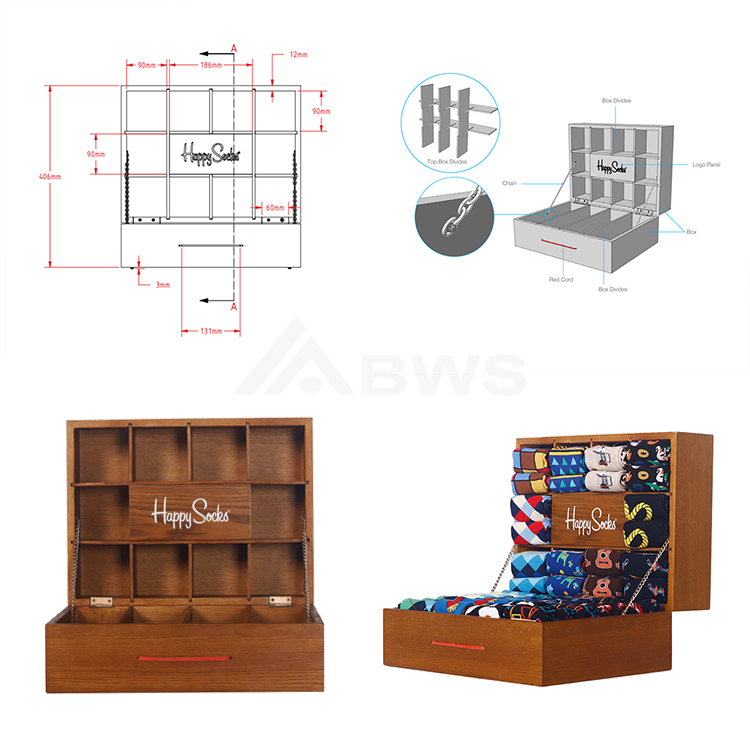 This is the brown color, which is painted, screen-printed logo in the middle of the top. When it is closed, it can keep dust away.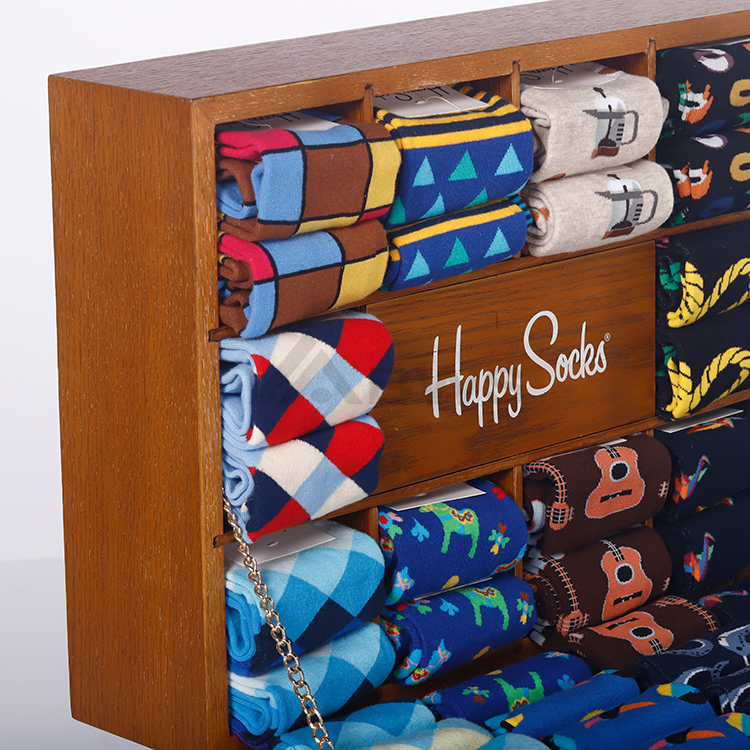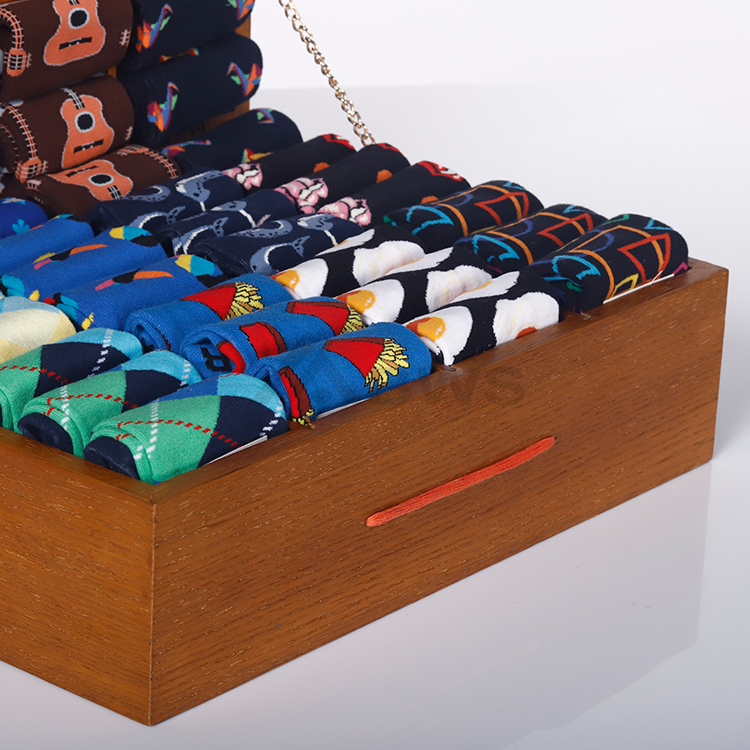 This socks box can display at least 48 pairs of socks at the same time.
How to make your brand sock display?
We are a factory, so it is easy to make custom sock displays for you. Below are common steps to make custom displays.
Step 1: Confirm your need and find a solution for you. You can send us pictures, drawings, or describe the sock display you like, such as what function, your target price, quantity, size, material, color, etc. Our designers are able to customize unique sock displays for you. If you have no idea, please let us know more information about your brand and send us samples of your socks if possible. Our team will find a solution for you.
Step 2: We check costs and send you a quotation after you confirm the design, and we will make a rough drawing and 3D drawing for you.
Step 3: Once you accept our price and sample cost, our team is going to make a sample for you.
Step 4: When the sample is finished, we will ship you it or show by pictures and videos. You can check and test the physical sock display rack sample.
Step 5: After the sample and all details are confirmed, we start mass production for you. We control all details to make sock displays the same as the sample.
Step 6: We will assemble and check details before arranging safety packages. For this socks box, it is assembled. Normally, we will make a knock-down design to save shipping costs.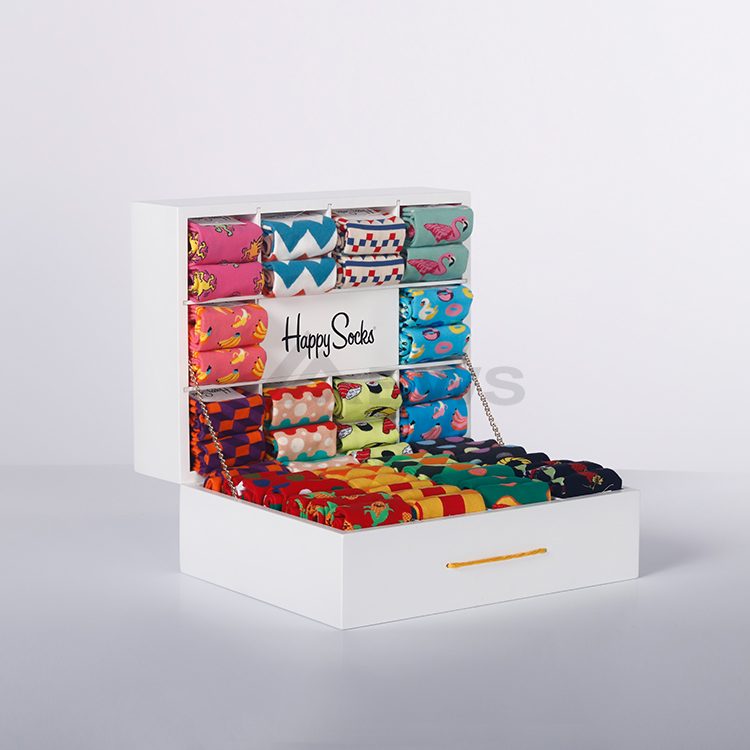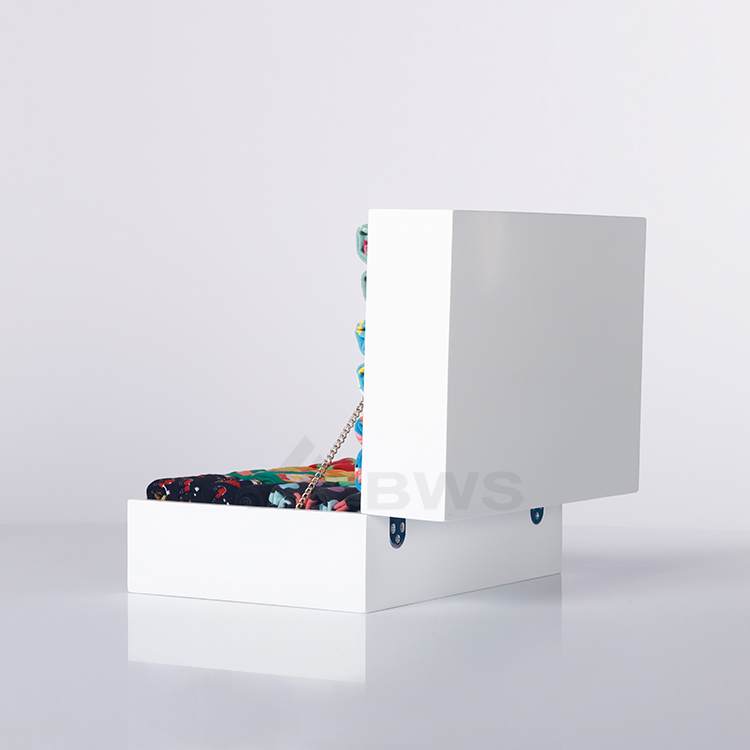 Do you have other sock display ideas?
Below are 4 designs we have made recently, if you need more designs or would like to make a socks box for your socks, please contact us anytime. We will be glad to help you.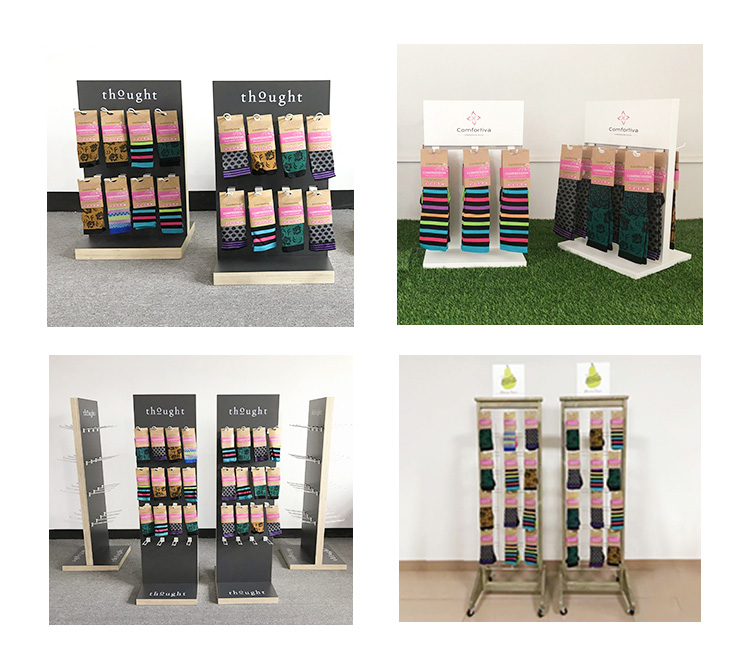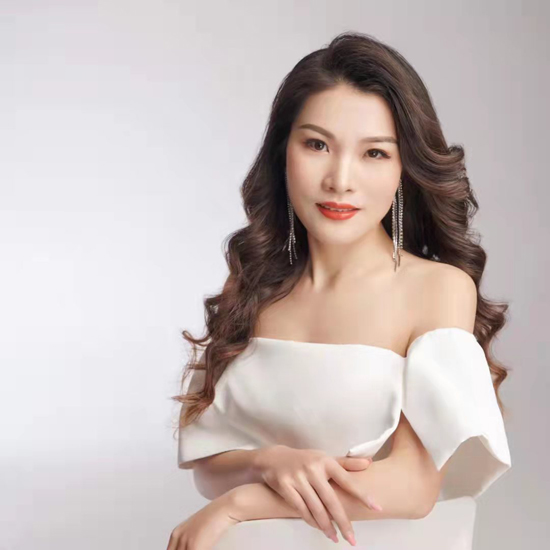 jessie huang
Love what we do and do what we love! Enjoy life, enjoy working in BWS DISPLAYS.