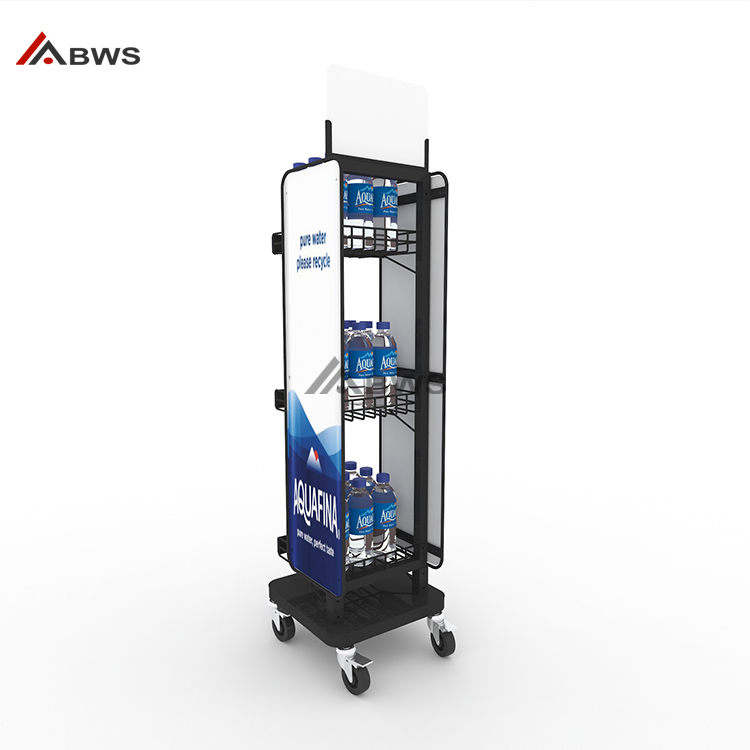 Movable Water Display Rack 3-Tiers Black Metal Bottled Drinks Display Shelf
Order(MOQ):50
Payment Terms:EXW, FOB Or CIF
Product Origin:China
Color:Black
Shipping Port:Shenzhen
Lead Time:30 Days
Service:Customization Service, Lifetime After-sales Service.
Movable Water Display Rack 3-Tiers Black Metal Bottled Drinks Display Shelf
Water display rack. floor 3-tiers display with wheels, a simple but popular design in many stores and supermarkets. The structure is made of wire and metal tubes, and the graphics just need to insert into the groove. Small package size, easy installation, good load-bearing capacity.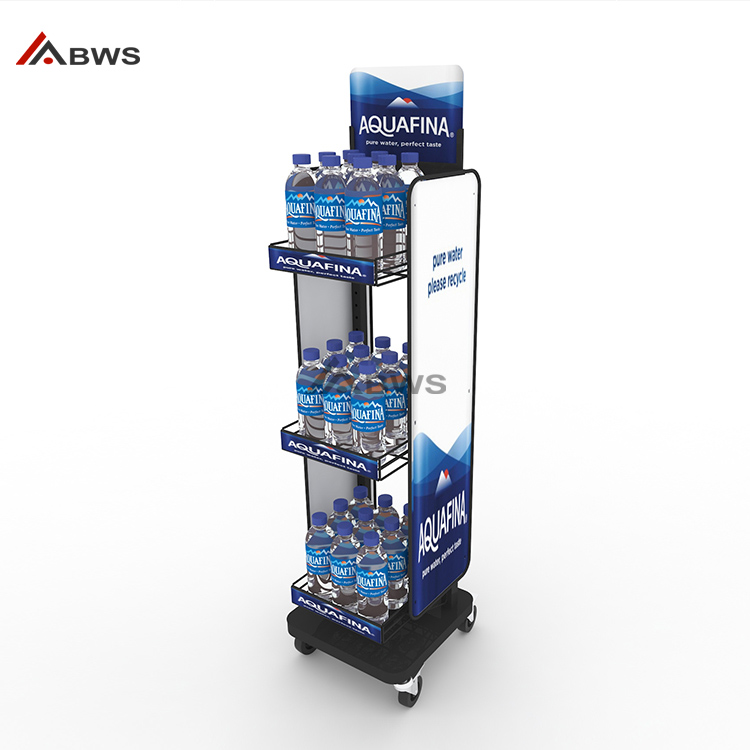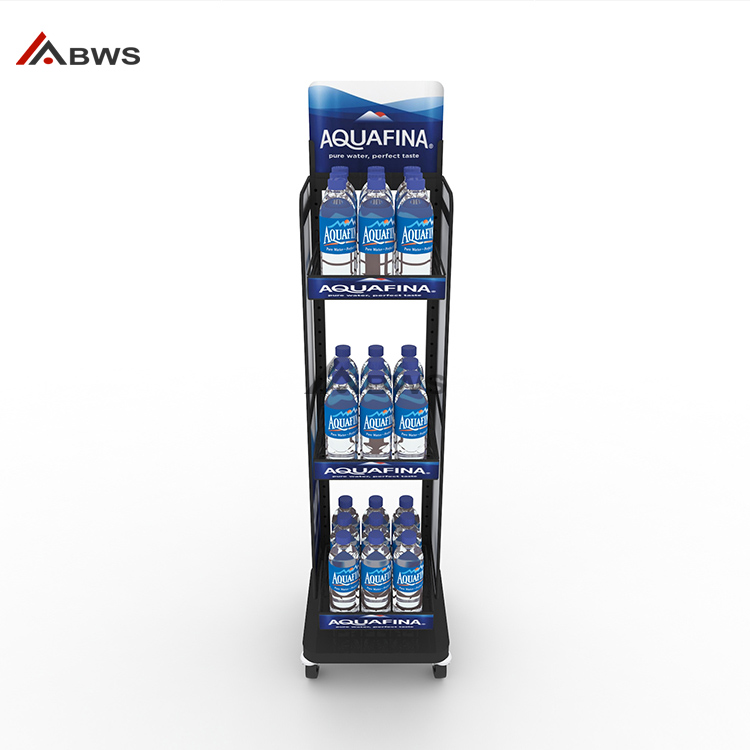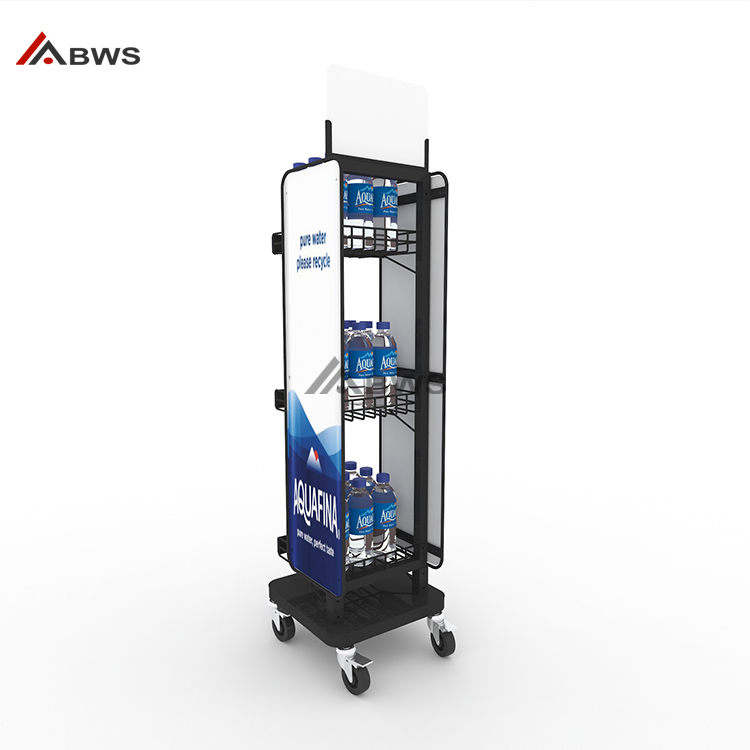 Products Specification
Below is the specification of the water display rack.
Kindly reminder:
We don't retail and we don't have stocks. All our display racks are custom-made.
Design: Custom design
Size: Customized size
Logo: Your logo
Material: Metal or custom
Color: Black or customized
MOQ: 50 units
Sample Delivery Time: 7 days
Bulk Delivery Time: 30 days
Packaging: Flat package
After-sales Service: Start from sample order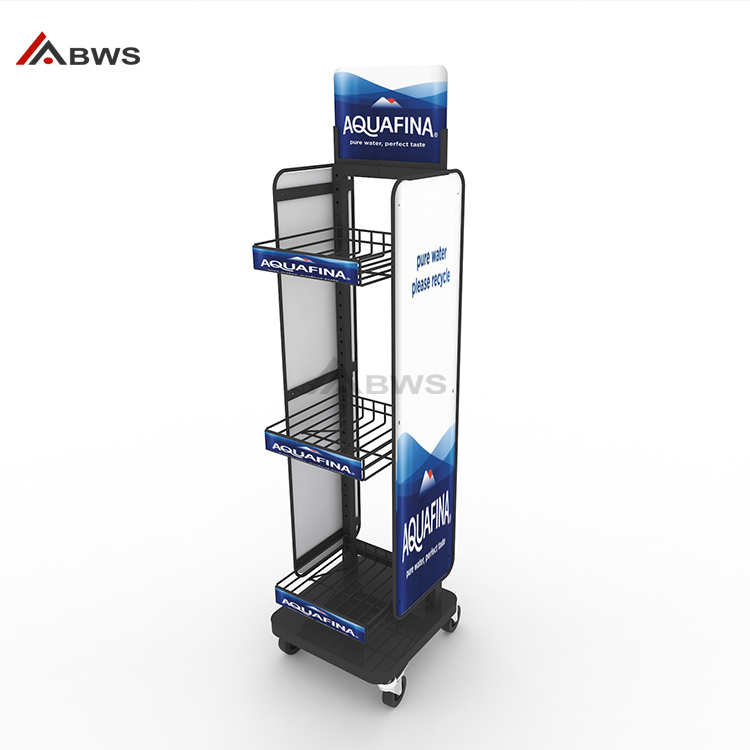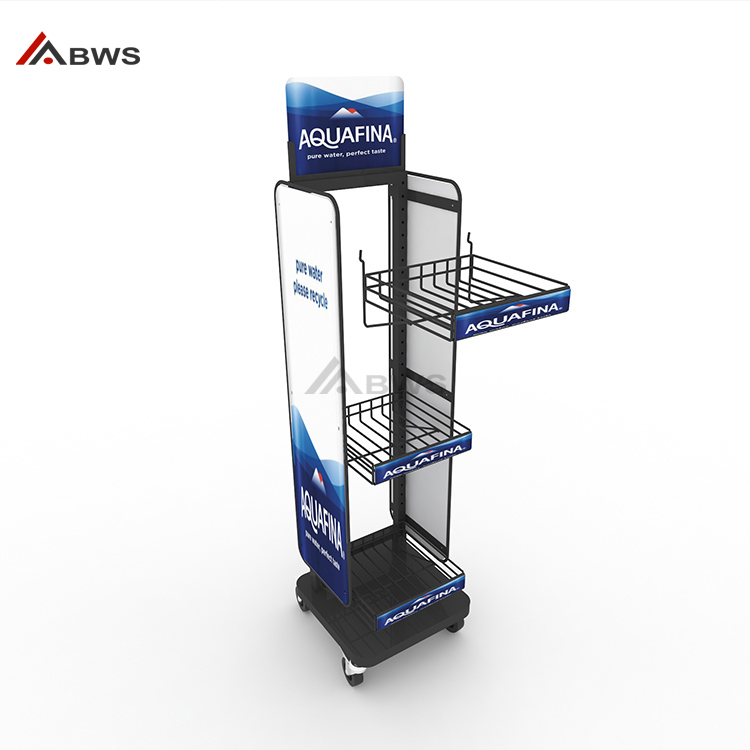 How to Work with Us
We will follow the steps below to provide you with the most professional customized service.
1. Firstly, our experienced sales team will listen to your display needs and fully understand your requirement.
2. Secondly, our design & engineering teams will provide you with a drawing before making the sample.
3. Next, we will follow your comments on the sample and improve it.
4. After the clothes display sample is approved, we will start mass-producing.
5. During the production process, BWS will control quality seriously and test the product property.
6. Finally, we will pack all of the water display racks and contact you to make sure everything is wonderful after shipment.
You May Also Like Other Water Display Rack
Can drinks display shelf is designed for drink cans and used in convenience stores, retail stores, retail shops, supermarkets, etc? Drinks like milk, fruit juice, cola, sprite, etc. All can be displayed on the can drink display rack. Because drinks are fast-moving goods and sold in large quantities, each drink can rack organizer better has large space to keep drinks as more as possible. It is made from metal wire shelves, metal tube frames, PVC graphics. Metal material is cheap and cost-saving.
So is the PVC graphic. For fast-moving drinks sold in very large quantities, a huge number of can drink display racks for thousands of retail stores are needed. So the cost for a drink can rack organizer should be low and economical. Package for such can drinks display shelf is small, flat, light, not so heavy as metal sheet, wood designs. Levelers on the base are able to adjust the height of feet and match uneven ground.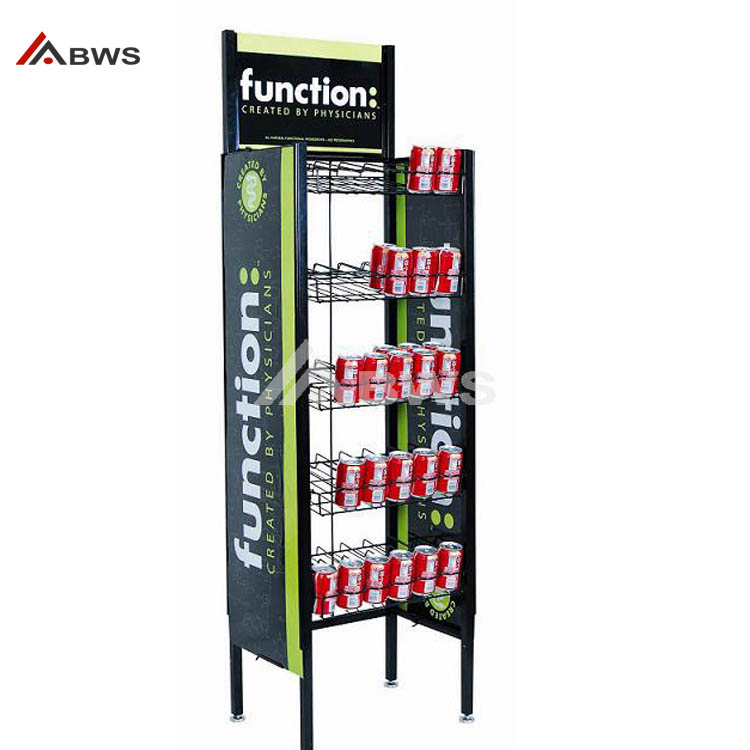 Retail beverage displays are widely used in retail stores, convenience stores, shops, supermarkets, etc. Beverages, drinks like fruit juice, milk, cola, all can be shown on beverage display racks. Since beverage is fast-moving goods and sold in large quantity, better each beverage display has a large area to keep drinks as more as possible. And the weight for beverage bottles on each shelf and complete beverage display rack is very heavy.
So the construction and materials for such beverage display racks must be very durable and strong. Metal is a good choice. What's more, metal material is cheap and cost-saving. For fast-moving goods like beverages sold in very large quantities, a huge number of beverage display racks are needed for thousands of retail environment application areas. Hence, the cost for retail beverage displays should be low. Four wheels on the base are convenient for moving. Big graphics on the left side and right side show advertisements and brand logos. So are the header and front side on the base.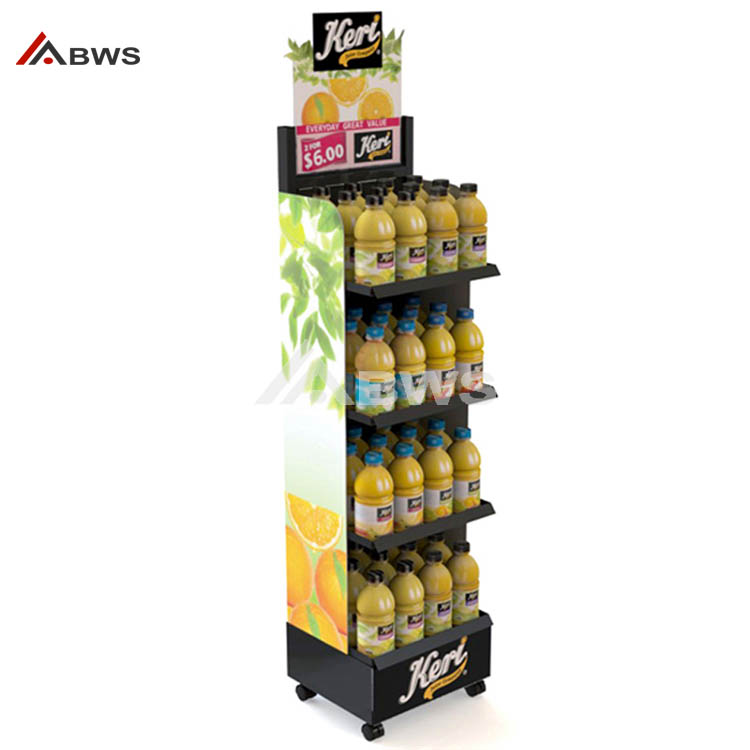 Feedback & Witness
We believe in listening and respecting our clients' needs and understanding their expectations. Our client-centered approach helps ensure that all of our clients receive the right service at the right time and by the right person.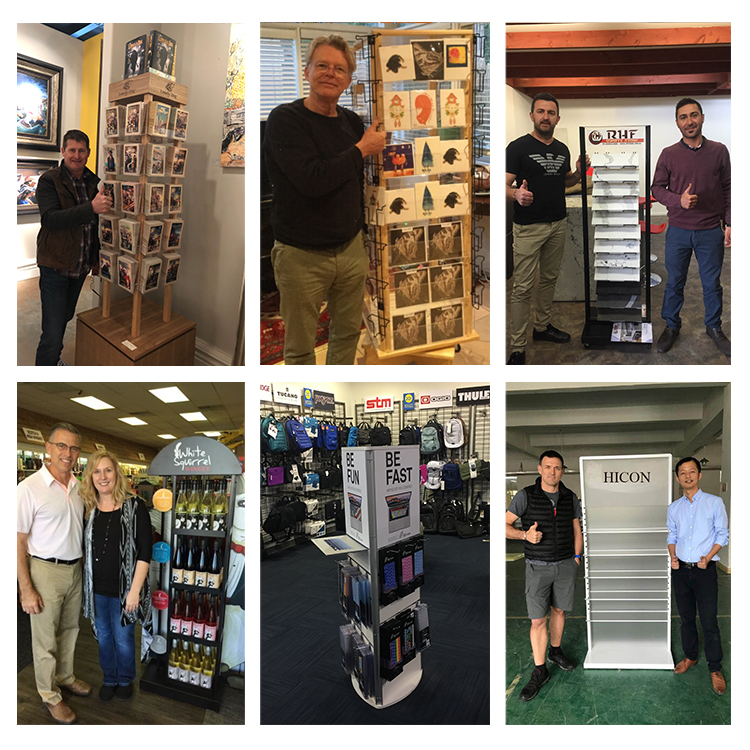 What We Can Make
We have customized thousands of personalized display racks for our customers during the past 20 years, please check some designs below for your reference, you will know our customized craft and get more confidence about our cooperation.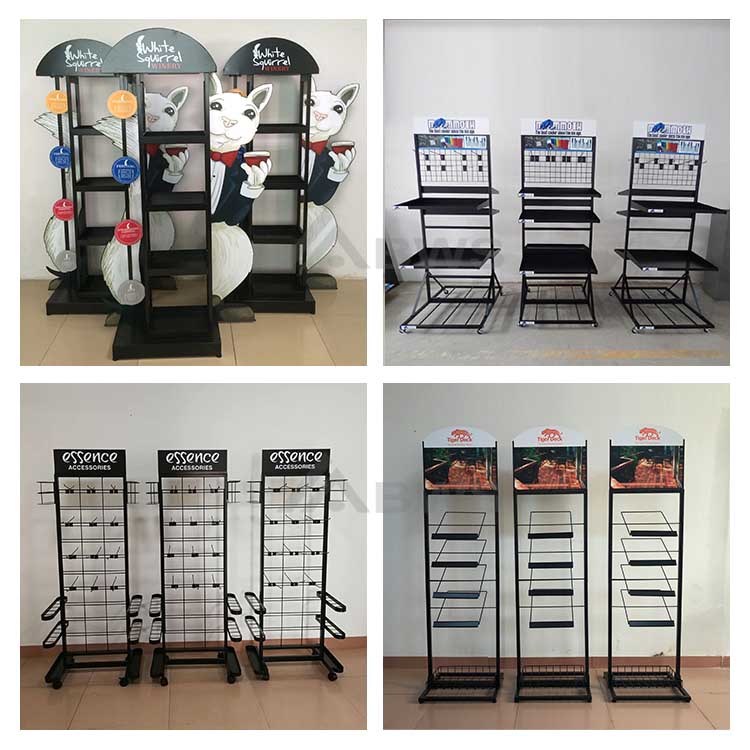 Warranty
Two years limited warranty covers all our display products. We take responsibility for the defects caused by our manufacturing error.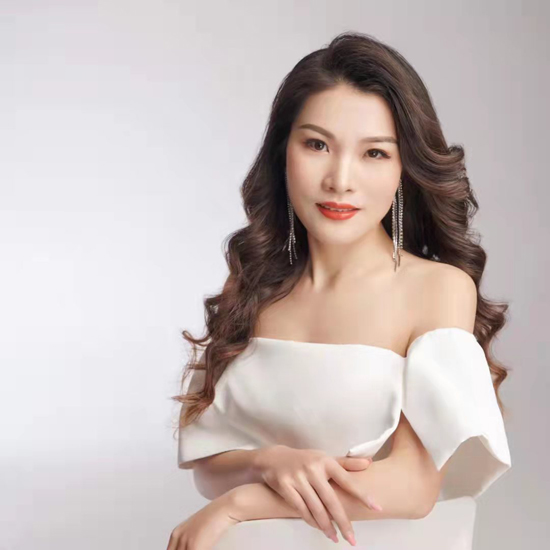 jessie huang
Love what we do and do what we love! Enjoy life, enjoy working in BWS DISPLAYS.