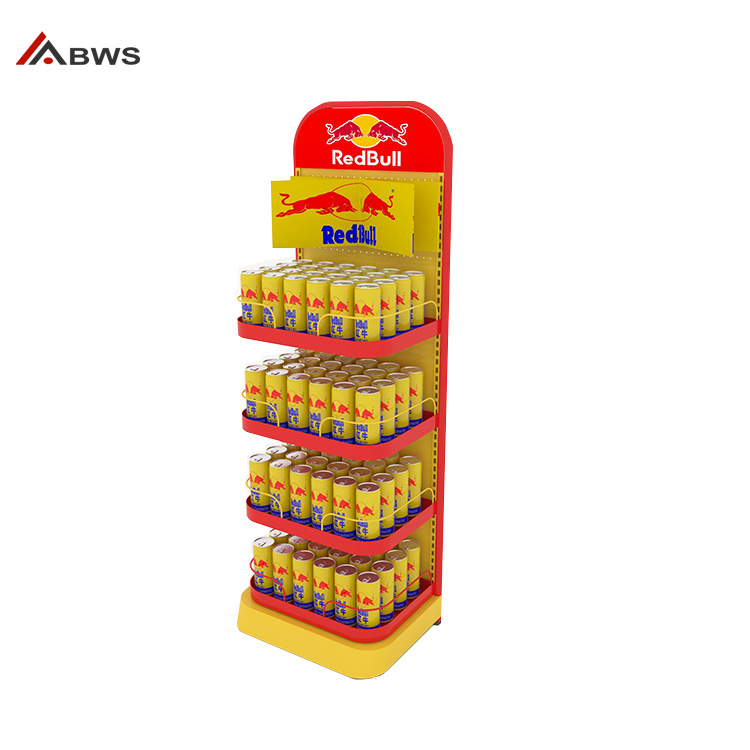 Strong 4-tier Pegboard Energy Drink Display Floor-standing For RedBull
Order(MOQ):50
Payment Terms:EXW, FOB Or CIF
Product Origin:China
Color:Yellow, Red
Shipping Port:Shenzhen
Lead Time:30 Days
Service:Customization Service, Lifetime After-sales Service.
How to display energy drinks?
There are many ways to display energy drinks. A floor-standing energy drink display is one of these display fixtures which are made from all types of sturdy materials such as stainless steel, acrylic, hardware, metal wire, wood, cardboard, and more. While custom energy drink display fixtures are with a brand logo which both builds brand image and impresses shoppers. Besides, custom energy drink display fixtures may be designed to be in a unique shape to meet their brand culture.
And today we will share with you a floor-standing drink display stand for Redbull. Red Bull is a brand of energy drinks sold by Austrian company Red Bull GmbH. With 38% market share, it is the most popular energy drink brand as of 2019. Since its launch in 1987, more than 82 billion cans of Red Bull have been sold worldwide, including 7.9 billion in 2020.
Of course, this display stand is not just for Redbull, it can showcase other energy drinks, such as carbonated beverages, hard cider, fruit and vegetable juices, bottled water, sports drinks, beverage concentrates, soda drinks, ready-to-drink tea, and ready-to-drink coffee. Due to rising incomes and an increase in sports activities and urbanization, global energy drink sales reached $57.4 billion in 2020. The industry is expected to grow by a compound annual growth rate (CAGR) by 7% between 2020 and 2025.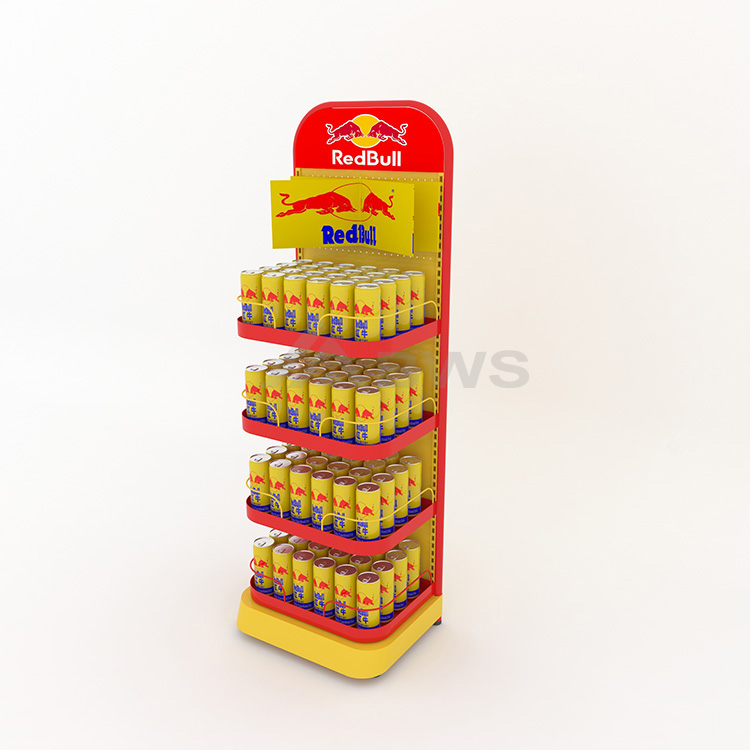 What are the features of this Energy drink display?
This energy drink display for Redbull is made of metal. The key feature of this display is the detachable shelves and a unique brand logo.
The construction is steady. It is with 4 red shelves, which can hold 96 bottles of Redbull cans. Each can is 250ml, so every shelf bears 12KG. To bear a total weight of at least 48KG, the back panel is made of pegboard, which is strong enough. The color is outstanding, which matches the brand logo, powder-coated red and yellow. The round corner head is special, and so does the base. The size of this energy drink display is 635*500*1855mm, it is around 60KG. While the package size is 1900*355*690mm, it is a knock-down package.
Here are more photos to view the details.
The energy drink display is framed with metal tubes.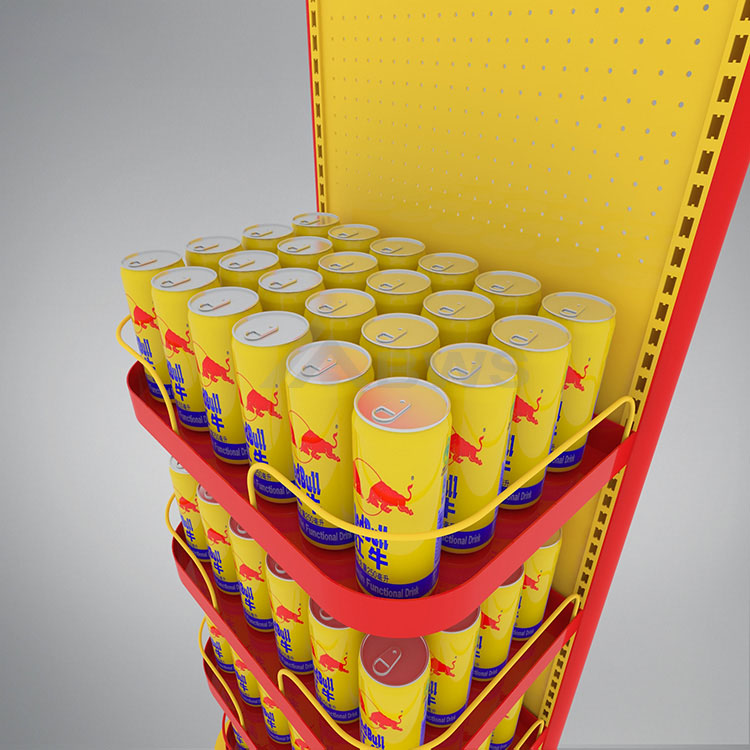 The shelves are detachable as you can see pockets on the back panel sides.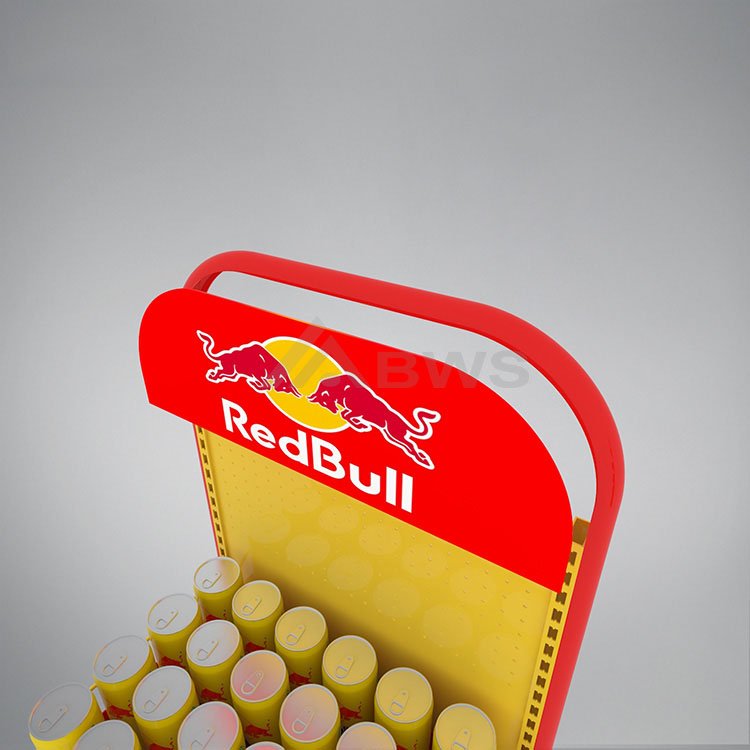 And this shows how the header graphic is attached to the metal tube.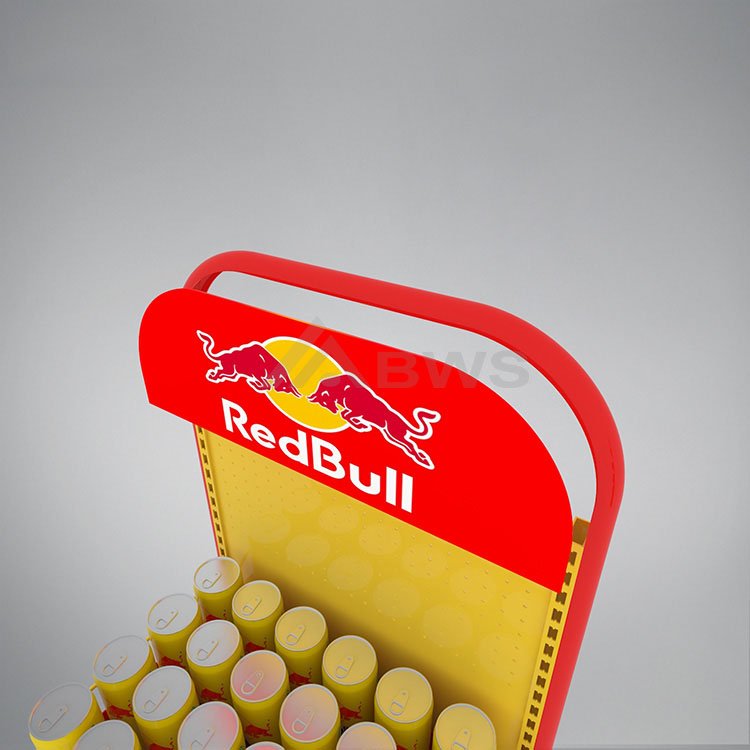 And this shows how the energy drink display is made up.
How to make an energy drink display?
BWS is a factory of custom display fixtures with more than 10 years of experience. We have made display racks for Coca-Cola, Pepsi and more. You can feel free when you work with us.
Firstly, we need to know your needs, what kind of design you like, countertop or freestanding, what materials to be used, sizes which are up to how many bottles or cans you'd like to display. You can decide all these, shape, finishing effect, color, function, etc. We can use mixed materials such as wood, metal, acrylic, cardboard, and more to make custom displays. And then we will discuss with you more details to make the display stand that you are looking for.
Secondly, we will send you a drawing and 3D rendering after we confirmed all the details of the display. Below are the 3D renderings we made for this Redbull energy drink display.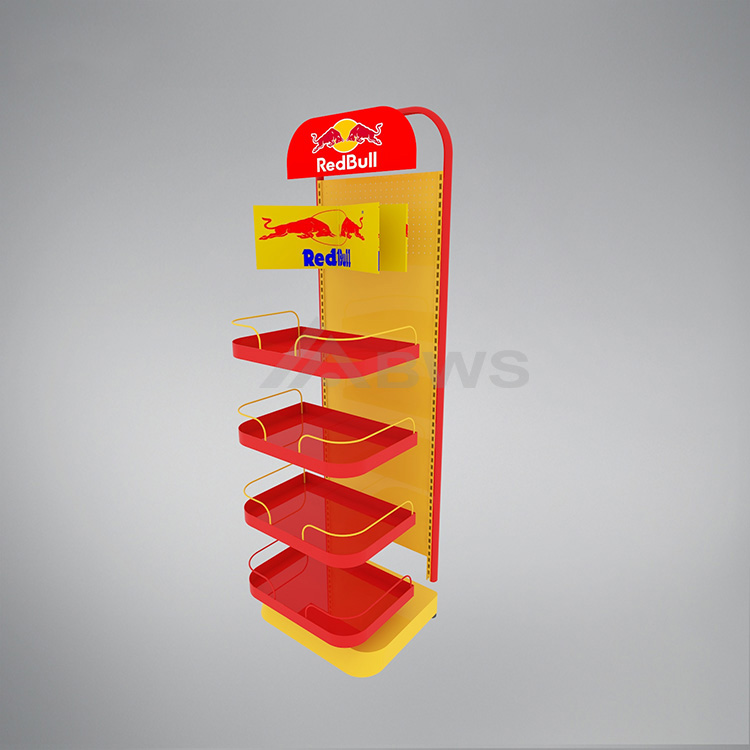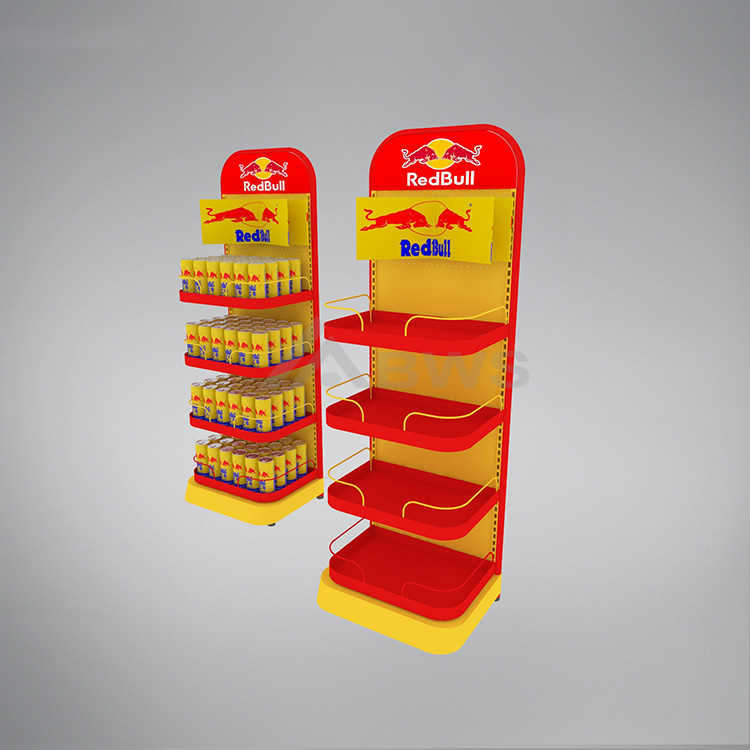 We will provide you with the rendering with and without products on.
Thirdly, after your order is placed and the design is confirmed, we will make a sample for you. Only after the sample is approved, mass production will be followed. We control all the details during mass production to make the display stand meet your needs.
Fourthly, normally, we design displays in knock-down construction which saves package costs and shipping costs. You do not need to worry about the assembly as the assembly instructions are with the products. We will make a safe package and arrange the shipment. Sample can be delivered by Express, mass production can be delivered by sea shipment or air shipment( for urgent needs only).
We also provide after-sales service, if you have any questions about the display we made for you, you can contact us any time.
What we can do for you?
BWS provides one-stop service for every client from design to after-sales service.
1. Display solution and design
2. Engineering and quotation
3. Rendering and mock-up
4. Production and quality control
5. Assembling and testing
6. Photography
7. Package and arrange shipment
8. After-sales service
Do you need more designs for reference?
Please find below designs for your reference. 5 of them are designed to display wine and beverages, while they can display energy drinks too. If you do not have a display idea for your drinks, or you need more designs or want to try your new project with us, contact us now. We are sure you will be happy after you contact us.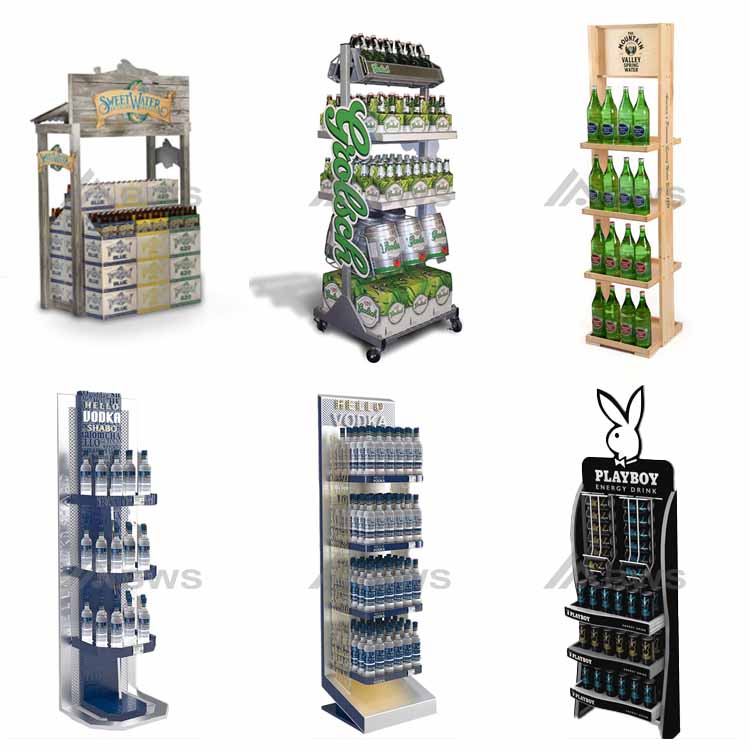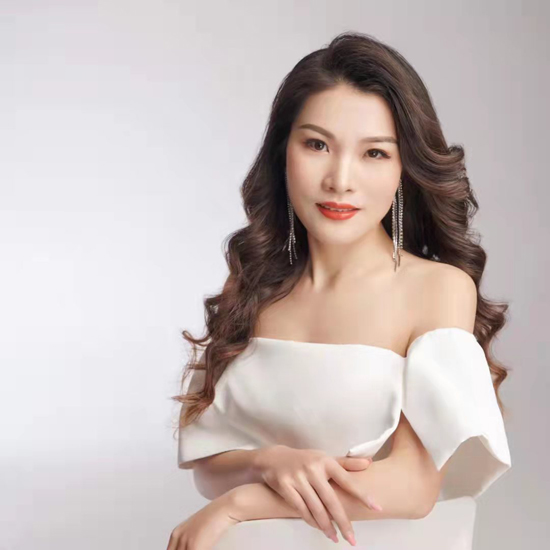 jessie huang
Love what we do and do what we love! Enjoy life, enjoy working in BWS DISPLAYS.