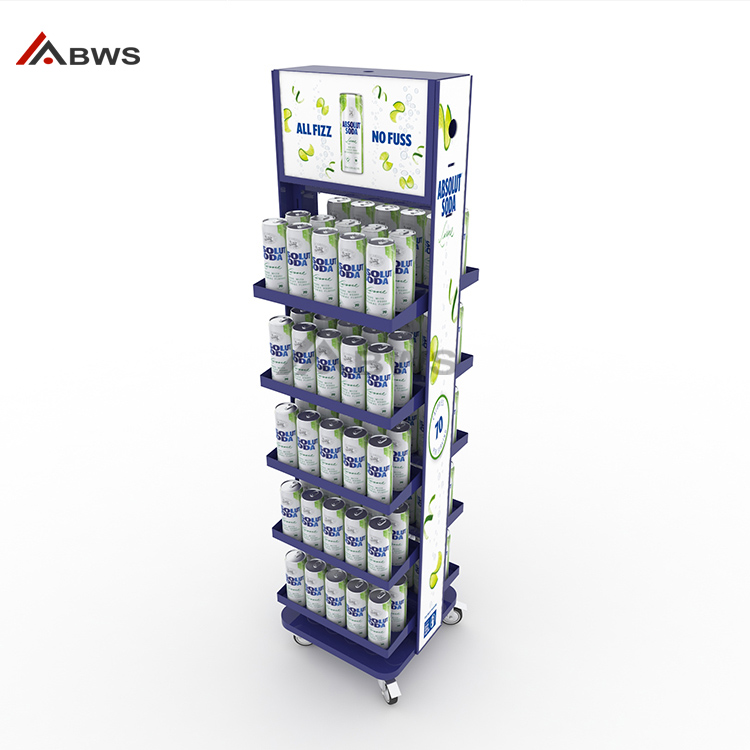 Movable Creative Beverage Display 2-sided Blue Metal Drinks Stand
Order(MOQ):50
Payment Terms:EXW, FOB Or CIF
Product Origin:China
Color:
Shipping Port:Shenzhen
Lead Time:30 Days
Service:Customization Service, Lifetime After-sales Service.
Creative beverage display, Floor double-side 5 layers drinks display cabinet, each layer is capable of storing 10 bottles, and the combination of the white advertisement and the blue metal frame makes the whole present a very harmonious unity. The use of wheels makes the display rack more convenient to transfer, this style is very useful for any brand store, supermarket, and exhibition.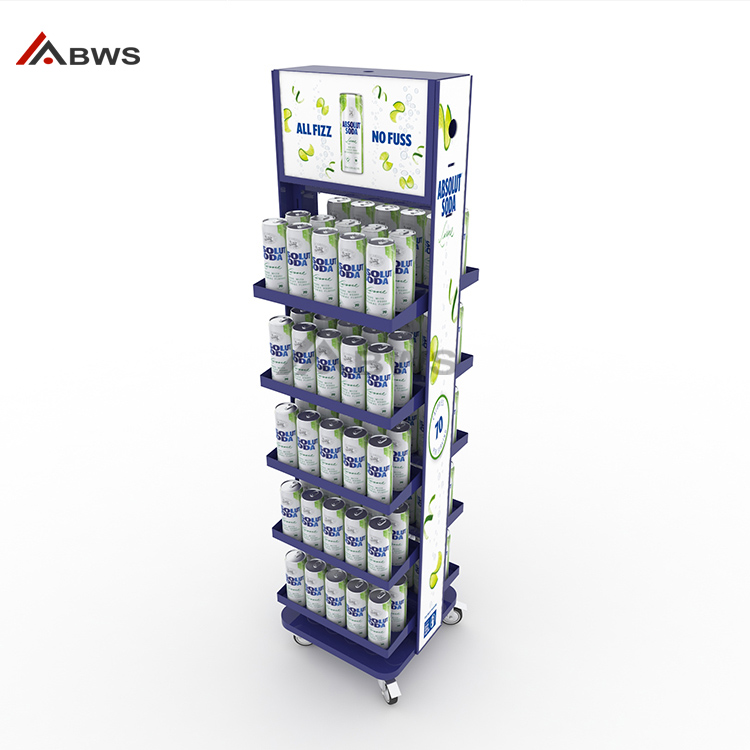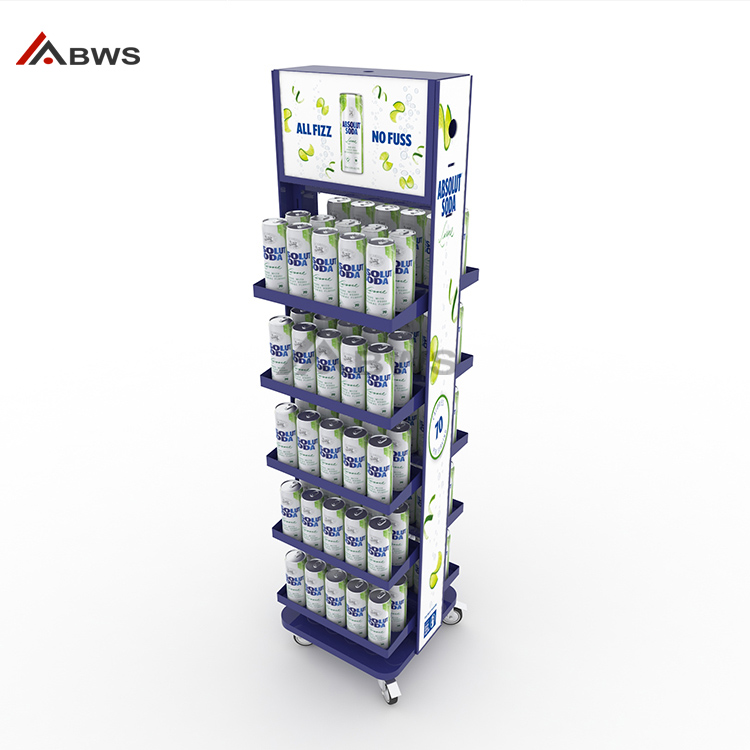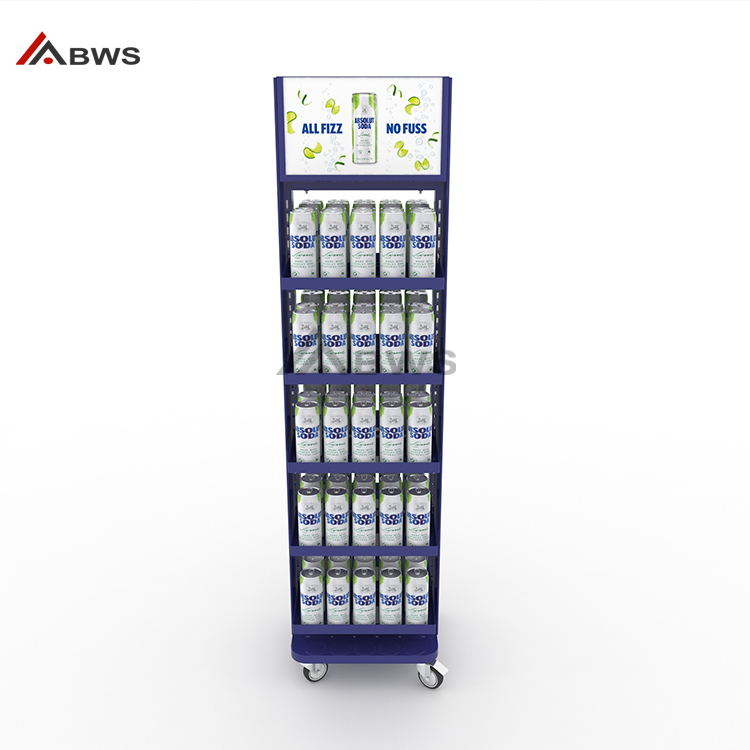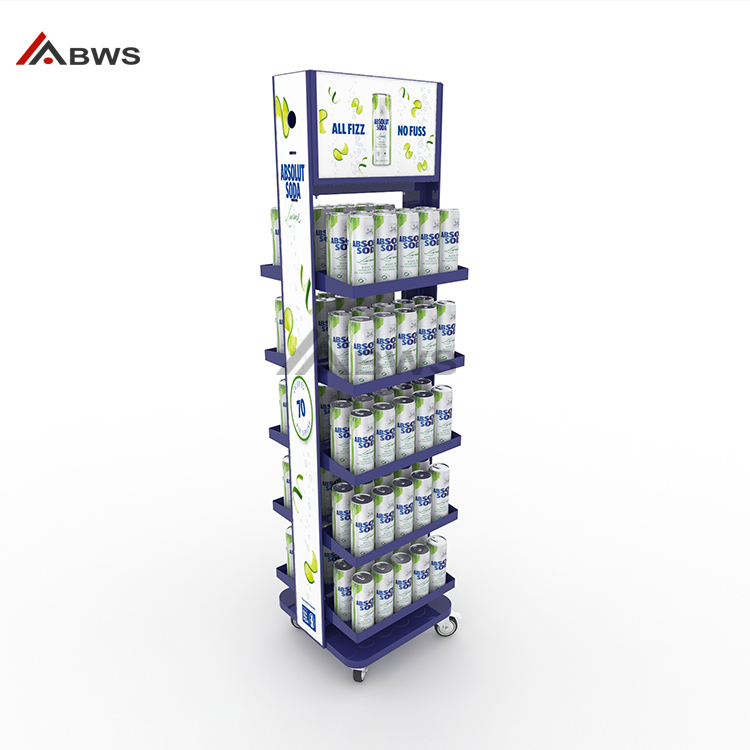 Products Specification
Kindly reminder:
We don't retail and we don't have stocks. All our display racks are custom-made.
Design: Custom design
Size: Customized size
Logo: Your logo
Material: Metal or custom
Color: Blue or customized
MOQ: 50 units
Sample Delivery Time: 7 days
Bulk Delivery Time: 30 days
Packaging: Flat package
After-sales Service: Start from sample order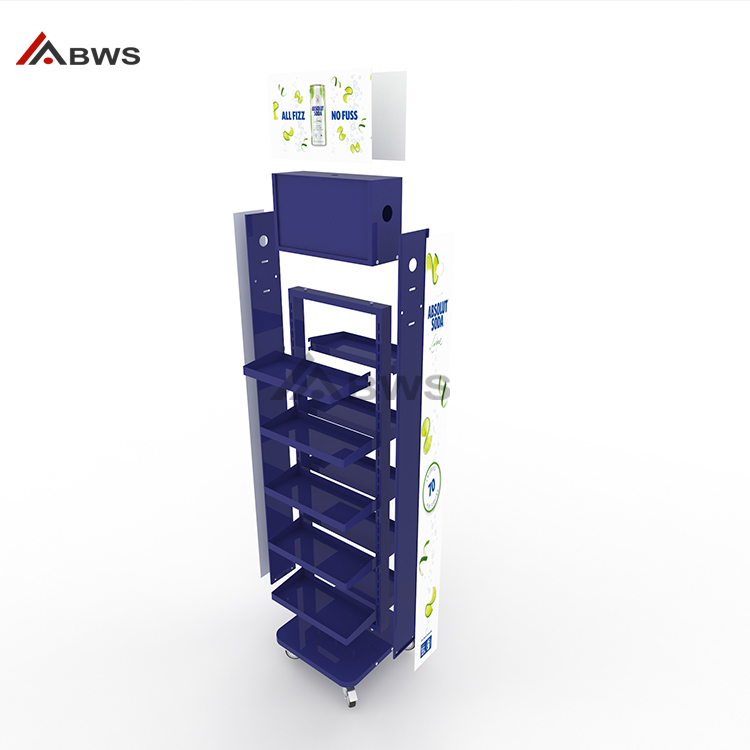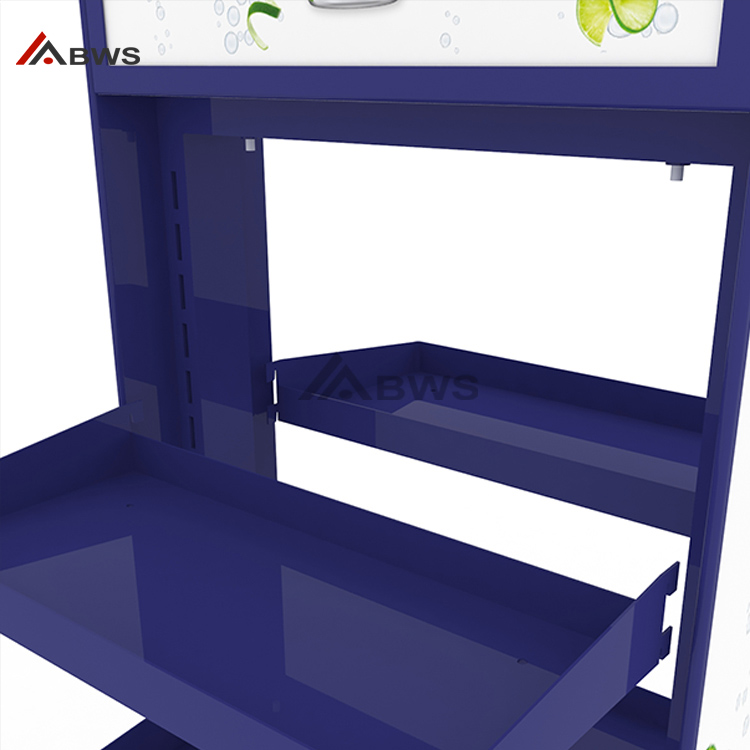 How to Work with Us
We will follow the steps below to provide you with the most professional customized service.
1. Firstly, our experienced sales team will listen to your display needs and fully understand your requirement.
2. Secondly, our design & engineering teams will provide you with a drawing before making the sample.
3. Next, we will follow your comments on the sample and improve it.
4. After the beverage display sample is approved, we will start mass-producing.
5. During the production process, BWS will control quality seriously and test the product property.
6. Finally, we will pack all creative beverage display racks and contact you to make sure everything is wonderful after shipment.
You May Also Like
People who love drinking whiskey probably are brave, independent, creative, and love freedom a lot. They don't need too much decoration. Simple, natural, pure, and high-quality styles are suitable for their personality. As you can see, Steven Jobs and Mark Zuckerberg always wear very simple and pure styles of clothes, maybe just a black T-shirt or dark grey T-shirt.
This whiskey display is made of solid wood with a grey color surface and black graphics. It represents not only "simplicity" and "nature" but also "silence" "high quality" and "wisdom". As we know, black and grey colors let people have feelings of high quality, high-end, senior, business, etc.
What's more, the textures on solid wood are visible and you even can touch them with your hands. No metal screws and hinges are on the surface. All these features express the same feelings and tell the same story to shoppers.
Retail creative beverage displays are widely used in retail stores, convenience stores, shops, supermarkets, etc. Beverages, drinks like fruit juice, milk, cola, all can be shown on beverage display racks. Since beverage is fast-moving goods and sold in large quantity, better each beverage display has a large area to keep drinks as more as possible. And the weight for beverage bottles on each shelf and complete beverage display rack is very heavy.
So the construction and materials for such beverage display racks must be very durable and strong. Metal is a good choice. What's more, metal material is cheap and cost-saving. For fast-moving goods like beverages sold in very large quantities, a huge number of beverage display racks are needed for thousands of retail environment application areas. Hence, the cost for retail beverage displays should be below. Four wheels on the base are convenient for moving. Big graphics on the left side and right side show advertisements and brand logos. So are the header and front side on the base.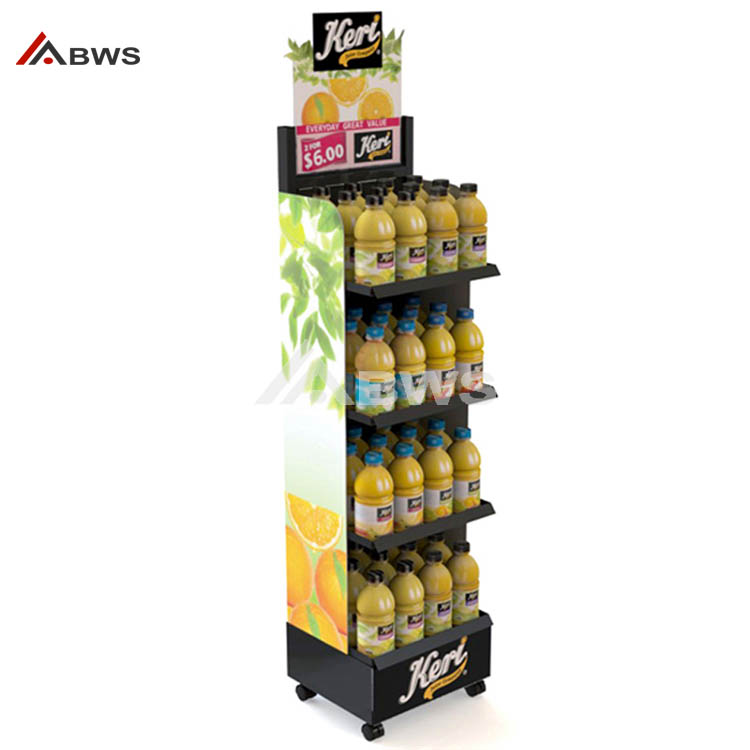 Feedback & Witness
We believe in listening and respecting our clients' needs and understanding their expectations. Our client-centered approach helps ensure that all of our clients receive the right service at the right time and by the right person.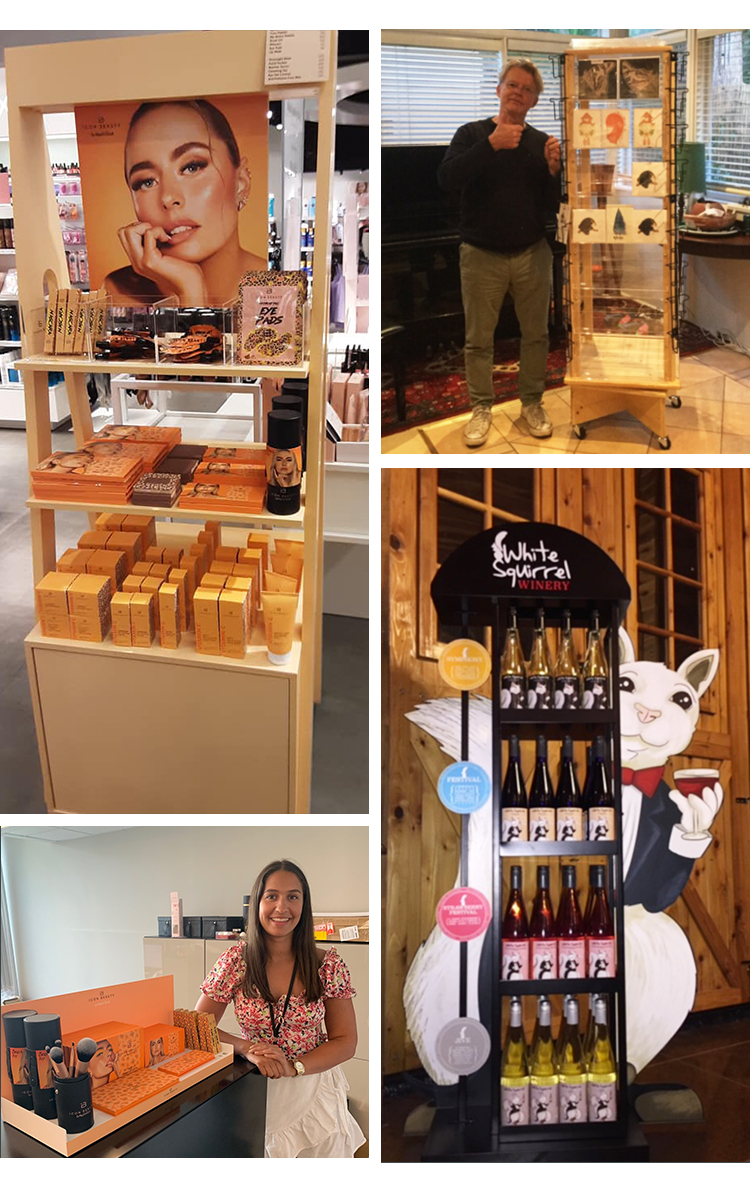 What We Can Make
We have customized thousands of personalized display racks for our customers during the past 20 years, please check some designs below for your reference, you will know our customized craft and get more confidence about our cooperation.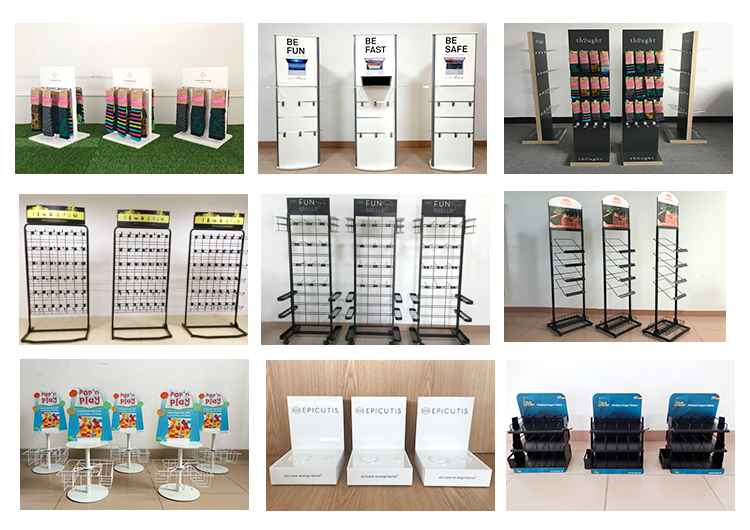 Warranty
Two years limited warranty covers all our display products. We take responsibility for the defects caused by our manufacturing error.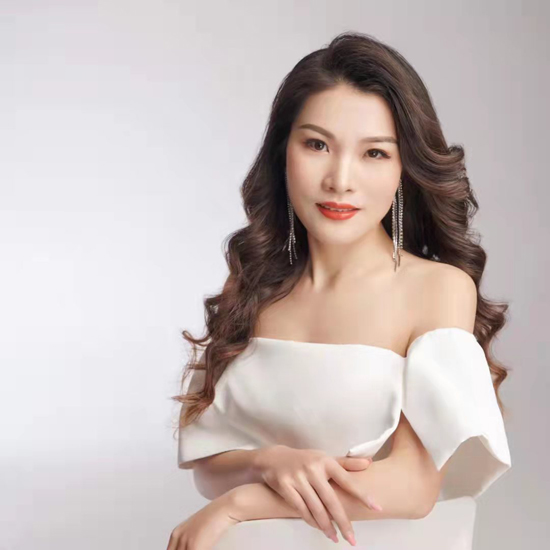 jessie huang
Love what we do and do what we love! Enjoy life, enjoy working in BWS DISPLAYS.