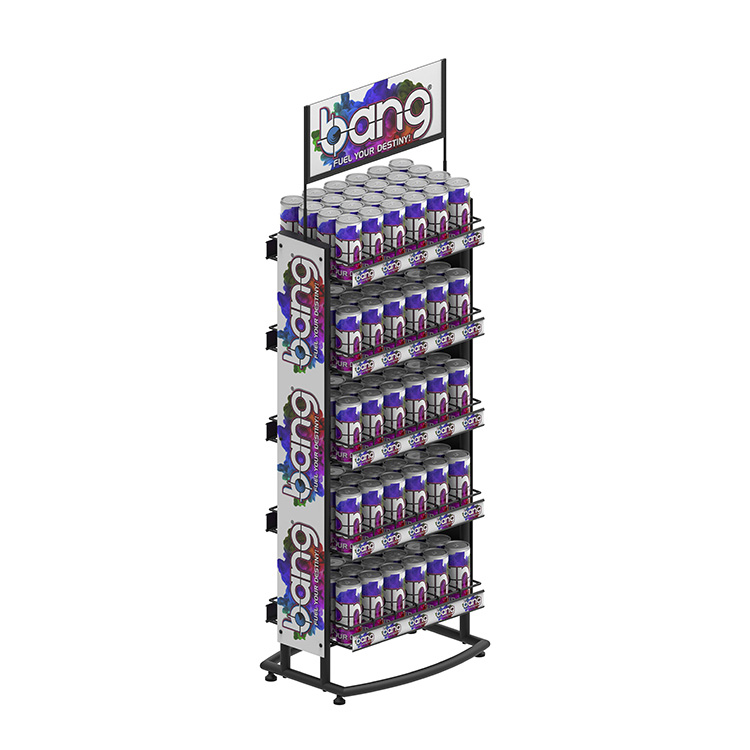 5 Tiered Bottle Display Stand Steady Wire Wine Soda Can Display Rack
Order(MOQ):50
Payment Terms:EXW, FOB Or CIF
Product Origin:China
Color:Black
Shipping Port:Shenzhen
Lead Time:30 Days
Service:Customization Service, Lifetime After-sales Service.
Tiered bottle display stands can hold more wine bottles or beer cans, soda cans, and Coke cans to present your wine bottles in a captivating presentation that makes finding specific bottles and pricing easy, and browsing your store a pleasure. Tiered bottle display stands are part of wine displays, a carefully designed wine display can not only increase sales, but also keep your store or venue looking pristine, and keep bottles organized.
We have posted 16 different wine and drink displays, which are in different shapes and sizes. While the global revenue in the alcoholic drinks market was forecast to continuously increase between 2023 and 2027 by in total 377.9 billion U.S. dollars (+23.49 percent). After the seventh consecutive increasing year, the indicator is estimated to reach 2 trillion U.S. dollars and therefore a new peak in 2027.  If you are in the wine and drink business, these tiered bottle display stands are helpful. Today, we are sharing with you a 5-tiered bottle display stand that is functional and steady.
What are the features of this 5-tiered bottle display stand?
Firstly of all, as we mentioned before, this 5-tiered bottle display stand is functional and steady. It can showcase beer bottles, soda cans, Coke cans, and other can products. With 4 adjustable leveling feet, it is steady. Secondly, It is made of metal wires and metal tubes, which are strong and stable.
Thirdly, there are customized graphics on both sides and an interchangeable brand header, which is brand merchandising. Besides, there are brand logos on the front of shelves, which emphasize the brand. All the shelves are detachable, this 5 tiered bottle display stand is a knock-down design. Furthermore, all the shelves have fences, so the wine bottles or soda cans are safe.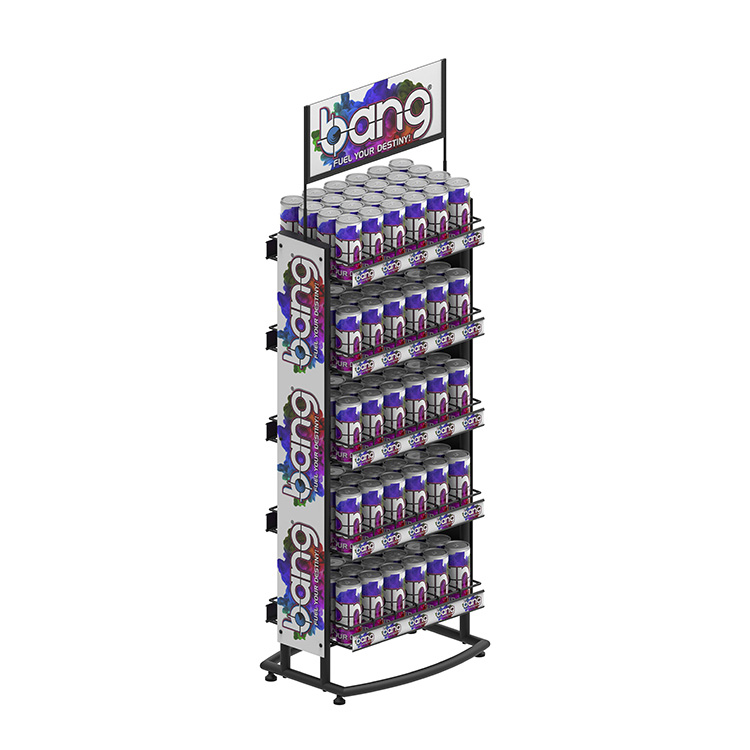 Of course, you can change the design and make your brand logo bottle display stand, our core competence is designing and crafting custom POP displays. Below are more photos to show this 5 tiered bottle display stand.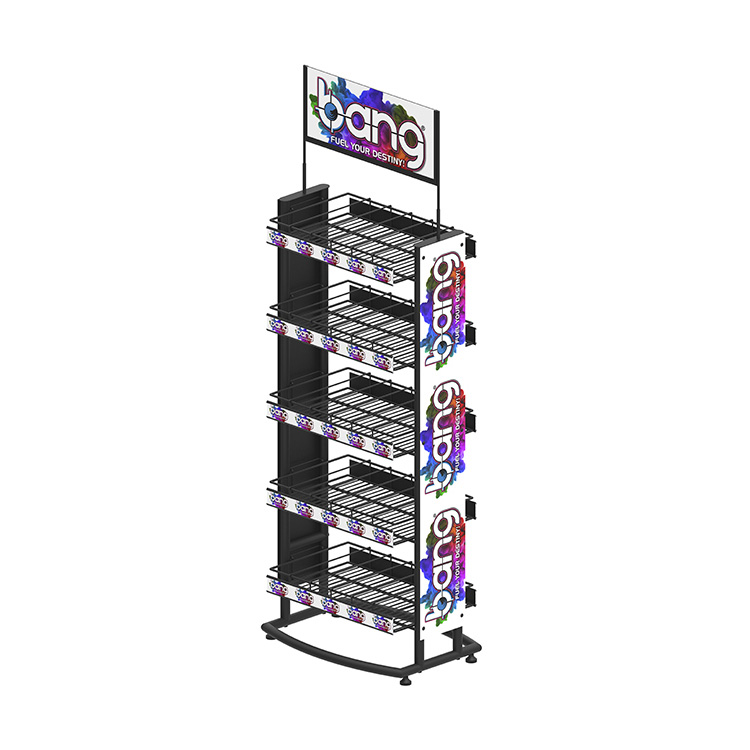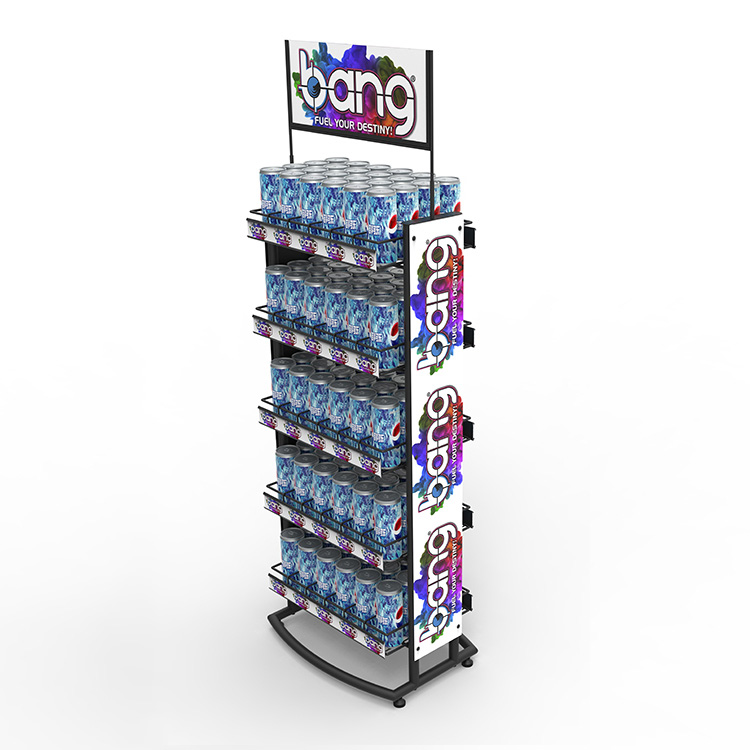 Before you make your brand wine displays, you need to know.
1.  Choose retail wine display racks that are easy to label and move, for busy stores with changing layouts.
2. Choose large wooden and metal retail wine racks to keep specialist stores looking as pristine as your high-end customers expect.
3. Create retail wine displays of various kinds and test their placement in the store.
How to make your brand wine display stand?
All the displays we made are customized, no matter whether it is a beverage display rack, soda drink stand, wine display shelf, or water display fixture. But it is not difficult. All you need to do is follow below important steps.
First of all, figure out our detailed needs. We need to understand what kind of display you need, material, size, style, function, shape, finishing effect and more.
Second, we will send you a drawing and 3D rendering with drinks and without drinks from different angles after we confirmed all the details. And we will provide a quotation before you place an order. In this case, below is the rendering of the 5 tiered bottle display stand.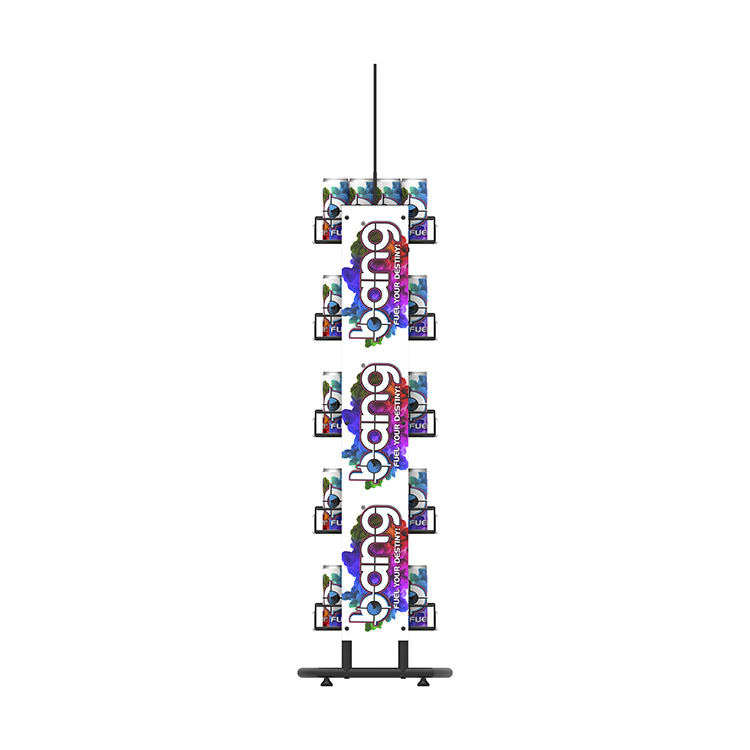 Third, we will make a sample for you, you can check the quality, test the function, and more. The sample is always made by hand, it needs about 7 days.
Fourth, after you confirm the sample, mass production will be followed, and all the data should be based on the approved sample. Our team will control the quality and update status with photos and videos to you regularly.  It takes around 30 days for normal orders. If you need urgent orders, we can adjust production and finish the order within 3 weeks without sacrificing the quality.
At last, we will check the details and assemble the wine display stand for you before we make the package and arrange shipment. And we will help you arrange the shipment and provide the container layout for you before contacting a forwarder or your forwarder.
We take photos and videos in detail. Our service is not stopping, as we work for you from design to after-sales service. Below are 6 more designs that may give you an idea to showcase your wine or drinks.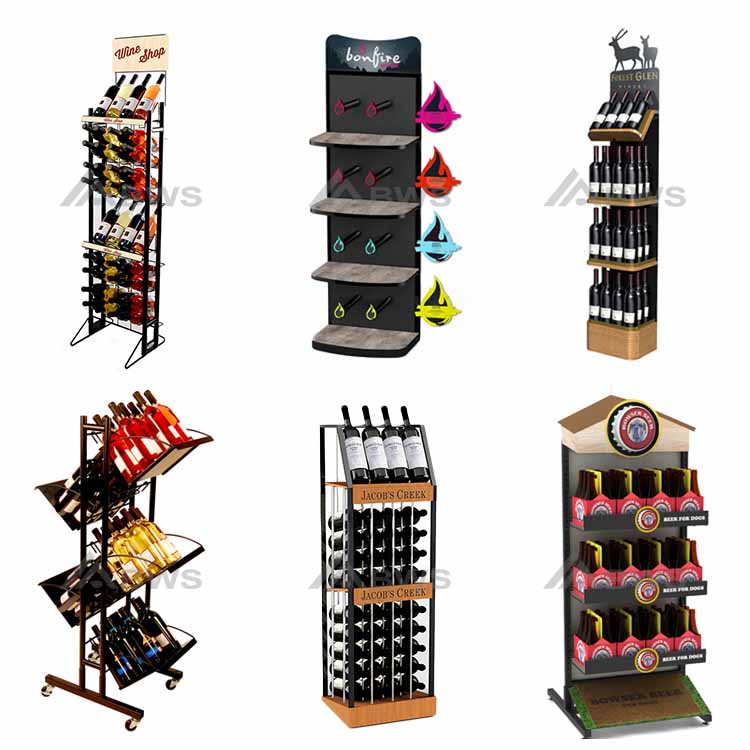 BWS Displays is a factory of custom POP displays with more than 20 years of experience, we can help you make display fixtures to help you sell. The most crucial aspect of POP display marketing in business is to attract customers' attention every other time they come into the store. POP display marketing takes advantage of customers who aimlessly maraud the store aisle and are in a dilemma on which products to purchase. So if you need custom POP displays, please feel free to contact us at any time.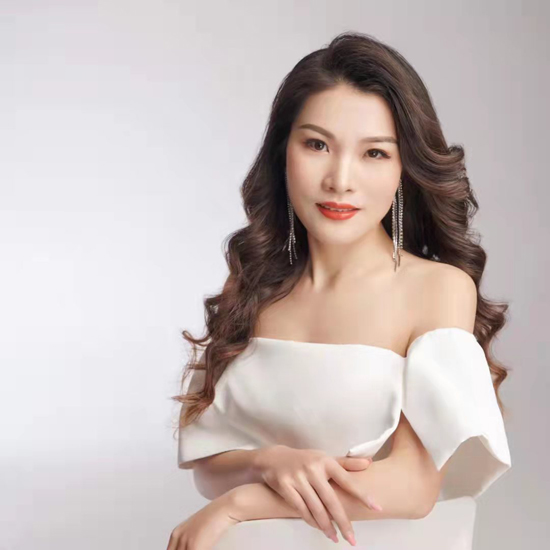 jessie huang
Love what we do and do what we love! Enjoy life, enjoy working in BWS DISPLAYS.