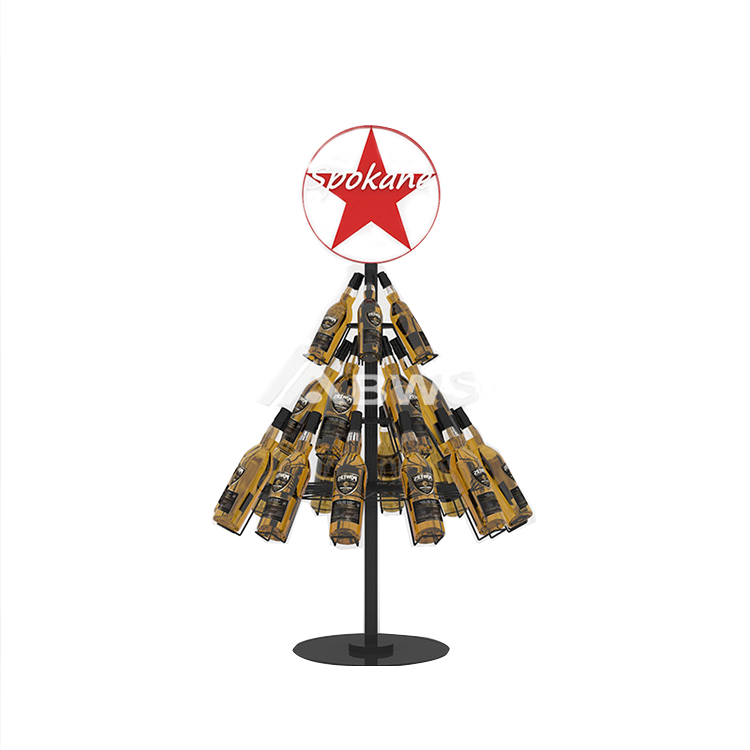 Creative Retail Wine Display Ideas 3-Tier Chirstmas Tree Wine Rack
Order(MOQ):50
Payment Terms:EXW, FOB Or CIF
Product Origin:China
Color:Black
Shipping Port:Shenzhen
Lead Time:30 Days
Service:Customization Service, Lifetime After-sales Service.
Why do we share creative retail wine display ideas?
Retail wine display ideas are designed and manufactured to improve your customers' experience in-store and increase your sales. They include wine display racks, wine display stands, wine display tables as well as wine display shelves and other wine display fixtures.
We are a factory of custom displays, which provides retail wine display ideas and fixtures to present your wine bottles in a captivating presentation that makes finding specific bottles and pricing easy, and browsing your store a pleasure.
Today, we are sharing with you one of the creative retail wine display ideas, a freestanding 3-tier Christmas tree shape wine rack.
What are the features of this Christmas Tree Wine Rack?
This Christmas tree shape wine rack is designed for Spokane, which isn't the only area offering unique wine tasting experiences. Spokane Valley provides a place to explore the world of Washington wine in a countryside setting. It has these features.
1.  Creative design in Christmas tree shape. The Christmas tree is very familiar to human beings, and it is symbolic of birth and resurrection of Jesus Christ which brings new life. Wines give us a new feeling of relaxation and enjoying life.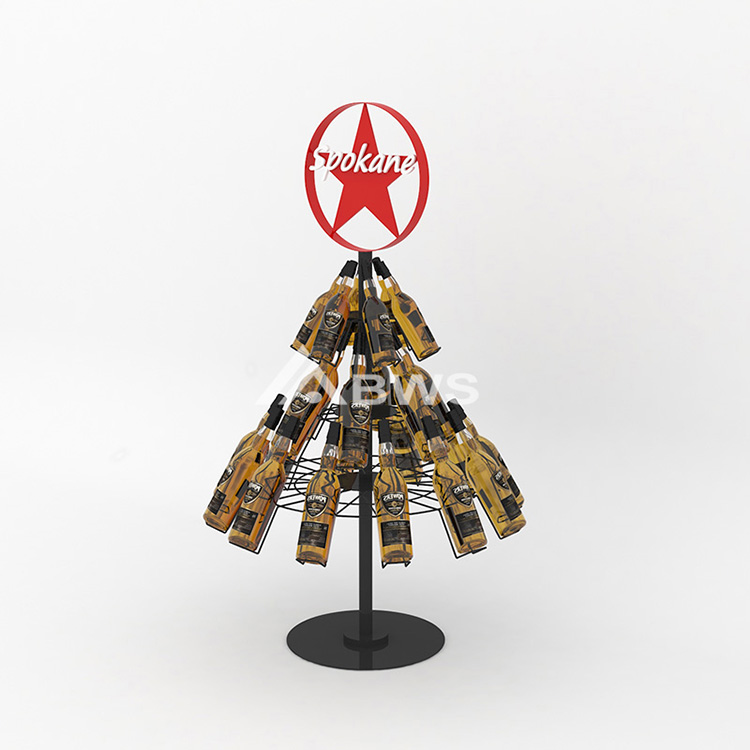 2. Space saving. This wine display rack is 457*1524mm with a 40mm pole. It takes a small footprint.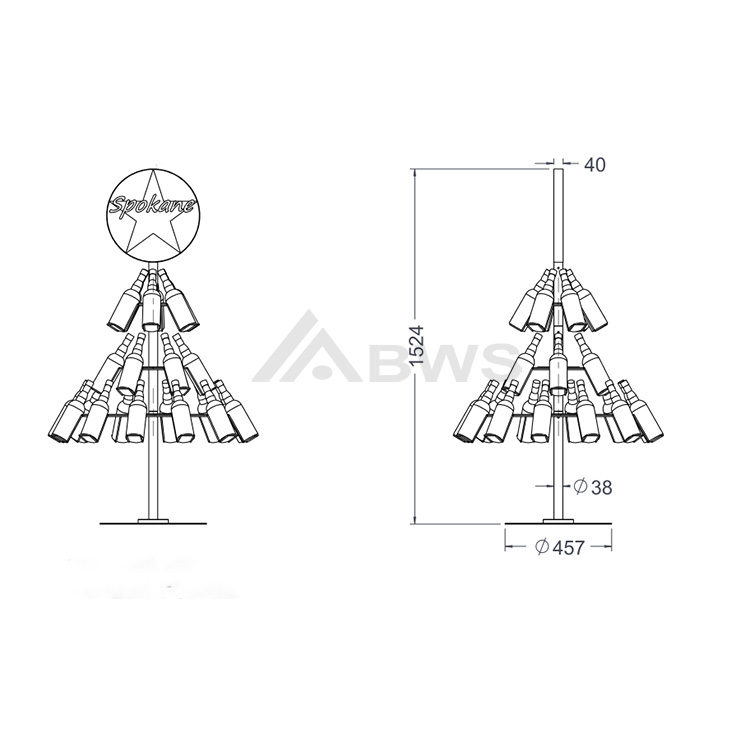 3. 3-layer circular wine rack to display wines. It is really like a tree and wine are the leaves. It can display 24 bottles of wine at the same time.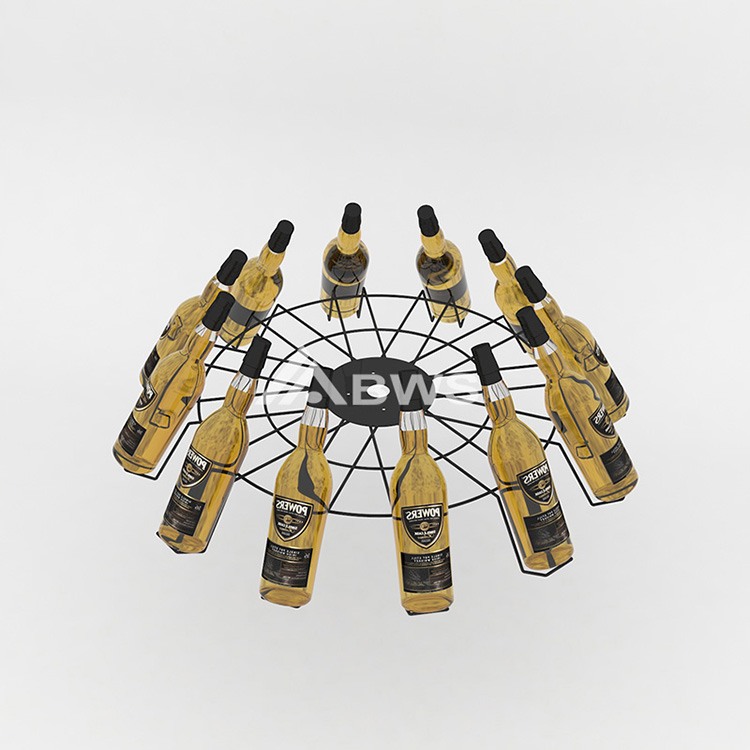 4. Stable and steady. The wine display rack is made of a metal sheet and metal wire. The metal sheet base is thick enough to bear all the wine bottles and keep them safe and sound.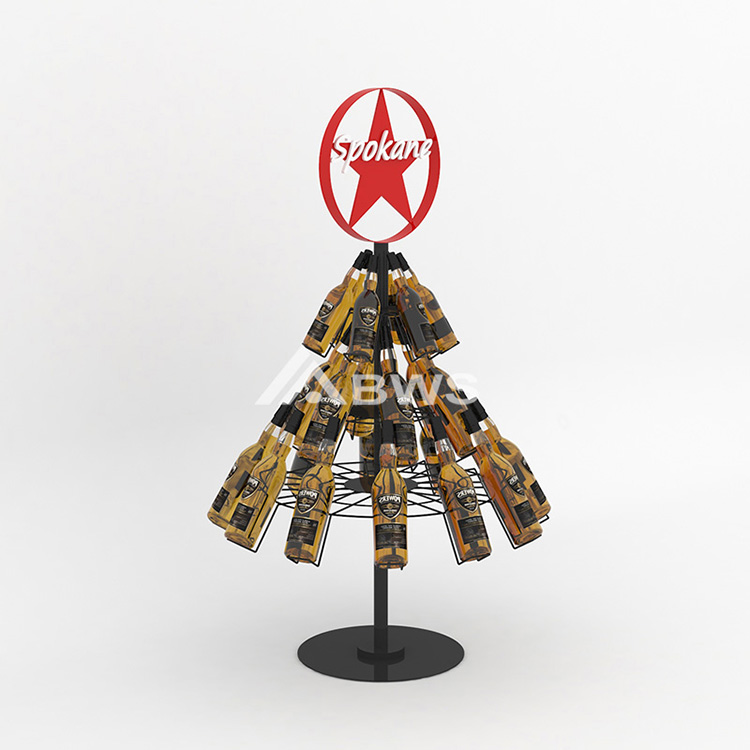 5. Star shape logo is eye-catching. As you can see from the photo, the red star logo is outstanding with the white Spokane letter while this wine display rack is powder-coated black. It is simple but makes it easy for shoppers to remember.
6. Knock-down design, saves shipping costs. These 3 metal wire holders can be folded as one set. And the middle bar is separated into 3 parts. The package size is very small.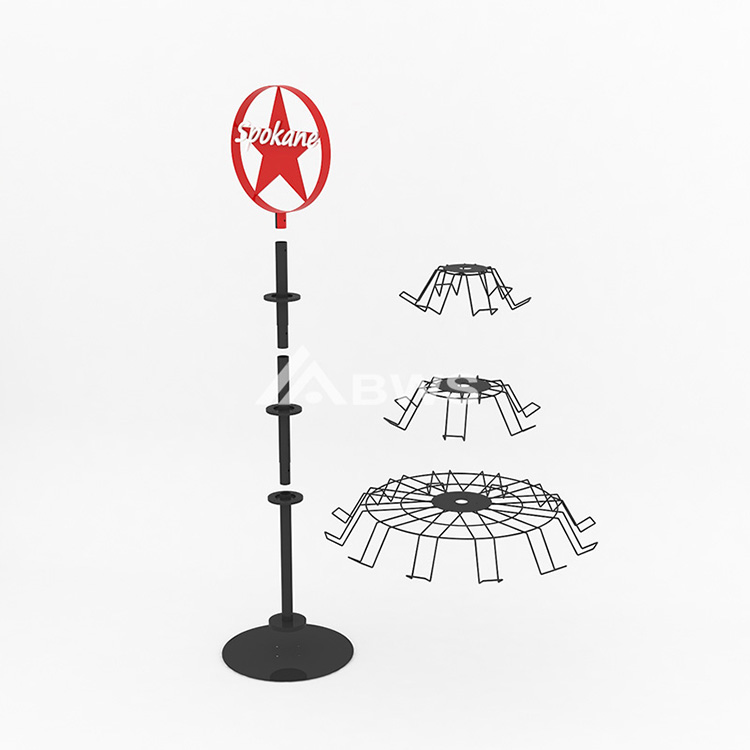 Besides, it is easy to assemble, screw the base and insert these pole parts, and add three wine holders.
How to make your wine display racks?
All our displays are designed and made to meet clients' specific needs, there is no stock. We can make wooden wine displays or metal beverage displays, or cardboard displays, we can make them for you according to your retail wine display ideas.
First of all, we need to understand your display needs. If you share with us your retail wine display ideas with a photo, drawing or reference design, we will discuss them with you for more details and design for you. There are free-standing displays and countertop displays, as well as wine display boxes to store and showcase your wine and beverage as well as soft drinks,  they can make full use of your retail stores. Of course, we need to know your wine specifications and how many you like to display, if you can ship us samples, it will be more helpful.
Secondly, Design and drawings. We will design and provide renderings and drawings to you. You can make some changes or approve the design before we give you a quotation. Below is the rendering for this Christmas tree shape wine rack.
Thirdly, after you approve the design and price and place an order, we will make a sample for you. A sample is very important, it decides the detail for mass production. We need to make sure this design will increase your brand influence and sales. We will use the right material and spend 7-10 days finishing the sample. And we will take HD photos and videos before we ship the sample out to you.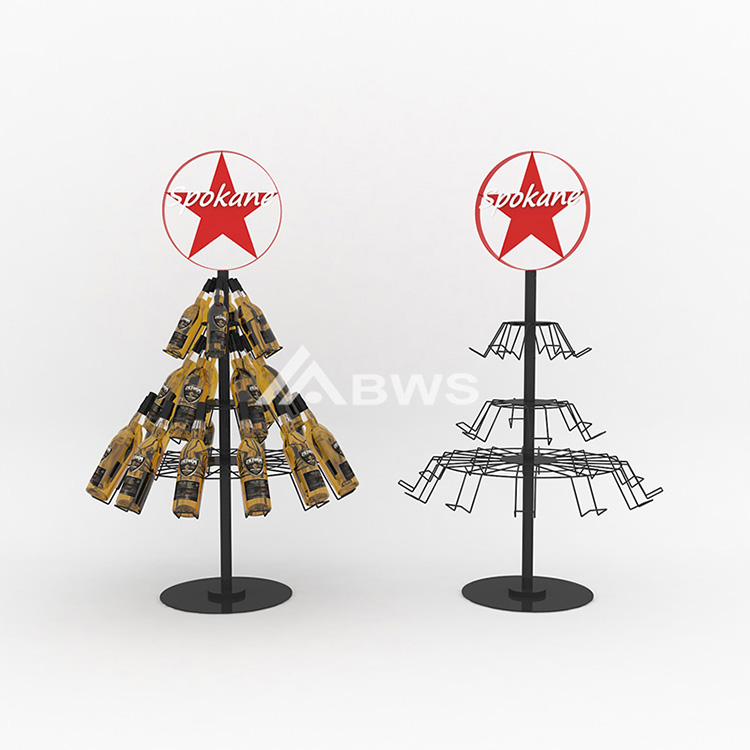 Fourthly, our team will start mass production after you approve the sample. When mass production is finished, we will assemble and check everything, and take photos and videos too. We also will design a package solution to make the best use of a carton and keep your wine displays safely. During this process, our QA team will control all the details to make sure mass production is as good as the sample and our project manager will follow up and update regularly.
Fifthly, safety package and container layout. We will give you a container layout since the package design is settled. To pack safely, we will use foam or strips even protect corners, and pallets according to the material and design of your retail wine display ideas. A container layout is to make the best use of the container, it also saves shipping costs if you order a container.
We also will help you arrange the shipment. We can cooperate with your forwarder or find a forwarder for you. You can compare these shipping costs before you make a decision.
So, we come to after-sales service after delivery. Our aim is to make you satisfied, we are not stopping by providing after-sales service.  If you do not like this design, we also can give you more retail wine display ideas for reference.
Other retail wine display ideas for reference.
Below are 6 designs that may help you get retail wine display ideas. If you need more designs, please feel free to reach us at any time.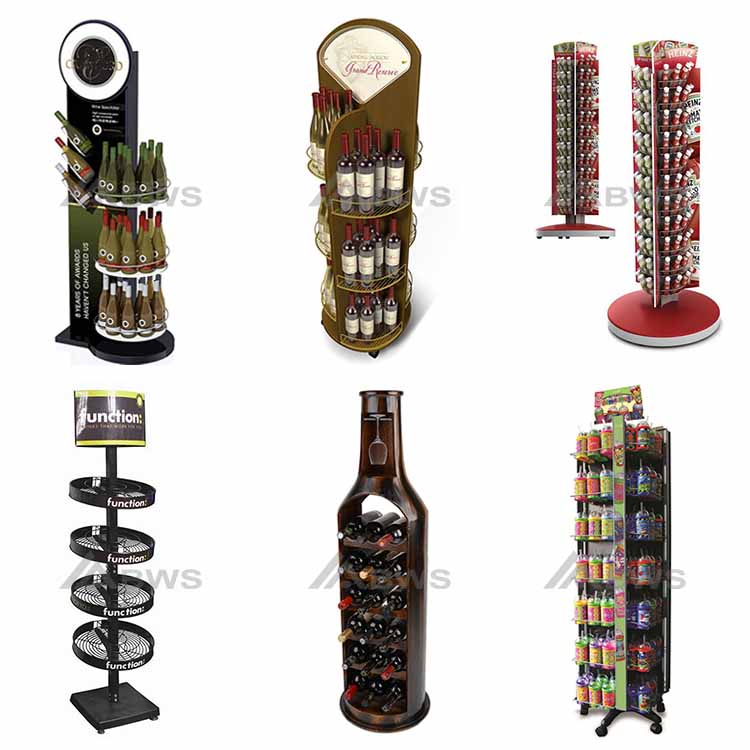 We are more than providing retail wine display ideas, but turn these ideas into reality. Except for wine displays, we also make food displays, sunglasses displays, watch displays, jewelry displays, sports and hunting products displays, cosmetic displays, clothing displays, shoe displays, sock displays and much more. Below are 4 of them for your reference. If you need more or want to try your next project with us, contact us now. We will be glad to work for you.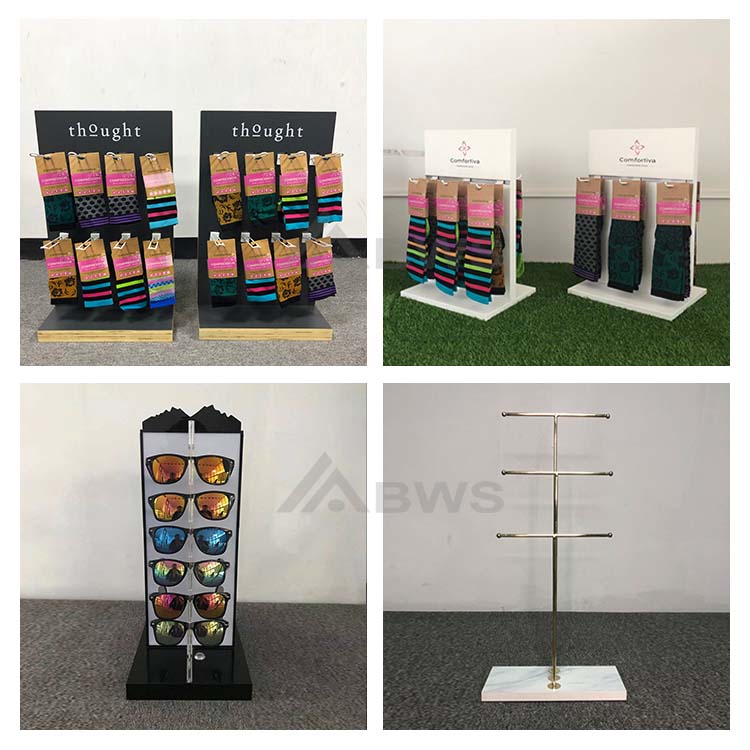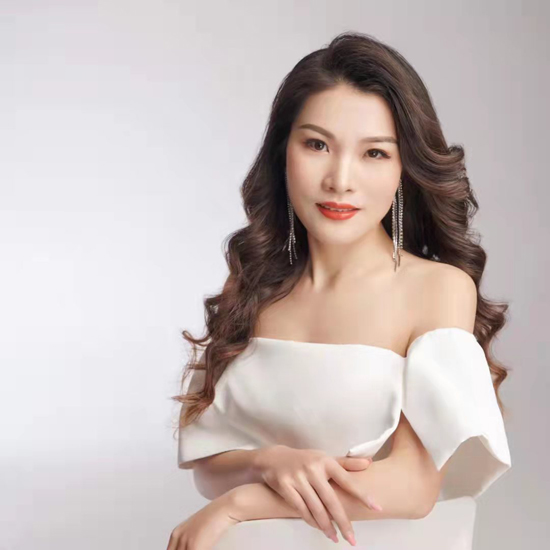 jessie huang
Love what we do and do what we love! Enjoy life, enjoy working in BWS DISPLAYS.