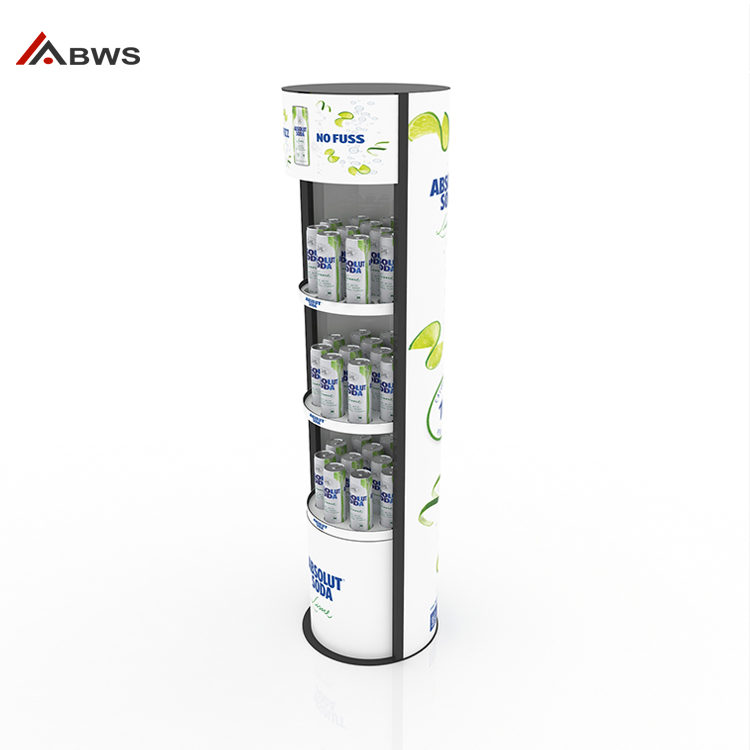 Charming 3-tier Drink Display Stand Customized for Absolut Soda
Order(MOQ):50
Payment Terms:EXW, FOB Or CIF
Product Origin:China
Color:Black
Shipping Port:Shenzhen
Lead Time:30 Days
Service:Customization Service, Lifetime After-sales Service.
How do you display drinks?
Using a custom drink display stand is one of the drink display solutions, which is a useful way for merchandising. Merchandising executives claim temporary point-of-purchase displays increase sales by nearly 24%. A charming display will help consumers remember your brand. And a display with custom graphics is very important because color has the power to increase brand recognition by up to 80%.  So except drink display cabinets, creative beverage displays will make a big difference in stores.
How to choose drink displays?
To choose the right drink displays, here 7 tips that may help you.
1. Consider cross-merchandising: Normally, you have different volumes or brands of wines or beverages as well as some complements in your stores, so you can display your wine near the complementary items such as wine glasses or corkscrews in the store to help consumers discover your brand.
2. Educate customers: An educational graphic on drink displays will solve the query of consumers like the uniqueness of your drinks. For example, graphics with the ingredients of the drinks are useful for consumers.
3. Go with the season: Different season has different hot sale products. So you need to think about whether you need seasonal displays to grab attention.
4. Use a quote: A classical quote is easy to remember and impress consumers. Like iPhone, Your new superpower.
5. Be unusual:  Creative displays in unique shapes, that will give a fresh look to consumers, everyone is curious about new things.
6. Tell a story:  Every brand has its own stories. Stories allow brands to form emotional connections with their customers. You can let your beverages or wines tell their own stories with custom displays.
7. Build an interactive display: You can add a touch screen to the custom display that allows customers to play a beverage-related game or add a video player to show how your beverage or wine is made.
Today we will share with you a charming 3-tier drink display stand for Absolut Soda, the world's second leading premium vodka and eight largest spirits brand. Absolut's ever-growing range is a staple in bars, restaurants and homes worldwide. Absolut is a loud and proud cultural collaborator, forever joining forces with standout innovators and artists to help define and redefine the world we live in. A leader of the cocktail revolution and a platform for social progression.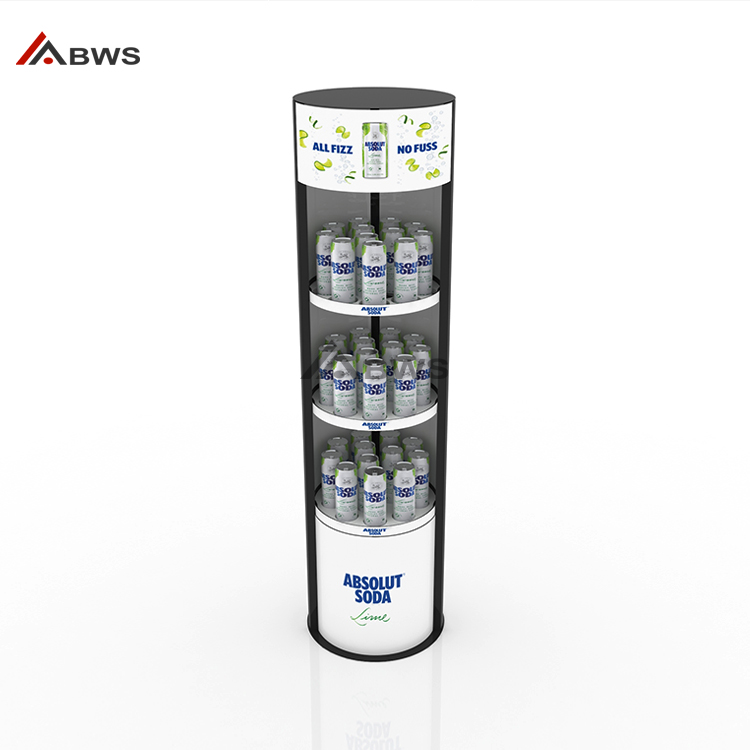 What are the features of this drink display stand?
This is a floor-standing display stand in a round shape. It is a 3 tier drink display stand. It is made of metal frames and PVC graphics. The Brand logo Absolut Soda shows on the top and shelves, as well as on the base. The back is a full-size PVC graphic in with educational contents, one of the ingredients of this Soda is lemon. Above the metal shelves, there is a drinks bottle holder with round laser-cut holes. It is made of white EVA, which is friendly to the drink bottles. It can display 36 bottles of Absolut Soda at the same time.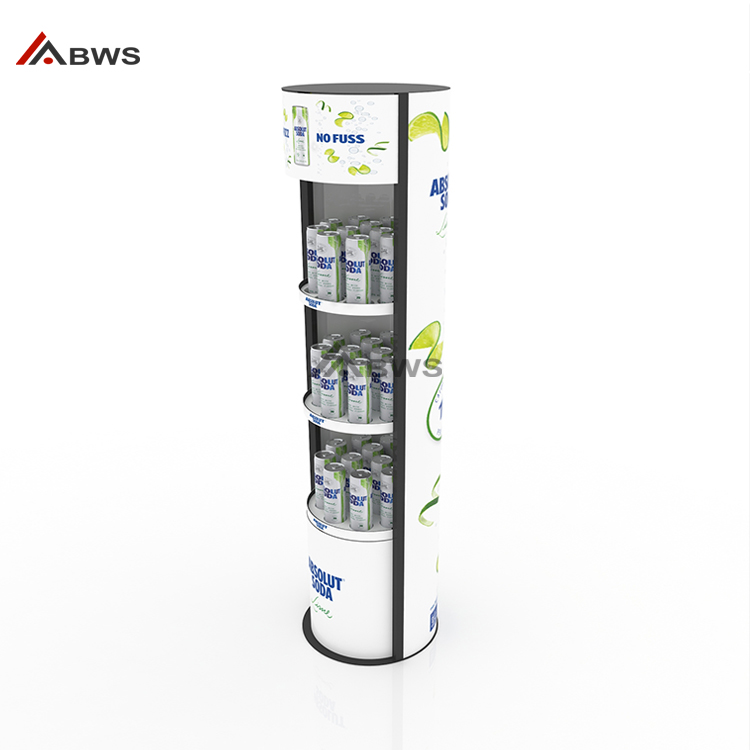 This is the side of the drink display stand, it is in a round shape.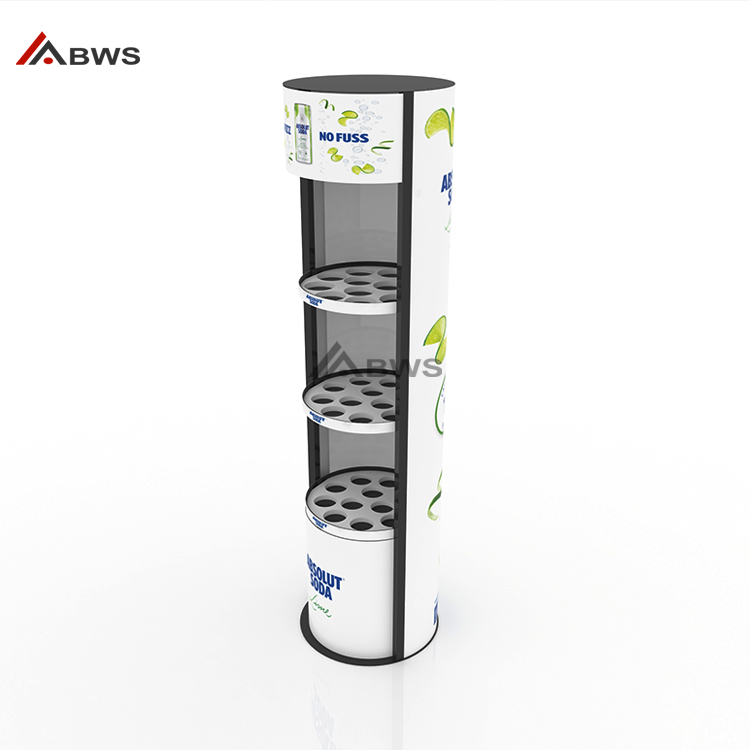 This is the drink display stand without drinks, you can see the shelves better.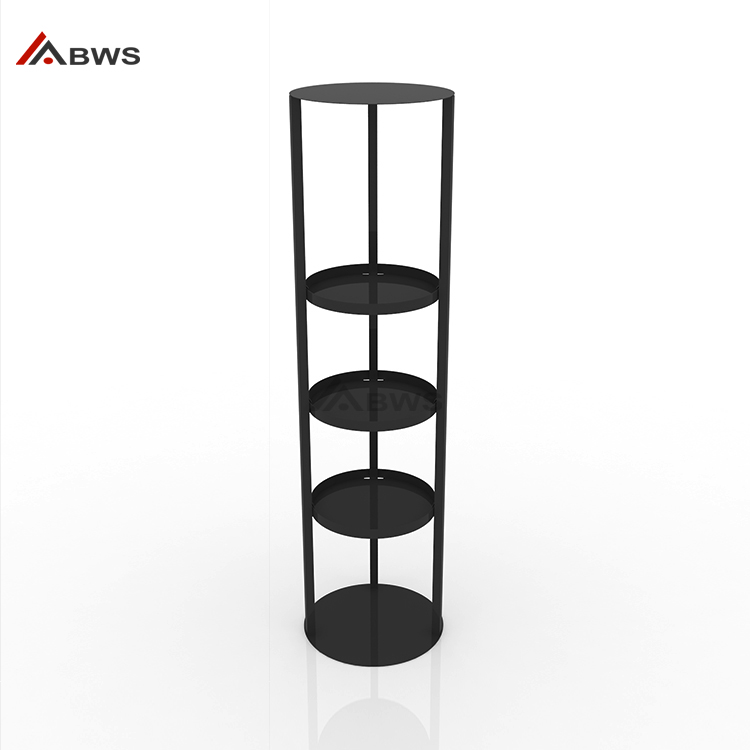 This is the metal frame of the display stand, with top and base metal sheet, the display stand is strong.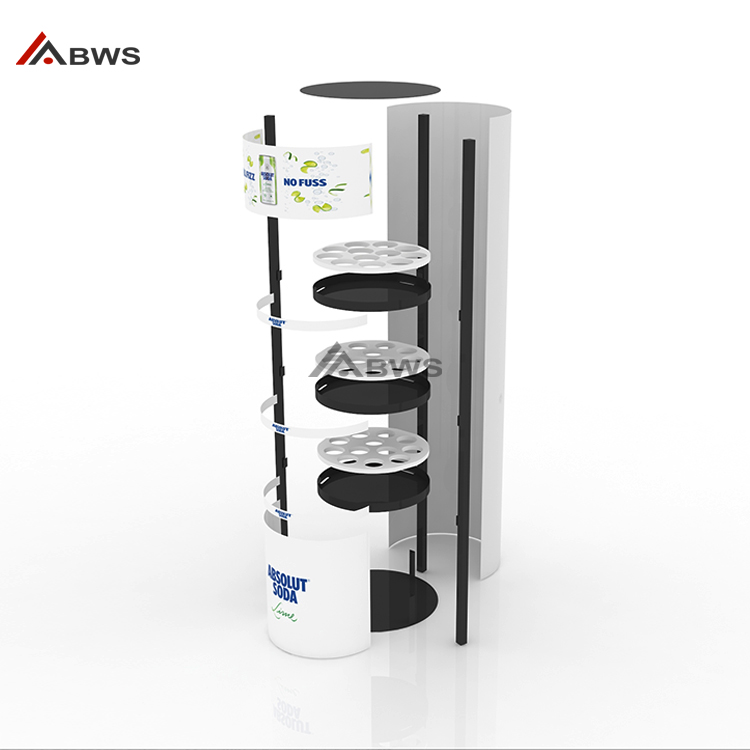 This photo shows how the drink display stand is made of, shelves, tube frames, PVC graphics and so on.
How to build a drink display stand?
When you custom-design a drink display stand, you get to apply your imagination and the qualities that make your brand unique. Though there is so much to consider, it is not difficult when you work with BWS. BWS displays is a factory in China, the founder has more than 20 years of experience in the custom display industry. Below are what we do to make the drink display stand.
First, our sales will contact you and understand your display needs. How do you like to display your drinks, how many bottles do you like to display at the same time? What's the specification of your drinks? All of these are important for us to design the ideal display for you.
And then, we will provide the rough drawing and 3D rendering from different angles with products and without products to you to confirm whether the display meets all your needs.
Thirdly, after your confirmation and sample order, we will make a sample for you. Only the sample is approved, we will arrange the production according to the sample.
Fourthly, we assemble and test the drink display stand, and make sure everything is ok and then we will pack them and arrange the shipment for you.
Normally we suggest a knock-down package to save packing costs and shipping costs.
If you still do not have a general idea about the drink display stand you are looking for, we can give you reference designs.
Other designs for your reference
Here are 6 designs which are made of wood. We use metal, wood, acrylic, cardboard and some accessories such as PVC, LED lighting, locks, EVA and more to make custom drink displays to create a unique merchandising solution for you.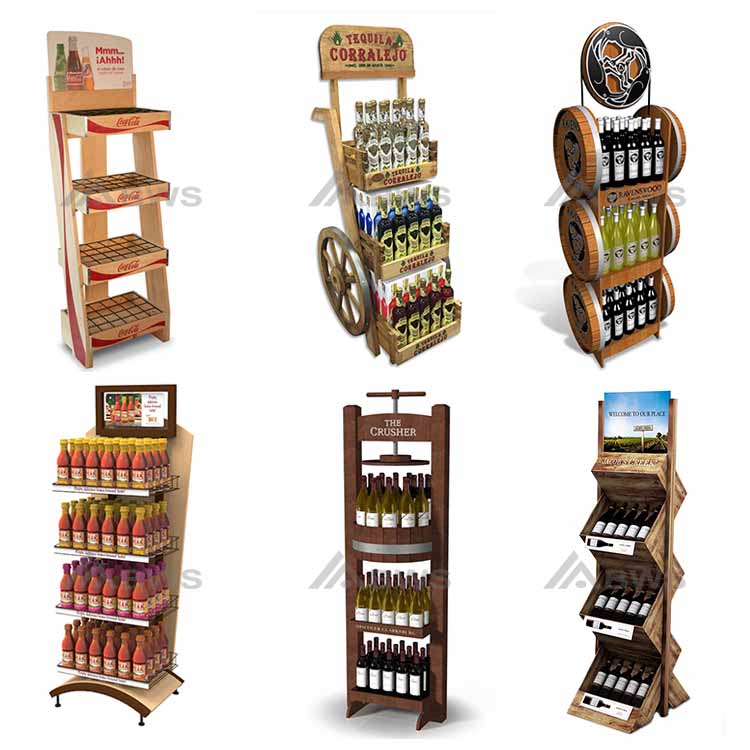 You can take it easy to make your creative beverage displays, wine displays for retail stores and shops at BWS, reach us today to learn more about drink display ideas and get an estimate for your next project.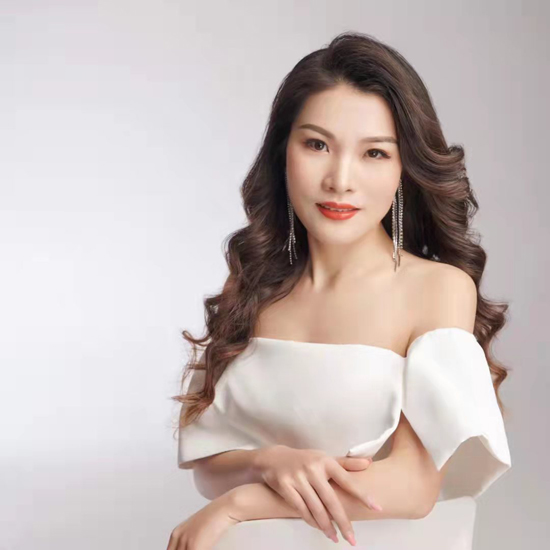 jessie huang
Love what we do and do what we love! Enjoy life, enjoy working in BWS DISPLAYS.