3 New Fishing Rod Display Racks Help You Stand Out
When selling fishing gear, having attractive and well-organized fishing rod display racks can play a big role in attracting customers and driving sales. A well-designed fishing gear display not only showcases your products but also creates a positive shopping experience for customers. These fishing rod display racks not only keep your reels and rods organized but also accentuate their functionality and make it easy for buyers to choose. Today, we are going to share with you 3 more fishing rod display racks that can help you create an eye-catching and effective display.
Last time we shared with you a post"How To Display Fishing Rods 5 Creative Display Ideas", and there are 5 fishing rod display racks. And we designed and crafted new fishing rod display racks in the past months.  Here they are.
1. Floor Fishing rod display rack
This fishing reel display stands in a blue color, which is like the sky and the sea. Sea fishing is really a good choice where you can use your fishing reel. And there is a big place for your brand graphic, you can see how happy when a fishing lover catches the fish, and it triggers the fishing lover's emotion at the same time. And your brand is easy to remember. You can display fishing reels, fishing lures, fishing cases as well as fishing lines, fishing bait, and more, as this fishing reel display stand has a place for fishing reels, shelves for a fishing case and fishing lures, hooks for fishing lines and baits.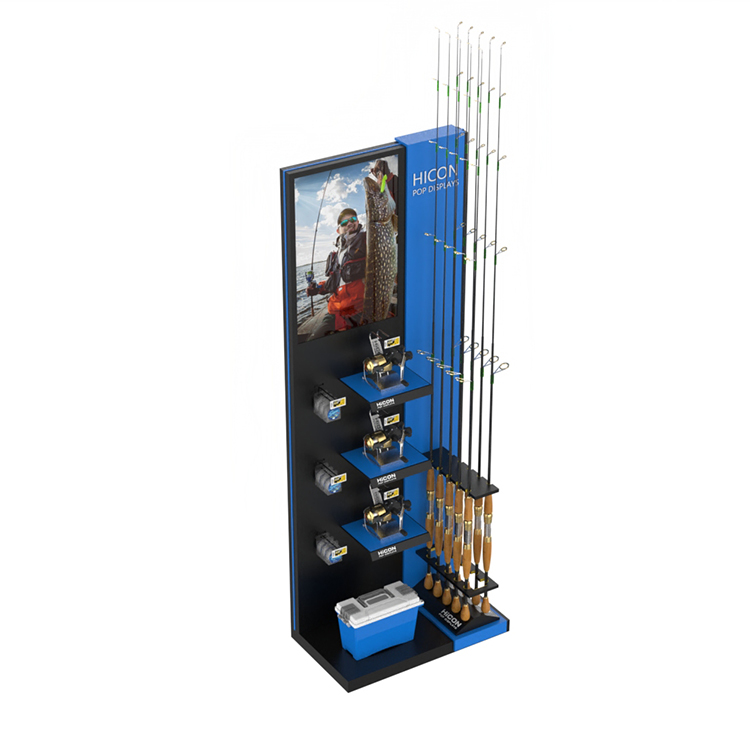 2. Round Shape Fishing rod display racks-A
This is one of the fishing rod display racks that have a square base and round holder for fishing reels and rods. It allows you to display your reels in an organized manner, making it easier for customers to browse and select the one that suits their needs. This fishing reel display rack can showcase 12 rods at the same time. In a light green color, it creates natural environments for shoppers. Custom brand logo on the header and base, which is brand merchandising.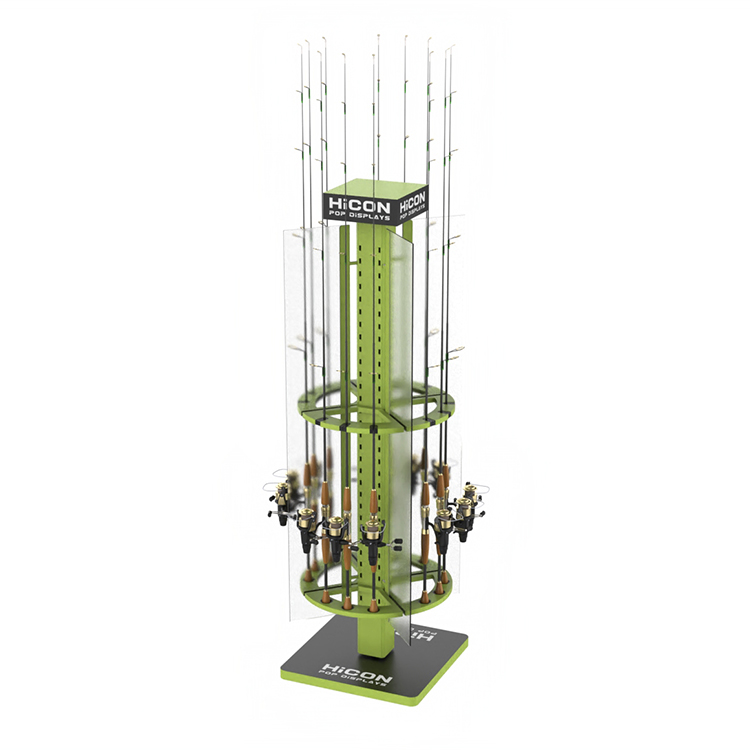 3. Round Shape Fishing rod display racks-B
This round shape display rack is a nice design. The round base makes this display rack stable and steady. Make of wood in black gloss painting, this display rack is really nice for showcasing fishing rods and reels in any fishing gear store. It can showcase 28 rods and reels at the same time. Custom brand logos can be shown on the middle pole in 3 ways. You also can add your brand logo on the base.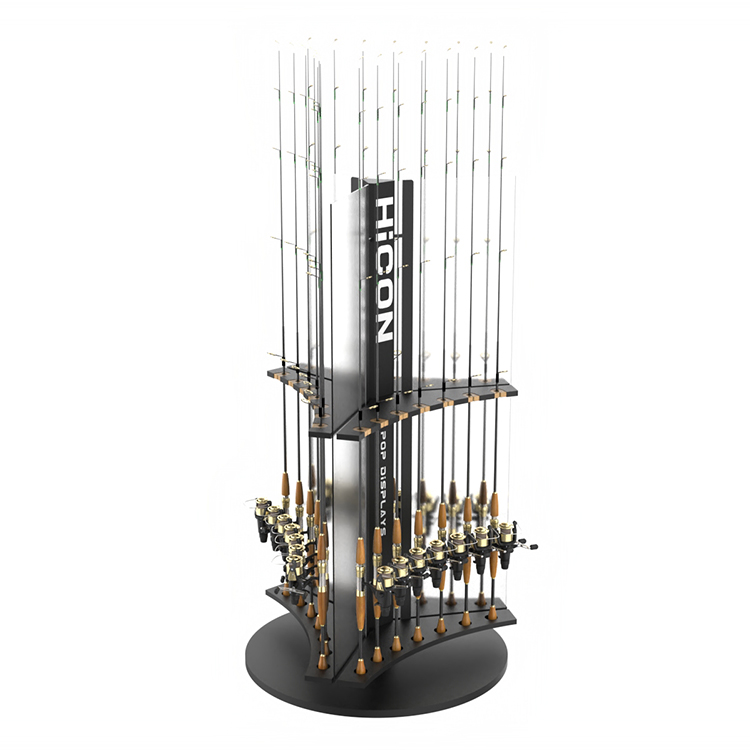 All these fishing rod display racks help protect the reels and rods from damage, ensuring they stay in tip-top condition. They are sturdy and can accommodate different sizes and types of reels.  You can change the design, size, and material to fit your products. BWS Displays is a factory of custom displays, we can help you design and craft the fishing gear displays you are looking for.
To make your brand fishing rod displays, you can review the below tips in advance.
Like reel displays, rod displays should be durable and adjustable to accommodate rods of all sizes and types. Depending on the space in your store, you can choose floor-to-ceiling shelves or wall-mounted shelves. The goal was to create a visually appealing display and encourage customers to pick up and inspect the stick. Also, consider investing in a rotatable display stand, as this enables customers to view the reel from different angles.
Signage can provide customers with useful information such as prices, specifications, and any special promotions or discounts. Compelling graphics and vivid images of people fishing with your product can also grab your customers' attention and create an emotional connection.
As a custom pop display factory, we have more than 300 workers and a 30,000-square-meter workshop. We can handle comprehensive materials including metal, wood, acrylic, cardboard, PVC, plastic, glass, etc. Besides, there are oversea design teams and partners in the United States, Italy, and Australia.
We keep you posted and show you pictures and videos of important steps and provide lifetime after-sales service on time. When you have urgent projects, we can help too. Urgent orders accepted. It can be finished within 5 days for sample, and 20 days for mass production. We also have a scientific quality management system to make sure quality is controlled.
So if you need any help with custom displays, please feel free to contact us at any time.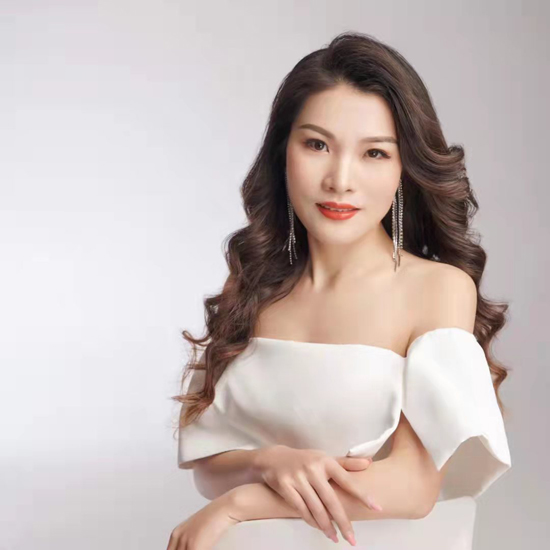 jessie huang
Love what we do and do what we love! Enjoy life, enjoy working in BWS DISPLAYS.