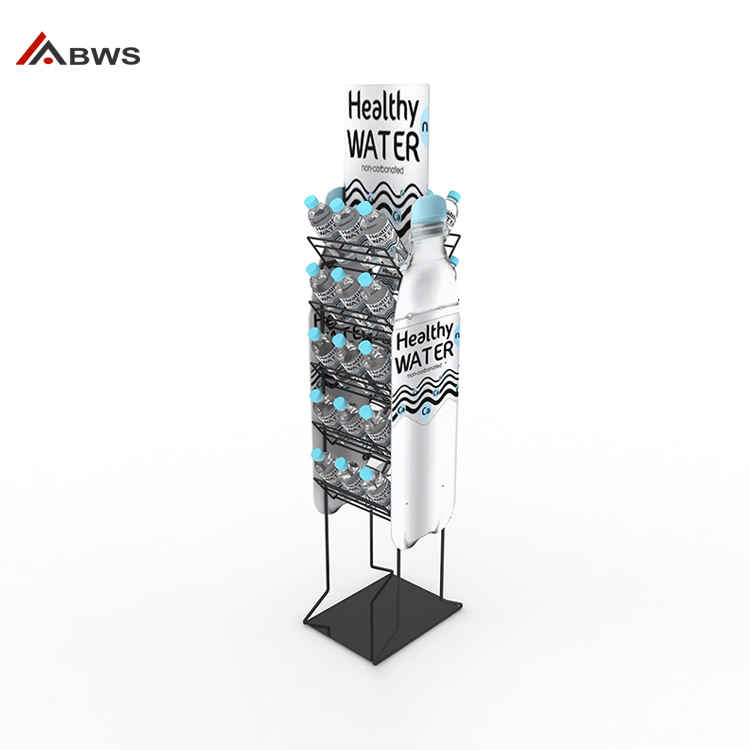 Economical Custom Wire Display Racks 30 Bottled Water Display
Order(MOQ):50
Payment Terms:EXW, FOB Or CIF
Product Origin:China
Color:Black
Shipping Port:Shenzhen
Lead Time:30 Days
Service:Customization Service, Lifetime After-sales Service.
Where to buy custom wire display racks?
BWS displays is a factory of custom wire display racks, custom display stands, custom display shelves, display cabinets, display cases, display boxes and other retail store fixtures. So you can buy wire display racks from us, a factory in China with more than 10 years of experience. We will provide you one-stop service from design to shipment.
Why do we make custom wire display racks?
Custom wire display racks are useful and functional and they can be used to educate consumers concerning what the new item is, how it can be worn or used, and how it can be accessorized. Besides, the display racks may also supply pertinent information, the price, and other special features for the products. We understand how important to stand out among competitors as cuosumers have so many choices, different brands, and different packages, but meet the same needs. Our aim is to make a big difference for the retailers with custom displays to win more attention and boost sales.
Today we share with you one of the custom wire display racks as below. It is designed for healthy water merchandising.
What are the features of this wire display rack?
It is a free-standing display rack with customized graphics. The wire display rack is made of metal wire and a metal sheet base with PVC graphics. There are 5 tiers for bottled water and 3 bottles for every tier. It is a double-sided display rack, so it can display 30 bottles of healthy water at the same time. The two side graphics are the bottle shape with the same color as the water bottle. As it is healthy water, the color of the graphics is very simple, black and light blue, with educational information Ca, healthy water non-carbonated. So does the header graphic. The finishing of metal wires is powered coated black.
Why do we design the base a metal sheet? As you can see from below photo, the top part is heavy when the display rack with 30 bottles of water, 330ml per bottle. And it will be top-heavy, while the base metal sheet solve this problem, and you can display water bottles on the metal base too.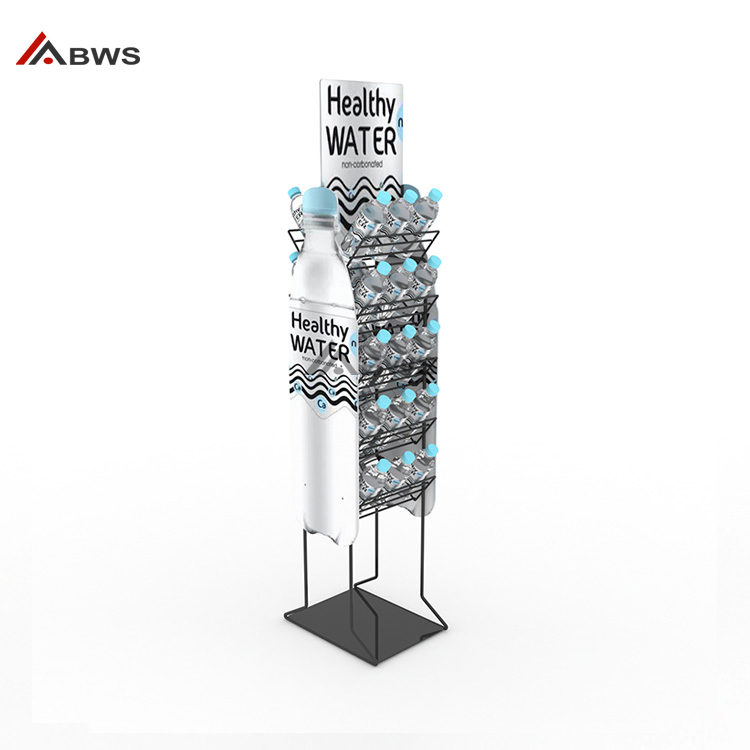 How to build a custom wire display rack?
It is simple to build your brand wire display racks if you work with us.
First, we will listen to you carefully and understand your needs in detail. As in this case, we asked the buyer the volume of their water bottles and how they would like to show their water in stores, what finishing effect they wanted, and how the displays were packed.
And then, we will provide the rough drawing and 3D rendering from different angles with products and without products to the buyer to confirm the effect met their needs.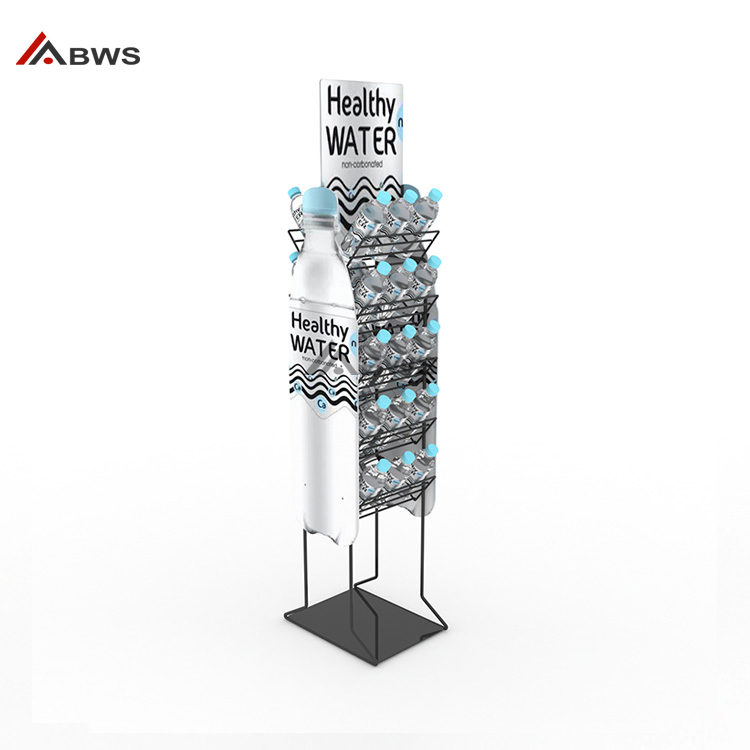 This is the rendering with products that gives you the general look of how your waters are on the custom wire display racks.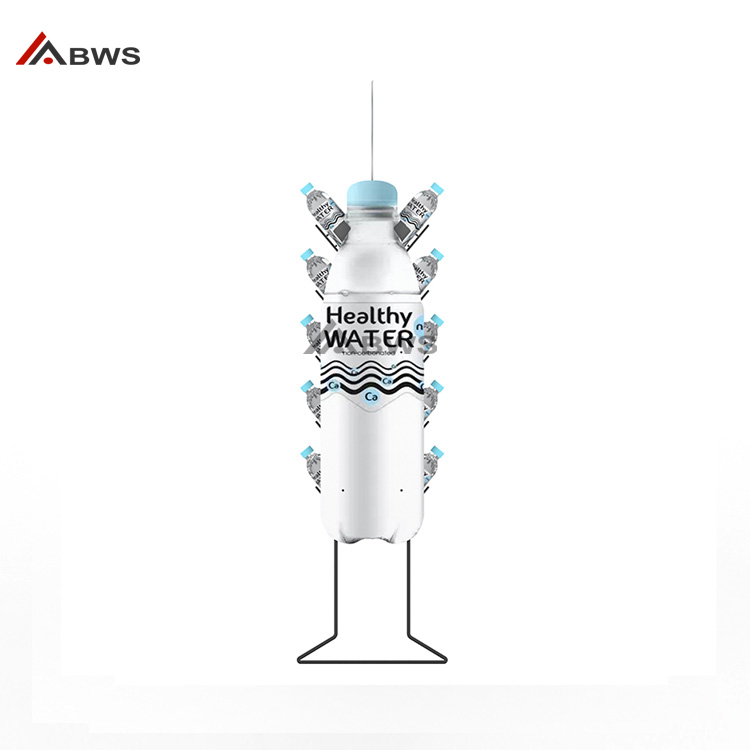 And this is the rendering from the sides, this shows the side graphic better.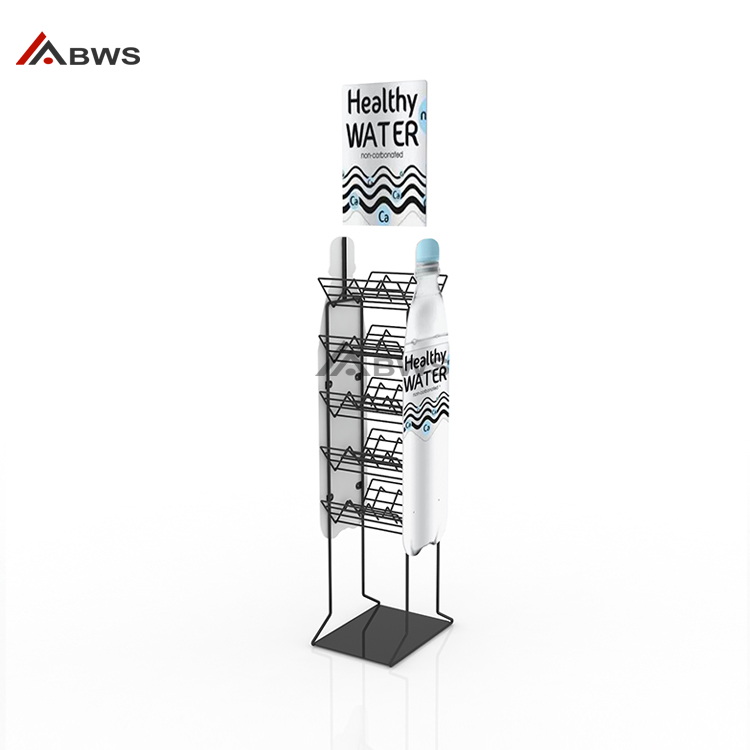 This is the rendering without products, the double-sided shelves are in slant to protect the water bottles from dropping.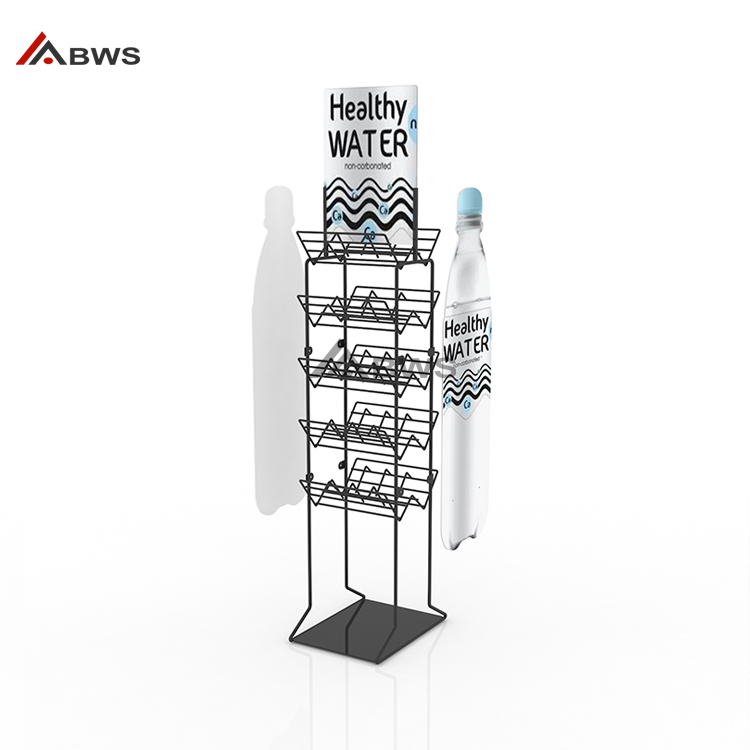 This rendering shows how the graphics are attached to the sides.
Thirdly, after the buyer confirmed the details and places a sample order, we will make a sample for them. Only the sample is approved, we will arrange the production according to the sample.
Fourthly, we assemble and test the custom wire display racks before we make safe packages (assembly instructions with details are in the carton) and arrange the shipment.
Normally we suggest the customer design the display rack to be knock-down package to save packing costs and shipping costs.
And we do not finish serving customers after shipping. We provide after-sales service. If you have any question about assembling, function and others, please do not hesitate to contact us.
To get reference designs?
If you do not have an idea about the display you are looking for, you ask us for reference designs. You can make a variety of round display racks, metal wire displays, grid display racks and other display rack stand at BWS.
Below are nine designs are for your reference.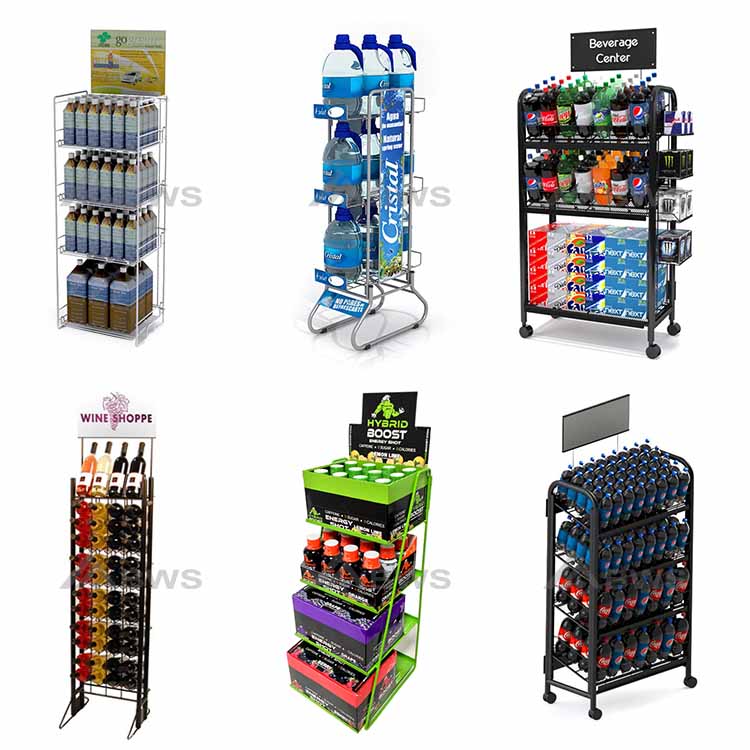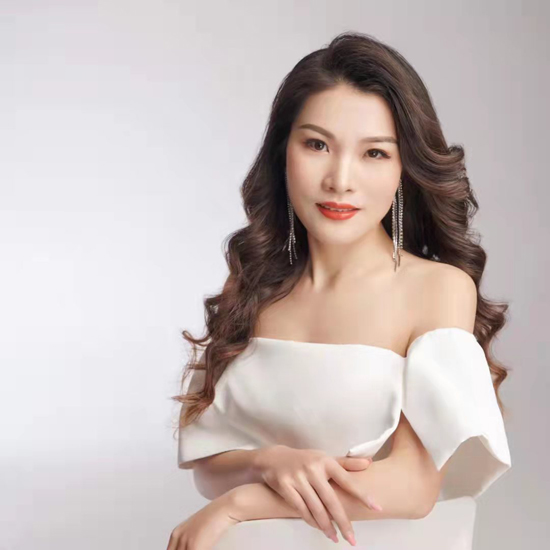 jessie huang
Love what we do and do what we love! Enjoy life, enjoy working in BWS DISPLAYS.