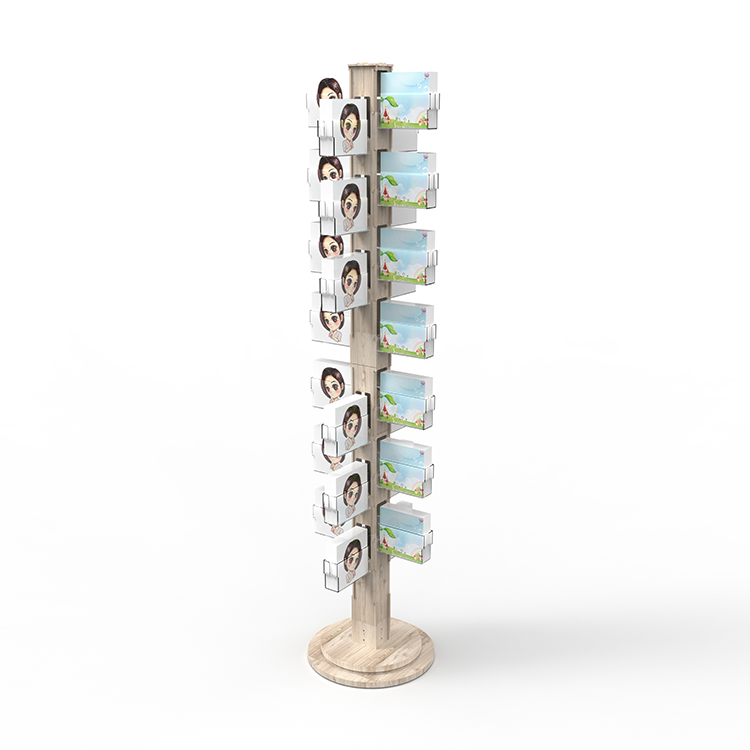 Floor 4-Way Wood Acrylic Card Display Stand Spinning Reliable for Sale
Order(MOQ):50
Payment Terms:EXW, FOB Or CIF
Product Origin:China
Color:Wood
Shipping Port:Shenzhen
Lead Time:30 Days
Service:Customization Service, Lifetime After-sales Service.
Why do we share this acrylic card display stand? Most of all card display racks are made of metal with wire pockets, and we want to make something different. As the global greeting cards market size is projected to reach USD 20.66 billion by 2030, registering a CAGR of 0.9% from 2023 to 2030.  The market for greeting cards is expanding due to the rising popularity of festive occasions and celebrations. As more people choose to express their love and admiration through the exchange of cards, this trend is likely to last into the future.
In this case, card display stands are necessary to showcase different cards and other literature products. This wood acrylic card display stand is one of the useful tools to help you organize and showcase cards, leaflets and other brochures.
What are the features of this wood acrylic card display stand?
This wood acrylic card display stand is a floor standing with acrylic pockets on 4 sides to hold cards and other literature products. The size of this acrylic card display stand is 390*1750mm. It is near human height. The middle wood pole is 86mm wide, and the acrylic pocket is 405mm long. All the acrylic pockets are detachable. And this wood acrylic card display stand is a knock-down design, which is easy to set up. The base is a wood sheet, which is stable and strong. With bearing, it is rotatable. You also can add a brand logo on the base or add a header with custom graphics.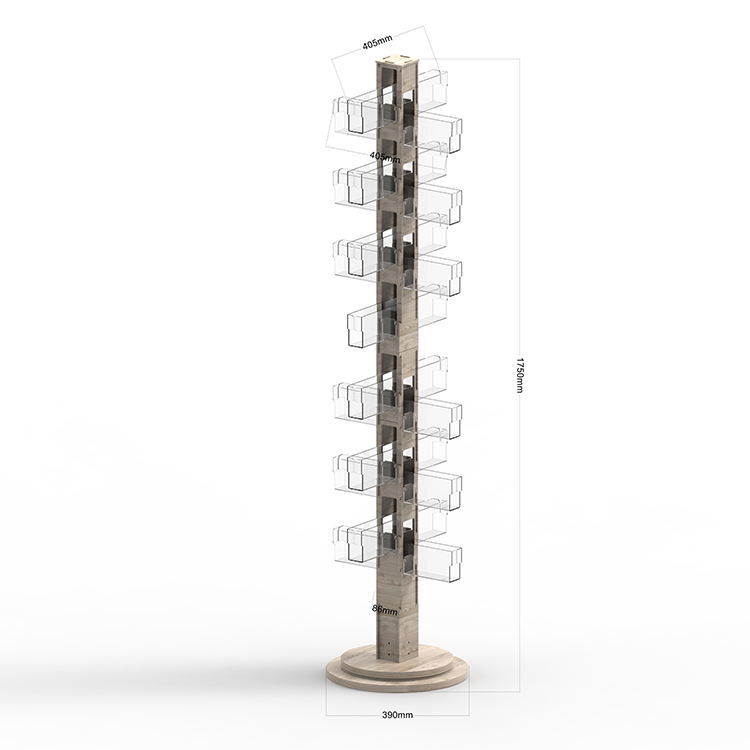 Here are more photos of this wood acrylic card display stand for your reference.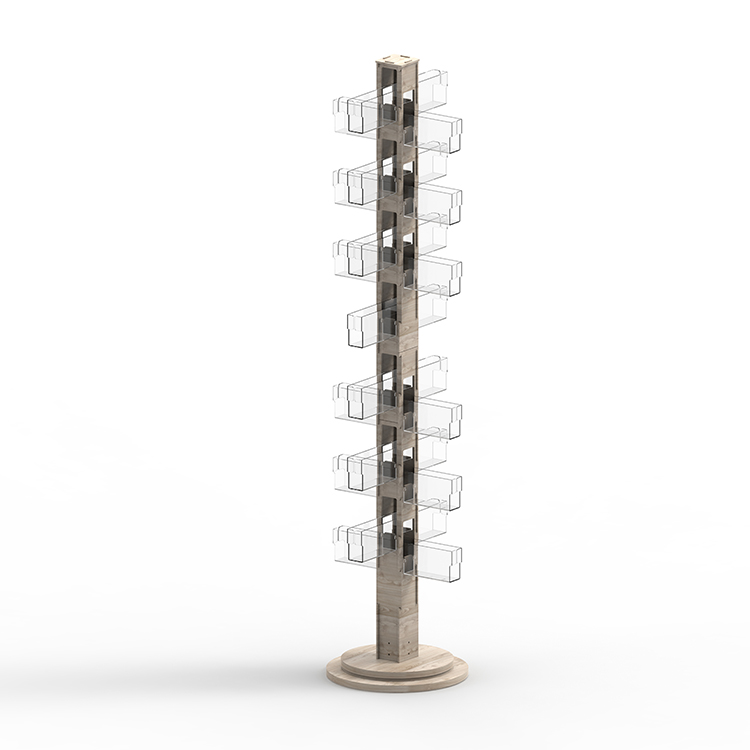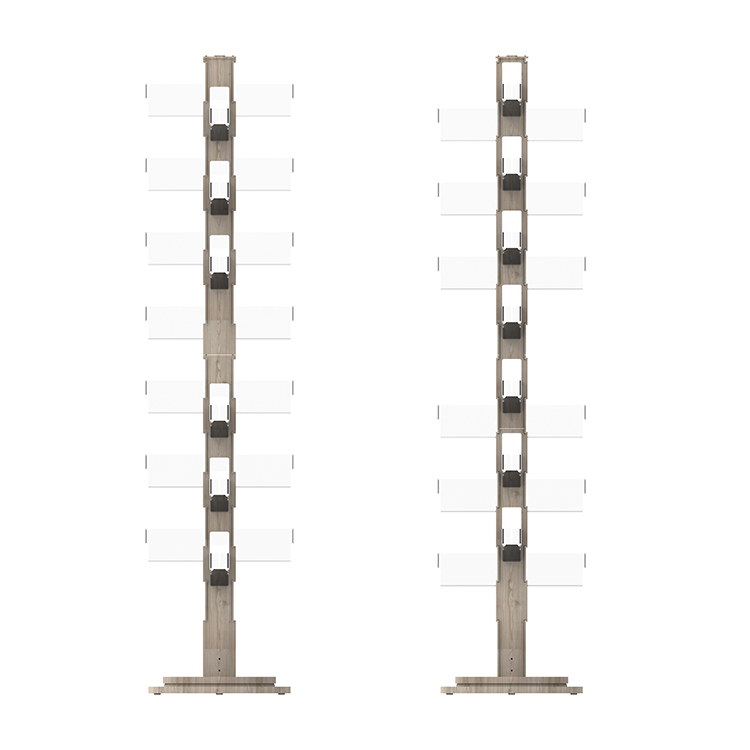 As all displays we made are customized according to the client's specific needs, you can tell us your requirements so we can make your brand acrylic card display stand. Below are will share with you the process of making custom acrylic card display stands.
How to make your brand card display stand?
To make your card display stand, it is the same process as we make other custom display fixtures. First of all, we need to know your requirements first. What kind of display do you need, countertop or freestanding style? What material do you prefer, metal, wood, or acrylic? How many cards do you want to display? What is the size of your cards? How do you like to add our brand logo or graphics? If you can give us a rough drawing or reference design, it is helpful. If you do not have one, we can send you a reference design or design for you according to your needs.
Secondly, we will design and provide you with rough drawings and 3D drawings so that you can check what it is like when your cards are on the display stand. If you need to change, we will update the drawing for you. Only after your approval and order, we will start to make a greeting card display stand sample for you.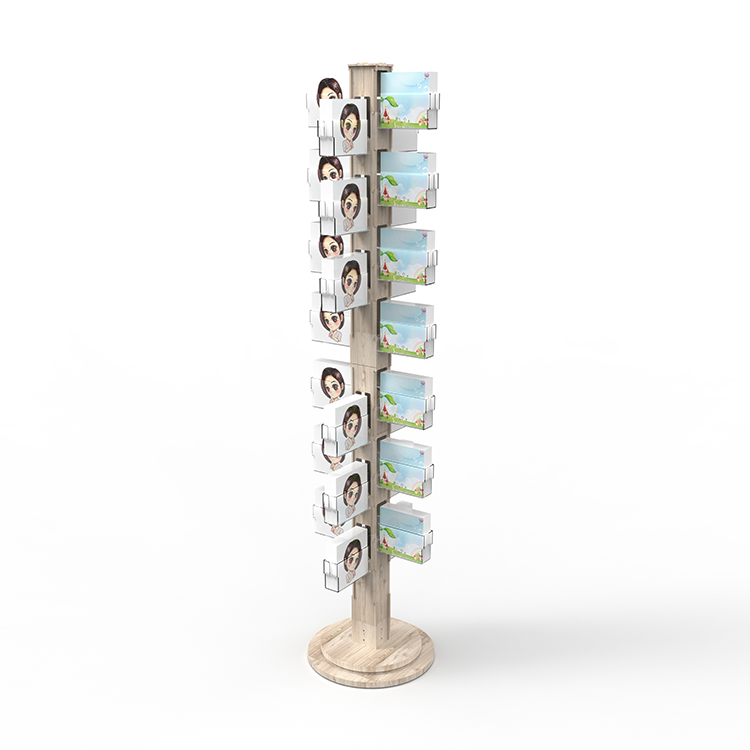 Thirdly, when the sample is finished, we will assemble and check the dimensions, and finishing effect and test the sample. Of course, we will take photos and videos for you. It takes around 7 days to finish the sample.
Fourthly, When this sample is approved, we will arrange mass production. We will control production quality according to the sample. When production is finished, we will check all details to make sure these display racks meet your needs. The mass production takes around 25-30 days.
Fifthly, safety packing. Normally, displays are packed in a flat package, and we provide assembly instructions in the carton. So it is easy for you to assemble them on your side. For this greeting card display stand, it is knock-down into 2 cartons.
Last but not end, we will help you arrange the shipment and provide after-sales service. If you have any questions, we will give you the right solution within 48 hours.
Here are 6 other card display stands which may help you get an idea to showcase your cards.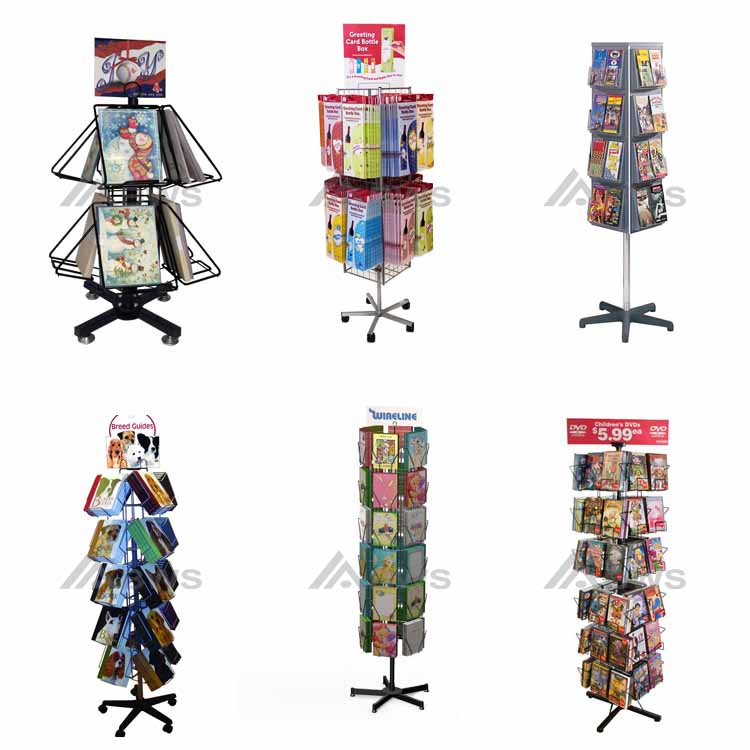 BWS Displays is a factory with more than 20 years of experience, we can make metal, wood, and acrylic displays in different shapes, sizes, and functions to help you showcase your items. Besides, we have partners overseas who can give you more convenient service. If you need any questions about custom displays, we will be glad to help you. So do not hesitate to contact us now if you need any custom displays.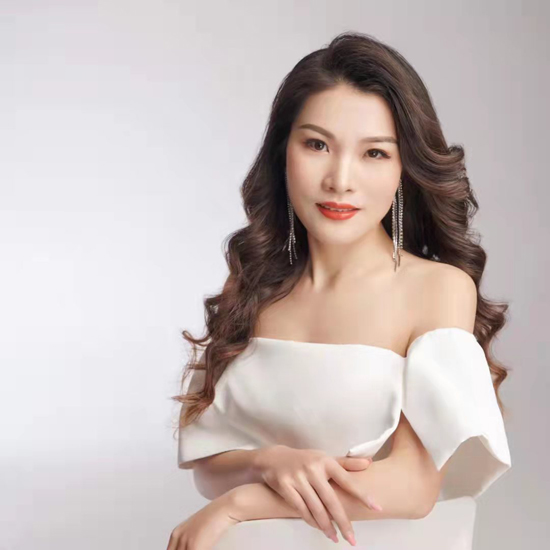 jessie huang
Love what we do and do what we love! Enjoy life, enjoy working in BWS DISPLAYS.